RV Owners
Last updated on June 22nd, 2023. Originally published on November 20th, 2019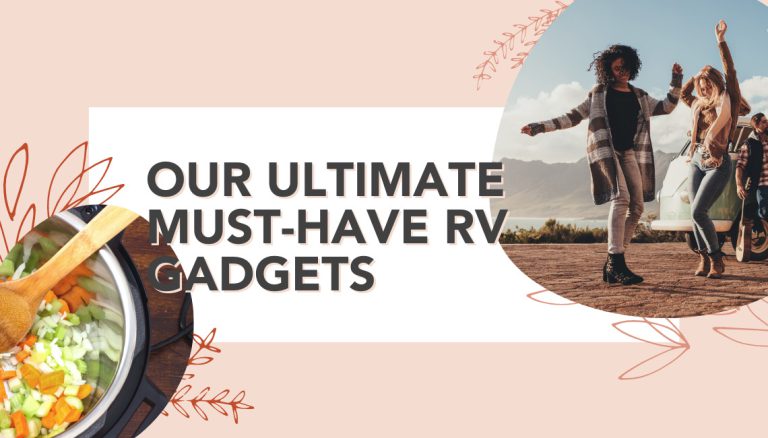 What's the only thing better than an RV? A rig that's well-stocked with all the best RV gadgets, of course! Keeping the right gear on board can make your trip a whole lot more convenient and even more fun. It's all about finding the accessories that help you live your day-to-day life on the road more easily.
RV gadgets and gizmos can help with every part of your camping experience, from making it easier to decorate your rig to helping you create an unforgettable, gourmet meal in your onboard kitchen. We've also listed RV gadgets that'll turn cleaning your travel trailer or motorhome into a joy rather than a chore, and even gadgets that'll make your rig a safer travel space.
Whether it's your very own rig or an RVshare rental, having the right gear along for the ride can make a huge difference. So if you're ready to take your next trip to a higher level read on. Here are the best RV camping gadgets and accessories that you absolutely must have on board.
Decor RV Gadgets
It's your home away from home, right? Might as well make it homey! These decor-related RV gadgets and gizmos can hep.
If you're like me, you want to customize your rig and make it feel like a home. Quake Hold allows you to display your favorite china, rock collection or tchotchkes safely. A small piece of Quake Hold putty under your item will fix it to any hard surface. When you are ready to move it just twist. The item will stay put when you travel, but come off when you want to move it. AWESOME.
Command Strips are an RVers best friend. Whether you want to hang photos, art or a mirror, Command Strips will secure your item to the RV wall without any damage. Need to move something? No problem. Simply pull the tab and the strip will release from the wall.
The Command brand also makes hooks. These hooks come in all different shapes and sizes. Use them to hang your purse, your coat or your keys. You can even find water proof hooks for the shower. Love it!
Etsy and Ebay provide abundant opportunities to find vinyl wall art in a variety of colors and designs. From swirls to sayings, you can customize your fridge, mirrors, cabinets and walls. Add some fun! Add some vinyl.
Curtains add texture and dimension to an interior. They also block heat. Light blocking curtains available at Walmart, Target and Amazon are a great RV addition. Not only will they customize and soften your RV, they will also save you money. Heating and cooling bills add up. Light blocking curtains provides extra insulation to keep your bills low. Sounds good, right?
RV Kitchen Gadgets
The kitchen is the heart of any home — and that includes mobile homes! Here are some RV kitchen gadgets that'll have you coming back for seconds.
Cabinet door spice rack organizer
Sick of your carefully-organized spices rolling around in the cabinet every time you pick up camp? Don't have the space to put all of them out in the first place?
These mountable spice rack organizers are absolutely perfect for RVers. Just install them inside your kitchen cabinet doors, and you'll never have to worry about reorganizing your spices again… or foregoing any of your favorites!
What goes better with a camping trip than a glass of chardonnay or three?
Absolutely nothing, that's what. But when you're RVing, there's a bit of a complication when it comes to glassware… in that your camper moves, of course!
No need to worry about carefully bracing your glasses for impact each time you set off for your next vista — or having one crash on the floor simply because you've dropped it. (Hey, it happens to everyone… especially when they've been drinking!) These shatter-proof wine glasses don't compromise elegance for convenience, and they make your RV safer for everybody.
We've said it before, and more than likely we'll say it again. But seriously, if you're not camping with an Instant Pot, are you even camping? With the ability to slow cook, pressure cook, saute, steam, and even make flawless rice and yogurt all with one small and affordable footprint, the Instant Pot is easily our favorite kitchen gadget for RVers. In fact, we've even written a whole post about why you need one in your life (and what to do with it once you get one!).
Crock Pots are a great addition to any RV. They cook without releasing a lot of heat. With slow cooker liners, life is even easier. Add a slow cooker liner to your pot and then fill it with food. Once you have finished your meal simply toss the liner and your pot is clean!
Foil packets are a campers best friend. Commercial grade Reynolds Wrap is perfect for making pillow style food packets that cook over a fire or grill. No cleanup and easy portions. What's not to love?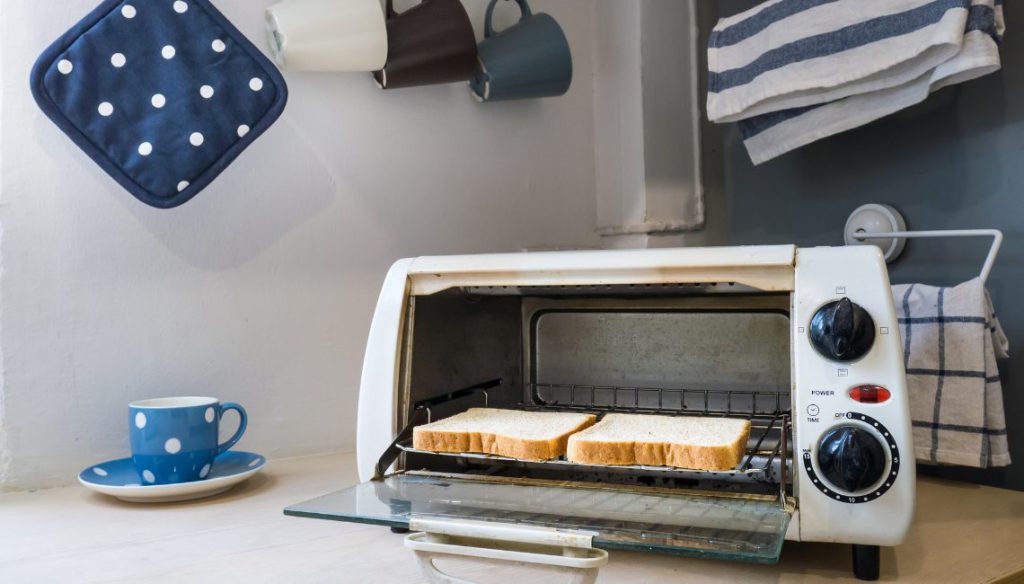 If you're like many other RVers, the kitchen appliance you most miss from your sticks-and-bricks home is your oven. The convection setting in the microwave just isn't the same.
But a toaster oven makes it possible to create a whole lot of your favorite baked and toasted goodies right on your countertop — not to mention easy and convenient snacks like quesadillas, English muffin pizzas, and more!
Why heat up your kitchen when you don't have to? Use the sun to cook your food. The GoSun portable cooker is an easy to use cylinder style oven. It folds down for easy storage. The HotLogic Mini Personal Portable Oven oven is another affordable option that is similar, but you plug in!
Cuisinart Smart Stick Immersion Blender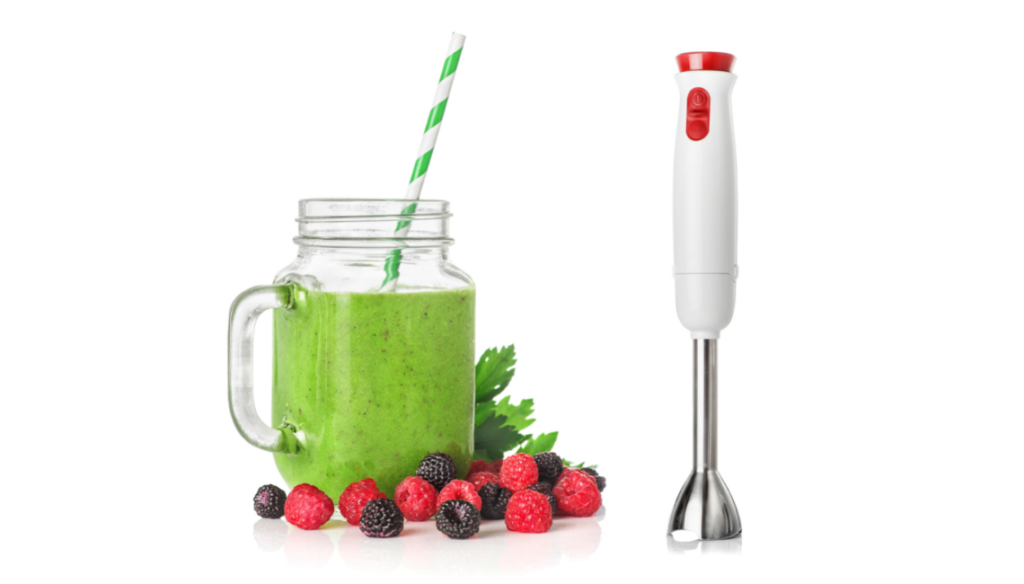 This baby can chop, blend, stir and whip. It's compact size it perfect for RVs.
If you're anything like me, you never have enough counter top space. That's why I love this Camco stovetop cover. It slips right over your burners to instantly expand your kitchen counter space, giving you the room you need to cut, slice, chop, and prepare to your heart's (and your stomach's) content.
The Camco double refrigerator bar keeps food from shifting while traveling. I use mine on the top shelf to secure gallon jugs of milk and water. They take 5 seconds to install and are well worth the $5~ GREAT BUY.
Cleaning RV Gadgets
Keeping your rig squeaky clean is important for both your personal health and the longevity of your rig. That said, few of us consider cleaning our favorite chore… but having the right gadgets and accessories can really help! Here are some items that'll make cleaning your RV a little bit less of a hassle. (Psst: also check out these tips for RV cleaning for people who hate cleaning!)
Moisture is an RV's enemy. A simple shower squeegee will keep your shower free from excess moisture. It will also help your shower stay clean longer. Squeegees are inexpensive and work wonders.
RainX
Think RainX is just for windshields? Think again. Rain works great on glass shower doors. The shower water will bead and roll right off the glass. No stains. No mildew!
Collapsible Tub
Collapsible tubs work great for dishes, foot baths or general cleaning. Pop it up when you are using it. Pop it down for storage. It's as easy as that!
Fill a spray bottle with water and a tiny bit of dishwashing soap. Spray your dishes before you put them in the sink. This simple step will act as a pre-soak and help you use less water come washing time. AMAZING.
Laundry RV Gadgets
Even when you're on vacation, laundry never ends! That said, it doesn't have to be a total pain to keep your clothing clean. These gadgets help make it easy!
Color Catchers
If you frequent the laundromat — like so many campers do — you will love this gadget. Shout Color Catchers will help you save money. Choose an oversized washer and forget about sorting. Toss all your fabrics together and add a color catcher. If any of the dye tries to escape, the color catcher grabs it and keeps it from your other clothes. You save a bundle washing and drying everything together. WOW!
I saw this idea on a YouTube video and have been using it ever since. Traveling with no time to wash socks and undies? No problem. Fill a plastic bin with cold water, your laundry and a dash of soap. Click the lid on for a tight fit. Place the bin in your shower and head out on the road. At the end of the day, the movement of your rig will agitate the clothes. Just rinse and hang. The perfect emergency washer!
Over The Door Organizer
This may or may not apply to laundry, but it certainly applies to the organization. A multi-pocket organizer will keep your makeup, shoes, or office supplies in one handy location. You can even cut the organizers in half and use them in more than one place. Hang them on the back of a door or use command hooks to mount them on the inside of cabinets or the base of your bed. SO EASY.
Safety RV Gadgets
Fun is important, but safety ALWAYS comes first, both on the road and at home. Don't leave without the following safety-related RV gadgets — and make sure your emergency kit is up to date, too!
If your rig has a slide you know how easy it is to bang your head. Those corners can really hurt, especially if you are underneath one. Corner guards add a softer edge and prevent cutting your head or arms. CAN YOU SAY WORTH IT?
This is a no brainer. You need to have at least 2 extinguishers with you at all times: one for the engine and one in the kitchen. Make sure they are up to date and safe. In an emergency, you need to know it works!
Carbon Monoxide Alarm
If your rig didn't come with a Carbon Monoxide Alarm, get one. These alarms detect gas leaks that humans can't always smell. This is especially important if you own a diesel pusher and your bed is in the back next to the engine. BE SAFE!
Mini Paper Shredder
Mail security doesn't stop just because you are traveling. A mini paper shredder is a great item for the full-time RVer. Choose a cross cut unit that will emulate your information and keep is safe from thieves.
Portable Dehumidifier
If you live in your rig year round, a dehumidifier is essential. Moisture is an RV's enemy and you would be amazed by just how much moisture your rig can hold. I use a portable dehumidifier to keep the air dry and to avoid dripping skylights. Seavon makes a compact version rated to dehumidify up to 170 square feet, which is perfect for all but the largest travel trailers and motorhomes. My best tip? Spend the money now so you don't spend it later on repairs!
Electronic RV Gadgets
Just because you're away from home doesn't mean your technology obsession has to stop! These must-have electronic RV gadgets can make your rig into a much more futuristic place.
Cell Signal Booster
You are out in the middle of nowhere camping when your phone rings. Unfortunately, you don't have enough bars to take the call. You dash left and right trying to find a signal to no avail. What should you do? Easy! A cell booster will increase the range of your phone, especially inside your RV. There are a variety of units available so be sure to read reviews to locate the right one for your unit. Can you hear me now?
WiFi Booster
Free wifi is only a good deal if it works. Increase your chances with a wifi booster placed on the top of your rig. The WiFi Ranger with a signal booster is a must-have for serious internet users. Sure, it won't change bad connections, but it will increase your ability to use good ones.
If you're driving a big rig that didn't come with a backup camera included — which is an especially prevalent situation with converted vintage busses or fifth wheel trailers — installing an aftermarket backup camera and monitor kit can totally change your camping game. Just imagine how much easier maneuvering will be when you can actually, you know, see where you're going! What a concept, right?
Blink home security camera setup
Camped in a less-than-populated area? Worried about losing your generator or other valuables while you're away?
If you've got a smartphone, you've already got the makings of a great security system — just purchase the affordable Blink home security camera setup, which you can mount and move with ease to adjust to whatever you're most concerned about in a given campsite. Every time it detects motion, the camera will send a short video clip to your phone, so you can rest assured that all your stuff stays safe while you're out exploring!
Solar Powered Cell Phone Charger

Why plug in when you don't have to? Solar phone chargers are the perfect way to use less energy and stay connected. Solar chargers are available for phones, tablets , and laptops and even come on backpacks. Sign me up!
Remember when everyone had an iPod — and the accompanying library of downloaded MP3s? These days, many of us rely on streaming music services, like Spotify, instead — but that doesn't mean you can't bring those carefully-crafted playlists with you.
The Mighty Spotify Music Player lets you take your music with you everywhere, no Wifi or data connection required. It's bluetooth capable and also compatible with wired headphones, so no matter how you want to listen, you can.
Bluetooth is a reverse friend. No wires necessary. A Bluetooth speaker can connect with a variety of tech gear. Try your phone, t.v., tablet, iPod or even your radio with extra amplitude. Take the sound where you are and make life a whole lot easier!
The Oontz Angle 3 has the added bonus of being water resistant, as well, so you can even jam out in the shower or outside in the rain. Plus it comes in a wide range of colors and holds its charge for up to 14 hours!
Roku
If your RV park has solid WiFi, a Roku will allow you to stream hundreds of on demand TV channels (many that are free!) You can also connect with Netflix, Hulu, Crackle and a variety of other channel options. Who needs satellite when you have a Roku?
Small, portable fans are essential for keeping your rig cool with or without air conditioning. Air movement makes your air conditioner more effective. It also keeps things fresh inside. Anything RV has to be small and multipurpose, that's why I recommend the Honeywell Turbo Force Fan. These units are available everywhere. They are inexpensive, powerful, quiet and can be used for a variety of purposes. Use them to keep cool, dry clothes or push hot air out the windows.
But if you're camping in chilly weather (or an extremely hot summer locale), chances are you'd like to get a reprieve from Mother Nature now and then! If that's the case, we recommend investing in a space heater to help create a more livable environment inside your camper.
If you've gone RV shopping lately, you may have noticed that many of the newest RV models have USB charging ports installed directly into the walls where you once only found regular outlets. But you don't have to trade up to a 2022 model to have 2022 fixings!
You can install USB wall charging ports yourself with ease, and they're not too expensive. For example, these USB wall plates charge not one or two, but four USB devices… and they'll run you less than $30. Sure beats paying thousands of dollars for a brand-new rig, right?
Miscellaneous Must Have RV Gadgets
Here are just a few more gadgets and gizmos that defy categorization, but can make a big difference in your camping experience!
Yup. They make these, and some RVers don't want to live without them. Electric fly swatters or bug fryers are a great way to keep your RV free of pests!
Enclosed fire pits are legal in many parks both national and private and they add a homey feel to your site at night. If you love fire, look for a portable unit or make your own.

Solar panels are all the rage, but if you don't want to install them on your rig permanently, you can still try something portable. Go Power! offers 120W solar kits with a 10 amp controller. These units fold up for storage and can be set up wherever you are. They come with 15 feet of cable and a carrying case. What will solar do for you? These panels will keep your battery charged when you're not plugged in. This means hours of extra fun, wild camping in your RV.
RV accessibility gadgets for pets
If you travel with your furry family members, you want them to be just as comfortable as everyone else, right? Whether your pets are aging or simply uncoordinated, RV steps can be difficult for many dogs and cats.
That's why we recommend this telescoping pet ramp, which will make entering and exiting the RV a breeze for Fido and Fluffy. Looking for some fresh air? This doorway screen will keep bugs out while letting Bugsy come and go as she pleases!
It's a small thing, to be sure… but it's also one of the most important. When you're hooked up to shore power and city water, the pressure of that outlet can easily overwhelm your RV's delicate systems, and if there's one bill you don't want to pay, it's the one cooked up by an RV plumber.
Fortunately, a water pressure regulator will keep the pressure to a reasonable level, and you can find reliable ones that are even equipped with gauges for less than $40. These brass fixtures often come with warranties, and in the long run, it's a small investment that could save you a whole heap of money!
If you plan on drinking water out of your RV's tap — or even using it to brush your teeth or cook with — chances are you don't want it to taste and smell like the inside of a garden hose. That's why many RVers upgrade to a drinking water hose, which ensures the H2O coming out of your tap is clean and safe, free of lead, BPAs, and other nasties that can leach in from inferior products.
Yes, all three of our top three items on this list are about water. But hey — you need it to survive! It's pretty important stuff.
And if you're planning on boondocking, or otherwise filling your fresh water holding tank to supply your sink faucets and shower, you'll quickly understand how frustrating the experience can be without a water tank filler valve.
Thanks to the physics of normal filling, trapped air can slow down the process considerably. This valve allows you to fill your water tank in a fraction of the time, which is especially helpful for boondockers who are usually filling their tanks right before arriving at their destinations. (In other words, that moment when even a "reasonable" wait can feel like agony!)
Best of all, this little piece of plastic won't set you back more than $10 on Amazon. Talk about a no brainer.
Don't get us wrong; space is at a premium in even the largest RVs. But they still have enough nooks and crannies to collect dust… and it can be hard to get a full-sized vacuum in place to take care of the problem.
That's why a handheld vacuum is close to the top of our must-have motorhome accessories. These powerful little machines can suck up a mess almost anywhere, and better yet, they don't take up a whole lot of storage room themselves.
Modern technology means you can get your hands on one of these (literal) suckers for less than $40, and washable bowls and filters mean you don't have to worry about replacing them over time. Black & Decker's handheld dustbuster offers 10 hours of life on a single charge and a 10.8 power rating, which should be enough to tackle any spill you and your rig encounter.
Here's a real thing that really happened to me once: I unhooked my trailer only to realize I'd forgotten to put my wheel chocks down, and the darn thing started rolling away from me. Luckily, I was able to finagle a solution before it went barreling down the hill to ruination.
Long story short, don't forget your wheel chocks… and if you've yet to buy any, get on it. The little yellow plastic ones that keep your rig stable are a great start, but for a more comfortable camping experience, we also recommend X-Chock wheel stabilizers to keep you from bouncing all over the place as you walk around your rig at camp.
Wall-mountable eyeglass holder
Camping's no fun if you can't see, and driving is impossible. Never misplace your eyeglasses again (or watch them slip off the dashboard as your spouse makes a wide turn) with this wall-mounted eyeglasses holder. Sometimes, the simplest ideas are the most brilliant!
Looking for personalized RV accessories that double as DIY projects? Travel-tracking maps might be right up your alley.
Whether they're magnetic or filled with stickers, and whether they track states or national parks, travel-tracking maps are the perfect way to look back on where you've been in your RV… and where you're excited to go next! Plus, they're easy to install and fun to use for the whole family. Just let the kids put the sticker up next time you cross state lines, and watch that smile grow. What better way to inspire your family with the magic of travel?
Looking for More RV Camping Gadgets?
Although keeping some smart gadgets close at hand can make for an easier camping experience, you can never really predict exactly which RV supplies you're going to need. Maybe your RV refrigerator vent cover blows away (true story), and you have to call the manufacturer to replace it… or maybe you discover other RV replacement parts and accessories that need to be swapped out from time to time.
Either way, the good news is, it's pretty easy to source these supplies and accessories. You can run a quick Google search for something like "RV store near me" or "RV supplies and accessories near me" to find a brick-and-mortar store that offers what you need. Of course, the internet makes it even easier to get your hands on what you need at the click of a button — and if you're still in shopping mode, we've assembled a number of other posts filled with our favorite wishlist items to drool over.
Check out the following RVshare blog posts for more:
This post contains affiliate links. RVshare may receive compensation if you make a purchase after clicking on a product link.