Travel Inspiration
Last updated on August 1st, 2022. Originally published on September 15th, 2019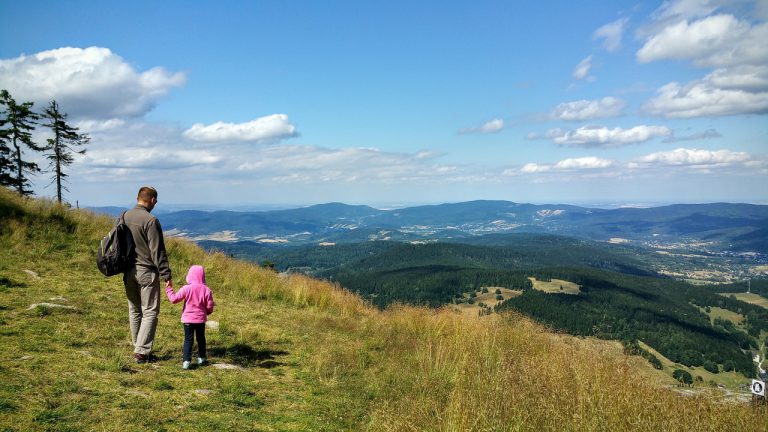 For many RVers (and road trippers of all stripes, for that matter), a tour of America's national parks tops the list of must-do vacations. And we certainly understand the excitement: we're lucky to have one of the most diversified, extraordinary countries in the world to explore and discover, not to mention the planet's oldest national park system. (Yellowstone was the very first!)
But those traveling with their families know that not all destinations are created equally — even where national parks are concerned. If you're looking for places that can come through with easily-accessible hikes, engaging interpretive programs, and other family-friendly features, certain national parks do pull to the forefront.
In this post, we'll walk you through the best national parks for families and kids, including important information about hiking trails, the Junior Ranger program, and more. We'll also include details about pet-friendly parks… because those of us with four-legged kids know they're no less our children!
Best National Parks for Kids
Here are some of the best kid-friendly national parks in the register.
1. Everglades National Park, Florida
Your writer, who grew up in southeastern Florida, may be biased on this point… but there's nothing quite like an airboat ride through an alligator-filled swamp to give you a lasting impression of the great outdoors. Lucky visitors to Everglades National Park might also get to see American crocodiles, manatees, and even Florida panthers.
The Everglades is also a great place to go dark-skying, and is one of the only places in South Florida where you'll witness an abundance of stars that matches what the great wide west has to offer. And if you want to make it into a twofer, Biscayne National Park is just a few miles northeast.
Click here to see RVshare rentals near Everglades National Park in Florida.
2. Death Valley National Park, California and Nevada
We challenge you to find a kid who isn't out-and-out fascinated by the whole idea of Death Valley National Park as soon as they hear the name — and sure enough, they're right to think it's cool. This park is the hottest, dryest, and lowest in the country, but is also home to a wealth of lush foliage and a surprising diversity of wildlife.
In other words, it's a land of extremes… and a great way to get your kids interested in what makes the great outdoors so special. Of course, it's important you take the proper precautions, like bringing along plenty of water and sun protection. This is a very remote (and as its name suggests, potentially deadly) landscape!
Click here to see RVshare rentals near Death Valley National Park
3. Rocky Mountain National Park, Colorado
Stretching over a vast portion of the mountain range of the same name, it's pretty much impossible to see all of Rocky Mountain National Park in one visit… but thanks to its scenic driving route, you can see a whole lot of it from the comfort of your vehicle. And, of course, there are plenty of places to pull off and get more familiar with this alpine landscape on foot, including many short and relatively easy strolls that will keep kids engaged (and not annoyed).
What's more, this stunning national park is only an hour and change from Denver, which boasts a great collection of cultural and educational attractions that are well-suited to kids: don't miss the Children's Museum of Denver or the famous Denver Zoo!
Click here to see RVshare rentals near Rocky Mountain National Park in Colorado.
Most Popular National Parks
Want to know which of your 60+ options frequently shows up on the lists of top 10 national parks?
Here are a few of the most popular ones that are also great for families.
4. Great Smoky Mountains National Park, North Carolina and Tennessee.
Consistently ranked the most-visited park in the country, Great Smoky Mountains National Park has the advantage of size and accessibility: it's a whole lot easier for most east-coasters to reach than the big names out west of the Mississippi. It's also got hundreds of miles of hiking trails, many of which are simple enough for even the littlest campers, and — perhaps our favorite part — it's entry-fee free!
(Psst: staying on the Tennessee side? Be sure to check out the nearby Gateway towns of Gatlinburg and Pigeon Forge, which are filled with all sorts of family-friendly diversions.)
Click here to see RVshare rentals near the Great Smoky Mountains.
5. Yellowstone National Park, Wyoming
When you're making a list of the best national parks, you can't neglect the oldest! You and your family will quickly understand why this breathtaking landscape inspired President Ulysses S. Grant to designate Yellowstone the world's first national park all the way back in 1872.
Just be sure to plan out your activities and arrive early. Because of the immense popularity of this park, it's all too easy to get stuck in bumper-to-bumper traffic… and while you can still see cool stuff along the road, it's much more gratifying to get out and walk.
Click here to see RVshare rentals near Yellowstone National Park in Wyoming.
6. Arches National Park, Utah
Arches National Park is definitely kid friendly — and everyone-else friendly, for that matter. It's hard not to be awestruck by these towering sandstone arches, which are at once rugged and delicate.
And due to the popularity of the park, the NPS has put in more and more interpretive and educational programming to help you and your family experience the full breadth of the park's majesty. However, we do recommend you make your camping reservations early, even if you're staying outside of the park or in nearby Moab.
Click here to see RVshare rentals near Arches National Park in Utah.
Top National Parks for Pets
Four-legged kids are still kids — but not all national parks allow them to accompany you on the trails! Fortunately, though, some do. Here are our favorites.
7. Acadia National Park, Maine
Although certain trails and park locations are closed off to all but service animals, the majority of Acadia's 120 miles of hiking trails are pet friendly, so long as you keep your pup on a 6-foot leash and pick up after them.
Along with allowing Fido to come along with you, Acadia National Park is one of our top picks for families because most of its sights and scenes are easily accessible off the main loop road — no major backcountry hiking required. The park also offers horse-drawn carriage rides, which kids adore, and if you go at the right time of year you might even find wild blueberries to pick.
Click here to see RVshare rentals near Acadia National Park in Maine.
8. Grand Canyon National Park, Arizona
Not every national park has the kind of fame that makes it a touchstone in productions like National Lampoon's Vacation… but that's just how awe-inspiring (and absolutely non-negotiable) Grand Canyon National Park is. And what's more, well-behaved, leash pets are allowed to experience the majesty with you in specific parts of the mark, including select trails above the South Rim as well as many campgrounds and all developed areas.
Click here to see RVshare rentals near Grand Canyon National Park in Arizona.
RVing Makes for the Best National Park Vacations
Although the above-mentioned national parks do have a special place in our hearts (and are especially exciting to younger campers), the good news is, with a national park system as beautiful and varied as ours, you really can't go wrong… especially if you're camping in an RVshare rental! Whether you prefer a pick-up-and-go motorhome experience or the more rugged and adventurous travel trailer lifestyle, you can find your dream rental either near you or near your destination in our comprehensive and attractive listings, all of which are owned and managed by trusted, private RVers. That means that you'll save a bundle on the price you'd pay at the big nationwide franchises… and also that the cash you do cough up is going right back into the camping community! Pretty cool, right?
By the way, almost all of the national parks engage in the Junior Ranger Program, which aims to get kids excited about the parks and about ecology as a whole. Click here to read more about the NPS Junior Ranger Program.
And finally, if one of the parks above — or any other — has caught your eye, check out our in-depth PDF guides to each national park! They cover not only how to get to the parks and where to camp, but also what to see, do, eat, and where to hike while you're at it.
Enjoy!
This post contains affiliate links. RVshare may receive compensation if you make a purchase after clicking on a product link.