Travel Inspiration
Last updated on December 20th, 2022. Originally published on March 20th, 2018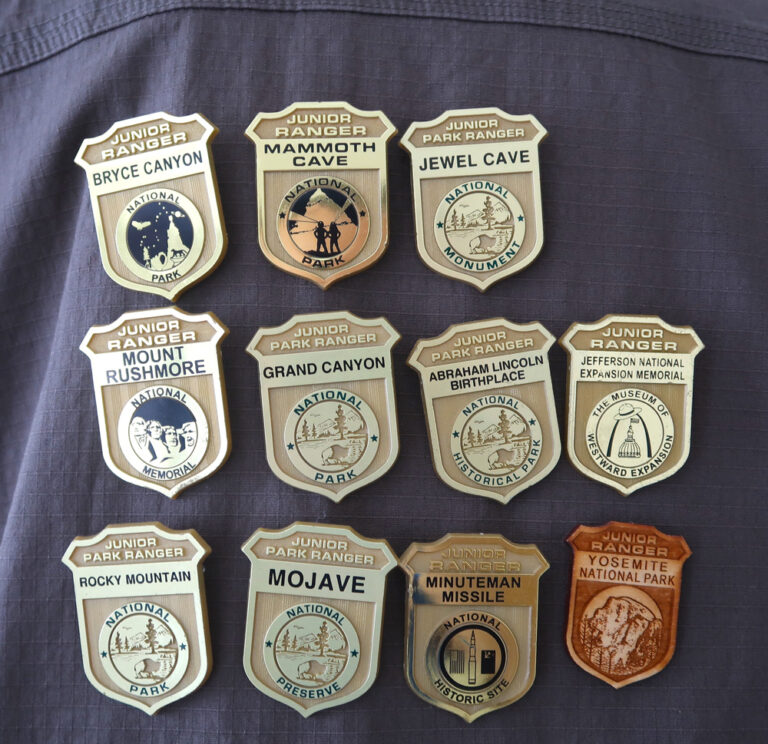 We've said it before and we'll say it again: National parks are some of the best attractions our country has to offer. These places are absolutely stunning, full of amazing history, and most of them offer RV camping.
On top of all that, because many NPS sites are free and the "America the Beautiful" national parks pass covers most others, visiting them doesn't have to cost a fortune.
Yes, seeing the national parks of the USA is definitely something to get excited about, and we make a point of seeing as many as possible during our travels. That said, not everyone would agree with that sentiment. There are many young kids in particular out there who might declare a visit to Yellowstone or Glacier "boring" and others who might complain the entire time you're hiking the Grand Canyon.
This is unfortunate. We all want our kids to enjoy and appreciate all that nature has to offer. However, the world is often so stimulating these days that when taken away from the hustle and bustle and put into a natural environment, many kids simply don't know what to do with themselves. This is where the NPS Junior Ranger Program comes into play.
Use this article to learn all about the fantastic Junior Ranger program and how it can help your kids be more engaged and excited during your national parks visits.
Junior Ranger Program
First, let's talk about what the Junior Ranger Program is.
The Junior Ranger motto is: "Explore. Learn. Protect."
The goal of the program is to encourage kids ages 5–13 (though there is no set age limit) to be engaged during their visits to the parks, giving them reasons to get excited about exploring and helping them learn new things along the way. There is also a strong focus on protecting the parks and all the plants, animals, and history found there.
Many Junior Rangers are passionate about exploring, learning, and protecting the parks, making a point of visiting as many parks as possible in order to expand their knowledge base.
Junior Ranger Activities
How exactly does the Junior Ranger program teach young visitors to explore, learn, and protect? Well, they use fun activity booklets which can be picked up at visitor centers. Usually these booklets are free, but in the few places that do charge, the cost is less than $5.
Junior Ranger booklets are park-specific, meaning the activities in these books focus on the things found in the park you're visiting. A booklet might ask you to visit specific landmarks, or it might include a bingo game that involves finding plants and animals that call that park home. Some pages have word searches with words pertaining to the park, while others will ask questions that can be answered by checking out a visitor center. All Junior Ranger books include at least one page about protecting the parks, ensuring kids understand this important aspect of being a Junior Ranger.
Some Junior Ranger booklets are pretty big. In these cases there is often a key, telling kids how many pages they must complete based on their age. Other times there are age-specific books, and some parks even offer simple coloring pages for the youngest Junior-Rangers-in-training.
Earning Badges
Once a young visitor finishes the activities in a booklet, the next step is to return to the visitor center (or visit another one in the same park). There, the Junior Ranger will discuss with a Park Ranger what they saw and learned, recite the Junior Ranger oath, and receive a Junior Ranger badge.
Junior Ranger badges look very much like the badges worn by national parks rangers. Each badge is park-specific, so kids can look at their collections and see where they earned each badge. Badges are usually plastic, but occasionally you will come across a wooden one. All have a pin on the back, allowing the recipient to attach the badge to a vest, sash, or hat. Many national parks sell Junior Ranger vests and hats that are perfect for displaying badges, but we've also seen people hang them from a ribbon in their bedroom.
If you can't make it to a visitor center to get a badge before leaving the park, look at the back of your booklet or at the park webpage for instructions on getting your badge by mail. Most parks have this option.
Finding Parks With Junior Ranger Programs
Is your kid ready to start their Junior Ranger adventure? We can't blame them for being excited. The first step is finding out where a badge can be earned. Fortunately, almost all NPS sites offer a Junior Ranger program, meaning you shouldn't have a hard time finding a place to get started.
To ensure your park has a Junior Ranger program, we recommend checking this page or giving them a call. You can also ask a ranger once you arrive at the park.
Don't have an NPS site near you? Even if you can't get to a park right now, your kids can still earn a badge. That's right, they can become Junior Rangers from the comfort of their own home!
To do this, visit the "Junior Ranger online" page or the "printable booklet" page and choose a subject that sounds interesting. Complete all the activities, fill out the certificate (if applicable), and download and print, share, or save the digital badge. Some parks offer the opportunity to call in and have a ranger swear you in with the Junior Ranger oath over the phone. In some cases, you'll even be able to mail the completed activities in to receive a physical badge or patch.
Besides these digital activities, the NPS system also offers virtual tours to Junior Rangers. We highly recommend spending some time taking a few of these tours next time your kids are looking for something to do. They are educational, interesting, and a great way to expand upon one's Junior Ranger knowledge.
Our Favorite Programs
While a Junior Ranger badge can be earned online or at almost any NPS site, some Junior Ranger programs do stand out as especially awesome for kids. 
If you're looking to find a park and activity booklet that will definitely engage your child, consider starting with the Junior Ranger program at one of the parks listed below:
Castillo De San Marcos National Monument

Mammoth Cave National Park

(ask for the Cave Explorer Booklet as well as the park-specific one)

Colonial National Historical Park

Dinosaur National Monument (ask for the Junior Paleontologist booklet as well as the park-specific one)
Each of these offers an especially good activity booklet filled with activities that help kids engage in their surroundings and avoid busy work. Additionally, a couple of the parks listed offer special badges in addition to the park-specific badge options.
Clearly, this program is an awesome way to get your kids excited about visiting national parks. Why not get started right away by packing up an RV and hitting the road? You can help your Junior Rangers grow a badge collection to be proud of.