Travel Inspiration
Last updated on January 10th, 2023. Originally published on August 31st, 2018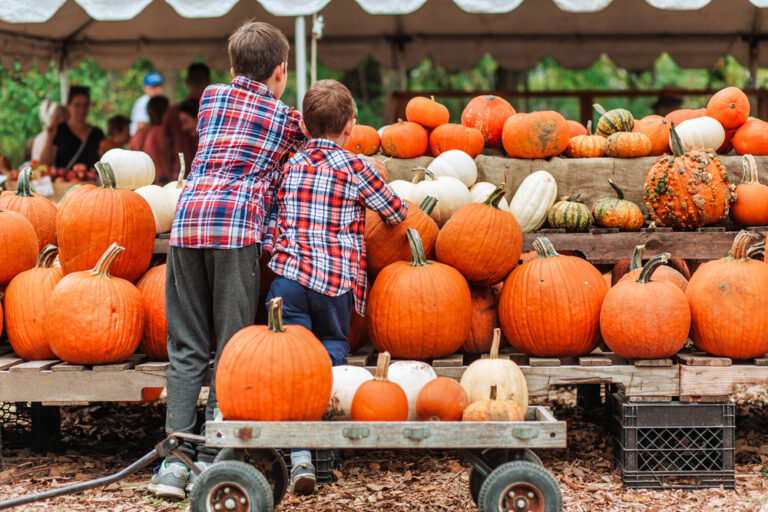 With September just around the corner, there's no denying it any longer. Summer's over, folks. But that doesn't have to be a bummer!
Although June, July, and August are beloved amongst RV travelers for their bright sunshine and long, lazy days, fall travel has some pretty sweet perks of its own — such as, for instance, not having to worry about sweating through every last outfit you pack for your trip.
Along with the undeniable allure of sweater weather and the Technicolor majesty of changing fall leaves, there's another autumn hallmark that makes it a great travel season: the age-old tradition of fall fairs and festivals.
Whether it's celebrating the bounty of a harvest or simply indulging in some musical shenanigans now that the sun's a bit less aggressive, there's a whole lot of festivity going on this fall — and with its unique combination of coziness and convenience, RV travel is the perfect way to participate in these fall fairs. (You can even bring your very own blankets to cuddle up in as the temperatures drop at the end of the day!)
In this post, we'll list some of the fall celebrations we're most excited about this year, including fall fairs, fall festivals, and options for every kind of camper. We'll also discuss some basics to add to your fall road trip packing list, as well as some alternative fall activities if you can't quite make the trek to any of these fall fairs.
Whether you're after wholesome family fun or something a little more wild, there's a fall festival just waiting for you and your RV. So let's get going!
Why You Should Totally Go to a Weekend Fall Festival
Although they're hot spots for RV camping, many RVers have yet to go to a festival. After all, tickets to the big-name music fests can be insanely expensive, and that's before you even factor in the cost of camping.
But with the nation exploding in harvests and hayrides, fall festivals and fall fairs are often much more affordable — and lower-key — than their famous summer counterparts.
Of course, there are still tons of big, bustling fall fairs and festivals to pick from, too — just in case you're looking for one last hurrah as a so-long to summer.
And either way, you can easily head to a fall festival for a short weekend getaway, the perfect mini-break from day-to-day life that won't interfere with your fall school and work schedule.
"Alright, sounds good," you may be thinking. "But where are the fall festivals near me? And when are the best fall fairs?"
So glad you asked. Without further ado, here are just a few of the fall celebrations that are on our radar this year.
The Best Fall Festivals for Families
From harvest fests to fun-filled fall fairs, there are plenty of fun festivals to attend in September and October. Here are a few great family-friendly options for those traveling with children.
The Annual Warrens Cranberry Festival
Just how crazy are you for cranberries?
If you just can't get enough of this fall fruit, best head to the Annual Cranberry Festival held in the lovely town of Warrens, Wisconsin; this year's event will be its 48th running.
Along with a parade, performances, and a sprawling craft, baked good, and vegetable sale, festival-goers also have the opportunity to participate in several contests. These include a costume contest, biggest berry contest, button design contest, and more.
Dates: September 24-26, 2021
General Admission Tickets: Festival admission is free, though some events, activities, and food may require purchase.
Location: Warrens, Wisconsin
Where to Camp: If you're looking for a developed campground chock-full of amenities, the Jellystone Park Warrens has is a great pick. For an even more laid-back locale, check out McMullen Memorial Country Park.
Click here to see RVshare rentals near the Annual Bandon Cranberry Festival.
Albuquerque International Hot Air Balloon Fiesta
This world-renowned festival of flight is rumored to be the most photographed event on earth — and it runs a full week, so you've got ample opportunity to get that perfect snap for Instagram. At the Albuquerque International Hot Air Balloon Festival, you can watch a rush of colorful balloons rise into the sky en masse during the daily morning "Mass Ascension" sessions, or root for your favorite pilot during the competitive flying series.
There's plenty of terrestrial fun to be had, too; live music and chainsaw carving events are just a few of the items on the fiesta's extensive schedule. Did we mention, also, that it falls during New Mexico's prized hatch green chile season? You'll definitely be eating well during your stay… enough so that you'll probably want to take a siesta.
Dates: October 2-10, 2021
General Admission Tickets: $15 per person per "session;" see the Fiesta website for full details.
Location: Albuquerque, New Mexico
Where to Camp: Albuquerque boasts several private, developed campgrounds, including a KOA. But if you're willing to drive into town on the day of the event, there's plenty of woodsier camping options in one of the many National Forests in the area.
Click here to see RVshare rentals near the Albuquerque International Hot Air Balloon Fiesta.
The National Apple Harvest Festival
You know what they say: there's nothing as American as apple pie. (We'll just overlook the fact that the first recipe was actually written in England, over a hundred year before Pilgrims made their journey.)
Either way, there's nothing quite as versatile as a good ol' apple, as delicious baked into decadent goodies as it is crunched fresh off the tree. At the National Apple Harvest Festival, you and your family will have the opportunity to eat all the apples you can stand, and enjoy some exciting music, events, and craft demonstrations to boot. Held annually in the heart of Pennsylvania Apple country, the town of Biglerville is just a few miles outside of Gettysburg — which is totally already on your list of must-see RV destinations, right? — and within an easy drive of several major east-coast metros including D.C., Baltimore, and Philly.
Dates: October 2-3 and 9-10, 2021
General Admission Tickets: $10 per person, but discounts and packages are available. See the Festival website for full details.
Location: Biglerville, Pennsylvania
Where to Camp: Given the proximity of Gettysburg, there's no shortage of campgrounds to choose from in the area. But Pine Ridge Campground is actually within the city lines of Biglerville, proper, and boasts an impressive 4.6 star user rating on Google.
Click here to see RVshare rentals near the National Apple Harvest Festival.
Fall for Greenville
It might not have the star power of Columbia or Charleston, but what Greenville lacks in notoriety, in more than makes up for in charm.
Just in case you need some convincing, the town holds its well-named Fall for Greenville celebration annually in early October. With the oppressive summer humidity giving way to cooler temperatures and a beautiful color change, the backdrop is on point for a weekend of family-friendly festivities. Enjoy a range of live musical performances and a plethora of local delicacies so extensive, there's no way you'll be able to keep up with it: over 40 restaurants will be represented, offering over 200 different menu items.
Dates: October 8-10, 2021
General Admission Tickets: While admission is free, you'll need to purchase Taste Tickets to redeem food, drinks, kids' activities, and festival merchandise. Taste Tickets are $5 apiece and available for purchase at multiple locations throughout the festival, but you can save by purchasing online — buy 10 sheets and get one sheet for free. See the Fall for Greenville website for full details.
Location: Greenville, South Carolina
Where to Camp: Springwood RV Park is about as close to downtown as you can get, and offers daily, weekly, and monthly rates — just in case you do actually fall for Greenville and decide to stay longer.
Click here to see RVshare rentals near Greenville, South Carolina.
Fun Fall Events for Every Camper
Summer's over, but the party doesn't have to be! If the end of August has you wondering, "Where are all the food and music festivals near me?" — have no fear. There's plenty of fun still to be had, you party animal.
Here are some upcoming fall festivals to please every kind of RV adventurer.
Avocado and Margarita Street Festival
Now that's what we call a food festival.
The Avocado and Margarita Street Festival may be one day only, but with everyone's favorite pairing of Mexican treats, you can rest assured it's going to be a day of very good eating, indeed. (Yes, margaritas are totally a food group.)
Along with a steady stream of delicious indulgences, festival-goers will also enjoy a lineup of live music and fun, whacky contests; you can try your hand, for example, at avocado juggling. There's also face painting, balloon animals, and a petting zoo to keep the kids occupied while you're downing your margs. The ultimate kicker? It all takes place along Morro Bay's stunning stretch of waterfront, which is only minutes from the can't-miss quirky fun of San Luis Obispo.
Dates: September 11, 2021 and September 10, 2022
General Admission Tickets: $7 in advance or $10 at the door, and includes a raffle ticket for a year's supply of avocados. See the Festival website for full details.
Location: Morro Bay, California
Where to Camp: Morro Bay State Park can accommodate travel trailers and motorhomes of up to 35 feet in length, but it's a good idea to book your site well in advance. Sold out? Try Cerro Alto Campground, just a few miles further inland.
Click here to see RVshare rentals near the Avocado and Margarita Street Festival.
Austin City Limits Music Festival
Think summer is the only time to catch a life-changing music fest? Think again. This fall music festival, held annually in the heart of everyone's favorite weird Texas town, truly offers tunage for every type of listener: George Strait is headlining this year, along with a host of other big-name bands and stars including Miley Cyrus, Billie Eilish, Rufus Du Sol, Tyler, The Creator, and Duran Duran.
Once you're done getting down, you can enjoy all the other awesomeness Austin has to offer — whether that's a serene kayaking trip on Lady Bird Lake or a night bar-hopping in pursuit of even more music and revelry.
Dates: October 1-3 and 8-10, 2021
General Admission Tickets: One-day tickets start at $100 per person, but vary based on which weekend and how many days you plan to attend. See the Festival website for full details.
Location: Austin, Texas
Where to Camp: With multiple private parks in town, urban camping is a solid option; the prestigious Sun RV Resorts line has an Austin location known as the Lone Star.
Click here to see RVshare rentals near Austin City Limits Music Festival. (But be sure to book early — big music festivals like this one always put a serious strain on the RV rental market!)
Voodoo Arts and Music Experience
Looking for a Halloween travel experience to remember? How about a music-filled weekend in one of the country's most haunted, beautiful, and undeniably fun towns? That's what you'll get at the Voodoo Arts and Music Experience, which has been held annually in New Orleans over Halloween weekend for twenty years now.
Each year's lineup includes a whole host of music celebrities, and with an endless array of delicious festival foods and a sprawling coalition of artists displaying their wares, the music is really just the beginning.
And don't forget: it's in New Orleans! So there's even more to see once the festival is done. Just make sure you request Monday off from work — and possibly Tuesday, if we're being honest. You're definitely going to need time to recover.
Dates: Canceled for 2021, 2022 dates TBA
General Admission Tickets: 2022 tickets prices are TBA. See the Voodoo Arts and Music Experience website for full details.
Location: New Orleans, Louisiana
Where to Camp: The French Quarter RV Resort offers a super-convenient home base spot smack in the heart of the action. But if you're looking for a place a little further afield — after all, you're gonna need some quiet refuge after all that partying — Saint Bernard State Park is a beautiful (and affordable!) option.
Click here to see RVshare rentals near the Voodoo Arts and Music Experience. Just like with Austin City Limits, we recommend booking well in advance of this much-celebrated event!
Festival Camping: What to Know Before You Go
Although we've provided some specific suggestions for RV camping spots for each of the events above, there are plenty of other fall festivals and fall fairs going on that may not be in close proximity to RV parks — or may offer boondocking-style accommodations right on the property.
The convenience of staying on-site is not to be dismissed, but depending on your camping experience, this style of camping may be a totally new one for you. So below, we've included some festival-specific RVing tips to help make sure you — and those around you — spend the entire event as thoroughly happy campers.
Don't run your generator all day.
If you have the opportunity to stay on-site, chances are you aren't going to have hookups. And if you're used to the comforts of constant climate control, you may be tempted to run your generator. A lot.
But you're probably going to be spending the majority of your time outside of the rig enjoying the festival, anyway — and besides, it's fall now, so the sun shouldn't be quite as unbearable as it is during high summer!
Your generator generates a whole lot of noise and stinky fumes along with the energy you need to run your electronics, so refrain from running it as often as possible. Your lungs, ears, and neighbors will thank you — and given the price of propane gas, so will your wallet.
Get there early, if you can.
In most cases, on-site camping spots at fall fairs and festivals are assigned on a first-come, first-served basis — and it's pretty standard for the sites closest to the venue and events to fill up first.
So if you want to be right there in the thick of the action, it's worth showing up to the festival campgrounds as early as possible. (On the other hand, if you'd rather get out quickly at the end of the event, you might want to arrive a bit later!)
Be prepared for noise.
Even if everybody on the property obeyed the "use your generator sparingly" rule — which, unfortunately, is not probable — chances are, the festival grounds are still going to be fairly noisy. Live music, shouting children, and events announcers can cause quite a cacophony.
Depending on what kind of festival you attend (and whether or not you're an early riser), these events may not end until well after your bedtime. If noise keeps you awake, it's worth bringing along some earplugs to ensure you can get your beauty rest, no matter what everyone else is up to.
Don't Forget to Pack These Fall Festival Essentials
Whenever you're going camping, you know there are certain essentials you simply can't be without. (For example, you always want to have lots of water and sunscreen on board your camper.)
But fall travel has its own unique set of challenges, and #festivallife can be improved with a few simple extras. Here's what not to forget before you hit the road for fall fairs and festivals.
Warm, Layerable Clothing
The cooler weather is a-comin' — and if you want to be prepared for it, we only have one word for you: layers. Since fall temperatures can be chilly in the morning but downright balmy by mid-afternoon, you'll want to wear several thin layers you can easily take off or put back on as the day progresses.
Sturdy, Waterproof Shoes
The summer storm season may have passed, but fall has its own squalls — and all the traffic at a festival site can quickly turn it into a mud bath. So unless trodding around with sodden feet sounds like a celebration to you, don't forget to bring your wellies! (Or whatever your favorite form of waterproof footwear may be.)
Pro tip: moisture-wicking wool socks will make even semi-permeable footwear much more comfortable in the event your feet do get wet.
Fun Festival Extras
Fun, funky accessories and campsite decor aren't just optional bonus items — they're necessities for fall fairs and festivals. A thematic outfit can help you show your festival spirit, and hanging those cute string lights on your camper's awning can help you find your way back to your site at the day's end.
Other items to consider for your festival checklist: outdoor cooking gear, games (to help break the ice with your camping neighbors), and maybe a Jack-o-Lantern carving kit if you're headed to a harvest.
More Fun Fall Activities to Consider
Too late to score festival tickets? None of these fall festival ideas within your travel parameters or budget? Can't make it these fall fairs for scheduling reasons?
Not to worry. There's tons of autumn fun to be had all across the country, whether you pack up for an exciting new locale or even just staycation in your own backyard. Here are some fun fall activities to enjoy with your family this year — no ticket purchase required.
Get Out Your Binoculars for Some Leaf Peeping
Yes, some parts of the country undergo a more dramatic fall transformation than others. But no matter what part of the country you call home, chances are you're seeing some seasonal changes.
Take the age-old advice to stop and smell the roses — or, in this case, to stop and look at the suddenly-calico oaks and maples. Whether you take a short road trip to a spot well-known for its fall foliage (hint: here are some favorites) or simply wander around your own town to see what you can discover, the world's sure to look lovely in its new outfit.
Visit Your Local Pumpkin Patch
If you didn't carve a pumpkin — and enjoy some sort of pumpkin baked good — did fall even happen?
Honestly, we're not sure. But we are sure that a trip to the pumpkin patch makes for way more than a cute photo opp with your pet or your infant. (Although, yes, there's that too.)
Choosing a pumpkin or three and carving some not-so-scary Jack-o-Lanterns is a longstanding fall tradition in many American families, and creates lifelong memories for kids and adult alike. There's no way not to experience that uniquely cozy fall feeling when you're traipsing through a field of potential pumpkins… and even if you do nothing more than roast their seeds, you're bound to get a delicious treat in the bargain.
Best of all, no matter what American town you live in, you definitely have a pumpkin patch in your community. Many of them benefit churches or other charitable organizations, too, so you can feel good about your gourd!
Take a Hayride
In a few months, that one-horse sleigh might dash you through the snow… but for now, ditch the heavy overcoat and pile onto the straw for a fun family adventure.
Many local farms and fairgrounds transform their lands into an autumn wonderland come September, complete with spooky scarecrows, pumpkin patches, and all sorts of fun activities. Pay attention to community bulletins and events calendars to discover what kind of pumpkin-y fun you can get into in your area.
Go for a Hike
Taking a long walk up a steep slope sounds a little bit better now that you don't have to deal with 90-degree weather — and even if you're in a place that's temperate all year long, there's just something about crunching down a leaf-lined forest pathway.
Do make sure you dress properly, with those light layers we discussed above. And since you'll still likely work up at least a little sweat, it's worth it to make sure your clothes are moisture-wicking. Nothing can ruin a beautiful view as quickly as feeling cold and clammy!
Proper hiking shoes are also essential to ensure you maintain ankle stability and traction. And they'll keep your tootsies nice and warm to boot. (No pun intended.)
Although summer might be the star of the RVing world, we feel that fall travel is way better than second fiddle, especially if you can manage to attend one of the many fall fairs and festivals. In fact, in many ways, it's even better than its summer sister. (Seriously, have you ever experienced July in central Florida? Not. Worth it.)
For even more information on fall camping, including what to bring, where to go, and how to get there, check out the following posts right here on the RVshare blog:
Enjoy fall while it lasts, campers — because winter is coming!
This post may contain affiliate links.