Travel Inspiration
Last updated on October 18th, 2023. Originally published on February 12th, 2020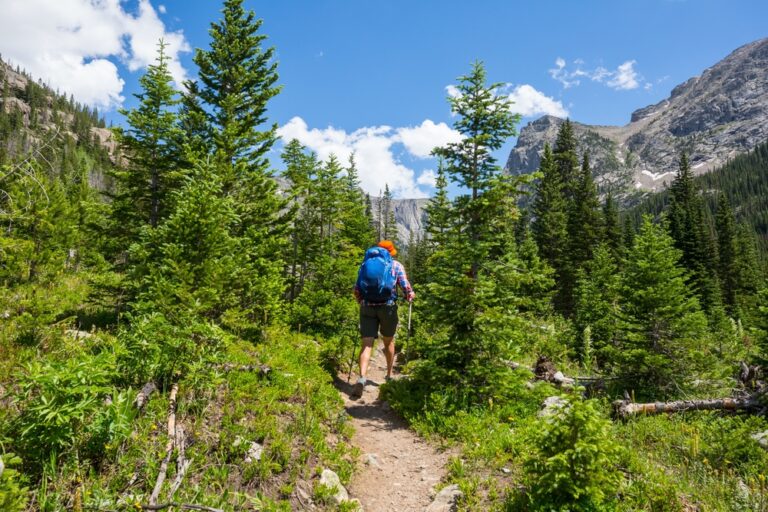 There's no better way to get thoroughly acquainted with a new destination than by exploring it on your own two feet. But hiking, although it's an accessible sport, can take some planning — and even short trails require considerations to ensure your safety.
In this post, we'll walk you through hiking essentials for beginners, from what kind of gear you need to how to find the right trails for you. We'll also cover basics in hiking etiquette, such as Leave No Trace and how to determine who has the right-of-way on the trails.
Learning how to hike is the best way to start hiking… so let's dive in!
How to Start Hiking for Beginners
While many hikes, especially shorter and easier ones, are pretty simple, establishing good hiking habits and setting a precedent you'll follow as you scale up your journeys will lead to more satisfaction (and safety!) in the long run.
Choosing high-quality gear, learning about trail etiquette, and knowing how to decide whether or not a trail is right for you simply by its description are all key steps to creating a healthy hiking habit that will last a lifetime.
So let's get started on figuring all that stuff out!
How Long is a Beginner Hike?
One of the first things many beginning hikers want to know is: how much trail can I do? Figuring out your personal fitness level and abilities is one of the most important parts of establishing your hiking skills.
While the length of a hike will vary based on the beginner in question, generally speaking, you want to start with a lower mileage for your first few trails.
As someone who's just figuring out hiking basics, shorter trails are a better playground for practice. Loop trails are even better since you just keep following the trail and still eventually end up right back where you started from.
Many trails also climb uphill or have elevation gain — which can lead to some awesome views. But even if you're in great shape, don't underestimate the intensity of a steep trail climb, especially with food, water, and equipment on your back!
For brand-new beginners, we recommend choosing a trail of under five miles and less than 1,000 feet in elevation gain, or an even easier one if you're out of shape. There's no shame in choosing easy routes, and besides, many of them offer stellar views… and are a great way to ramp up to the exciting, exhausting hikes you're looking forward to.
(Psst: There are also ADA-accessible hiking trails in many of America's national parks and select state parks, too. These trails make it possible for everyone to experience the great outdoors, regardless of ability level.)
Choose a Hiking Route
So, as a beginner, you're looking for easy and short. But as your skills improve, what goes into choosing a great hiking route?
Fortunately, there are tons of great resources available today to help you get as many details as possible about a given trail well before you're at the trailhead.
One of our favorite apps is called AllTrails, and is available both online and as a mobile app. It lists a trail's total length, elevation gain, and difficulty level, and also has a space for user ratings and photos to get you an even clearer picture of what's to come. You can also find maps at visitor centers and sometimes at trailheads as well. But once you have those maps, how do you narrow down your trail?
The first two things you'll want to keep in mind are trail length and elevation gain. These are the factors that affect the trail's difficulty level and may determine whether or not it's within your reach.
After that, you might consider more personal preferences. Would you rather hike through a tree-shaded forest or a sprawling desert? Want to see waterfalls along the way, or are you hoping for a copse of wildflowers? Apps like AllTrails, as well as in-person suggestions from park rangers and other officials can help you find a trail that will meet all of your needs.
Finally, keep in mind that different trails will place different requirements on your body and your group in general. For instance, a desert trail with very little shade will require more sunscreen and water, while one that runs alongside a river gives you a chance to refill your bottle — so long as you purify the water! LifeStraws take up very little room and allows you to filter natural water in real time. Trails may also be dog-friendly or not — and even those that are may require you to keep your pet leashed at all times.
Choose Your Hiking Gear
Here is a list of day-hiking essentials, so you know exactly what to put into your pack before hitting the trails!
Hiking backpack — Get a good quality bag that will last. A bag that breaks along the trail isn't very useful. Along with the Osprey daypack, the Kelty Tactical Redwing Backpack offers great bang for your buck. Sure, it is a bit pricier than a typical school backpack, but if you want something to hold up to your hiking adventures, this will do that. The Zpacks Arc Haul Zip is a lightweight pack that can hold all of your gear and stand up to the abuse of hiking. It includes an easy-to-load front pocket, ventilation, and is waterproof. Also, CamelBak makes HydroBack backpacks that offer a little bit of storage room, but are perfect for people using their packs mostly for water storage.
Appropriate attire — Moisture-wicking fabrics are ideal, and wearing layers is good for adjusting to the temperature as the day goes on. The Black Diamond Mens Stretch Waterproof-Breathlable Rain Jacket is completely waterproof, incredibly lightweight, and easy to pack. Additionally, you will want to ensure you're protected from the sun with a hat and sunglasses.
Hiking boots or shoes — Proper footwear is important for ensuring you have plenty of traction and protection. While hiking boots certainly do have their place, many people prefer a lightweight hiking shoe. This is where ALTRA Men's Olympus Trail Running Shoes come into play.
Snacks and water — Hydration is incredibly important while hiking. Therefore, water is a must-have item. Water is extremely heavy. If you'll be hiking near a water source, you might find it more efficient to pack the Sawyer Mini Water Filtration System and filter water as you go. Packing snack items is also a good idea for keeping energy levels high. Granola bars and trail mixes are ideal.
Navigation tools — Getting lost while hiking definitely puts a damper on things. Avoid this problem by bringing a map, a compass, and any other navigation tools you might need.
First-aid kit — You will want a way to treat minor injuries while you're out exploring. A simple first aid kit is just the thing!
Knife — You never know when you might need a knife, and a pocket knife or pocket multi-tool is an absolute must-have.
Flashlight — Don't get caught after dark without a light! A simple flashlight could be a lifesaver.
This is just a basic hiking list. You may need to add things based on your needs.
Dog Hiking Gear
Have a pup you plan to bring along? Your furry friend might need some hiking gear of their own.
Below is the best hiking gear for dogs:
Harness: Ruffwear Front Range Harness
You'll need a way to keep your pooch comfy and contained. The Ruffwear Front Range Harness allows you to do just that.
Leash: BAAPET Dog Leash
Of course, a harness is not very useful without a good leash. The BAAPET Dog Leash is the perfect solution. It's made with rockclimbing rope, meaning it fits right in with your camping gear and is very reliable.
Booties: Ruffwear Grip Trex
No pup wants to walk on hot or potentially damaging ground. Ruffwear Grip Trex booties will help protect your pet's feet while also giving them good traction.
Portable Bowl: SLSON 2Pack Collapsible Dog Bowl
Finally, you will want a way to give your dog a drink. The SLSON 2Pack Collapsible Dog Bowl comes with a bowl for water and one for food…or two water bowls if you're hiking with several dogs.
Hiking Etiquette for Beginners
You've got a trail picked out and the right gear to do the job. So what are the rules you should know before you hit the trails?
Right-of-Way: If you're hiking on a trail with an incline, hikers coming uphill generally have the right-of-way over hikers descending. On a flat surface, it's harder to tell, but in any scenario, you can always just ask the other party if they'd like to go first.
If you encounter other types of travelers on the trail, like bikers or horseback riders, as a hiker, you'll want to yield the right-of-way to these groups since they're generally faster and have a harder time stopping.
Leave No Trace: Leave No Trace practices are designed to help hikers and outdoor adventurers experience the outdoors without impacting the environment so that future generations can also enjoy our natural surroundings. Leave No Trace principles require campers to reuse old camping spots and firepits, and require campers and hikers to pack out all of the garbage they bring into the wilderness, including human waste. For full details on Leave No Trace principles, check out the website.
Hiking with Kids and Dogs
If you've got kids and dogs along for your trip, you may want to bring them hiking, too! Dogs love a chance to exhaust themselves in the great outdoors, and plenty of kids enjoy the experience, too. There are some things you need to know before you head out on your big adventure, though.
For starters, not all trails are dog-friendly… and those that are often have leash requirements. There may even be a leash length requirement (generally six feet).
Even on trails where these rules are not stated, keeping your dog leashed while hiking is a good idea. Your pup could see a squirrel or other interesting creature and run off after it, and it can be hard to get them back. You'll also want to ensure you're offering your pup water breaks just like you're taking for yourself.
As far as hiking with kids, parents will have a better sense of their child's abilities (and interest level) than any guide. Generally speaking, kids are probably going to be better off with shorter hikes and may require some encouragement to avoid losing their focus. As always, make sure you're offering them plenty of food and water and keeping them protected from the sun with proper clothing and sunscreen. If you're going for more than just a day hike, use our tips for how to camp with a baby.
(Psst: hiking with really little ones? Try hiking with your baby in a baby carrier! These carriers can make it possible to take on the adventures you're after even while your kids are still very young.)
First Aid Tips and Tricks Every Hiker Needs to Know
While hiking is a very safe activity the majority of the time, things can happen out there on the trail… which is why it's important to keep a hiking first aid kit as part of your collection of camping essentials.
How to Prepare a Basic First Aid Kit
What essentials do you need to have along for backpacking or hiking?
An outdoor first aid kit has a lot in common with a normal one but has the added restriction of needing to be small and portable. That's especially true if you're looking to take on longer treks, where you'll have your tent, sleeping bag, food, water, and other items on your back. Every ounce counts on those trips!
Every hiker has their own tips, tricks, and requirements for building a first aid kit — and there are even some pre-arranged kits available for purchase.
But what needs to be in your hiking first aid kit?
Here are some suggested items, at a minimum:
Antibiotic ointment, like Neosporin
Bandages
Antiseptic towelettes
Moleskin, for blisters
Wound closure strips, for more serious lacerations
Benadryl cream or another antihistamine
Ibuprofen or another painkiller
Tweezers
Powdered Gatorade, or another source of electrolytes
Along with these items, many hikers and campers travel with some more basic safety gear like a multitool or utility knife, matches or a fire starter, and a compass. If you're hiking solo, a signaling device, like a whistle, can also be a life-saving piece of gear, as can bear spray if you're traveling in an area with dangerous wildlife.
In any case, the number one priority of your hiking first aid kit is that it be two things: effective and portable. It can be difficult to construct a complete kit that doesn't take up too much space or weigh too much, which is why so many commercially-crafted ones are available.
Preventing the Most Common Injuries
We've covered what should be in a first aid kit for camping or traveling. But what about preventing those injuries ahead of time? One of the best first-aid tips we know is to be proactive and get ahead of injuries before they even happen! Many injuries that come from hiking are the result of poor planning or lack of basic equipment. On every hiking excursion, you should ensure you have the following items.
Bring enough water for the trip for each party member. Depending on the length of the hike and the temperature, that could be as much as a liter per hour of planned hiking time. Water is heavy, so be sure to take this into consideration before heading out on the trail while choosing which path is best for you and your party!
Bring salty snacks, too. Even short hikes can be tiring, and your body needs energy to keep moving and salt to balance your electrolyte levels!
Wear sunscreen and the proper clothing for the excursion. Exposure to the elements can cause major problems, from sunburn to hypothermia and everything in between. Go for an SPF of 30 or higher, and be sure to wear clothing that wicks away moisture and is easily layered so you can adjust.
Get good shoes! Hikers often rely on sneakers or athletic shoes, but hiking boots are really the best option for hiking trails. These trails can be stony and uneven, which can cause falls if you're not wearing the right shoes. That said, you don't want to make the mistake of trying out new shoes on a hike. Thoroughly break in your shoes before taking on a long trail to prevent blisters and other injuries. Grab your shoes as soon as possible and break 'em in!
Camping Tips for Treating Minor Injuries
If you do end up with injuries from hiking or camping, fortunately, most of them are minor and relatively easy to treat. Minor burns and abrasions require cleaning and dressing with protective ointments, and you may also want to use a bandage to close an open injury.
For more serious injuries, seeking professional, medical help is important — and it isn't always easily accessible when you're in the backwoods. Check with the local forest service or land management bureau to see which are the best local emergency numbers to contact… before you need them. If you do a lot of backcountry hiking, you may want to take a wilderness first aid class as well.
Hiking for Beginners: Q and A
Here are answers to some frequently asked questions.
Is it safe to hike alone?
While hiking in groups is generally safer, many hikers do successfully hike alone in all sorts of environments. The important thing to remember is to make noise frequently if you're in a place with bears or other wild animals to warn them that you're coming, and also to ensure you have all the proper equipment you need to safely complete the hike — including a map!
It's also a good idea to leave your itinerary with somebody who won't be coming along for the journey. Tell them your expected route and timing and leave information for emergency services to contact if you're not home or back in contact within the scheduled time.
What if I have to go to the bathroom?
Well, friend… you're going to have to do like the animals and do it out in the woods!
In all seriousness, "going" outside is part of the hiking experience, though every trail is different. There are some places that are popular and crowded and may have bathrooms along the trail. But once you're off the beaten path, heading behind a tree to do your business is pretty standard. It's a good idea to hike with toilet paper and plastic bags so you can pack out any trash or waste.
Will animals attack me?
Many hikers worry about animals of all sorts, and while it's important to be aware of them, these critters are mostly more afraid of you than you are of them.
Still, taking proper precautions goes a long way toward ensuring that everyone's safe. You can warn bears you're coming by singing, talking loudly, or regularly calling out "Hey, bear!" so you don't startle them on the trail. If you're hiking in an area with rattlesnakes, you'll want to keep an eye on the ground to ensure you don't run into any unexpected slitherers. No matter where you're hiking, the ranger or service person on duty may have additional information about the animals around and the steps you need to take to avoid interfering with or scaring them.
Night Hiking
Night hiking is pretty much exactly what it sounds like: a hike that takes place at night. Night hiking can give you a different perspective on a place you're familiar with, or help you access viewpoints for stargazing, sunset-watching, or even trying to spot nocturnal wildlife like owls.
Is it Dangerous to Hike at Night?
Many people who are interested in night hiking find themselves hesitating to actually get out there because they're nervous or intimidated. After all, if regular hiking is dangerous, isn't nighttime hiking that much more so?
Well, in some ways, yes; everything is a little bit more treacherous when you can't see well. But with the right preparations and respect for basic hiking safety rules and etiquette, night hiking can be done safely.
Let's start with the most essential tips for keeping yourself safe, which should be taken seriously by all hikers, no matter what time of day they're going. Whenever you're hiking, you should:
Be sure to bring fresh water and snacks, especially if the hike is long and/or arduous.
Prepare yourself for the outdoor elements by dressing appropriately. In most cases, the smartest hiking outfit involves layers of moisture-wicking fabrics so you can adjust your clothing to your temperature and avoid ending up soaked in cold sweat.
Wear proper shoes, that are built for rugged hiking conditions. Regular sneakers usually won't do, except on the easiest and shortest hiking trails.
Know the area where you're headed, and arm yourself with a map and a compass. Digital hiking map apps, like AllTrails, can be a great starting point, but you should also have a paper map as a backup in case your phone dies.
Research any wildlife that may live in the area ahead of time, and prepare appropriately to deal with a potential encounter. For instance, when hiking in Montana and other places bears call home, it's important to know how to deal with both black and grizzly bears. Bringing bear spray is probably also a good idea, and avoid bringing particularly smelly snacks and items that may attract bears.
Let somebody know where you're going, especially if you're planning on hiking alone. Letting a friend or family member have your itinerary can help ensure rescue in case something goes seriously wrong and you can't reach anybody from the trail.
Night hiking has a few more guidelines as well:
Bring proper lighting, probably in the form of a headlamp which can be conveniently strapped around your head.
You'll need to ensure the place you're planning to hike at is actually open for night hikers, as not all parks, forests, and trails are open after sunset.
It's an even better idea than usual to bring extra layers, as it gets colder when the sun goes down. You may also want trekking poles to help with stability in low-light conditions.
Where Can I Go Hiking at Night?
While most trails aren't actually designated as being appropriate for nighttime vs. daytime, it's true that some trails specifically don't allow hikers after dark. The best move is to double-check the operating hours of whatever trail you have in mind.
Still not sure how to find hiking near you in the first place? There are many hiking guides available for specific areas around the country, no matter where you live. You can also rely on online resources, like AllTrails, and guides published by the National Forest Service, National Park Service, and other land management organizations to discover what kind of hiking opportunities are available in your own backyard.
Hiking is also a great reason to travel — and is indeed one of the main reasons many take to the road, particularly in RVs and campers. If you're looking for some great ideas for your next hiking trip, check out our guides to America's best state parks, and all of the national parks. You could plan a trip to hike some of the most famous scenic trails in the country (although you may want to save those for daylight hours!)
Night Hiking Tips
You've got the basics down, but there are still some ways to ensure your night hiking experience will go as smoothly as possible. Here are some of our best tips for hiking at night.
Stick to trails you know, if possible.
Although it might be tempting to try out a new trail on your night hiking excursion, you'll be at a bit of a disadvantage since you can't see your way very well. If you want to do your night hiking on a trail you've never been on before, we recommend choosing a relatively easy one — and one where falling down a steep mountain isn't a possible hazard!
Bring lights — and backups.
You may think it's easy enough to see where you're going when you're walking around town at night, but in the woods, there's no ambient lighting from nearby houses or street lamps to help. Wearing a headlamp or carrying a flashlight is essential, and for the best results, we recommend doing both — that way, you have a backup.
Don't go alone.
Even seasoned solo day hikers are often uncomfortable navigating the forest alone by themselves in the dark. Hiking with a friend makes the experience a whole lot safer, and one of you can get help if it's needed. Besides, having someone to chat with during the experience may also be a whole lot more fun!
Lighting for Night Hiking
We've mentioned having the right lighting for hiking at night several times. But what is the right lighting? In most cases, a headlamp is the easiest way to light your path during a night hike. The powerful lantern simply straps around your head, ensuring you'll be able to see your way no matter where you look. Black Diamond is a well-trusted outdoor equipment company that makes high-quality products, including waterproof and dustproof headlamps.
However, along with your headlamp, it's also a good idea to carry a flashlight as a backup, or for additional lighting if you need it.
A good handheld hiking flashlight will be small, lightweight, and bright. Each member of the hiking party should have their own lights, which will also give you additional backups in case anybody's lights go out.
Night Hiking Clothing
So what kind of night hiking clothing do you need? As with all hiking, outdoor gear should be moisture-wicking. Even if it's relatively cool out, you can work up a sweat through exertion, and you don't want to have that cold sweat stuck to your body. Layers are also a good choice since you'll be able to adjust your amount of clothing to your body temperature and the external temperature. For night hiking, when the weather is likely to be chilly, we recommend a base layer, followed by a fleece, and then an external, moisture-proof jacket on the outside.
Smartwool makes excellent products. They tend to be pricey, as are many products that use merino wool. However, a wool base layer is a great way to keep yourself dry, warm, and comfortable since wool is moisture-wicking and soft. It also holds up for a very long time.
Night hiking is a wonderful way to get a different perspective of a well-loved destination or to see the stars outside of the light pollution that can obstruct the view in cities and towns.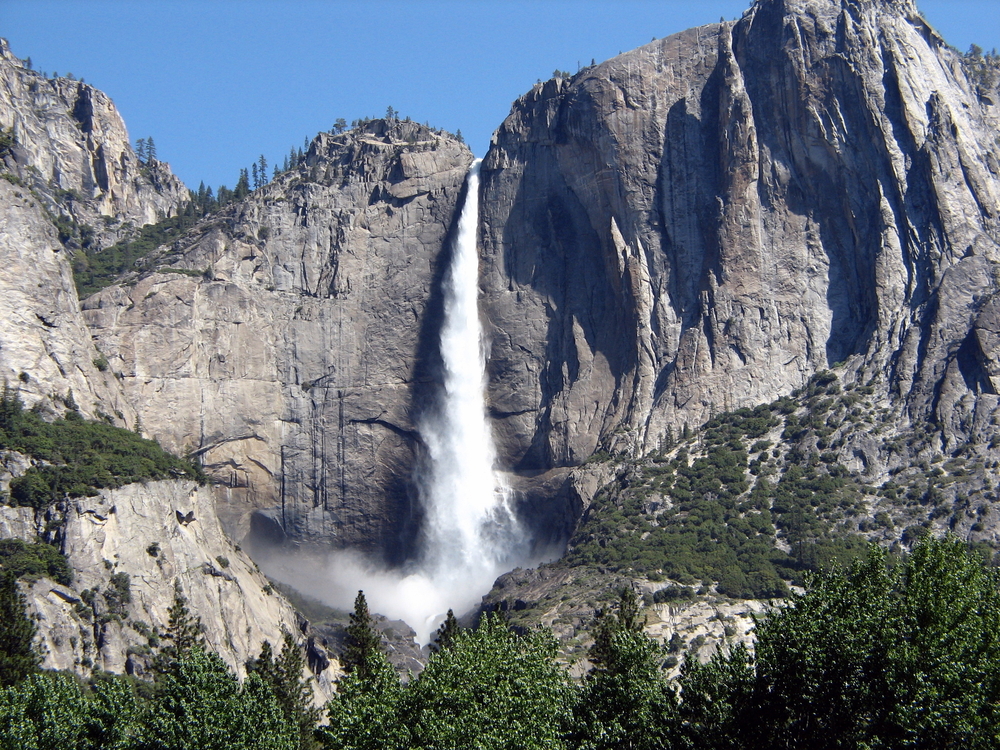 The Best Spring Hiking Trails
Not sure where to go hiking in March, April, May, and June? Here are our picks for the best spring hiking trails in the US.
Best Spring Hiking in the US: West
These western US hikes offer some of the best glimpses of famous western landscapes.
Yosemite National Park: Upper Yosemite Falls Trail
Yosemite National Park is amazing in the spring months, and you're going to find a lot of truly incredible trails during the months of May and June. Our favorite? The Upper Yosemite Falls Trail. Yes, this is a more challenging trail, but it's also less crowded and provides some of the best views in the park, including an awesome view of the roaring Yosemite Falls.
Mount St. Helens: Ape Cave Lava Tubes
Want to take an early spring hike in Washington? In most parts of the state, you'll probably have to hike through the snow. However, the Ape Cave Lava Tubes at Mount St. Helens are open year-round, and because they are underground, they are an excellent escape from the snow. Besides, who wouldn't want to go on a self-guided tour of a lava tube?
Columbia River Gorge: Multnomah Falls Trail
If you can wait until mid-to-late April, there is always the option of heading down to the Columbia River Gorge, where there will be tons of greenery to admire. While here, be sure to check out the iconic Multnomah Falls by hiking the Multnomah Falls Trail. This will give you some seriously amazing photo ops, so make sure to bring a camera. 
Hiking in Utah
Want to condense a lot of spring hiking into one trip out west? We recommend heading to Utah. This state is home to some of our favorite hikes in the world, and spring is the very best time to explore these trails because the weather is ideal.
Salt Lake City Hikes
Believe it or not, the Salt Lake City area is home to some of our favorite springtime hikes in the state. These include the Mount Olympus Pipeline Trail and 10420 Peak. 
Hiking Around Utah's Mighty 5
Of course, Utah's five major national parks also have a host of awesome hiking trails to choose from. We could easily spend a whole spring season exploring these parks and hiking the many amazing trails. 
Some of our top picks for spring hiking around Utah's "Mighty 5" include:
Midwest
Okay, so hiking is not the first thing we think of when we think of the Midwest. There are plenty of great hikes in this part of the country. The national parks and state parks of the Midwest have amazing trails, and places like Michigan's UP (Upper Peninsula) give hikers a chance to explore some serious natural beauty. 
We highly recommend these Midwestern hikes during the spring months.
Badlands National Park: The Notch Trail
If you've never been to Badlands National Park, consider this your invitation. This is a hauntingly beautiful place that you won't soon forget. Of course, you will want to hike while you're there, and springtime is the perfect time to do so. One of the best options is the Notch Trail, which is a short and sweet hike that features a fun ladder climb and a rewarding view at the end. 
Starved Rock State Park: Starved Rock and Sandstone Point Overlook
Want to take advantage of the spring waterfalls? Head to Starved Rock State Park in Illinois. This is a lovely park, and the popular Starved Rock and Sanstone Point Overlook trail offers cool views and a chance to check out a waterfall. The trail is all-accessible, so everyone can enjoy this fun adventure, and springtime is the best time to see the waterfall at its finest. 
Ottawa National Forest: Bond Falls Loop
Another fantastic waterfall hike can be found in the gorgeous Upper Peninsula of Michigan. The Bond Falls Loop in Ottawa National Forest is best enjoyed in late spring, as the steps down to the falls tend to be icy well into April. That said, once the ice melts, it is absolutely beautiful. The trail takes you through the lush greenery of the national forest and to a rushing waterfall that is just stunning to see. 
Hiking in Ohio
What if you want to find a bunch of spring hiking trails all in one spot in the Midwest? Well, for that, we recommend heading to Ohio. Ohio is home to a lovely collection of amazing hiking trails, and the spring weather in this state is top-notch. 
Buckeye Trail in Hocking Hills State Park is one of our favorite Ohio hikes for seeing wildflowers in the springtime, and Upper Rim Trail to Cedar Cliff Falls in Indian Mound Reserve is a perfect waterfall hike.
Cuyahoga Valley Hikes
Of course, you'll also find a whole lot of amazing Ohio spring hikes in Cuyahoga Valley National Park. This park has a few beautiful waterfalls to check out and the greenery here can't be beat.
Our favorite trails in Cuyahoga Valley include:
Best Spring Hiking in the US: Southwest
Next on our list of spring hiking trails: the southwest. We love this part of the country because it is nice and warm, even in the early spring months. That said, this warm weather turns extra hot during the summer, so the beautiful hikes found here are best done during the springtime. Why not head out on one of these amazing hikes before summer rolls around?
The trails below are absolutely perfect for hiking in March, April, or May.
Palo Duro Canyon State Park: The Lighthouse Trail
The Lighthouse is probably the most iconic rock formation in Palo Duro Canyon State Park. You will definitely want to see this amazing feature, but in order to do that, you have to hike the Lighthouse Trail. Because the hike doesn't provide much shade, it's best to take advantage of the cooler spring weather to hike to the Lighthouse and snap those must-have photos before the temperatures soar.
Guadalupe Mountains National Park: McKittrick Canyon Trail
Another fantastic Texas hiking spot, Guadalupe Mountains National Park really doesn't get the attention it deserves. One of our favorite areas in Guadalupe Mountains is McKittrick Canyon, and we especially love this area in the springtime when everything is blooming and the creek is running. One of the best ways to experience the canyon is to hike the McKittrick Canyon Trail, which runs alongside the creek much of the way and offers beautiful views.
Need an easier trail? The McKittrick Canyon Nature Loop Trail is a great option for less experienced hikers.
Big Bend National Park: Hot Springs Historic Trail
Yes, we are adding another trail in Texas. (Clearly we love hiking in the Lone Star State.) The thing is, Big Bend is yet another Texas park that is just perfect in the spring. Honestly, any hike in Big Bend would be great during these months, but we especially love the super short Hot Springs Historic Trail, which passes by petroglyphs and ends up at a hot springs pool that is perfect for relaxing, especially in spring temperatures.
Southwest Spring Hiking Hotspot: Hiking in Arizona
The best place to go for a high concentration of excellent springtime hiking trails in the southwest? That would have to be Arizona. This amazing state is especially gorgeous during March and April, and there are so many incredible hikes here that one could easily spend both of those months checking them all out.
A couple of our favorite Arizona hikes include Antelope Canyon and The Wave. Antelope Canyon is a slot canyon that features stunning colors and formations, and The Wave is a very famous hike that requires a permit and features some of the most spectacular wave-like rock formations we've ever seen.
Grand Canyon Hikes
For even more awesome Arizona hikes, we recommend heading to Grand Canyon National Park. Here you will find awesome day hikes as well as incredible backpacking trails. No matter your hiking level, you're sure to find a hike you can enjoy while taking in the incredible views.
Some of the best hikes in Grand Canyon include:
Best Spring Hiking in the US: Southeast
Moving on, we need to cover the southeast. Like the southwest, this region is pretty warm in the springtime, making it an excellent place to take a hike in March, April, or May. This area is home to tons of wildflowers, gorgeous waterfalls, plenty of wooded areas, and even beautiful wetlands and beaches.
Here are some of our favorite southeast hikes in the springtime.
Congaree National Park: Boardwalk Loop Trail
Congaree National Park is a fantastic place to be as the weather warms up. The wildflowers start to bloom during this time, and the animals come out of hiding. We especially love walking the Boardwalk Loop Trail to take a walk through the wetlands and see everything blooming and greeting the sunshine. The fact that this trail is totally accessible is a major bonus.
Everglades National Park: Anhinga Trail
Another accessible trail through a wetlands area, the Anhinga Trail in Everglades National Park also makes our list. We recommend visiting this trail in early spring, as the temperatures will be cooler and you're less likely to have to deal with rainstorms in the months of March and April. While you're walking the trail, be sure to keep an eye out for gators, turtles, and the many species of birds that call this park home.
New River Gorge National Park: Endless Wall Trail
New River Gorge is an incredible place to go exploring in the southeast and provides a totally different landscape when compared to the two southeast parks mentioned so far. There are tons of amazing trails that wind their way through these mountains and near the river, and many of them offer awesome views. One of our favorites is the Endless Wall Trail, which takes you to the fantastic Diamond Point Overlook.
Southeast Spring Hiking Hotspot: Hiking in Tennessee
Of course, you might be looking to experience several great springtime trails in a single trip. In this case, you will want to head to the spring hiking hotspot of Tennessee. It's no secret that Tennessee is a beautiful place, and with so much beauty around every corner, finding amazing hiking trails is a cinch.
Some of our favorite Tennessee hiking trails include the very difficult Fiery Gizzard Trail in South Cumberland State Park, as well as the amazing Twin Arches Loop Trail in Big South Fork National Recreation Area.
Great Smoky Mountain Hikes
Obviously, you'll also find a whole lot more awesome Tennessee hikes in Great Smoky Mountains National Park. This beautiful, mountainous, forested park is chock-full of gorgeous hikes. Some have waterfalls, some have hikes, and some have beautiful views. No matter what you want out of your hike, you're sure to find one that you love in this national park.
Some of our favorite Smoky Mountains hikes include:
Psst… If you visit Great Smoky Mountains or Congaree in early June, be sure to check out the synchronous fireflies!
Best Spring Hiking in the US: Northeast
Lastly, there is the northeastern US. Unfortunately, this area of the country takes a little bit longer to thaw out. That said, it is downright gorgeous once the spring thaw does come around in later April or early May. At this point, you will definitely want to head out to check out the hiking trails below.
Minnewaska State Park Preserve: Sam's Point Overlook to Ice Caves Trail
Have you ever seen an ice cave? Minnewaska State Park has some that you can hike right through on the Sam's Point Overlook to Ice Caves Trail! Not only that, but if you visit in the spring, they are very likely to have a good amount of ice left in them. Besides the caves, we also really love the views we get while hiking along this beautiful New York trail.
Delaware Water Gap: Hornbecks Creek Trail
Delaware Water Gap is another spot in the northeast that offers some beautiful hikes. There are a number of great ones and many are very popular. That said, our favorite is actually a quieter trail known as Hornbecks Creek Trail. This path runs alongside a creek and has some fun little bridges that hikers get to cross along the way. At the end, there is a small yet mighty waterfall that makes for excellent photos.
Another great option in this area is Bushkill Falls.
Buttermilk Falls State Park: Lake Truman Loop
Another fantastic New York State Park trail, Lake Truman Loop is found in Buttermilk Falls State Park. This lovely little trail is 4.5 miles all the way around (but you can always stop and turn back part way) and has some of the most beautiful wildflowers once spring rolls around. Keep an eye out for red trillium and foamflower, and be sure to enjoy the sunshine reflecting off the churning waterfalls.
Northeast Spring Hiking Hotspot: Hiking in Maine
Our spring hiking hotspot pick for the northeast? That would have to be Maine. While you will definitely need to wait until well into May to enjoy spring weather in this gorgeous state, it is well worth the wait. The beaches, forests, waterfalls and wildflowers found in Maine are some of the best out there.
Some of our favorite Maine hikes include the super easy and rewarding creekside Peter's Brook Trail just outside of Acadia, as well as the incredibly challenging Mount Katahdin Knife Edge Trail in Baxter State Park.
Acadia Hikes
Most of the very best hikes in Maine are found in Acadia National Park. This park is beyond pretty during the later spring and summer months, and should be on every traveler's bucket list. From forested hikes and lighthouses to incredible stretches of shoreline and even sea caves, you're sure to find something to love about Acadia.
Some of our favorite Acadia hikes are listed below:
Best Spring Backpacking
Sometimes you need to fully immerse yourself in nature. This is where backpacking comes into play. As the weather starts to warm up, backpacking becomes a much more enjoyable option. That said, nighttime temperatures can still dip pretty low in many parts of the country even in the late spring. For this reason, we recommend sticking to the southern section of the US if possible.
Some of our favorite places to go backpacking in the spring include:
What to Wear Hiking in the Spring
Wondering what to wear hiking in spring? You're not alone. Figuring out what to wear when the weather may fluctuate from one hour to the next can be difficult. To top it off, the weather will be very different from one area of the country to another, making it even more difficult for us to answer this question.
As a general rule, we recommend keeping the temperature of the area you'll be hiking in mind when picking your outfit. Layers are your friend, as they will allow you to stay comfortable in the cool morning and evening as well as the warmer afternoon. You'll also want to consider whether you might end up walking through streams or getting caught in the rain, as these things can change how you dress.
Depending on where you're planning to hike, it might be a good idea to wear or carry all of the following when hiking in the spring:
Quick-drying footwear
Warm socks (pack an extra pair!)
A moisture-wicking, breathable bottom layer
A warm middle layer
A waterproof top layer for rainy hikes
A wide-brim hat and sunglasses to shade and protect your eyes
Yes, our country is an amazingly beautiful place, and this becomes especially apparent as the spring season comes onto the scene. Go out there and see some of this beauty for yourself. You're sure to come out of your spring hiking adventure feeling more alive than ever before!
This post may contain affiliate links.