How Tos & Tips
Last updated on January 9th, 2023. Originally published on June 18th, 2018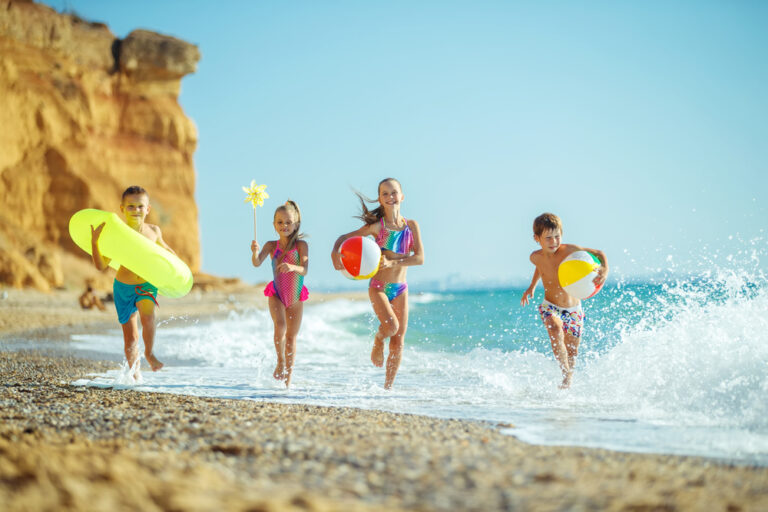 Sipping a sweating glass of freshly-brewed iced tea or biting into a slice of watermelon just dripping in delicious sweetness.
Running your feet through soft, just-mowed grass or curling your toes into the sands of your favorite beaches.
Enjoying some time to lay back and just, you know, read a book — or do absolutely nothing at all.
No doubt about it, there are some things that just scream summer. And now that the weather's heating up, it's time to get out and start enjoying all your favorite summer activities.
Best Summer Activities
We know you've probably got lots of excitement on your plate, but we wanted to make sure you didn't run out of any fun ideas this season. So without further ado, here's a list of our absolute favorite things to do in the summer — and yes, that includes summer travel!
1. Catching fireflies
When it comes to classic outdoor summer activities, it's hard to beat the simplicity and excitement of catching fireflies. Inexpensive, accessible, and undeniably fun, this is one of the best summer activities for adults and kids alike. All you need is a net and a Ball jar — but don't forget to poke some air holes for your new little buddies! (Or better yet, release your captives after a couple of hours.)
2. Hiking and exploring
There's no better time than summer to go outside and get moving — and goodness knows there's a whole lot to explore all across this beautiful country of ours.
If you're not sure where to start, check out a local state park in your area, or go bigger and plan a trip around some of our National Parks. Just be sure you bring (and stamp) your passport!
3. Visiting a theme park
From rocking roller coasters to those indulgent comfort foods you can't get anywhere else, there's just something about visiting a theme park that's uniquely summer. Florida's Disney World and Universal Studios are classics, but don't forget about Ohio's Cedar Point or Silver Dollar City in Missouri!
4. Kicking back in a hammock
No matter what you've got planned for your long day of summer sunshine, one thing is guaranteed to make it better: your very own hammock to lie back and enjoy it all in. Add a glass of lemonade — maybe even with a nip of vodka, we won't tell! — and you're just about at peak summer.
5. Swimming
Whether it's in the ocean, a nearby lake or river, or even the community pool, when summer's here, you have no excuse not to bring your swimsuit out of storage. Seriously, the water's fine — so do more than dip your toe in!
Summer Fun
Here are even more uniquely summery adventures to consider.
6. Whitewater rafting
Looking for a serious adventure?
Whitewater rafting is one of the most exciting ways to experience the great outdoors, and in the summer, you won't have to worry about falling into frigid water. (Well, you won't have to worry about the frigid part, we mean. The falling's on you — and let's be honest, it's probably gonna happen.)
7. Building sand castles
Think you've still gotta be a kid to enjoy this summertime classic? Think again. Building sand castles is just as much fun now as it was when you were little, and your improved motor skills mean you might make something that looks a little bit more castle-like. (Although, let's be frank; those clunky sand castle kits are pretty rough tools, no matter how developed your motor skills!)
8. Scoping out wildlife
In the summer, everyone's enjoying the warmer weather — including wildlife and birds you might not get the chance to see during other times of year.
So venture out to one of our country's many wildlife preserves or just grab your binoculars and try out some backyard bird watching. And as far as cheap summer activities are concerned, this one's bar none: when nature's putting on a great show, it's absolutely free of charge.
9. Having a barbecue
If you haven't had a barbecue, is it even really summer?
So whether you have a small (but powerful!) portable charcoal grill or you've invested in a custom smoker, fire that puppy up and get cooking. Need some ideas? Here's our guide for grillmasters.
Summer Road Trip
Alright, you knew it was coming.
10. You guessed it… camping!
Okay, okay, so this might have been predictable… but come on. There's no better way to orchestrate a whole host of fun summer activities than by using your RV as home base!
Whether you venture into the mountains or down to the coast, or even just set up at your local state park, there's nothing like the unique combination of outdoorsy fun and comfort that an RV trip can offer. You'll have all the freedom and flexibility of a traditional road trip, coupled with the comfort of knowing where you'll lay your head each night (and the ability to pack just about everything you want to).
Not sure where to start? Check out RVshare listings available in your area today. You might be surprised at some of the amazing deals you can find by shopping the peer-to-peer rental market!
Summer Vacation
Looking for even more inspiration for your upcoming summer trip?
Whether you're trying to figure out where in the world to go, what you need to pack, or any last-minute how-tos and what-ifs to take care of before you get there, the RVshare blog is your resource for all things RVing.
If you're a beginner, it's easy to feel overwhelmed. But you don't have to worry! We've got your back. Here are some helpful posts to help get you started.
So, campers: what are your favorite summer activities? And where will your RV trip take you in your quest to enjoy them? Let us know!
This post may contain affiliate links.