Travel Inspiration
Last updated on January 6th, 2023. Originally published on May 22nd, 2018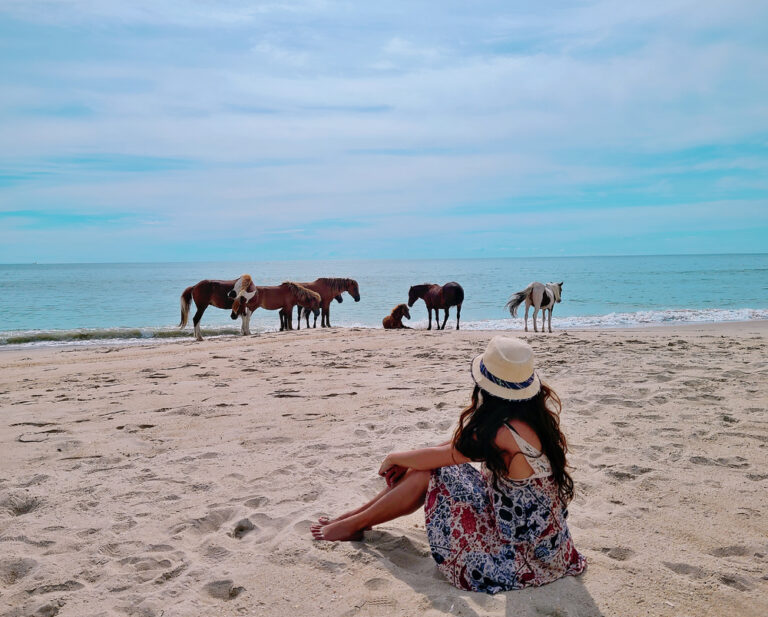 Who else is getting super excited to plan their upcoming summer vacation? *hand raised*
Summertime is already pretty amazing. Long days full of sunshine, time off school for the kids, and ample amounts of delicious ice cream… what's not to love?
And for RVers, the summer has the added bonus of almost-endless travel potential. Three whole warm, lazy months to wend your way wherever the road may take you. Even with your road atlas and your favorite RV travel guidebook at the ready, how on Earth can you choose?
The truth is, summertime looks good on just about every destination. Whether you're ready to sweat on south Florida's beaches or climb a steep rock face in Yosemite, the sunny summer months are the perfect time to do it. But there are certain cities that seem like they're just built for summer specifically — and which make perfect vacation spots for your next RV adventure.
So, ready to get that summer vacation planned and on the books? Here are our best ideas for summer trips this year.
Affordable Summer Vacation Ideas
Before we get started, a quick word of advice. (Don't worry, we promise it'll be worth your while!)
No matter which RV summer vacation destinations capture your attention, chances are you have one eye on your ledger. Budget is an important consideration for just about every traveler among us, especially when you're journeying by RV. They're not exactly easy on the fuel bill!
Of course, some summer vacation ideas are naturally more affordable than others. But even if you have an ambitious trip in mind, there are plenty of ways to save money on the road and make your epic adventure possible.
We've written about how to save money on a road trip here at the blog before, but here's one of the very easiest ways: Sign up for a Passport America membership. It's the only discount camping club out there that gets you a full 50% off your campsite accommodation fees at almost 1900 campgrounds across the country — including some locations in Mexico and Canada!
You'll find participating Passport America campgrounds all across America, including some of the summer vacation places we've listed below. And we're not talking boondocking — these are sites with premium hookups and lots of plush amenities.
Best of all, your Passport America membership costs less than $50 for a full year… which is less than one night of campsite accommodation fees in some places, especially during the travel-intensive summer season. In other words, it pays for itself in a jiffy — so head on over to Passport America and sign up today!
Best Summer Vacation Destinations in the USA
Whether it's just a quick weekend getaway or an epic journey, here are our favorite urban summer vacation ideas.
1. Austin, Texas
Long days paddling Lady Bird Lake followed by evenings taking in some of the best live music in the world? Sounds like a perfect summer to us!
Plus, Austin's central Texas location makes it relatively convenient to a lot of other adventures, from Big Bend National Park to checking out the Alamo in nearby San Antonio.
2. Denver, Colorado
Did you know that Denver gets more days of sunshine per year, on average, than Florida? (At least, that's what a Denver-ite told me when I visited, after I revealed my home state.)
Either way, June, July, and August offer perfect opportunities to explore the Rocky Mountains without dealing with (much) snow. Even if you stay in town for most of the trip, it's hard to find a city with a better view!
3. Asheville, North Carolina
Nestled in the crook of the Appalachian mountain range, Asheville boasts excellent breweries, a thriving art scene, and easier access to all sorts of outdoorsy pursuits than just about any other American city. In other words, it's definitely built for summertime fun.
Summer Trip Ideas with Kids
No more teachers, no more books! Here are some perfect spots for summer family vacations.
4. Orlando, Florida
Yes, a visit to Disney World is a summertime given. But central Florida has so much more to offer besides that. Along with the host of other theme parks in the greater Orlando area, you'll also be in close proximity to all sorts of springs and rivers, perfect for snorkeling, tubing, and kayaking — or just swimming. After all, summertime is hot down south!
5. Portland, Oregon
It might not be the very first thing you think of when dreaming up west coast summer vacation ideas, but Portland is actually an amazing spot to take a vacation with your family. There are all sorts of outdoor fun to enjoy just minutes from the city center — and attractions like the zoo and International Rose Test Garden mean staying in town is just as wild.
Best Vacation Spots in the US for Couples
Kids enrolled in summer camp? No problem: here are a few romantic summer vacation ideas for just the two of you.
6. Portland, Maine
Amazing food and even better views make the east coast's Portland the perfect spot for a cozy weekend away with your boo. Don't skip touring a lighthouse or three!
7. Chincoteague Island, Virginia
Alright, this last one isn't quite as city-fied as the rest of our suggestions. But how do you get more romantic than beautiful beaches and wild ponies? Better yet, Chincoteague Island is chock-a-block full of RV parks to choose from… which isn't all that surprising, given its attractions.
Looking for even more summer vacation trip ideas? Check out the following travel guide books, available through Amazon:
Happy summer, campers… no matter where those long days take you!
This post may contain affiliate links.