How to Choose your RV Summer Vacation Destination
Travel Inspiration
Last updated on July 28th, 2022. Originally published on July 22nd, 2017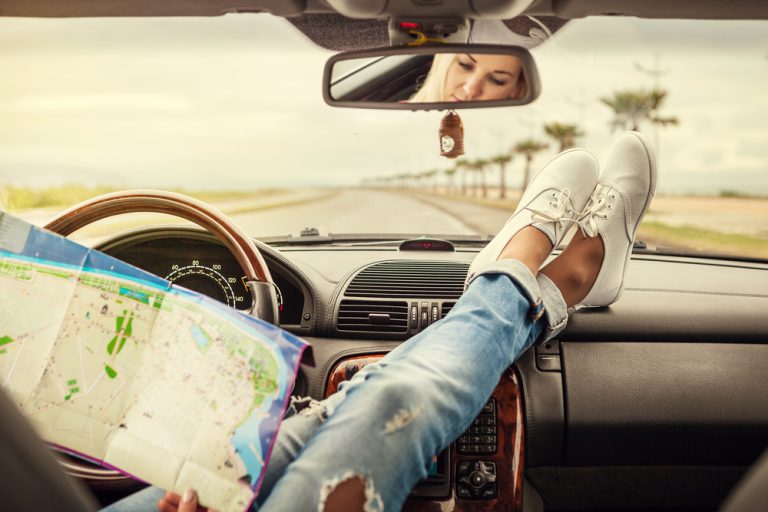 The solstice may have come and gone, but summer's far from over! Don't miss out on an RV Summer vacation!
If you haven't yet set out on an RV trip this year, don't fret. There's still plenty of time to take the perfect family camping trip.
And no matter where in America you're based, seeing the country by way of cruising down the highway in your very own camper is hard to beat. (If you haven't tried it for yourself, trust us, you're gonna be hooked.)
Of course, choosing where to go for your adventure is one of the most exciting parts of the whole trip. But for many would-be campers, it can also be a little bit overwhelming. From the redwoods and waterfalls of the Pacific Northwest to the charm and mystery of southeastern cities like Savannah, there's a whole lot to see and do out there — and our highway system connects everything easily. How on earth are you supposed to narrow down your options?
Summer RV Trips
There's no shortage of great summer RV trip routes to choose from. But the thing is, at some point, you've gotta stop daydreaming and start driving!
So whether you're looking or east coast camping beaches, mountaineering on the west coast or even just relaxing in the lazy stretches of Midwest corn fields, here are some of the best summer RV trips in the country.
RV Destinations
Check out this list of just a few of the best RV summer vacations out there.
1. Yellowstone National Park (Wyoming)
If you've never visited this stunning set of hot springs and calderas before, it should be at the top of your list. In fact, its unparalleled beauty was what inspired the creation of the National Parks system in the first place — it was the very first one, designated all the way back in 1872.
And if you have already paid Yellowstone a visit, don't hesitate to go back. Its 3,500 square miles of wilderness are sure to have another few surprises in store for you and your family.
2. Yosemite National Park (California)
You don't have to be a champion mountain climber to make a visit to Yosemite worthwhile. This park's powerful landscape is a sight to behold, even from ground level — where you can fish, hike, horseback ride, and more.
3. The Grand Canyon (Arizona)
This one's a summer road trip classic for a reason.
The experience of seeing the Grand Canyon for the first time is basically a birthright for all Americans, and one you shouldn't let your family miss out on. Its sheer size alone, coupled with the mind-boggling knowledge of how long it took the Colorado River to carve it, will make you feel small and insignificant in the best way.
4. The Oregon Coast 
Whether you go agate hunting on the beaches or hiking in the hills, the Oregon coast is the perfect spot to reconnect with nature. Think of it as the California coast's slightly-less-expensive (but definitely just as awesome!) big cousin.
5. The West Coast of Florida
If you think a vacation in Florida is all about Orlando or Miami, boy, are you missing out.
Florida's gulf coast has some of its very best beaches, from the emerald waters of the panhandle to the soft sands of Clearwater. Plus, it's both less expensive and less frenetic than its Atlantic counterparts. Win, win!
6. Mount Rushmore National Memorial (South Dakota)
Looking for an important history lesson surrounded by incredible landscapes and ample outdoor adventures?
South Dakota's Black Hills have it all — with this famous patriotic monument smack-dab in the center of it.
7. Rocky Mountain National Park (Colorado)
If you think this mile-high attraction is only fit for a winter-time, skiing vacation, think again. The Rocky Mountains offer endless hiking, wildlife spotting, climbing and more… not to mention one of the best views in the country, even if you just sit back, relax, and take it all in from your rig.
8. The Southern Charm Trifecta (Georgia, Florida, and South Carolina)
If ghost stories, sweet tea, and fried green tomatoes sound like your idea of a great vacation, visit three of the most charming cities in the south: Charleston, Savannah, and St. Augustine. You can relax on a romantic horse-drawn carriage ride or meander down alleyways lined in Spanish moss — just be prepared for more than a little heat and humidity!
9. Big Bend National Park (Texas)
If you're looking for pitch-black, star-studded night skies and days full of desert exploration and kayaking, don't miss this National Park in far west Texas. It might not be quite as famous as the Grand Canyon… but it's the perfect place to get away from it all.
10. Pictured Rocks National Lakeshore (Michigan)
Want to see what's so superior about Lake Superior?
Check out this incredible shoreline, where you can hike past waterfalls, explore historic lighthouses, or just lie back in your canoe and relax on the water. Oh, and did we mention the stunning sandstone cliffs?
11. Carlsbad Caverns (New Mexico)
What happens when sulfuric acid dissolves limestone? Venture beneath the sweeping sands of New Mexico into this world-renowned cave formation, and you'll find out. (Spoiler alert: It's pretty incredible.)
12. Great Smoky Mountains National Park (North Carolina and Tennessee)
When we think of mountains, we might automatically think of the west coast. But Appalachia's got a whole lot to offer in its own right. In fact, Great Smoky Mountains is actually the most visited of America's National Parks!
13. Big Sur (California)
Redwoods on one side, breathtaking, rock-riddled ocean on the other. There's just nothing like this epic drive — which is probably why it's inspired so many writers, musicians, and artists.
Don't miss out on the adorable towns that bookend this stretch of the Pacific Coast Highway, Monterey and San Luis Obispo. Both are full of art, culture, and fantastic local wine.
14. Key West (Florida)
When you go this deep south, you trade your sweet tea for frozen daiquiris and pina coladas. (Not a bad bargain, we think!)
If you're looking for some of the best RV resorts and campsites for a summer vacation, this island's got it made in the shade — well, actually, just kidding. It's probably going to be pretty darn sunny, no matter which RV park you pick!
Renting an RV for Summer Vacation
No matter what you and your family decide on as the best place to RV this summer, you might have an important question lurking in the background:
How much does it cost to rent an RV for the summer?
If you're looking to find RV summer rentals on the cheap, RVshare is a great option. Local, private RV owners can usually afford to list their rigs for a fraction of the cost you'd find at a big box dealership.
After all, you've got to save those pennies for all that fun you'll have at your destination. RV summer living at its finest!