Travel Inspiration
Last updated on December 20th, 2022. Originally published on March 19th, 2018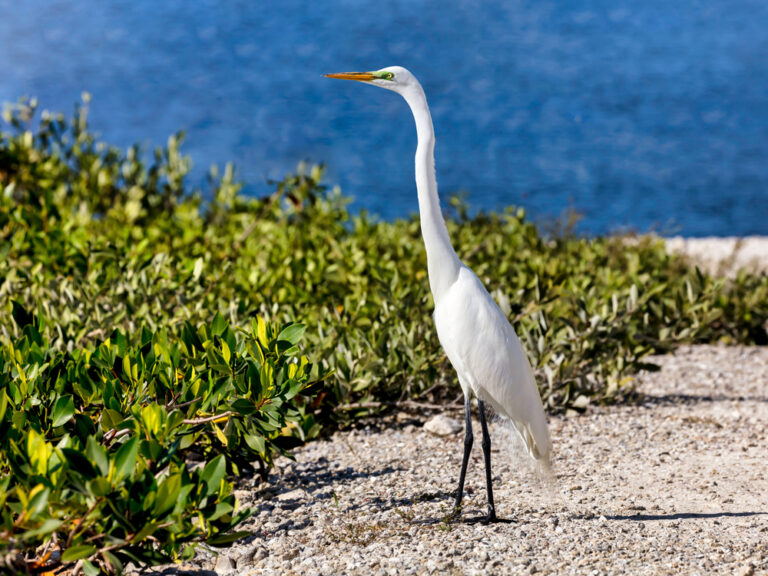 Maybe you're lucky enough to have one of those children who just can't seem to put down her wildlife encyclopedia, constantly reciting facts about every kind of animal from tigers to tapirs.
Or maybe you yourself are a total wildlife junkie, fascinated by all the different kinds of beasts and birds that roam across America.
Either way, you're in luck. There are plenty of perfect animal-lover vacations to be had in this country, especially for RV campers. (Psst — before you set out on your trip, be sure to renew your Passport America membership so you can save 50% on your campsite accommodation fees every single night!)
Although you may already know the names of many of our national parks, their nearby wildlife refuge neighbors might have escaped your notice. Or perhaps you want a more hands-on experience at a theme park or wildlife resort.
Either way, here are some of the best destinations if wildlife travel is what you're after.
Animal Sanctuary Vacations
One of the easiest ways to take fantastic wildlife-viewing vacations is to visit one of America's wildlife refuges and animal sanctuaries. Plus, they're often close to the national parks, which makes them easy to work into your existing summer itinerary — i.e., your quest to get all your national park passport stamps.
Here are a few of the most popular.
1. Rocky Mountain Arsenal National Wildlife Refuge, Colorado
If you're headed to Rocky Mountain National Park, put this nearby refuge into your animal-viewing arsenal — pun totally intended. Just 80 miles from the national park entrance, Arsenal is home to critters ranging from bison to black-footed ferrets, and a huge range of other mammals, birds, and plants to boot.
Want to know something even cooler? This spot used to be home to a chemical weapons manufacturing plant — but is now used as a haven for all sorts of animals. Talk about a great turn-around!
2. Billy Frank Jr. Nisqually Wildlife Refuge, Washington
Don't make a trip to Rainier without visiting this wildlife sanctuary, a great example of untouched Pacific Northwest habitat. You'll see beavers, coyote, and deer on land and be treated to an even greater abundance of birds if you cast your gaze upwards.
3. National Elk Refuge, Wyoming
Just under 60 miles from the main Yellowstone entrance (and only 14 from Grand Teton), this slot of land is only six miles wide by ten miles long… but is home to more than five thousand elk who meander in this meadow all winter. If you're visiting during the summer, go at dawn or dusk for the best chance of spotting an elk or two. The National Elk Refuge visitor's center is also a great resource for learning more about area campgrounds, hiking trails, and other outdoor activities.
4. J.N. "Ding" Darling National Wildlife Refuge, Florida
Think all the best animal vacations are out west? Don't forget about the wetland wilderness on the east side — Florida!
Nestled on stunning Sanibel Island just an hour or so north of Everglades National Park, the "Ding" Darling National Wildlife Refuge is a great place to see native Floridian birds, mammals, and reptiles — including the state's famous alligators, of course!.
The refuge is open every day except Fridays, and the cost is $5 per vehicle (or $1 per pedestrian) to enter.
Family Adventure Vacations
If interactive animal vacations are what you're after, consider heading to an animal-themed park or resort, which often feature safe hands on adventures and encounters.
5. Disney's Animal Kingdom
Orlando's Disney World Resort gets way more wild than roller coasters. In fact, they have a whole park dedicated to wildlife — Disney's Animal Kingdom.
Get up close and personal with giraffes, elephants, and other exotic creatures from the African savannah on the Kilimanjaro safari, or venture into a lush paradise on the Maharajah Jungle Trek. Young campers can learn about what it takes to keep our planet and endangered species safe at the Conservation Station… and, of course, there are still tons of high-flying rides, water slides, and coasters for the adrenaline junkie. Best of all, there's a perfect spot to camp just around the corner: Disney's Fort Wilderness, which offers premium campsites with full hookups and tons of on-campus options for dining and fun.
Click here to learn more about Animal Kingdom vacations.
Volunteer Animal Vacations
Looking for the best hands-on animal experience? Hoping to learn — or teach your kids — more about animal care?
Some of the most unique animal vacations revolve around volunteer opportunities at wildlife refuges and parks. After all, taking care of animals does require some dirty work, and someone's got to do it!
Of course, most parks and zoos are staffed by qualified animal experts who have degrees in biology and zoology. But some shelters and other animal havens do offer volunteer opportunities, which can be great experiences for campers of all ages. Aside from hanging out with animals, young campers will also learn about responsibility and the unique fulfillment of caring for some another living creature. To find animal care options where you are, search for nearby shelters and refuges in your area or your camping destination, and check their websites to see if they have any roles accessible to the public. If nothing seems to be available, don't be afraid to call and ask. You might be surprised at what you discover!
Wildlife Travel
Focusing your vacation around visiting wildlife is a wonderful way to set your itinerary, and also to reinforce the importance of staying green and eco-friendly to your family. Your kids will learn a lot more about why the world is wonderful — and worth protecting — by experiencing it out in the wild than they will sitting in a stuffy classroom!
For more information about American wildlife (and to figure out where to head to see it), check out the following awesome books available on Amazon.
Have a wild time!
This post may contain affiliate links.