How Tos & Tips
Last updated on September 12th, 2023. Originally published on April 26th, 2019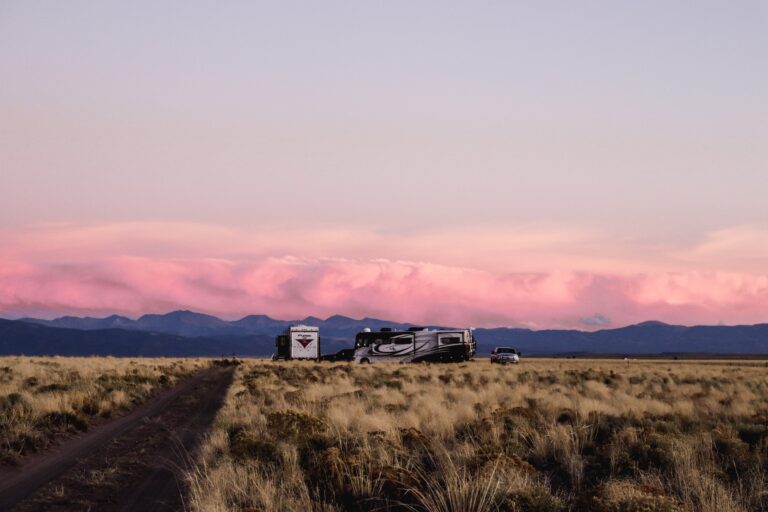 Is there anything quite as exciting as planning your next getaway? From choosing a destination to nailing down your list of can't-miss activities, the anticipation of a vacation is almost as good as the vacation itself. (Almost.)
But one very important part of that planning process isn't always the most exciting: creating a travel checklist, to ensure you don't leave home without any of the essentials.
Even if you've taken dozens of road trips, figuring out which travel items are must-haves for an RV camping trip can be a little bit of a different beast. Along with the regular stuff, like clothes, toiletries, and entertainment items, you've also got to pack many of the items you need to run a regular household. After all, they don't call 'em mobile homes for nothing… and your RV will quickly lose its comfort and convenience factors if you find yourself traveling without things like pots, pans, bath towels, and sheets.
There's also the nitty-gritty camping equipment it's easy for beginners to overlook, like your RV sewer hose, outdoor ground cover, patio furniture, and more. So we put together this vacation packing list to ensure you'll have everything you need to enjoy your upcoming trip, without having to make a pit stop at the campground convenience store!
Camping Essentials for First-Time RVers
Let's start with some stuff that may not be the most exciting to add to your pre-trip checklist, but is definitely among the most important items. Here's some RV-specific camping gear it's easy to overlook if you're new to the hobby.
1. Water and electric connection equipment
What makes RV camping different from camping-camping?
Well, the whole couch and carpeting thing is nice… but the main upgrade, most RVers agree, is having electricity and running water. But if you want to take advantage of those luxuries, you'll need the proper equipment in your arsenal to do so, like a drinking-water-friendly hose, water pressure gauge and regulator, and electrical cord matching your RV's amperage rating (usually 30 or 50).
Of course, if you'll be off-grid camping or boondocking, you won't be hooking up to shore power and water… but you'll still need to fill up your water tank ahead of time and make sure your batteries have a good charge. In any case, these items are definitely RV travel essentials not to be left without!
2. RV sewer hose
When you've gotta go, you've gotta go — and eventually, your RV's gonna have to go, too. You want to be prepared for that moment, and for it to take place as smoothly as possible, which is why we highly suggest investing in a quality RV sewer hose and replacing it every so often. Even a top-of-the-line hose will run you less than $50, and man is it ever worth that price to avoid the catastrophes that can occur with a weak one. We're all about being thrifty, but trust us; this is one area of camping where you don't want to spare any expense.s
3. Leveling blocks and/or wheel chocks
One surefire way to turn even the most idyllic camping site into a total headache: roll up without the proper leveling equipment and find yourself stuck in a slanting nightmare. (No, rolling cans down the length of your RV is not considered a fun RVing pastime — and besides, not being level can actually affect the performance of your RV refrigerator and more!)
Although the big Class A diesel pushers tend to come with fancy automatic leveling mechanisms, if you're in a smaller motorhome or travel trailer, chances are you'll have to do a little bit of DIY — which fortunately is neither that difficult nor expensive. You just have to make sure you've got a hardy set of leveling blocks with you, as well as wheel chocks if you're in a fifth wheel or other towable rig. These low-cost gadgets will improve your camping experience tenfold, and they should last for years.
4. Emergency kit
Although it's number four here, this item should really be at the top of your travel list every single time. Safety first!
While the exact specifications of your ideal emergency kit will vary slightly depending on your trip plans, travel style, and more, there are a few items you should never leave home without, like road flares and a basic tire repair kit. Check out or full guide to RV emergency gear here.
5. Outdoor items and patio furniture
The whole point of camping is to enjoy the great outdoors, right? Well, you're a lot more likely to do so if you bring along comfortable patio furniture and other items that make your outdoor area more welcoming, like a durable ground cover, mats to keep you from trekking dirt inside the rig, and perhaps a portable grill if you'll be staying somewhere that doesn't offer grill access.
There are so many more nuances to creating the perfect patio experience! Click here for our list of outdoor items to turn your rig into the tailgating epicenter of the campground.
Interior RV Packing List
Chances are you already have a good handle in the regular travel items you need for your normal vacation packing list — things like clothing, books, electronics and chargers, sunscreen, and more.
But when you're traveling by RV, you've also got to make sure the household part is up and operational. Here's what not to forget to add to your interior packing list.
Note: If you're renting an RV, it's quite possible some or all of these items will be provided for you… but it's always best to check with the RV owner or rental agency directly! You don't want to find yourself without the basics just as you're hoping to ease into vacation mode.
6. Bedsheets, towels, and other linens
Bath towels, kitchen towels, bedsheets… you need a decent amount of fabric to keep a household running, and it's no fun to find yourself missing any of those items. If you own your own rig, we recommend purchasing sets of each specifically for the RV, so you won't have to worry about stripping your bed at home every time you take a vacation! (Besides, your RV bed is likely a short size, which is a different measurement from the standard beds in homes… so if you want sheets that fit, you should go ahead and buy a set.)
7. Cookware and kitchen equipment
Want to get gourmet on the road? You won't get far if you don't have pots, pans, and other essentials — not to mention the dishes and cutlery you need to eat it with! We've written tons about RV kitchen gadgets and accessories that can help you maximize even a tiny cooking space, too; click here for more details.
8. Throw blankets, candles, and other comforting extras
The whole idea is to create a home away from home… so go ahead and get homey! Whether it's throw pillows, cozy blankets, your favorite mug, or something else, bringing along those little touches of home can really help you settle into any vacation destination.
Beach Packing List
Now that we've gotten the bulk of the easily-forgotten items out of the way, it's time to focus on what YOUR vacation is going to look like. Essentials like clothes and toiletries will be affected by your destination and planned activities — for instance, if you're hitting the beach, you'll probably want to bring a bathing suit and a sunhat.
On the other hand, if you're planning a mountain retreat with lots of hiking and foresty adventures, be sure to pack a pair of sturdy boots and strong bug spray so you can enjoy your adventure free of bites and blisters. It all depends on what you decide!
More Vacation Checklist Help
Your trip packing list and deciding which things to pack for vacation varies based on season, destination, and more. Here are some checklists we've written for specific travel needs.
Travel Tips
No matter where you're headed on your RV camping trip (or which items you bring along with you), RVshare is your resource for all the travel tips, tricks, and hacks you need. Keep an eye on the blog for even more helpful content, and be sure to reach out to us with any questions you might have!
Happy camping!
This post may contain affiliate links.