RV Owners
Last updated on January 6th, 2023. Originally published on May 23rd, 2018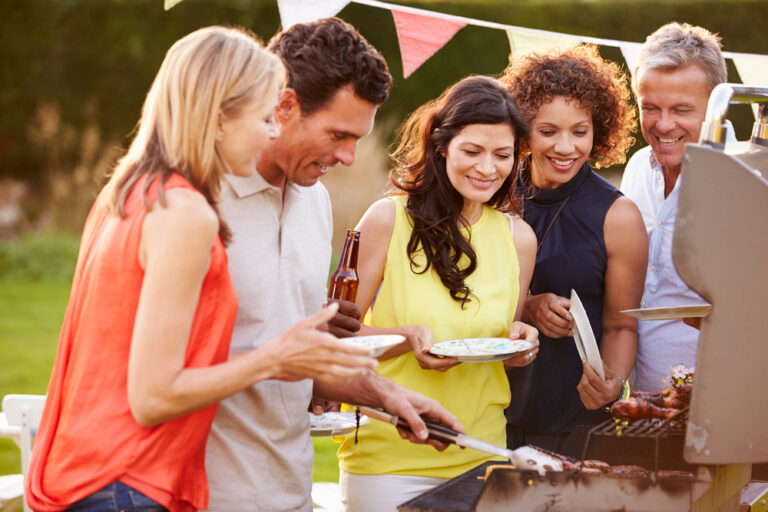 Riddle me this: If you don't have at least one great summer barbecue, was it ever even really summer? If you want make this the best summer yet and don't have any BBQ ideas, keep reading!
From Fourth of July cookouts to last-minute weekend gatherings, BBQ is a longstanding American summer tradition — and one we can get behind. I mean, come on; who doesn't love ribs? (And don't worry, vegetarians, we hear you! We've got some excellent animal-free recipes below, and besides, literally everything tastes better when you cook it on the grill.)
Of course, if you're busy planning your epic summer road trip in your RV rental, you may think that your cookoff-hosting days are behind you — at least for this summer. How can you plan the perfect summer BBQ party if you're going to be on the road?
Fear not, hungry campers! You can indeed create a delicious gathering with your RV as the home base. And we've got some clever ideas to help you do just that this summer.
So, ready to get cooking? Here's what you need to know to host an unforgettable barbecue party from the comfort of your travel trailer or motorhome.
Hosting a BBQ – BBQ Ideas
So, what's the first rule of hosting a great barbecue party — aside from having ample amounts of delicious food, of course?
Why, spending as much time as possible outside. And that's exactly why your RV is perfect for summer BBQ parties. After all, the weather is warm and wonderful, and the delicious smell of food on the grill isn't coming from inside the rig. That means your party guests will spend the majority of the time outdoors, where there's a whole lot more room to wander.
Of course, it's still a good idea to make some preparations to your outdoor space to ensure that everyone's comfortable. For example, you'll definitely want to spread out a quality under-awning ground mat, which will help keep your floors clean if guests head inside to use the restroom, and several camping chairs can help flesh out your campground's existing picnic table seating arrangement. Oh, and obviously, you need a place to cook up the grub — that's kind of the point, right? So if you're camping someplace that doesn't have one at the ready, be sure to bring your portable grill along with you, and don't forget the fuel, either!
BBQ Recipe Ideas
Alright, now for the really important part: the food!
Although some dishes can be a challenge to whip up in an RV's cramped kitchen, barbecue favorites are a snap since they're cooked outdoors. That's why grilling is a camping tradition!
Of course, BBQ food goes way beyond hotdogs and hamburgers… not that there's anything wrong with sticking to the classics. But in case you're looking to change it up this year, here are some creative grill-friendly recipes, from vegetarian BBQ ideas to healthy barbecue food — yes, it exists!
Grilled Romaine Caesar Salad
We know, we know… starting a barbecue recipe list with a salad is basically sacrilege. But tell us you don't want to taste it!
Romaine leaves are sturdy enough to stand up to a little heat, and we think you'll be pleasantly surprised by how delicious they are once they've been through the barbecue treatment. And this light, healthy recipe pairs perfectly with those sweaty beach days, when it can be a little too hot to eat anything heavy. Thanks, Delish!
Grilled Asparagus and Ricotta Pizza
It's pizza. It's barbecue. and it's relatively healthy. Basically, it's like the holy grail of foods.
This recipe from Martha Stewart is sure to please literally everybody at the picnic table — especially since you can easily mix up the toppings for pickier eaters. Yum!
Grilled Peaches with Cinnamon-Sugar Butter
Think you can't grill up a delicious dessert? Think again. As the aptly-named Georgia over at The Comfort of Cooking shows us, ripe summertime fruits make an incredible sweet treat… especially when paired with a scoop of chilly ice cream.
BBQ Party Game Ideas
Want to take your BBQ party planning to the next level? We have two words for you: decorations and games!
Unless you have a whole lot of dishes at the ready, you're likely already going to need to purchase some disposable plates, cups, and flatware — so why not throw in some fun extras like summery napkins or Fourth-of-July-ready patriotic banners while you're at it?
These simple little touches might not seem like much, but they go a long way toward making your barbecue feel even more comfortable and inviting. And don't forget, you can always reuse those decorations during next year's festivities — because chances are this shindig is going to become an annual family tradition.
And let's not forget about party games! There are always the classics, like corn hole and beer pong (or whatever's-in-your-cup pong, for younger players), and you can also clear off one of the picnic tables for a good, old-fashioned board game. Monopoly, Sorry, and Parcheesi are all favorites, or you could try out a newer title like Speak Out or Watch Ya Mouth, especially since you don't have to worry about using your inside voices. And, hey — Jenga, anyone? You're outdoors anyway — so no need to worry about the inevitable crash!
RV Parks
We hope this post has helped show you that RVs and RV parks are perfect spots to host the summer barbecues you look forward to each year. After all, there's a reason so many campgrounds even have pre-installed grills available; camping and barbecuing go together like red, white, and blue. (Or July weather and ice cream. Or — well, you get the picture.)