How Tos & Tips
Last updated on January 8th, 2023. Originally published on May 9th, 2018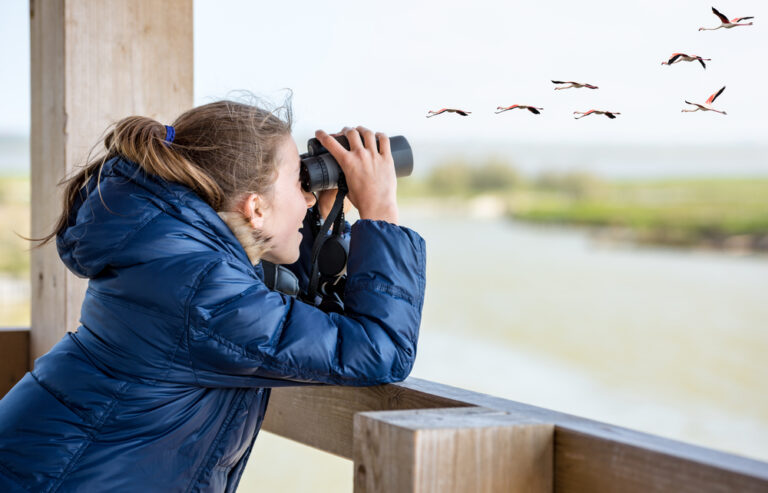 RVing is a pretty amazing hobby in its own right. When you travel with your very own portable bungalow, you get to see and experience a whole lot of the world without foregoing any of the comforts of home.
But avid travelers often use their RV lifestyle passion to help them enjoy other travel-friendly hobbies, like outdoor photography, hiking, or scuba diving. Another interesting pastime that's perfect for RV nomads? Bird watching otherwise known as birding or bird spotting. When you have a motorhome or camper at your disposal, you can easily journey to the far-off places where you'll be able to find those birds you haven't caught sight of in your own area. Plus, you'll have a cozy place to return to for a relaxing night after a long day of watching the sky.
Birding is a great pastime for travelers because it's so simple. Although certain pieces of equipment, like a quality set of binoculars and a bird watching log book, can help, all you really need are your eyes and a place with birds!
How to get into bird watching?
Glad you asked! Whether you're a veteran bird watcher or you didn't even know birding was a thing, it's important to keep some key items in mind before you get started, like etiquette, bird watching equipment, and the best times and places to see the birds.  So without further ado, here's the complete guide to bird watching for RVers.
Bird Watching Etiquette
First things first: you need to ensure you're following the rules of bird watching. Fortunately, most of them are pretty simple and common sense… but they're also largely unwritten, so it's worth looking them over.
For one thing, loud noises generally scare birds off, so when you're bird watching, you'll want to stay as quiet as possible — especially if you're in an area with others hoping to catch sight of the animals.
One exception to this rule would be using bird calls, which can help attract the birds you're looking for. But whether you're using a bird-calling whistle or playing a recording on your phone, again, be sure you're not infringing on anyone else's bird-watching ventures.
It's also important to be respectful of the wildlife and their habitat. Never chase or attempt to capture birds, and be aware of where you're going. Some lands are privately owned, and others may have closures or restricted access enforced. No bird spotting attempt is worth breaking the law for!
Bird Watching Equipment
Although birding isn't a particularly equipment-heavy hobby, there are a few bird watching essentials and luxuries that can make it more fun and entertaining. For a beginner bird watcher, it's a good idea to start out with the bare minimum — maybe a birding journal and a field guide — and progress to the more expensive stuff once you know you really like it.
A bird identification book is a great way to figure out what you're looking for or looking out… without constantly having to be on your cell phone while you're trying to enjoy the woods. The Audubon Society Field Guides are considered standard, and they're broken down by region to make it easier to find the birds near you.
The only other thing you need to complete a bird watching kit for beginners is a quality birding log book, in which you can mark down all the bird you've seen and where you saw them. If you would rather go paperless and tote your smartphone into the forest, there are apps for bird watching, also.
Once you're sure you're into the hobby, you can invest in the bigger-ticket bird watching items, such as binoculars for bird watching or a high-quality camera. The best binoculars for bird watching tend to be waterproof binoculars.  Since the best time of day for bird watching is when they are most active – typically early/mid-morning – it can be misty outside even on the clearest of days. In fact, it's also a good idea to have a raincoat and rain boots; when you're spending hours outdoors in pursuit of that one special bird, you might have to wait out weather changes!
Bird Watching Trips
This is what makes bird watching such a great hobby for RVers: you can go on bird watching vacations!
For instance, if you hope to see the uber-rare California condor — one of the largest and least numerous bird in the USA — you'll have a much better chance if you head out west. If you've yet to see a blue jay with your own two peepers, heading east might just be the ticket.
No matter which birds are on your bucket list, creating a custom RV bird watching vacation around finding and spotting them is a great way to fill up your travel planning journal and your memory bank!
Bird Watching Activities
This may seem obvious, but the most important part of a successful day of bird watching is simply finding a likely spot, settling in, and keeping your eyes peeled.
That said, you can combine bird watching with other fun outdoor activities!
For instance, if you're after shore-dwelling birds like herons, gulls, or egrets, you can turn a kayaking or paddle-boarding trip into a water-based bird-watching safari. Or maybe you'll have to strap on your hiking boots to head up into the mountains in search of a species that's fond of its solitude.
You could even leave the camper behind for a night and head into the woods with your backpack and sleeping bag for some backcountry camping. After all, it's for a good cause… and you know you have a comfy bed to return to once that bird is securely in your log book!
Bird Watching Events
Once you're an experienced bird watcher, it can be really fun to join others at specially-arranged events geared toward finding and recording as many different species as possible. For example, many of the walks and programs at this year's Wildflower Pilgrimage in the Great Smoky Mountains revolve around birding.
For more information and birding events near you, keep an eye on the Audubon Society website, and check out online birding communities like Bird Forum and Dave's Garden.
And if nothing's going on nearby, don't worry. Just grab a friend, get outside, and look up.
Bird Watching FAQs
Bird Watching Near Me
No matter where you are, there are amazing opportunities to find the perfect bird watching spots. Some great places to start are local parks and nature preserves, which often have designated areas where birds frequent. You can also consult your region's field guide and ask fellow birders you see as you're exploring.
Why is bird watching called twitching?
Bird watching goes by many different terms – birding or bird spotting being the most well known. You may hear this activity referred to as "twitching" or "chasing", but it's technically not interchangeable with birding. A "twitcher" is of British origin and is meant to describe someone that travels long distances to pursue rare birds.
According to Birding, Volume 1, No.2:
A "birder" is an acceptable term used to describe a person who seriously pursues the hobby of birding. May be professional or amateur.
"Birding" is a hobby in which individuals enjoy the challenge of bird study, listing, or other general activities involving bird life.
A "bird-watcher" is an ambiguous term used to describe the person who watches birds for any reason at all, and should not be used to refer to the serious birder.
Is bird watching popular?
Yes, bird watching is popular for loads of reasons! In fact, over 45 million Americans participate in bird watching. Interest and experience can vary from a casual appreciation to competitive birding. Use our guide to help you get started in a hobby you can enjoy for years to come!
What is the point of bird watching?
Bird watching is a great activity that has many benefits. It promotes mindfulness – a quiet, thoughtful activity you can do alone or with a few quiet comrades. It's a way to learn about nature and different ecosystems and meet new people with similar interests as you. Birding is a low-stress, low-cost way for people to spend time outdoors. It's very calming for the nervous system to be surrounded by nature. Bird watching is simply a wonderful way to see many types of animals that you may not normally get a chance to appreciate.
This post may contain affiliate links.