How Tos & Tips
June 18th, 2019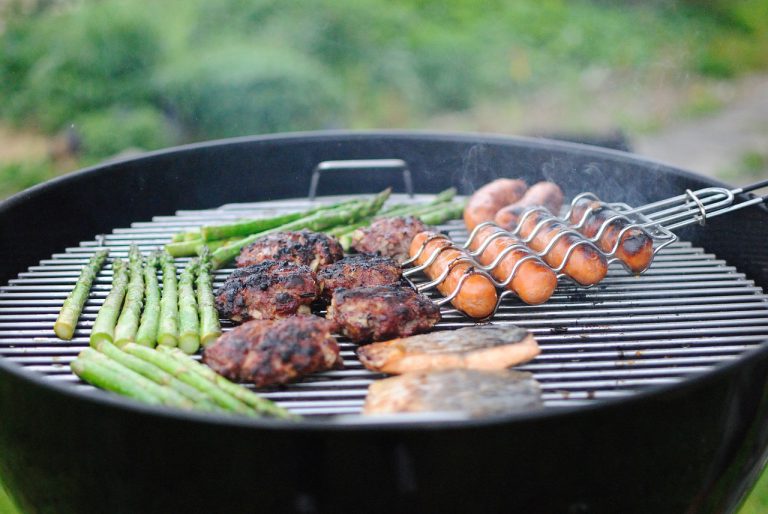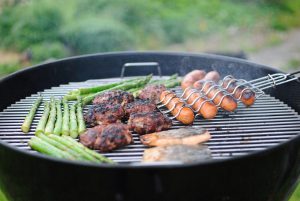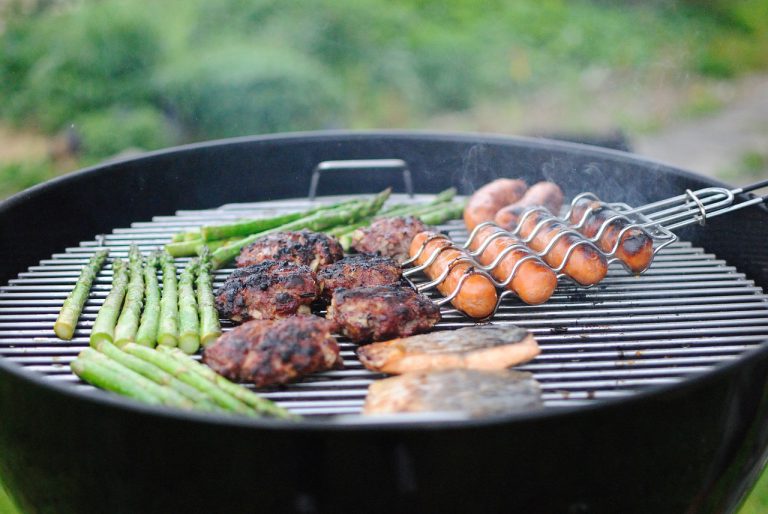 Is there anything that goes with camping better than grilling? Maybe fishing or hunting… but both of those things, ideally, just lead to having more stuff available to grill. We rest our case!
Whether you bring along your own portable tabletop charcoal number, splurge on a fancy stand-alone propane-powered grill, or just rely on what's available for public use at your campground, there's no two ways about it: grilling is the official cooking style of the #RVlife. And if you want to do it well, you're going to have to invest in a few grill accessories to help you.
Fortunately, a set of excellent grill accessories don't have to mean breaking the budget — and if you take care of them and buy a high-quality product to start with, chances are your grillmaster set will last you a lifetime.
Plus, let's face it: being the official MVP of the campground is well worth going to a little extra expense. Without further ado, here are the essential grill accessories that'll make you into the pitmaster you've always dreamed of becoming. (Do be warned, however: you're apt to get an influx of potentially-uninvited visitors!)
1. Grill Mats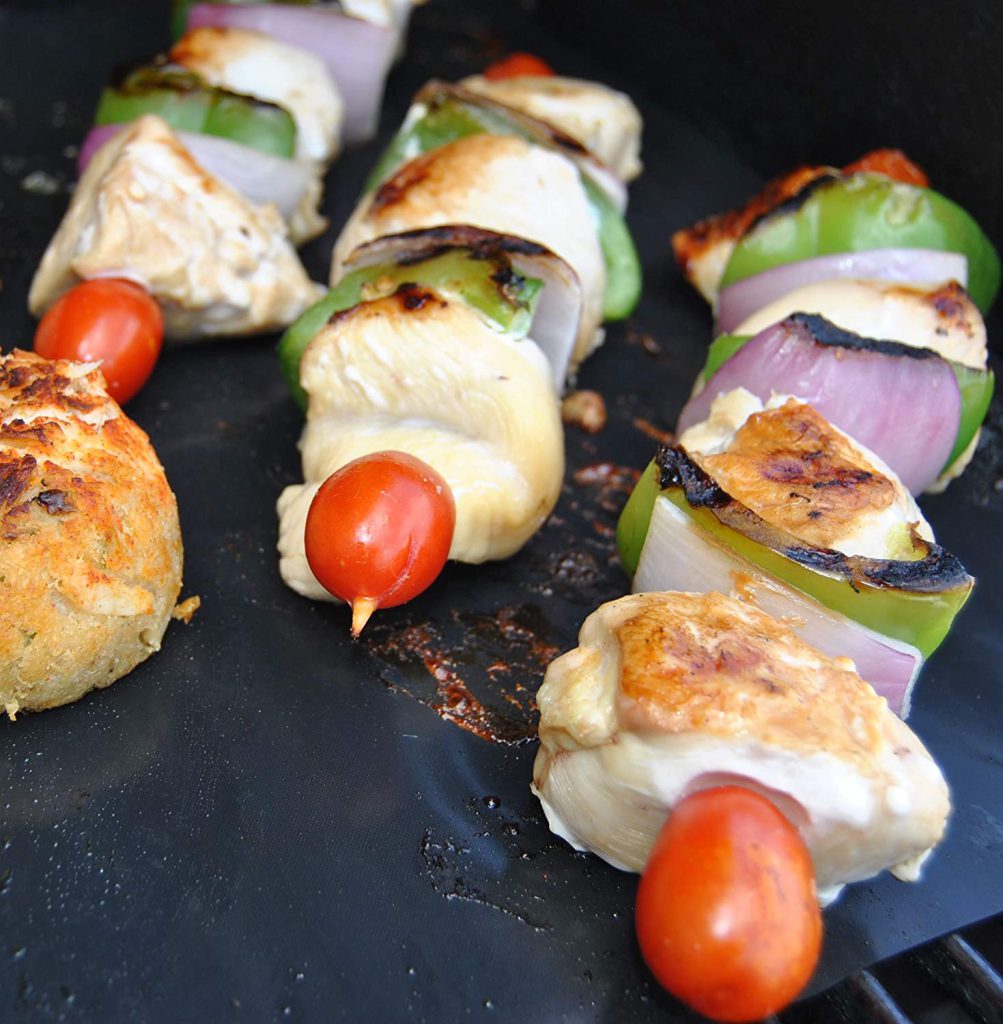 Want all the juicy, locked-in flavor of fire-grilled meat… without the annoying post-grill-fest cleanup? As delicious as that perfectly-striped steak may be, scrubbing the remnants of the meat off the grill bars is no one's idea of a good time.
Enter the BBQ grill mat: a brilliant invention that allows you to get the best of both worlds. These heavy-duty, nonstick mats are rated to withstand temperatures of up to 600 degrees, so you can just lay them on your grill and proceed as normal. Then, when you're done, all you have to do is wash the mats rather than putting elbow grease into the project of brushing off your grill. And since many grill mats are dishwasher friendly, it seriously can't get any easier when it comes time for cleanup.
Grill mats are a great investment for campers for a number of reasons. For one thing, they roll up small, which makes them super easy to store even in an RV's limited space. And if you're most often using public grills in campgrounds, grill mats can help you rest easy. You probably can't ensure that grill is 100% clean… but you can cover it over with a grill mat and call it a day! Pretty brilliant, right?
2. A Grill Cover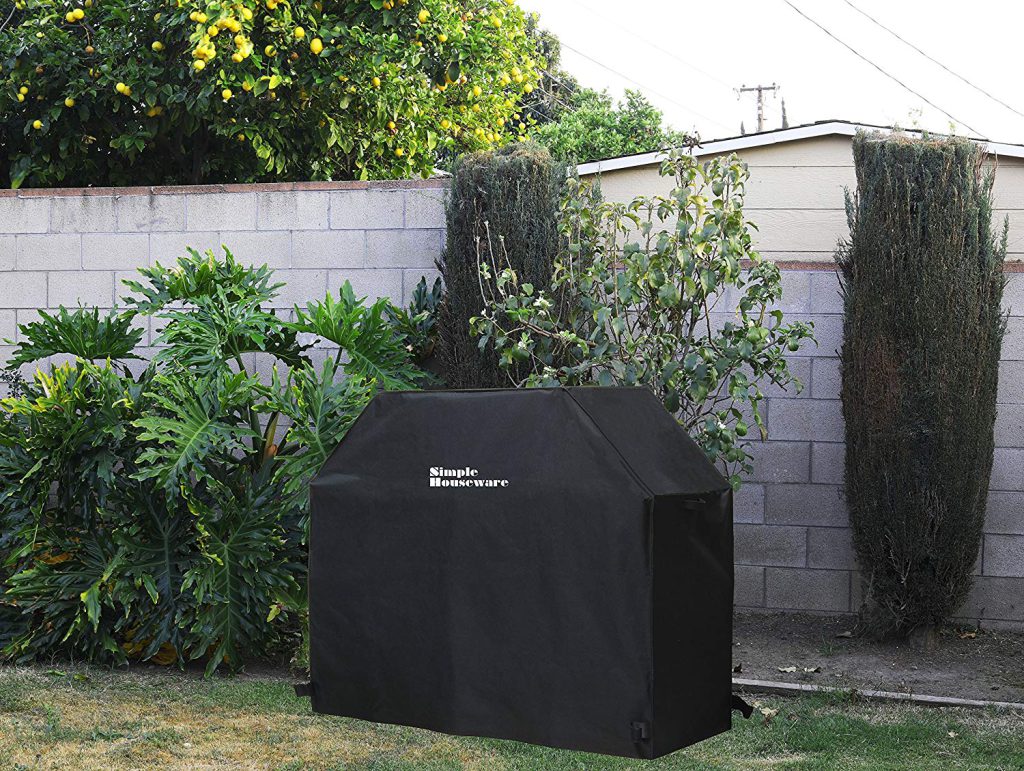 If you have invested in your very own grill set, obtaining a char broil grill cover can help you extend the life of your purchase and ensure the grill is fresh and clean every single time you set down to cook. These weather-resistant covers are especially important if you're camped in one place for a long time and leave your grill outdoors in the elements.
3. Grill Brushes and Cleaning Instruments
Even if you invest in grill mats as suggested above, every once in a while, you're going to want to give your grill a good, deep cleaning. That's exactly why a solid grill brush and scraper is an essential addition to your list of BBQ accessories.
Using a stainless steel grill brush will help keep your grill free of dirt, debris, and potentially harmful pathogens that could hurt your family. You could also consider using a grill scrubbing stone, which is a non-toxic, non-allergenic, and totally green way to make your grill look fresh and new after heavy usage.
4. Grill Basket
Want to grill up smaller items like cubed potatoes or grape tomatoes, but don't want to worry about them falling between the bars? There's a reason the grill basket is one of the most popular Weber grill accessories on the market — it makes it simple to cook up even items that aren't traditionally grill-friendly.
Employing a grill basket is a great way to add healthy veggies to your roster of favorite grilled treats, which can help round out those hearty meals of steaks and burgers you're probably more commonly used to charbroiling up. Plus, these versatile devices are available for less than $25, so it's a really small investment with a really big payoff!
Even More Amazing Outdoor Cooking Accessories
We're not done yet! Here are even more grill accessories and items for the true barbecue master's consideration.
5. An Outdoor Griddle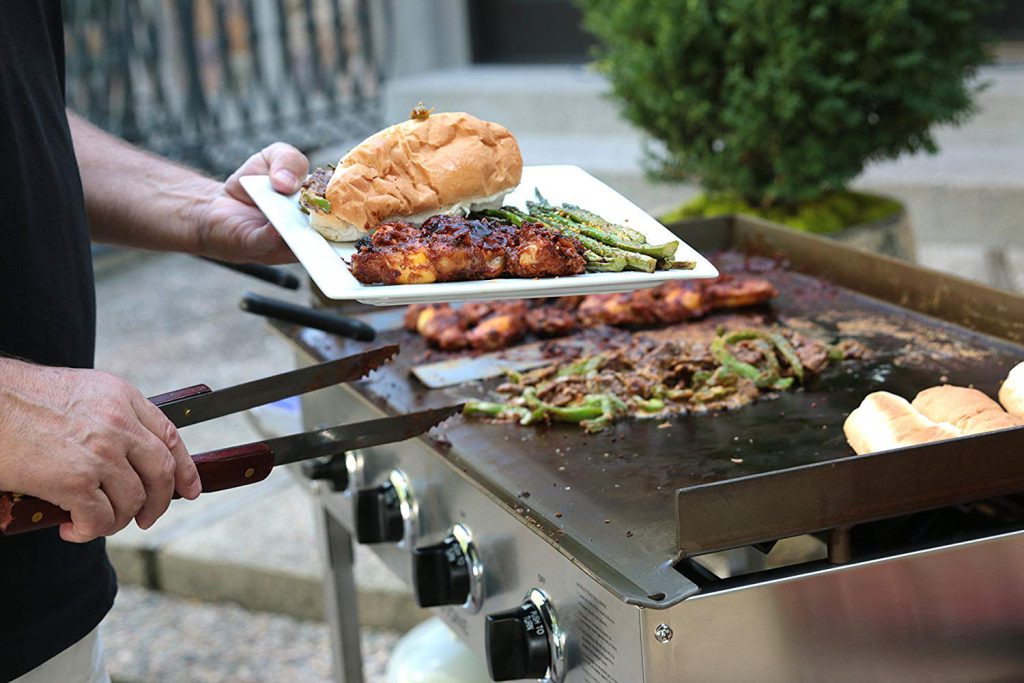 If you're really devoted to the grilling lifestyle, why not upgrade your grate-style grill to an outdoor griddle? They cost a little more, yes, but there's no better way to ensure your food cooks consistently… and you won't have to worry about spending time lighting up charcoal ever again.
A griddle's flat top makes it possible to cook all sorts of delicacies that are more difficult on a traditional grill, like pancakes and omelets. In short, if you purchase one of these guys, you're probably done with cooking indoors — like, forever.
6. A Campfire Grill Grate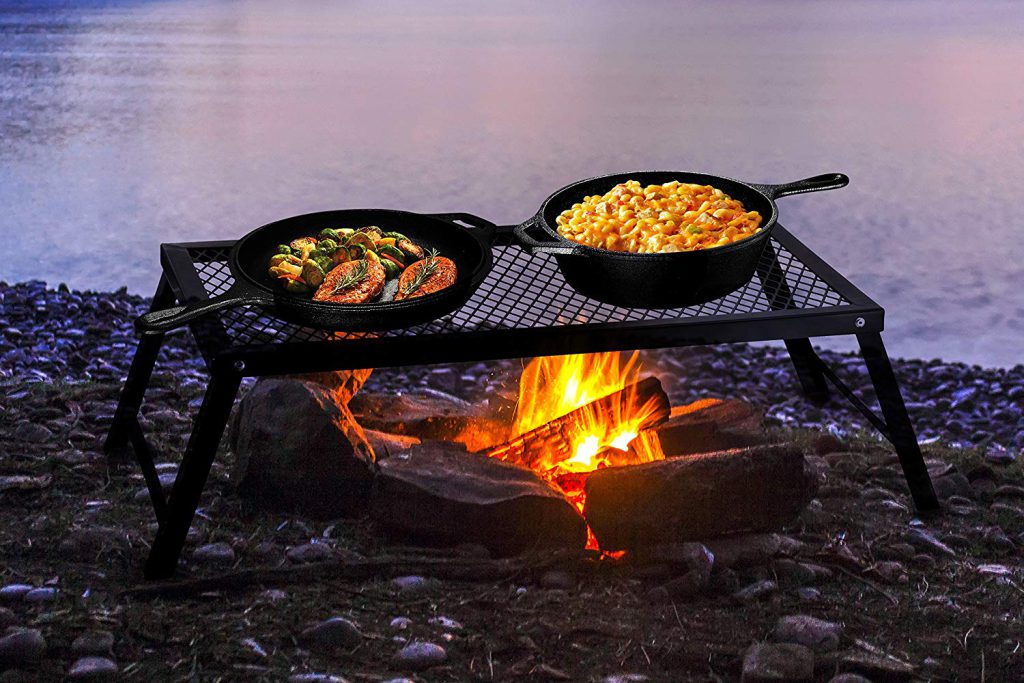 The whole thing that makes grilling amazing is the magic of cooking over an open fire. What better way to step it up a notch than to make your comforting campfire the source?
If you're boondocking in a spot that doesn't have designated grills, or just looking for a way to cook with some atavistic charm, consider purchasing a campfire grill grate, which can turn any open flame into the cooking surface for your next meal. You can lay food items on it directly or even use it in conjunction with a cast iron pan or grill mat. Either way, there's no better way to make dinner with a view.
7. A Useful Grill Lighter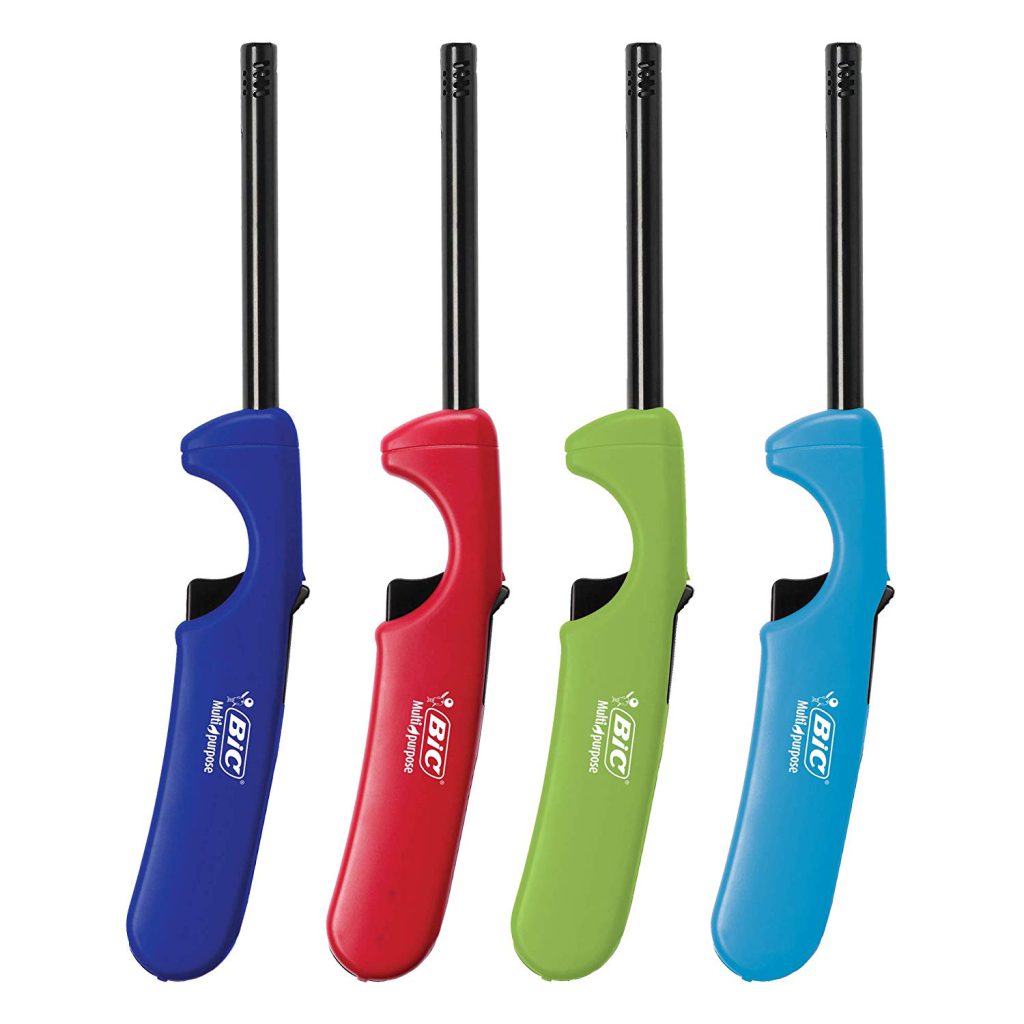 If you're using a charcoal grill, the last thing you want to do is to sit there holding a teeny tiny cigarette lighter for the five full minutes it takes your coals to ignite. (Trust us on this one — we speak from experience.)
Go ahead and invest in a grill light that offers some length and ease of use. Not only will it make things easier come mealtime, but it's also useful for lighting candles and other household uses with improved ergonomics and comfort. Plus, you can get a four-pack for less than $15, so it's not like you're going to go broke over it!
8. BBQ Gloves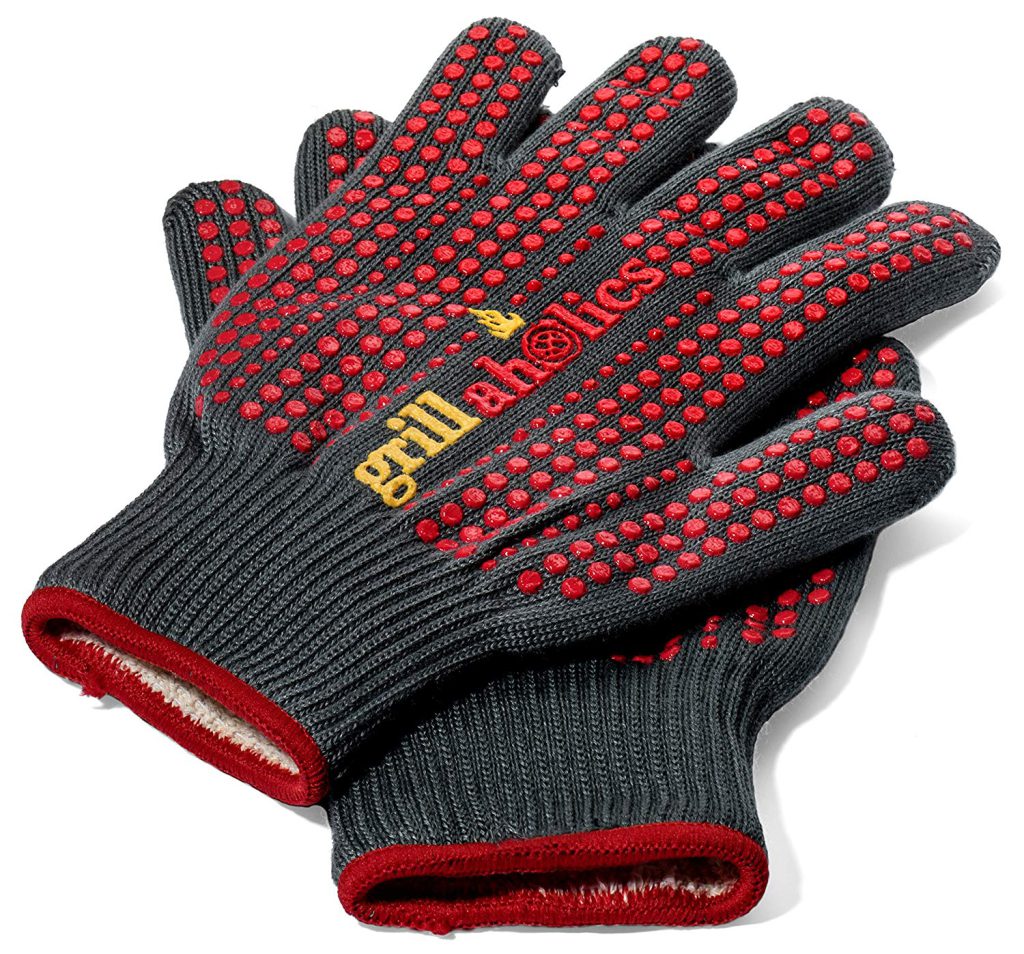 It happens to the best of us. We're minding our own business, grilling up a delicious meal, when we somehow suddenly forget that fire is, um, hot. Suddenly you're pacing around with your angry, swollen finger in your mouth, cursing your silliness. Why did you decide it was a good idea to touch that hot metal grill basket bare-handed?
Don't let it happen to you one more time. Instead, invest in a pair of heat-resistant barbecue gloves, which will keep your hands safe at temperatures up to 660 degrees. Using a high-tech type of silicone, these gloves make it possible to add more fuel, manipulate items on the grill, and just relax in general without risking painful burns. At less than $25, it's a purchase you and your skin will be very happy you made!
Ready for a Fun, Fiery Adventure?
Even in your own backyard, grilling is awesome — but when you're camping in a travel trailer or motorhome, it's that much more exciting. You can cook up your favorite summertime treats in a brand-new destination, surrounded by all your favorite people. After all, every meal is better when shared.
If you don't already have a rig of your own to adventure in, why not consider renting one through RVshare this summer? Our privately-owned rigs come in every shape, size, and body style imaginable, so no matter what kind of camping trip you're after, you're sure to find the vacation vehicle that'll make your dreams a reality.
What's more, each RVshare rental is backed by A-rated insurance policies that keep the stress out of your vacation. You can also elect to access 24/7 roadside assistance, so you never have to spend a single moment of your trip worrying, what if?
Whether you're broiling up a picture-perfect steak on your own private outdoor griddle or grubbing on some freshly-caught trout cooked on the public grill waiting beside the pond in the park, there are few better ways to spend a summer evening than dining al fresco on something delicious and hot off the grill. Bon appetit!
This post may contain affiliate links.