Travel Inspiration
Last updated on June 16th, 2023. Originally published on April 30th, 2018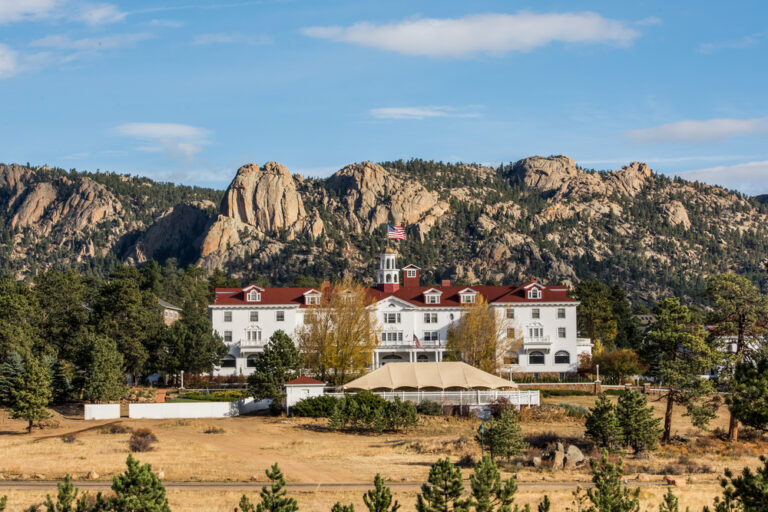 When you're poring over your best set of road maps and dreaming about your next RV vacation, there are lots of different methods of choosing your destination. Maybe you're looking for the best foodie towns to eat through, or the most remote wilderness areas so you can strap on your hiking boots and explore to your heart's desire.
But for the history buffs among us, visiting the sites we read about in our school years' history textbooks can be one of the most exciting parts of seeing the country. After all, an in-person visit is way more interesting than even the best-taught lecture! (… Here's hoping my eighth-grade teacher doesn't read this post.)
If you're playing road trip planner this year and thinking about d(r)iving into the past, we've got some suggestions you might not have considered yet, and even some ideas on where to stay when you get there.
From colonial towns to ancient Spanish cities, here are some of our favorite spots to hit on your next historical road trip.
American History Road Trip
Ready to get started? Here are some classic American history road trip stops.
1. Boston, Massachusetts
When it comes to historical road trip destinations that offer both entertainment and education, Boston's hard to beat. You can wander along the 2.5-mile Freedom Trail, which passes by 16 historically significant locations — and that doesn't even count the Boston Tea Party ships and museum. Visit the beautiful Boston Common Park which was established in 1634 (and is the oldest public park in the US!), check out the floating USS Constitution museum, and stroll the famous Fanuel Hall (known today as "Cradle of Liberty").
Considering the siege of this city was one of its very first battles, Boston ranks high on the list of best Revolutionary War sites to visit. And besides that, it's full of all kinds of modern cultural opportunities and great eats. Don't leave without getting some chowdah!
2. Philadelphia and Gettysburg, Pennsylvania
You can't take a Civil War road trip without making the trek to Gettysburg, the site of the Union victory that brought Robert E. Lee's second northern invasion to an end. Just two hours east, you'll find yourself in one of the most historically-relevant cities in America: Philadelphia, which is home to Independence Hall, Betsy Ross's house, and, of course, the Liberty Bell.
Even better? There's a perfect place to camp almost smack-dab in between these two sites: Jellystone Park Quarryville, Pennsylvania. Both Philly and Gettysburg are easily day-trippable from the location, which also offers an abundance of fun right on the campground: mini-golf, organized family-friendly events and weekends, and not one but two hot tubs. It's the perfect way to relax after a long day of historical exploring!
Jellystone Parks are one of the most consistently high-rated campgrounds around, and with almost 90 locations spread across the country, you're bound to find one near your next destination. Click here to learn more about this family of camp resorts and to find the perfect location for your upcoming trip, no matter where you're headed.
Colonial America Road Trip
Some classic American road trips are more historically relevant than you might realize. After all, we've got a lot of space and a lot of stories in this beautiful country of ours!
3. Saint Augustine, Florida
Even attentive students might not remember this one from their lectures, but no east coast historical road trip is complete without it. This small, seaside town in northeastern Florida is actually the oldest city in America — its 1565 founding date puts it 55 years before Plymouth Rock, and 42 years before Jamestown!
But since it was settled by the Spanish instead of the English, it sometimes gets the short shrift in American textbooks. No matter; experiencing this city's sights, sounds, and cervezas is a way better history lesson anyway. Plus, after meandering through the town's historical sites, you can head down to the real attraction: the endless sandy beaches.
4. Santa Fe, New Mexico
Did you know that this northwestern New Mexico town is actually the oldest capital city in the country and the oldest European community west of the mighty Mississippi? Plus, this desert oasis is also home to a thriving artistic community, both modern and historical. If you go, make sure you put a trip to the Georgia O'Keeffe Museum on your itinerary!
5. Yellowstone Park, Wyoming
More than likely, this stunning landscape is already on your RVing bucket list — and if it's not, it should be.
But history buffs will be doubly pleased to know it's actually the oldest National Park in the system, and, in fact, in the world. Of course, once you see it with your own eyes, you won't be surprised that Yellowstone inspired President Ulysses S. Grant to set aside and protect the land for posterity. There really is nothing like this caldera, home to all sorts of surreal colors and geological formations. (Psst: making a National Parks trip? Don't forget your guidebook… or your National Parks passport. It's a really fun way to track which parks you've been to, especially if you're traveling with a Junior Ranger!)
How to Make RV Trips With Kids Educational
Want to make the journey as exciting as the destination — and get younger campers amped up about exploring history? Camping is great no matter who you go with. That said, going out in the RV with kids is an especially awesome experience!
Whether you choose weekend adventures or RV living with kids, taking the little ones on your adventures gives you a chance to see the world through their eyes, providing an extra bit of magic along the way. Best of all, RVing can be an educational family vacation, meaning you can give your kids the gift of hands-on education while having an absolute blast.
The Best Educational RV Family Vacation Locations
Museums — Perhaps the most obvious educational option is a museum. There are hundreds of amazing museums all over the country, and many of them feature hands-on exhibits that encourage kids to jump into the action. Seek these out and use them!
Zoos and Aquariums — Zoos and aquariums are also awesome options when it comes to educational vacation spots. They provide an opportunity to see animals up close and personal, and learn a little about how they live.
National Parks — Offering some of the best learning adventures out there, our country's national parks should absolutely be on your must-see list. Be sure to check out the Junior Ranger program at each park to help keep the kids engaged!
State Parks — Many state parks are just as good as national parks (sometimes better if you prefer fewer crowds), and some even offer Junior Ranger programs of their own. Make sure to check each state you visit for especially interesting parks to visit, and if you'll be in one state for an extended period of time, consider getting an annual state park pass there.
Farms — Agritourism (meaning, visiting farms and wineries as a tourist) is an interesting concept, and one that offers lots of educational opportunities. Most people can learn a lot by seeing where our food comes from, and there's something magical about helping out on a farm for a few days. Harvest Hosts is a great membership program that offers some excellent agritourism opportunities for families of RVers. 
Fill Your Trip with as Much Learning as Possible
If you're making a point of taking an educational family vacation, it just makes sense to fill it with as much learning as possible while still keeping things exciting for the kids.
Here are our top tips for doing just that:
Plan ahead — Know where you're going ahead of time so you can do research together and learn about related topics in advance of your field trip.
Read books and watch videos — Visiting a living history museum? Why not read a historical fiction novel set in that time period? Going to the Grand Canyon? YouTube has tons of videos about the formation of the canyon. What we're getting at is, seek out books, watch videos, or even browse social media to learn more about the places you'll visit. 
Try hands-on activities — Some kids do well with hands-on activities. Cook up a recipe that Thomas Jefferson used after a visit to Monticello, or try your hand at echolocation after seeing bats at a national park. Both are examples of activities that will get kids excited about learning and help their educational experiences stay with them for years to come.
Engage and discuss — During field trips, make a point of engaging your child in the experience. Offer them a camera to encourage close observation, discuss what you see with them, ask their opinion on things, and encourage them to ask questions of any park rangers or other staff members you meet. The more you can engage your child, the more they will get out of the experience.
Historical Road Trip Destinations
These are just a few of our favorite history-focused US road trips and ways to make them more educational; with so many fascinating sites to explore, this list could go on forever.
But planning a historical and educational road trip doesn't have to be difficult. After all, there are great stories of the past to be discovered almost anywhere you go.
If you're looking for more information on finding historical road trip destinations in your area, check out the following books, which might help you learn about local gems you didn't already consider:
Here are some road trip games to make your historical road trip more fun and memorable.
Happy camping, history buffs. Enjoy your trip into our nation's fascinating past!
This post contains affiliate links. RVshare may receive compensation if you make a purchase after clicking on a product or service link.