How Tos & Tips
Last updated on January 6th, 2023. Originally published on May 30th, 2018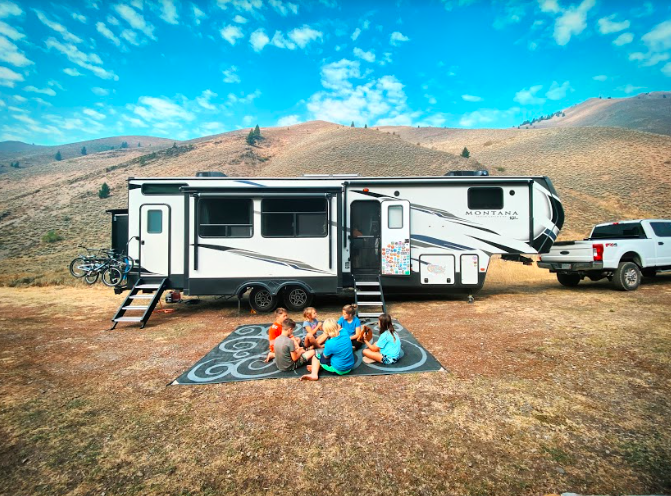 You've got your travel atlas open to the right page, a fresh new vacation journal to fill out, and your hiking boots ready and waiting for your next adventure. It's go time!
Getting geared up to hit the road is one of the most exciting parts of any vacation. But when you're taking to the highway in your travel trailer, you have a few special considerations to keep in mind before you skip town.
For instance, did you pack your trailer with so much gear it's surmounted its rated weight limit? Are your hitches super-secure and ready to go? And what about your packing checklist — nothing's more frustrating than getting a few miles down the road only to discover you're missing something essential, whether it be your sewer hose or sunscreen.
Not to fear, campers! We're here to go over everything you need to double-check to ensure you enjoy a hitch-free adventure in your trailer… well, except for the tow hitch, that is. 😉
Here's what you need to check to get on the road as quickly, safely, and comfortably as possible.
RV Trailers
RV traveling already requires a certain amount of forethought and planning. After all, when you're bringing your very own hotel room with you, you've got some extra items to pack — like sheets, bathroom towels, and toiletries — that you might not think about when you're hitting the road for a regular road trip vacation.
Plus, these big vehicles do have a few systems and processes that can take a second to get the hang of. While RVs are by no means crazy difficult to drive or operate, you probably won't know how, for instance, empty your sewer tanks or clean your canopy awning before someone shows you!
But travel trailers have a few extra considerations on top of these, thanks to the fact that they're towed vehicles. For example, your trailer's weight is a very important number since it determines whether or not your vehicle is rated to safely tow the RV, and depending on where you're traveling, you may need to look into electronic brake control systems.
Whether you're driving a small towed camper, like teardrop trailers, R pods or pop-up campers, or larger rigs like fifth wheel or luxurious toy haulers, that all-important towing connection requires double-checking, too. Above all else, you want to ensure you're safely connected!
There are a few more items to keep in mind before you head on down the road, as well. But again, don't worry! We've got you covered.
Travel Trailer Tips
Here's the stuff worth giving a second (or even third) look before you venture out on your travel trailer adventure.
Are you hitched up correctly?
It goes without saying that your RV's tow hitch is one of the most important things to ensure your safety on the road, so go ahead and triple-check it. Make sure all the chains, pins, and fixtures are in place — and if you have any doubts, check with an expert before you drive anywhere!
Is your RV tire pressure correct?
It might not be the first thing you think of, but your RV's tire pressure is really important — especially once you get on the highway. Check and ensure those rubber feet are ready with a digital tire pressure gauge. (The correct measures will be in your owner's manual.)
Are you overweight?
Don't worry, we're not talking about getting on the bathroom scale — we're talking about your trailer's poundage!
Your RV's weight impacts your safe ability to tow it, and going over the rated weight can even void your insurance coverage. It can also make your travel trailer get lower MPG at high speeds.
Although most families don't pack enough stuff to put their trailers over the weight rating, if you're not sure, you can double check at a truck weigh station.
RV Camping List
As important as it is to do an exterior walkaround, don't neglect what's on the inside!
Do you have everything you need on board?
Packing up your travel trailer is an art all its own, and like anything else, it's something you'll definitely get better at with practice. More than likely, you're bound to forget a few things on your first or second outing — it happens even to those of us who've been on the road for years!
Along with all the stuff you'd normally bring on a vacation, don't forget the items you need to make your travel trailer feel like home: sheets, towels, and cookware, so you can create gourmet camping meals in your rig's kitchen. Make sure you know where your owner's manual is stashed, just in case you need it — and every RV should have a good set of maps on board, or perhaps even an RV GPS system.
You'll also want to double-check your fuel levels, both for your tow vehicle and your generator if you have one. Make sure to fill the rig with fresh water and empty the wastewater tanks before you head out on your adventure!
RV Reservations
Alright, we're almost ready to get going — promise. Just one last (really important!) thing: do you know where you're headed?
While spontaneity and flexibility are some of the most attractive aspects of this travel lifestyle, having at least a sketch of your itinerary can keep you from stressing out on the road and give you more opportunities to make the most of your travel. You won't have to be constantly worrying about where you're headed next, and you'll also be able to look into what's available to do at each destination ahead of time.
Plus, if you play your cards right — literally! — planning ahead can actually save you money. If you join Passport America, you'll get 50% off your campsite accommodation fees at almost 1900 luxurious campgrounds across the country. With that many participating locations, it's not hard to find one… but it is a good idea to make your reservations ahead of time.
And there you have it: You're ready for adventure! Wasn't that easy?
This post may contain affiliate links.