How Tos & Tips
Last updated on July 7th, 2023. Originally published on August 15th, 2020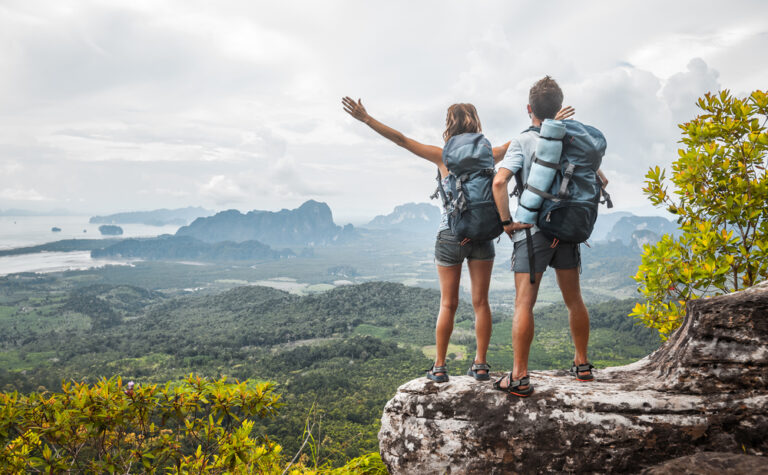 Whether you're tent camping, RV camping, or just looking for an activity to do on a free weekend, hiking is a great option! It's a unique way to see things you'll never see from a vehicle. It's also an activity people of every age can enjoy. Finally, it's inexpensive…and in a lot of places, completely free.
Best Hiking Snacks
If you're new to hiking, check out our Ultimate Guide to Hiking for Beginners. There are a few essential items you should always bring when you head out for a hike. Most importantly, make sure you have plenty of water. As a general rule, you'll want one liter of water for every two hours you're on the trail. Next, you'll want to bring along a simple first aid kit in case you have a mishap. You'll also want to make sure you have some snacks – hiking is hard work and burns a lot of calories!
In this post, we'll help you determine the best hiking snacks to take with you. These snacks are also equally perfect to pack for long road-trips!
What to Look for in Healthy Hiking Snacks
Shelf-life: Always look for snacks that are nonperishable. Food poisoning is no fun — especially while camping!
Weight and portability: Of course if you're hiking, you'll want snacks that aren't too bulky or heavy. You should also package snacks in reusable bags or find snacks with minimal packaging to reduce trash.
Calories: Look for calorie dense snacks. You'll be burning lots of calories while hiking, so you'll want to make sure you replenish!
Nutrients: Look for snacks that are filled with healthy fats, protein, natural sugars, and simple carbs to give you energy.
Sodium: You'll also want to look for some salty snacks to help replenish lost electrolytes
Avoid: Stay away from snacks with lots of grease like potato chips and overly-processed food in general. These types of snacks are a surefire way to crash half-way through your hike.
Best snacks for hiking in hot weather
If you're hiking during the summer, you may want a shady path to keep from getting too much sun. You may also want to look for a path with stream crossings, waterfalls, or lakes you're allowed to dip your toes into to cool off. If you're in an extremely hot climate, you might also want to wait until it cools off in the evening and try a night hike instead.
The hiking snacks you bring for a hot weather hike are going to be a little different than cold weather trail snacks. You won't want anything that melts easily, like chocolate candy bars. You'll also want some snacks that help keep you hydrated (along with all the water you bring). Here are some of the best snacks for hiking in hot weather.
1.) Fruit
Fresh, whole or pre-cut fruits that you can simply toss in your pack are great, refreshing snacks on a hike. Apples, oranges, clementines, or pears are all great options for hiking snacks. Be sure you place your fruit near the top of your pack, not way on the bottom where they could get bruised. You could also slice your apples or pears ahead of time and bring along a small container of nut butter to dip for a little extra protein. Also, try freezing grapes ahead of time – toss them in a container, and by the time you eat them they'll be thawed but still pleasantly cold.
In addition, dried fruits like mangos, pineapple, and apricots can be quite tasty and refreshing.
2.) Vegetables
Baby carrots, sliced celery, cherry tomatoes, or broccoli are also great snacks for a hike. For extra protein, you could bring along a single serving of shelf-stable hummus.
3.) Smoothie pouches
The pureed fruit pouches in the school lunch aisle work great for adults, too! You can toss these in the freezer ahead of time, and by the time you eat, they will have melted but will still be cool. In the meantime, they'll work as ice packs to keep other things in your pack cold. These Noka superfood smoothie pouches are vegan, gluten-free, and loaded with nutrients!
4.) Trail mix
It may sound counterintuitive when you're trying to stay hydrated, but you need to have salty snacks. As we mentioned, salt helps to replace the electrolytes you lose as you sweat, so unless you're on a special diet, you'll want some salty treats. A trail mix that includes salted nuts, coconut, and chocolate candies like M&Ms is a good way to get both the protein and salt you need. Most major grocery stores carry containers of trail mix, and places like Trader Joe's, Amazon, and Costco sell them in larger containers of snack-sized bags.
5.) Jerky
Here's the thing: beef jerky might seem like an obvious go-to for those looking specifically for low-carb snacks. But you might be surprised at how often your favorite dried meat product is totally inundated with sugar!
Although it's important to check the back of the package, particularly if you're looking at sweeter flavors like teriyaki, the right kind of beef jerky is a great option for people looking for high-protein snacks with a minimum of carbohydrates. People's Choice makes a great, sugar-free version that packs 16 grams of protein and only 2.5 grams of fat per serving!
Jerky is a great source of both protein and sodium, AND it's practically indestructible in your pack.
6.) Honey Stinger Waffle
Lightweight and perfect for an energy boost, Honey Stinger waffles are a great snack to take for a hike. A thin layer of honey-infused filling is sandwiched between two crispy waffles, providing you with a boost of trail fuel!
7.) Energy Chews
If you're gearing up for a strenuous adventure, a pack of energy chews will serve you well. These are poppable and easy to digest, so you can snack on them as you hike or eat one when you start to feel weak.
Best snacks for hiking in cold weather
Obviously, your considerations for hiking in cold weather are going to be very different from hot weather. However, a few things remain the same. You'll want plenty of water or hydrating drinks – and you'll need to make sure you drink it! It can be easy to ignore hydrating when it's cold out, because you're not craving a refreshing drink like you are in the summer. However, you still need that water. Also, don't neglect the sunscreen. In fact, it can be even more important to put sunscreen on exposed skin in winter because the sun reflects off snow and can be very intense. You'll likely also want sunglasses. Of course, you'll also want moisture-wicking clothing that stays dry when you sweat so you stay warm, and you'll want to dress in layers you can take on or off as you exercise. As the saying goes, "There's no such thing as bad weather, only bad clothing."
As for snacks, you'll want to make sure they won't freeze in your pack, and that they provide plenty of energy for your hike. Several of the above snacks like dried fruit, trail mix, and jerky are all good choices, but here are a few more.
8.) Fig bars
Fig Newton cookies or fig bars from a brand like Nature's Bakery are great options for hiking. They get a little stiffer as they get cold, but they don't freeze solid and you're able to eat them easily. They also warm quickly if you want to hold them in your hands for a minute or so.
9.) Crackers
Crackers don't freeze well, so they're easy to eat in cold weather. Saltines, Ritz crackers, or Wheat Thins are all good options for a winter hike, and provide some salt to replace what you're losing when you sweat.
10.) Nuts & Seeds
Nuts like almonds, cashews, and peanuts or seeds like pumpkin or sunflower seeds don't freeze easily and are simple to pop in your mouth for a hiking snack. Dried raisins or cranberries may freeze, but melt quickly once they're in your mouth so those are easy to consume also.
You'll want to skip tossing things like chewy granola bars and most energy bars into your pack if you're on a cold hike, because they freeze and are very hard to bite into. To prevent your food from freezing you can keep it in an inner pocket of your jacket or shirt where your body heat will keep it warm.
11.) Tuna Packets
Pre-packaged tuna pouches are a great way to pack in some protein during your hike. They come in a variety of flavors and you can even buy packs that have crackers already included.
Best hiking snacks for energy
Snacks with protein are going to give you long-burning energy for your hike. Along with snacks like nuts & seeds, jerky, trail mix, and fig bars, here are a few other healthy hiking snacks for energy.
12.) Protein/ Granola bars
This staple has been a healthy food fav for decades, and for a reason. There's nothing like the crispy, crunchy mix of whole grains and dried fruit in healthy granola bars to keep you feeling fueled and fed for a day's journey.
Of course, not all granola bars are created equally, and many of them add a heaping helping of — you guessed it — sugar, which might sweeten things in the meantime, but too much artificial sugar can lead to an unfun afternoon crash in a few hours.
We recommend looking for products with simple ingredients lists and a relatively low amount of added sugar, like KIND bars. Even the decadent, chocolate-dipped ones often have as few as five grams of sugar total, and their use of fresh, natural ingredients make it a treat you can feel good about! Clif bars, Perfect bars, Quest bars, and Luna bars are also a good choice.
There are a variety of options in more flavors than you can dream, so you're sure to find one you like!
13.) Cheese
Admit it: although you rolled your eyes at the time, these days, you'd love to sample the string cheese that always had a place in your school lunchbox. There's just something about it that's so comforting and nostalgic… not to mention low-carb and high-protein.
String cheese, Babybel, and small squares of packaged cheese are all full of protein and come prepackaged so you can just toss them in your pack and go. Pretty much any hard cheese should be fine to take along.
If it's hot and you're worried about keeping your cheese chilled, you can also look into these delicious packaged cheese crisps which are actually made of 100% cheese. They come in all sorts of delicious flavors, and all of them are carb-free and keto-friendly.
11.) Hiking Charcuterie
Hillshire Farms and other companies make individual charcuterie packs that include things like crackers, cheese, and meats like salami. Just check to see if you need to keep your snack pack cold.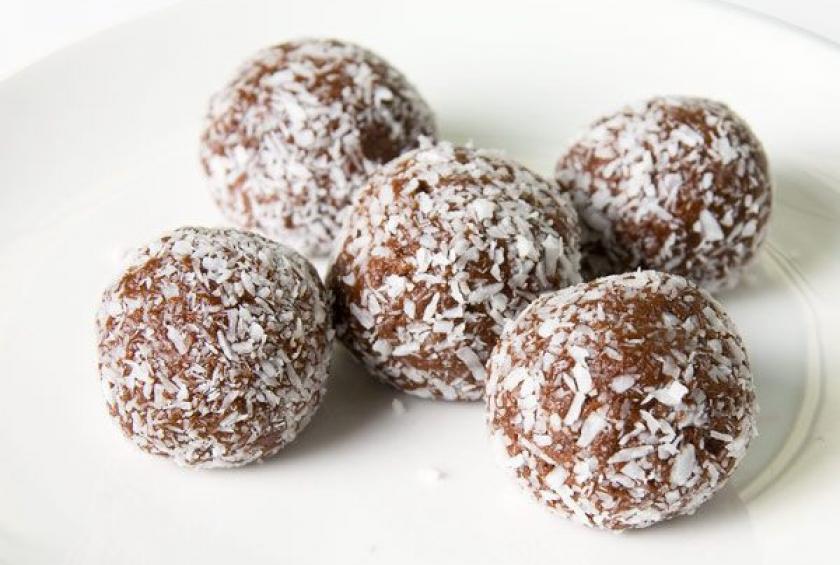 Homemade hiking snacks
Although there are plenty of snacks to take hiking that have been carefully engineered for optimal health (and the price tag shows it!), fortunately there are also plenty of snacks that you can make yourself! The easiest hiking snack to make yourself is trail mix – just get a combination of nuts, seeds, dried fruit, and perhaps chocolate candies like M&Ms and combine in equal parts. You can also make your own snack packs, with cut-up cheese and salami, and crackers.
If you have some more time to prepare for your hike, you can also try making one of these homemade good hiking snacks. It's a good idea to try any recipe out beforehand to make sure it comes out the way you want, before relying on it as a hiking snack.
Healthy hiking cookies? Yes, please!
This is the last cookie recipe I'll share, however if you Google protein cookie recipes, you'll find a bunch and they all look delicious!
If you want to up your game and not just grab bars off the shelf – these look like a simple but tasty place to start.
Another delicious way to get some energy as you hike! There are tons of protein ball recipes online as well.
Who said fruit roll-ups can't be healthy?!
Crispy, flavorful, healthy, and SO easy to make!
Healthy Hiking & Road Trip Snacks
We hope this list of easy, healthy snacks makes your upcoming hike that much more enjoyable (and that much more delicious). If you're road-tripping, these snack ideas are also perfect for long travel days. No matter how you choose to adventure, having healthy, grab-and-go food is a must!
Snacks are just one part of a satisfying, nutritious journey, so if you're looking for more information on feeding yourself on the road, check out the following RVshare posts:
Happy hiking and bon appétit!
This post contains affiliate links. RVshare may receive compensation if you make a purchase after clicking on a product link.