How Tos & Tips
Last updated on June 30th, 2023. Originally published on May 31st, 2017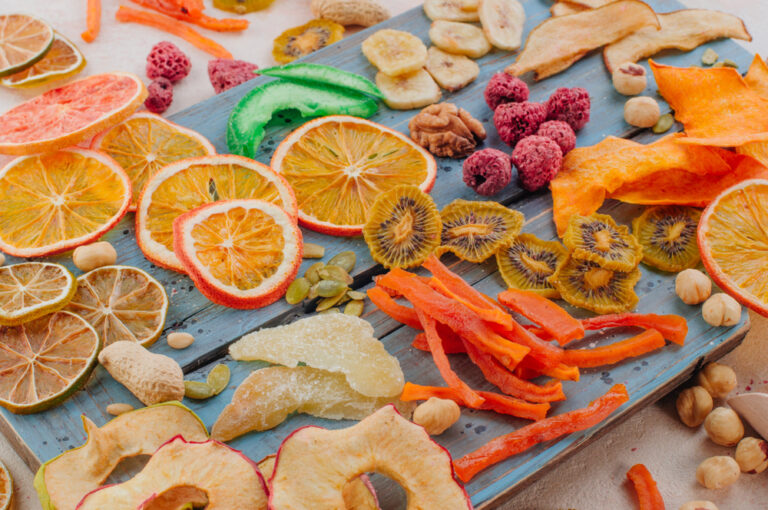 Although having a functional kitchen is one of the most attractive aspects of traveling by RV, there may still be times in your journeys when you need no refrigeration meals.
For instance, you might be in a tiny camper van that is too small to include a refrigerator in the limited space. Or maybe you've got a big Class A motorhome with a full-sized fridge, but you're heading out on an extended, off-grid boondocking adventure and don't want to rely on your LP gas supply or generator.
Heck, maybe your RV's refrigerator is simply broken. It happens, right?
But no matter what's separating you from twenty-first-century food storage, you don't have to resort to Slim Jims and potato chips for the duration of your stay.
You can actually whip up some surprisingly delicious, healthy, affordable, and easy meals with no refrigeration, all from shelf-stable, non-perishable items. In fact, many no-refrigeration meals are even appropriate for special diets, whether you're vegetarian, vegan, or gluten-free.
Here are some ideas and guidelines to help get you started crafting delicious camping meals with no refrigeration.
No Refrigeration Cooking
These are a few items you'll want to make sure to include on your no-fridge grocery list:
Oatmeal
Canned tuna, chicken, or ham for an easy protein source
Beef or other jerkies and dehydrated meats
Energy, protein, or granola bars
Pasta, lentils, beans, and other dry, boilable grains and legumes
Boxed chicken or vegetable broth
Easy, non-refrigerated hand snacks like nuts, dried fruit, and trail mix
Canned produce (green beans, corn, tomato sauce for pasta dishes, etc.)
Cooking oil
Fresh produce — believe it or not, many fruits and vegetables actually do better outside of the refrigerator if you use them quickly enough. Consider squash, potatoes, onions, corn on the cob, apples, bananas, and oranges for a start.
While these goods will provide you a solid basis for your camping diet, you can get even more creative with your menu! For instance, if you bring along some shelf-stable powdered, nut, or soy milk, you can easily have good old cereal for breakfast. Otherwise, oatmeal or granola bars are great standbys. And unlike sliced bread, tortillas are impossible to crush, and they can make any set of ingredients into a (literally) handy snack or lunchtime nosh.
If you're not opposed to processed foods, you can also look into dry, packaged meals that require no refrigeration, or box mix breads, cakes, and other goodies that come together on your stovetop. You can find tons of relatively healthy, well-constructed packaged meals that require you only to add water or pop them in the microwave. Not only are they convenient, but they can also be surprisingly delicious!
Many of the items on our checklist are super easy to whip into a meal — think one-pot pasta with some canned veggies and chicken, or maybe oatmeal with dried fruit, sliced nuts, and a sprinkle of brown sugar.
Plus, you can never go wrong with a simple handful or three of freshly roasted nuts or trail mix.
See? You're doing better than gas station goodies already.
No Refrigeration Meals for Camping
When it comes to camping, there are certain dishes that simply must be represented. I mean, if you don't make s'mores around the fire, did you even go camping at all?
But fortunately, most of the best food to bring camping doesn't need a fridge. (After all, most tent- and car campers don't have one with them!) For instance, every single s'mores ingredient is 100% fridge-free. As long as you're not camping somewhere hot enough to melt your chocolate, you're set!
Keep in mind that bringing a cooler is also an option and doing so can allow you to bring along some perishable or semi-perishable items to be used early in the journey. Or, you can snack solely on dry goods and microwave meals while using the ice chest to keep your beer supply chilly. Life is all about priorities, you know?
And psst — don't forget the coffee! Your morning joe requires zero refrigeration, and, of course, is 100% necessary.
Healthy Meals: No Refrigeration Needed
Just because you're on vacation doesn't mean you have to ditch your carefully-crafted eating plan. There are tons of healthy, non-refrigerated dinner ideas, no matter what diet you follow.
For instance, consider a delicious, homemade lentil soup. It'll pack a punch of protein while helping you get warm and cozy after a long day of hiking. As long as you use pre-packaged, cooked meat (or go vegetarian or vegan by skipping it entirely) and add relatively hardy vegetables, like carrots and onions, it's super simple to boil up, and totally fridge (and gluten!) free.
You can also rely on your grill to turn those sturdy veggies, like squash, corn, and potatoes, into scrumptious feasts. Just drizzle them with olive oil, sprinkle them with salt and pepper, and either slap them directly on the grill or wrap 'em up in tin foil. You'll be shocked at how much flavor just a little bit of heat brings to the table!
How to Dehydrate Food
Another option for refrigerator-free food is to dehydrate it! Dehydrated food is an especially great option to toss in a bag for a day of hiking or exploring…but you can also simply eat it at the campsite for meals as well.
Dehydrating food also lets you control your nutrition – if you have special dietary needs, you can plan your meals around that. Dehydrating ensures you keep many of the nutrients in the food you prepare. It can be cheaper than using only pre-packaged backpacking meals, and it means you can safely bring a lot of foods that usually require refrigeration like meat along with you on your trip.
There are certain foods that lend themselves to dehydrating, while others aren't suited to the process. Good foods to dehydrate include:
Fruit
Vegetables
legumes including beans and lentils
rice, pasta, and other grains
low-fat meat or seafood
herbs
sauces that don't include fat, dairy, or eggs
There are other foods you do not want to dehydrate, either because the food will be unsafe to eat, or because it just won't work. Foods to avoid dehydrating include:
food with fats in it – dehydration requires moisture to evaporate and fats do not evaporate. This will leave moisture in your food and it can spoil
nut butters – these contain a lot of fats and for the above reason, aren't a good option
avocados – again, too high in fat
olives
dairy – you can find powdered products like powdered milk or sour cream powder that you can use instead
eggs – trying to dehydrate eggs can lead to salmonella. There are some egg crystals and powdered eggs that you can use instead
How to dehydrate food without a dehydrator
You may be wondering how to dehydrate food, especially if you don't have a dehydrator. It's not a complicated process, and you can master the art of dehydration without any extra equipment. Before you dehydrate fruit, you'll want to give it a bath in lemon juice and water to preserve the flavor and color of your fruit. You may want to blanch certain vegetables – usually any vegetable you wouldn't normally eat raw – in boiling water to preserve their color and kill any bacteria. If your fruit or veggies are large, cut them all into the same shape so they can be evenly dehydrated. You'll want them cut into 1/4-inch strips.
How to dehydrate food in an oven
To dehydrate food in your oven, line a baking sheet with parchment or a silicone mat. Arrange your fruits or veggies on the sheet. You can group them close together, but they shouldn't touch or overlap. Set your oven to the lowest temperature – about 180°F – and put your sheet on the middle rack. Leave the oven door open slightly and let the food bake for at least an hour. When fruit is properly dehydrated, it will be slightly bendable but not sticky. Vegetables will be crisp like chips.
How to dehydrate food in a microwave
You can also dehydrate fruit, vegetables, and herbs in the microwave. Arrange your fruits or vegetables on the glass tray in your microwave, making sure you don't overlap your food. Pat the slices gently with a paper towel to absorb any moisture. Then, microwave your food. This article from The Food Network gives you microwave times for several fruits and other foods.
How to dehydrate food with a dehydrator
To dehydrate food using a dehydrator, cut pieces into a uniform size, about 1/4 inch thick. Soak fruit in a lemon juice and water solution to prevent browning. Blanche or steam any vegetables that you wouldn't normally eat raw, and tough vegetables like carrots. You can also use frozen vegetables that you have thawed. Place your vegetables in a dehydrator and set the temperature to 125°F and allow them to dehydrate until they are crisp or hard. This should take between 4-12 hours. Fruit should be dehydrated at 135°F. Drying time for fruit will vary, depending on the fruit. You'll know your fruit is done when it is no longer sticky. You can test for doneness by cutting a few pieces in half and squeezing them. If no moisture comes out, the fruit is done.
For an in-depth look at dehydrating food, this article from Fresh Off The Grid answers just about any questions you may have.
Backpacking food
When you're looking for foods to bring along backpacking, you want them to be lightweight. They can't require refrigeration or be too sensitive to the squishing or smashing that might occur in your backpack. They'll also need to be healthy foods that give you the energy you'll need for each day of walking and exploring. Dehydrated food is obviously an excellent choice. You may also want a water filter straw if you'll be near a water source – that can cut down on the amount of water you have to bring along. You may also want to see our list of the Best Hiking Snacks for ideas to keep your energy up during the day. We've also included a few suggestions below for meals you can bring backpacking.
Dehydrator recipes
Just because you're roughing it doesn't mean you have to give up flavor on your trip! Here are some delicious recipes for dehydrated meals you can make while backpacking.
Breakfast
Lunch or Dinner
Snacks
Travel Meals No Refrigeration
We hope this article has shown you that eating healthy without a refrigerator is totally possible. Meals that don't need refrigeration — or even cooking — don't have to be boring or unhealthily salt-laden.
In fact, many meals that need no refrigeration are both completely yummy and healthy, not to mention easy to make. In fact, some of these camping meals are simple but satisfying. You may find yourself making them even after you're back home with a fully-equipped kitchen at your disposal.
Bon appetit!