How Tos & Tips
Last updated on January 11th, 2023. Originally published on September 27th, 2018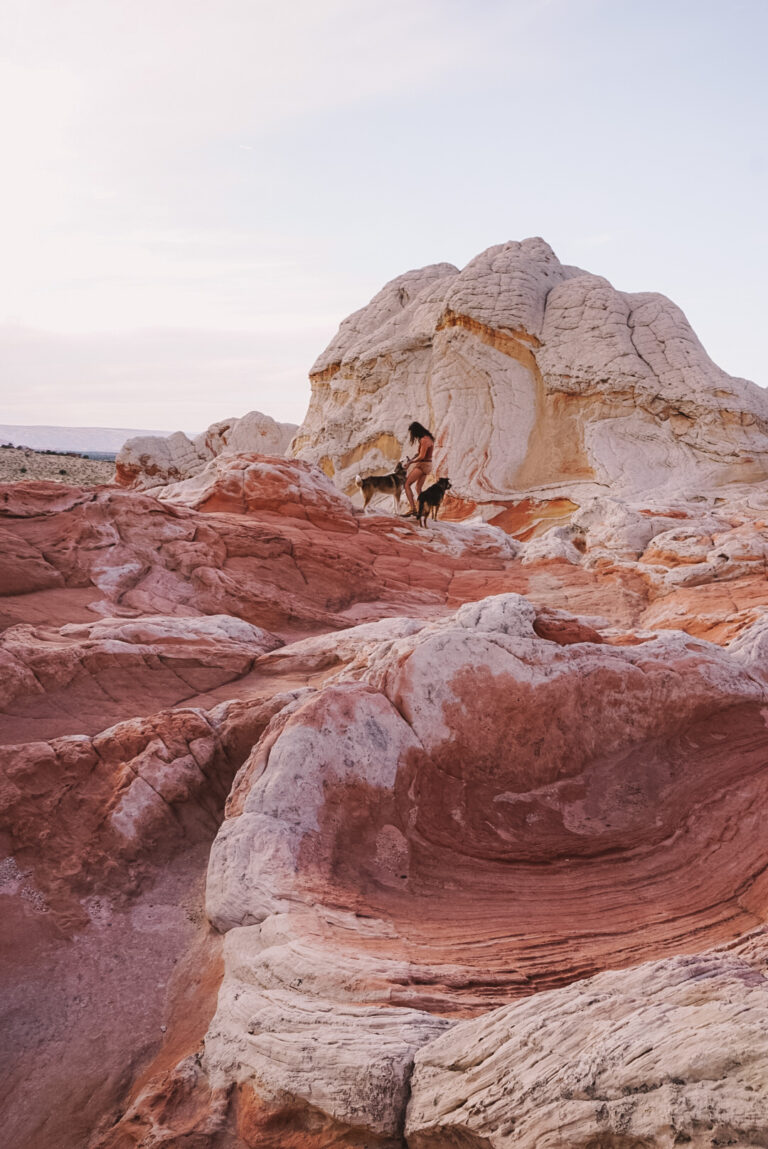 Let's be honest: healthy living is already a challenge. Keeping up with an exercise regimen and making healthy food choices can be difficult commitments, even under the best of circumstances.
Add in the routine-breaking fun (read: instability) of an RV road trip and the festive atmosphere (read: sugar-fueled insanity) of the upcoming holiday season, and your very best efforts to "live clean" might be well on their way out the window.
Oh, yeah, and it's cold and flu season to boot!
But staying healthy while you're on the road is totally worth it — and actually totally possible. In fact, it can even be fun. We promise!
Fit travel will keep you energized and ready for all the adventures your trip can throw at you… and keep you from needing a new, oversized wardrobe (or an appointment with your cardiologist) once you get home from your vacation. And the process of keeping up with that healthy lifestyle might even introduce you to some yummy new foods and fun activities you'd been missing out on — all while giving you more opportunities to connect with your loved ones.
With the winter barrage of flu and food-based celebrations coming up, there's no better time to go over some basic health tips that you can follow no matter where in the world you find yourself. From eating right to moving more and safeguarding yourself against those icky winter germies, here's what you need to know to stay fit as a fiddle and ready to enjoy your trip to the max.
How Do You Keep a Healthy Lifestyle While Traveling?
Even for those of us who prioritize our daily routines when we're home, vacation can be a time to let loose — and let unhealthy habits creep back in.
And we're certainly not saying you should never take a break from the gym or indulge in a holiday treat or local delicacy. After all, there's more to life than kale and bicep curls!
But that very same switching-up of your routine that feels like a fun break from reality can be taxing on your immune system, which can lead to decidedly un-fun on-the-road illnesses. If your body is used to a certain diet, level of activity, and sleep schedule, it can struggle to deal with a deluge of sudden changes… at the exact same time that your travels are introducing you to all sorts of new potential pathogens. No thank you.
Although it might be impossible to maintain every aspect of your regular routine while you're traveling, there are some simple ways to make your road trip healthier — and easier on that bod of yours. That way, you'll have all the energy and enthusiasm you need to enjoy the trip… and that's the whole point in the first place!
So we're going to go over a few tips and tricks to help keep your body happy during your adventures. By the end of the post, we think you'll agree that travel health is not just possible and worth it, but actually a way better path to experiencing all the goodness #RVlife has to offer!
Maintaining a Healthy Diet on the Road
No matter what ails you (or someday might), a healthy diet is high on the list of preventions and medicines. What we put into our bodies effects every single aspect of our health, from our circulatory system all the way down to our state of mind.
But healthy food habits can be difficult to keep up with when your road trip takes you into the heart of, say, the Donut Trail. And even if you're not headed to any kind of foodie paradise, it's often simply easier to grab not-so-healthy gas station snacks when you're in the middle of a lengthy drive.
But no matter where you are, your food should be as good for your body as it is pleasurable. Food is literally what fuels us and keeps our bodies going — and your body does a lot of pretty awesome stuff, right? It deserves the best nutrition available!
As challenging as it can be to make good food choices, RVers do have one pretty big advantage in this arena: the magic of the motorhome kitchen. When your RV comes complete with a fridge and stove, you can whip up healthy camping meals and road trip snacks that keep you from relying on the traditional highway diet of potato chips and Slim Jims.
Not only are home-cooked meals better for your health — they're better for your wallet, too! Along with offsetting the roadside snack attacks, your kitchen on wheels will also keep you from heading to the nearest restaurant for every single meal. That way, you'll have plenty of cash left over to spend on other fun stuff to do at your destination.
Healthy Road Trip Meals That Satisfy Your Cravings
Think "tasty" and "good for you" are mutual exclusives? We're here to prove you wrong — and fill your belly with delicious and nutritious treats!
Here are some healthy recipes to try out on your upcoming RV road trip.
Make-Ahead Travel Snacks
For many RVers, sit-down meals aren't the problem — it's those quick snacks you grab when you're gassing up.
But you can easily save time, money, and milligrams of sodium by making some road trip snacks to stave you over before it's time to hit the highway. (Bonus: they won't leave you in that 3 p.m. sugar coma that makes driving so much less appealing.)
No-Bake Energy Bars
The very best road trip snacks are easy to eat, easy to make, and packed with drive-fueling nutrition — and these no-bake protein bars hit all three qualifiers with only four ingredients. This recipe in particular is vegan, gluten-free, and low on the glycemic index, but there are tons of other homemade protein bars out there for you to play with!
Homemade Trail Mix
Yes, trail mix is readily available at most gas stations. But by making it ahead with bulk-bought items, you can skip the salt and added oils… and double down on your favorites so you don't end up with a bag of sad peanuts after fishing out all the good stuff. (Although, word to the wise: If you're trying to make your trail mix as healthy as possible, you might want to skip the M&Ms in favor of some dried fruit. Raisins are a favorite!)
Roasted Chickpeas
Who knew: those cans of chickpeas you have stashed in your pantry become deliciously crispy snackables after a few minutes in the oven. Pop 'em in a mason jar, and you've got a salty (or spicy — it's all up to you!) snack that packs a punch of protein. Do keep in mind that they gradually lose their crunchiness over time as they cool… but it's replaced with a just-as-addictive chewy texture.
Salad in a Jar
Who wants a soggy fast-food burger when you could have fresh, delicious, and healthy produce served up on the go? This post over at Hurry the Food Up shows you how easy it is to create travel-friendly lunches packed with nutrients. Plus, they're customizable for even the pickiest eaters!
Camping Meals: Breakfast, Lunch, and Dinner
Even if you don't consider yourself much of a cook, you can use your RV's kitchen to your advantage once you've arrived at your destination.
Even in a large motorhome, your camper kitchen might be on the small side — which may make you think it's not possible to store enough fresh goods on board to create the produce-heavy, fiber-filled meals that are the hallmark of healthy eating.
But with a little bit of creative Tetrising (and maybe some meal prep), you can store a whole lot more than you think in your RV's fridge and kitchen cabinets. And that means you have the freedom to make delicious meals that don't rely on not-so-nutritious ingredients, like boxes of Hamburger Helper. Check out this blog post to learn more!
Recipe Example: Crazy-Easy Stir-Fry
Tasty, customizable, and brimming with fresh veggies to keep you full and fueled for the day's adventures, it's hard to do better than a quick and easy stir fry — and we do mean quick. This recipe comes together in less than twenty minutes!
Grill it up!
It's hard to think of a more classic campground activity than firing up the grill. And if you're trying to maintain a healthy way of eating on the road, that's a good thing!
Grills transform everything that touches them into delicious, smoky, charred masterpieces — and we're talking about way more than overly-processed hot dogs. Freshly grilled veggies, lean meats, and even fruit combine healthy, hearty, and heavenly into one perfect bite… and it's easy and fun, too. (Don't believe us? Check out our Ultimate Grillmaster's Guide for more information — and some creative grilling recipes you totally haven't tried yet!)
Recipe Example: Grilled Peaches
Whether served as a dessert or a sweet side dish, grilled peaches are a southern summer staple — but you can easily substitute them with whatever's in season in your part of the world.
For even more delicious, homemade recipes to try while camping — and kitchen tips to help make it easier — check out the following RVshare blog posts:
Travel Exercise: It Doesn't Have to be a Drag!
Exercise is about so much more than making sure you look good in your swimsuit. Regular movement keeps our bodies strong as well as slender, and has a whole heap of other physical benefits, too. Getting your daily dose of cardio can help you sleep better, improve your mood — and yes, it can even be fun and social!
Many campers find a commitment to daily movement vastly improves their quality of life and helps them explore their destinations without getting tired or winded. Here are some ways to get moving when you're on the move.
Get the right gym membership.
Even if you're a dedicated gym-goer when you're at home, a road trip might put an end to your daily ritual. Many small, privately-owned gyms only have one location, and even some franchises don't allow you to use your membership at other branches.
While you might find a gym at your destination that offers a day-pass or week-pass option, those abbreviated memberships can be surprisingly pricey. You might pay as much for a few days as you would for a whole month at home!
As a frequent traveler whose gym time serves as a substitute for therapy, I always recommend campers look into Anytime Fitness — and no, they're not paying me to say that. They're one of the largest gym franchises in the country, and after one month of membership, you get full reciprocal access. In other words, you can get into any Anytime property — and as the name implies, they're open 24/7 to boot. And they're widespread enough that you're pretty likely to find one, no matter your destination. I even visited an Anytime in Barcelona while I was abroad!
Psst: Even if you wouldn't be caught dead pumping iron, a nationwide gym membership can be a valuable asset for an RV camper. If you find yourself boondocking in a Walmart parking lot, for instance, you might be able to swing by your local anytime for a shower. Just a thought!
Get outside.
Not into hitting the gym? No worries. When you're an RV camper, the whole world is your gym. And it's a whole lot prettier than even the fanciest fitness facilities, as far as we're concerned.
No matter where you're camping, chances are you're in a natural area that offers at least a few hiking trails — which are a great way not only to get your exercise in, but also to get an up close and personal introduction to your destination. You could also rent or bring along bicycles for both trail riding and urban exploring.
Even if you're not into long walks through the woods, there are tons of other ways to get outside and get moving, and many of them are fun, family bonding activities, too. For end-of-year travel, you might try sledding, making snow angels, jumping in fall leaves, or simply playing a game of hide and seek at the RV park. It all counts as exercise — and feels like anything but a chore.
Stuck inside? Try modified movements.
If the weather isn't cooperating and you don't have a gym membership, you can still find modified ways to get a bit of a sweat going inside your RV! Simple isometric movements, like plank, can be just as intense and strength-building as exercises that require equipment; some basic yoga poses can help you stretch out your muscles after a long day's drive.
If you really don't want to skip a beat, you could invest in a few pieces of stowable at-home workout gear for your rig, like a set of resistance bands or a stability ball you can easily deflate. You could even consider a foldable stationary bike if you're looking for a travel-friendly, weatherproof way to get in a quick cardio session.
Here are even more ideas for getting your exercise in when you're stuck inside your RV.
Don't forget: Every step counts!
Sometimes, it can feel like it's not really exercise exercise unless you've gone to the gym or made a conscious effort.
But especially when we're traveling, we tend to move around a lot during the day. And to your body, there's no difference between exercise and exploring!
A great way to get a real idea of how much you're moving on a day-to-day basis is to invest in a fitness tracker, like a FitBit or Zururu. Along with showing you just how many steps you actually take during a given day, these wearables can also provide a host of other important health information, like heart rate, calorie expenditure, and even sleep quality.
Holiday Health: Tips and Tricks for Surviving Yuletide
Now, as if maintaining your healthy habits while traveling wasn't already complicated enough, there's another thing to consider at this time of year: the holidays!
Halloween, Thanksgiving, and Christmas might be a whole lot of fun, but they're not exactly known for their focus on physical wellness. Between the candy bowls on every office desk, the sumptuous family feasts, and the cakes, pies, and cookies grandma's so proud of, most of us end up wearing a few extra pounds by the time January rolls around.
And if you're adding extended travel to that list of health-thwarting obstacles… well, let's just say you have your work cut out for you.
So, want to save your New Year's Resolutions for something more creative than "lose ten pounds"?
Here are some simple tips and tricks to help you get through the holidays with your health and fitness intact.
First things first: get your flu shot. No excuses!
Winter is a festive, feasting time for everyone… including, unfortunately, our least-favorite (and incredibly common) viral pathogens.
As of October, flu season is upon us, and winter colds are rampant, too. Although the air temperature itself doesn't cause illness, our tendency to huddle indoors to escape it — usually in the company of other humans — can expose us to more potential ickies. And trust us, you do not want to spend your hard-won vacation curled into the fetal position on the couch, surrounded by a zillion spent Kleenex. (Although we do recommend you keep a few comforting, sickness-relieving items on board when you travel during the winter — just in case.)
And depending on your age and overall health, coming down with the flu can be more than an inconvenience. According to the CDC, at least 12,000 people died of the flu over the 2015-2016 season, and hundreds of thousands were sick enough to be hospitalized.
Case in point: get a flu shot. It hurts way less than spending a week in bed, especially when that week was supposed to be full of travel fun. Plus, many pharmacies, grocery stores, and other easily-accessible locations offer flu shots for free.
"Healthy holiday food" — it's not an oxymoron!
Yes, your aunt's favorite recipe for pie crust may call for lard. And yes, your dad's famous pumpkin bread features a truly insane amount of sugar — both white and brown. (That's the secret to keeping it so moist!)
And honestly… the holidays only come once a year. You should totally allow yourself to enjoy some of these annual traditions in moderation.
But there are also lots of ways to subtly upgrade your favorite recipes and make them a whole lot healthier without compromising their flavor. In fact, in many cases, your guests will be totally unable to distinguish between the real deal and the "fake" version… but your waistline will certainly know the difference!
For example, trading out plain, white sugar for the no-calorie sweetener erythritol is one of the main secrets behind many sugar-free baked treats. Low-carb dieters also frequently substitute alternative flours made of high-fiber foods like almonds or coconut, although admittedly, these can alter the texture of the final product quite a bit.
Looking to cut back on fat — or at least eat a healthier kind? Replace the butter in your cake with applesauce or avocado. In fact, there are all sorts of lower-calorie, healthier food replacements you can implement in any of your favorite holiday recipes, sweet or savory.
Finally, don't forget: moderation is key. Even the heaviest and richest recipes won't make you gain weight or grow sick… provided don't eat too much of them!
Create healthy, new traditions together.
Maybe you create a movement to start Christmas dinner with a freshly-tossed salad, with each family member choosing one addition.
Or maybe you add participating in your local Turkey Trot to your list of yearly Thanksgiving activities… or even just head outside after dinner to make a snowman.
But no matter how many long-standing holiday traditions you and your family follow, adding new ones is a fun way to bond and to make the season feel more like your own. And by finding ways to prioritize healthy habits while you make them, those holiday traditions could become a gift that keeps on giving — even far off in your distant family future.
Basic RV Travel Tips for Health and Safety
Anytime you're traveling, but especially during the holidays, you always want to follow the golden rule: safety first. While most RV trips are safe and stress-free, it's never a bad idea to be prepared for an accident or an emergency.

And during the winter feast days, there tend to be a whole lot more people on the road — many of whom have been celebrating the season with a nip or three of eggnog. Unfortunately, that means your risk of becoming involved with something unpleasant might be elevated… and nothing can ruin a Christmas vacation as quickly as a traffic accident. Especially one you're not properly prepared for.

So during your winter travels (and always), make sure you have a well-stocked emergency kit on board your RV, and that all its components are up-to-date and ready to use. We've written a post about emergency kits before, including an exhaustive list of what to keep in yours, but some basic emergency gear to consider includes:

Along with having the basic safety gear you need on board, you'll also want to implement some basic safety precautions and behaviors to prevent an emergency from happening in the first place.

For instance, especially when driving during winter weather, always take it extra slow when you're operating a travel trailer or motorhome — it's a whole lot more weight (and a whole lot harder to stop) than your day-to-day vehicle, even if you drive a large pickup truck or SUV.

And even if you're camped in a friendly and well-protected RV park, it's important to keep your wits about you and keep your eyes open for suspicious behavior or potentially dangerous scenarios. No matter when you travel, things happen… but again, it's the holidays, which can sometimes bring out a little bit of the crazy in all of us.

For even more information on staying safe and healthy during your holiday travels (or any time of year), check out our ultimate guide to RVing safety.

And don't forget: by keeping yourself and your loved ones safe, healthy, and fit, you'll be able to enjoy many more camping trips to come.

Happy camping, all — and happy holidays, too!

This post contains affiliate links. RVshare may receive compensation if you make a purchase after clicking on a product link.

[similar_ai_related]