How Tos & Tips
Last updated on November 5th, 2022. Originally published on August 24th, 2015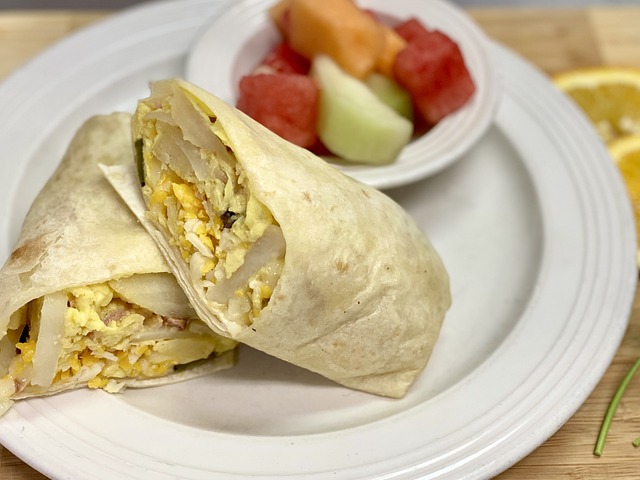 There's nothing better than starting your day with a delicious breakfast. The most important meal of the day can be easily prepared during your next RV trip with a little planning.
Whether you are a traditionalist who must have eggs and bacon, or a foodie who wants crepes with fresh fruit, this list of 10 easy breakfast recipes is sure to please!
1. Omelette in a Bag
This is the perfect breakfast when you are feeding a group of picky eaters (aka kids). All you need is some zip-lock bags and a pot of water. Use your campfire or stovetop to cook these one-of-a-kind, customized omelets.
How it Works:
Each person gets a zip lock bag. They put into the bag 2 eggs, 1 teaspoon of water, and their choice of fillings including:
2 tablespoons of cheese
1 tablespoon onion or bell pepper
1/4 cup of pre-cooked breakfast meat (ham, bacon, chorizo or chicken)
Salt and pepper
Fresh basil
Fresh rosemary
Chili flakes
What To Do:
1. Bring a pot of water to a rolling bowl.
Have each person mix their eggs and water into the bag and squish it up a bit.
Add the toppings of choice and seal (make sure to get the excess air out of the bag).
Squish and mix.
Place the baggie into the boiling water and move it around in the pot from time to time.
Cook for 5 to 10 minutes. Keep your eye on them to decide when they are done.
Remove from the water and carefully open the bag. Slip onto a plate, eat and enjoy! These are light, fluffy, and oh-so-easy.
2. Breakfast Burritos
This breakfast works best if you prepare the ingredients beforehand. If you don't have time for prep, consider using pre-chopped onions (from the produce section) and cook-ready potatoes from the refrigerator section.
What You Will Need:
Large flour tortillas
Potato squares
Salt and Pepper
Green or Yellow Onions
Green Peppers
Sausage, Bacon, or Veggie crumbled meat
2 eggs per burrito
Grated cheese
Salsa
Sour cream or Ranch dressing
Heavy Duty Foil
What to Do:
If you're doing your preparation at home, cut your potatoes into squares and par-boil them to tender but not completely cooked. Drain and add salt and pepper.
Slice onions and or peppers and place in a container.
Precook meat, crumble, and place in a container.
Place everything in the fridge or cooler for your trip.
At the campsite heat your frying pan with a touch of oil. Add the meat and potato mix and stir until warm.
Beat the eggs and pour over the potato and meat mix. Cook until scrambled.
Make large foil squares and place 1 tortilla on top. Place the cooked mix from the frying pan into the middle of the tortilla.
Fold and roll your burrito and roll it up in the foil. Twist to make sure the ends are secure.
Place your foil burritos over the campfire on the grill. You can also just heat them in the microwave (without the foil) but this is a super cool RVing breakfast if you have a campfire and want to use it. Flip your burritos after about 5 minutes. The cheese will melt.
CAREFULLY remove and open the foil. Enjoy your burrito, but remember these babies are HOT!
3. Freezer To Oven – Baked French Toast
This RVing breakfast recipe rocks.  You can make it up to a month ahead of time and store it in your freezer.  If you're on a time crunch this recipe is for you.
What You Will Need:
1 loaf of french bread cut into 10 slices and cut into quarters
4 ounces of cream cheese (quartered into cubes)
1 cup of frozen blueberries and or raspberries
2 eggs
1 cup egg substitute
1 cup of milk
1 tsp vanilla
Cinnamon
Nutmeg
Maple syrup
What To Do:
Spray the bottom of your baking dish before assembling the ingredients.
Arrange the bread over the bottom of the dish and drop cream cheese cubes around the top of the bread.
Sprinkle the berries over the cream cheese and bread.
Mix the egg substitute & eggs with milk, spices, and 1/4 cup of maple syrup. Whisk until light and fluffy, then pour over the casserole.
Cover the dish with plastic wrap and with tin foil. Place in the fridge overnight, then transfer to the freezer.
Defrost the morning before you want to serve this dish in the fridge. Remove the plastic wrap.
Bake for 30-45 minutes in an oven at 375-400 degrees, then remove the foil and bake another 30 minutes until brown. Test the center and make sure it is somewhat firm and bounces back. If you test it with a knife and it's runny give it longer to cook.
Serve this wonderful French toast by scooping it, and serving it with fresh fruit and berries along with warmed syrup.
#4 Fresh Berry Pancakes
Fresh berry pancakes can't be beaten. Heat up that griddle and be sure to toss in slightly thawed or fresh blueberries. Add a dash of cinnamon for a warm, homey taste! This meal is great served with apple chicken sausage that can also be cooked on the grill.
5. Overnight Apple Pie Oatmeal
This is a healthy breakfast treat that can easily be prepared the night before in your slow cooker. The key is spraying your slow cooker with oil before you begin. Make sure it is thickly covered or it will really stick.
If the weather's good, set up your slow cooker on the picnic table outside. Plug it into an extension cord and let it cook outside. In the morning, give everyone a bowl and open the pot. TA-DAH! Breakfast is served. NOTE: This oatmeal will be HOT. Give it time to cool or you may burn the roof of your mouth.
What You Will Need:
2 apples, peeled, cored, and diced into small chunks
1 1/2 cups of coconut milk
1 1/2 cups of water
1 cup steel-cut oats
2 tablespoons brown sugar
1 tablespoon coconut oil
1 teaspoon cinnamon
1/3 teaspoon sea salt
1 teaspoon vanilla
What To Do:
Once your crock pot is oiled add all the ingredients except the brown sugar and cinnamon
Cook on LOW for 5-7 hours. Use your timer if necessary and have the slow cooker, turn itself on when needed.
IMPORTANT: This recipe is designed for steel-cut oats because they work well in crock pots. You can adjust the flavors, additives, or fruits you mix with this recipe. If you want to be sure of a big success, test this recipe on your own crockpot prior to camping. Crockpots vary and you'll want to make sure you know just how long to cook breakfast in your specific unit.
6. Gluten Free Protein Muffins
Are you gluten intolerant? We've got your back. This recipe is the perfect easy breakfast and you can make it ahead of time.
What You Will Need:
1 2/3 cups oat bran
1 scoop vanilla protein powder (your choice of protein base.  I like rice)
1 teaspoon baking soda
1 teaspoon cinnamon
1/4 teaspoon ginger
1/8 teaspoon cloves
2/3 cup of canned pumpkin (non-spiced)
1/2 cup of applesauce
1/2 cup nonfat vanilla greek yogurt
1 1/2 tablespoon maple syrup
2 Tbs egg white substitute
1/2 cup mini chocolate chips or nuts (your choice)
What To Do:
Spray your muffin tin or add paper liners.
Heat your oven to 400 degrees
Mix the pumpkin, applesauce, yogurt, egg whites, and syrup together.  Make sure it's smooth.
Mix oat bran, protein powder, baking soda, and spices together in a separate bowl.
Add the wet ingredients to the dry ingredients and slowly mix and combine.
Give the batter time to rest.  5 minutes should do the trick.  During this time the batter will thicken.
Fill muffin cups to 3/4 full and bake for 18-20 minutes.  Check the center to make sure they are done.
Remove the muffins from the oven and let them cook in the tins for 10  minutes.
Serve hot and fresh as an awesome RVing breakfast, or take them with you for an early morning hike!
7. Cereal and Toast
You were expecting something else? The truth is that cereal and toast make a super easy RVing breakfast. For a fun change why not buy the mini cereal variety packs. Your family can choose a cereal they have always wanted to try!
Toast doesn't have to be boring! Choose apple or cinnamon bread, or order a toast stamper to convey a morning message like "Good Morning" or "I love you."  You can also add your own message by toasting bread and writing a message with a chopstick while the toast is hot!
8. Cinnamon Rolls On a Stick
This one is just plain fun. Make sure you have a roaring fire and long wooden skewers. If you have kids, this is a fun breakfast to make together. For nutrition's sake, you may want to pair this with scrambled eggs and juice 🙂
What You Will Need:
1 package of crescent rolls from the fridge section
1/4 cup of sugar mixed with 1 -2 tablespoons of cinnamon
Wooden Skewers
Powdered sugar mixed with a dash of milk to form a drizzle glaze
What To Do:
Mix the cinnamon in sugar in a small paper bowl.
Pull the rolls apart and wrap them all around the wooden skewer.
Roll the wrap in the cinnamon and sugar mix.
Place a grill on top of the fire. (Be sure to use non-stick spray on the grill prior to heating it!)
Place the roll sticks on the grill over the campfire and turn them often.
In 5 minutes your cinnamon sticks will be done!  Cover them with a light frosting drizzle and serve with fresh fruit.
9. Breakfast Pizza
This is another fun recipe to do with kids. You can make them inside in the oven or outside on the grill –your choice!
What You Will Need:
1 package English Muffins
3 eggs
Shredded cheese
Chopped bacon or ham (pre-cooked)
Cream Cheese
Chopped Fresh Spinach (optional)
What To Do:
Scramble your eggs in a skillet.
Open the English Muffins and place each side facing on a cooking sheet.
Spread each muffin with cream cheese (I like the chive and herb kind).
Top with scrambled eggs, meat, cheese, and chopped spinach (optional).
Place under broiler or foil-wrapped grill until the cheese melts.
Serve with fresh fruit and a nice cup of coffee.
10. Breakfast Quiche On The Go
These can be baked and frozen ahead of time, or you can make the mix the night before and bake them off fresh in the morning. This recipe does not use a shell but you can purchase tiny pillow shells pre-made in the dessert section of your grocery freezer. If you plan to use a shell, these quiches look like mini tarts.
What You Will Need:
A mini muffin pan and spray oil
1/4 cup Chopped onion
1/4 cup Chopped green pepper and red pepper
1/2 cup Shredded cheese
Salt and Pepper
1/2 pound breakfast sausage.
6 eggs, whisked
 What To Do:
Heat oven to 350 degrees and spray your muffin pan.
Cook breakfast sausage in a skillet and when nearly done, sauté the onion and peppers in the same pan. You want the sausage, crisp, and the onion & peppers soft.
Whip your eggs in a bowl and add the salt and pepper. I like to toss in a bit of basil or Italian seasoning as well.
Add shredded cheese of your choice to the egg mixture.
Let the meat and peppers cool a bit and then spoon them into the bottom of the muffin tins.
Cover the meat mixture with the egg mixture. Only fill them to half full.
Carefully transfer into the oven and cook for 10 minutes or less. Check the center with a toothpick to ensure the eggs are fully cooked.
You can cook these in full-size muffin tins but it will take at least 20 minutes. Adjust time accordingly.
Remove from the oven and let cool a bit before serving.  These are great with fresh fruit or pancakes!
Looking for more easy breakfast ideas? Here are a few websites you will want to check out!
HelloBee
RVing How
All Recipe
Alaska From Scratch
The Fitchen (Fit Kitchen)
Well, that's it. 10 easy breakfast recipes that are perfect for RVing. Which one will you try first? Post your comments and ideas in the box below. Like these suggestions? Please share them with all your social friends.  Pin them, post them and email them everywhere! Thanks.