How Tos & Tips
Last updated on June 29th, 2023. Originally published on July 16th, 2015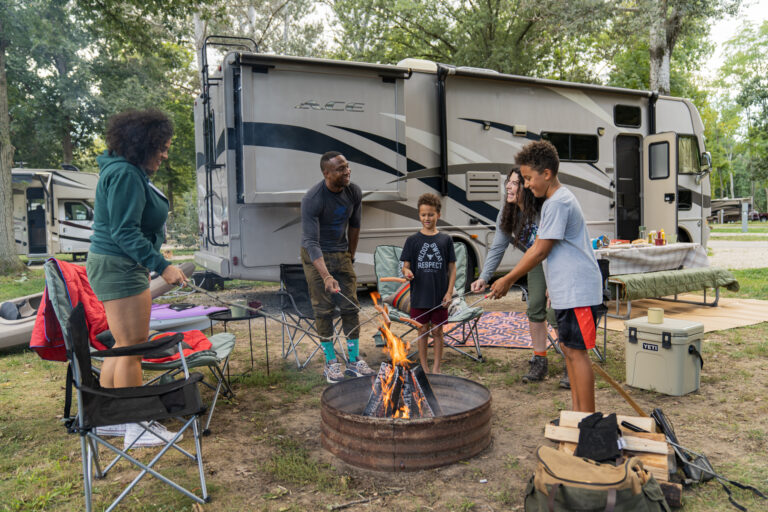 A camping trip just isn't complete without a good old-fashioned cookout. Whether you go the traditional route and have a weenie roast or take a more gourmet approach to your campfire foods, it's tough to beat the taste of food cooked over an open fire.
That smoky, charred flavor of campfire foods tastes like summer and everything that's great about it.
From the traditional to the unexpected, there are lots of things that you can cook on or over an open fire. Some require a grate, while others require little more than a stick, some foil, or some good old ingenuity. One thing's for sure, though: they all taste amazing!
A note on Dutch ovens:
Many of these campfire foods involve cooking with a Dutch oven. If you've never used a Dutch oven before, here are some helpful tips.
You'll need a campfire with level, hot coals that your Dutch oven can sit on. If you can't use a true campfire, make your own by using a large number of charcoal briquettes that have been well-heated. Once they turn gray, make an even layer and place the Dutch oven on top.
If your recipe requires top coals you will need to pile hot coals on the lid. Be careful with this process. You may need to scrape the coals back and forth off the top lid as you check the progress of your meal.
If your food is cooking too fast, remove some of the coals. If you need more heat, add some additional fuel, briquettes or wood about every half hour.
Breakfast
It's the most important meal of the day! If you're heading out for a day of hiking or exploring, you'll want to make sure you're well-fueled. Here are some tasty ways to start the day.
Donuts
They may not be fancy or filled with cream, but a simple cinnamon sugar donut fried over an open flame may be among the greatest campfire foods ever invented. Plus, they're so easy, you'll want to make them at home.
It all starts with a can of refrigerator biscuits — you know, the kind you whomp on the counter to open.
Use a cap to cut a hole in each biscuit, then fry them in a few inches of oil in a cast iron skillet on a grate or (carefully) in the fire itself.
Flip when they're starting to brown on the first side, then remove when they're brown on the second side.
Shake each hot donut in a mixture of sugar and cinnamon (you can do this in a bowl or even a paper bag), then let them cool for a few minutes before devouring.
If you don't have a cap, or if you want smaller donuts, simply cut each biscuit into quarters for fresh donut holes.
Breakfast Burritos
While this recipe does take a bit of prep work before you throw them onto the fire, it can all be done ahead of time (a few days ahead, before you even leave for your trip), which means you can wake up, get your fire started, and have hot breakfast burritos in about ten minutes.
Start with the biggest tortillas you can find, then fill with your favorite breakfast items: scrambled eggs, bacon or sausage (or both), sauteed veggies, cooked potatoes, cheese, and whatever else you like.
Add portions of each to your tortillas, being careful not to overfill each one.
Then, roll up your burritos and wrap each one in foil. They'll keep for a few days in the fridge before you warm them in the fire.
Serve with hot sauce, salsa, or whatever else you like on top
Chipotle Breakfast Scramble
This is a great breakfast that is simple to make. If you don't like chipotle, you can remove the sauce and poblano. Simply make this same recipe with the other ingredients.
What You Will Need:
1 can (7 oz.) chipotle chiles in adobo sauce
1 tablespoon olive oil
1/4 teaspoon kosher salt
1/4 teaspoon pepper
1 pound large Yukon Gold potatoes, cut in 1/2 inch cubes
1 large poblano chile
4 green onions, sliced diagonally
8 large eggs
2 Tb milk
Salt
Pepper
2 Tb butter
3/4 cup of cheddar cheese (shredded)
2 Tb cilantro – chopped
2 cups of salsa (to taste)
Sour cream or Creme Fraiche
Corn or Flour tortillas
At Home:
Chop potatoes and preheat oven to 475 degrees.
Toss chipotles and sauce into a blender and puree. Place 2 Tb into a bowl and keep the rest in a ziplock for your trip.
In bowl, mix oil, salt, pepper, chipotle and potatoes.
Place parchment paper on a baking tray and spread the covered potatoes on top.
Place poblano peppers in the corners of the baking tray.
Bake for 25 minutes, turning chiles and potatoes on occasion.
Let everything cool, then peel, seed, and chop the chiles.
In ziplock bag, pack potatoes, chile, and onion together.
Campside:
Whip the eggs and milk together with salt and pepper.
Heat your skillet and melt butter in the pan.
Add potato mix and stir as needed till hot.
Over the top add the egg mixture while reducing the heat to medium.
Carefully cook and scramble.
If desired, add the cheese and cilantro.
Serve with salsa, sour cream and warm tortillas.
Dutch Oven Easy/Breezy Cinnamon Rolls
What makes these taste better over a open fire? Who knows! They just do!
What You Will Need:
Vegetable oil spray
1 -2 packages of Cinnabon Pillsbury Cinnamon Rolls
Campside:
Heat charcoal or grill as required for Dutch oven baking.
Spray Dutch oven with oil.
Place rolls in the pan and cover.
Bake for 10-15 minutes, monitoring every 5 minutes.
Top with frosting for a delicious camping treat.
Dinner
You'll want a delicious, filling meal after a day out and about! Whether you want simple dinners you can cook up quickly, or you want to take your camping cooking to the next level, there are dinners here to suit your tastes.
Hot Dogs
We know — this one's a no-brainer. But a list of campfire foods without a mention of everyone's favorite tube steaks would just be incomplete. Besides, hot dogs are easy to cook, everyone loves to eat them, and they're an inexpensive way to feed a hungry crowd. Don't forget to stock up on buns and an assortment of ketchup, mustard, relish, sauerkraut, and whatever other hot dog fixings you like.
Meat Kabobs
While kabobs may look prettiest when they're an alternating hodge-podge of meat and vegetables (and maybe even fruit), that's actually not a practical method if you want your food cooked evenly, as vegetables will burn before your meat is cooked through. So, cook the veggies separately and focus on meat-only skewers. Whether you prefer chicken, beef, or pork, the process is the same.
Cut the meat into small chunks and thread it on bamboo skewers that have been soaked in water for about 20 minutes (to prevent them from burning),
Place the skewers on the grate. Turn frequently to ensure even cooking, and they should be done in under 1o minutes.
If you think of it before heading out in the morning, marinate your meat during the day for extra flavor.
Shrimp and fish also make for tasty kabobs, though those will cook incredibly fast.
Corn on the Cob
This is perhaps the epitome of summer; the perfect summer vegetable, and the perfect summer cooking method. You've got two choices for how to do this. First, you can shuck the corn and wrap it in foil to cook on a grate or right in the fire itself.
Or, to really impart a smoky flavor, soak the whole ears in water for about a half hour, then throw them right on your cooking grate. The moisture will keep the husks from burning, and your efforts will be rewarded with the greatest-tasting corn on the cob you've ever had. Whichever method you choose, cook the corn for ten to 20 minutes, depending on how you like it.
Potatoes
A whole potato, thrown right in the fire, beats an ordinary baked potato any day. Plus, you don't even need a grate. Just rub a clean, whole potato with a little bit of olive oil and wrap it in two layers of foil. Then, put it right in the fire and let it cook for about 45 minutes to an hour, rotating it every 15 minutes or so. The general rule of thumb is one potato per person, but these are so tasty that you might want to cook a few extras.
Mixed Veggies
Foil is your friend here, as these cook right in a foil packet with a drizzle of olive oil and whatever seasonings you like! What you want are one or two-inch chunks of any vegetables you like, as long as they all take roughly the same amount of time to cook (this is important).
In other words, a vegetable like potatoes, which take a long time to cook, shouldn't be put in the same packet with zucchini, which cooks rather quickly. Depending on what you're cooking, these could take anywhere from ten to 30 minutes. Start checking them sooner rather than later as undercooked vegetables are usually better than overcooked vegetables.
Fish Sticks
Remember when the lunch lady served up those soggy sticks? Push those memories aside – this recipe features salmon fillets that will have your taste buds begging for more!
What You Will Need:
Fish sticks:
1 (18-ounce) center-cut salmon fillet, about 9 by 4 inches, skinned
1/2 cup all-purpose flour
1/2 teaspoon fine sea salt
1/4 teaspoon freshly ground black pepper
3 egg whites
1 cup grated Parmesan
1 cup seasoned bread crumbs – Panko works best
Olive oil for drizzling
Dipping Sauce:
1/3 cup reduced-fat mayonnaise
1/3 cup low-fat plain yogurt (Greek yogurt is a great choice!)
1 tablespoon Dijon mustard
1 tablespoon chopped fresh chives and basil
Fish Sticks Directions:
Preheat your oven to 450 degrees while you are preparing the fish.
Rinse the salmon and pat it dry with paper towels. Then slice the fish in half to make two pieces and slice each fillet into long 1/2-inch pieces. You want to cut the pieces equally if possible, aiming for 1/2-inch wide and 4 inches long.
Place the flour in a bowl with the salt and pepper. Place the egg whites in a separate bowl and beat. You want the egg whites to become frothy; this usually takes about 30 seconds. Mix the Parmesan and bread crumbs in a third bow, or shake together in a ziplock bag.
Coating the salmon is a three-step process. First, dip the salmon in the flour and shake to remove the excess. Next, dip into the egg whites, and then place in the Parmesan mixture. If you need to, press the coating to make sure it sticks to the fish. Cover a baking sheet with parchment paper and set the breaded salmon on top. Drizzle each piece with a touch of olive oil and bake for 15 minutes in the oven. Cook until golden brown and crisp.
Dipping Sauce Directions:
Mix all the ingredients together including the mayonnaise, yogurt, Dijon mustard, and parsley (or chives, if using) in a small dipping bowl. Serve in small dishes with the fish sticks. This dipping sauce is so much better than traditional tartar sauce!
Franks and Beans
Good ole' franks and beans! They're a popular camping food, because you can simply tip them out of the can and onto the plate. But if you'd like to up your gourmet game, here's a fancier version.
What You Will Need:
3 Tb olive oil
1 medium onion, chopped
6 cloves garlic cloves, smashed
1½ pounds sweet Italian sausage links (about 6)
2 15-ounce cans cannellini (white kidney) beans, rinsed
1 cup dry white wine
10 flat-leaf parsley stems
10 sprigs thyme
2 bay leaves
2 cups low-sodium chicken broth
1 Tb unsalted butter
3 Tb chopped fresh herbs (such as oregano, flat-leaf parsley, and tarragon), divided
Kosher salt and freshly ground black pepper
How To Prepare:
In a large pot, heat 2 tablespoons oil on medium heat. Add the onion and garlic and cook until partially transparent, about 5 minutes.
Remove and discard the casings from 2 sausages; add the sausages to the pot. As you cook the sausage begin breaking it up with a spoon, until the sausages and onions are lightly browned, about 5 more minutes.
Add the beans and wine to the pot and cook for 10 minutes to reduce the wine.
While cooking the beans and wine, tie together the parsley and thyme with kitchen twine and drop into the pot. Add 2 bay leaves and the broth.
Cook on medium-low heat, partially covered and stirring often, until liquid thickens, 40–50 minutes. When the meal has thickened, toss out the herb bundle and remove the bay leaves.
Slowly mix in butter and 2 tablespoons chopped herbs. Season with salt and pepper. Mix the heated meal slowly.
While the pot is cooking, heat a skillet with the remaining oil and cook all of the leftover sausages until they are brown and well cooked. lice them up when complete.
Serve the beans from the pot and top with fresh sausage slices and any remaining chopped herbs. You will NEVER go back to the canned meal again.
Jack Daniels BBQ Chicken and Slaw
This recipe comes with a side slaw that is simplified by buying precut veggie slaw in your produce section. If you need to save time you could pre-cook the chicken 1/2 way at home. Finish it at the campsite on the grill.
What You Will Need:
Sauce
1 bottle of Jack Daniels BBQ Sauce
1 large garlic clove, minced
Side Slaw
1 package pre-cut cabbage/carrot slaw
1/4 red onion, cut into long slivers
1/2 red bell pepper, cut into thin strips
2 tablespoons chopped cilantro
1/4 cup extra-virgin olive oil
2 tablespoons sugar
2 tablespoons Champagne vinegar
1 tablespoon lime juice
1/2 teaspoon kosher salt
1/4 teaspoon pepper
Chicken
6 chicken legs with thighs attached (about 3-4 pounds)
1 tablespoon olive oil
At Home
Make sauce: Mix Jack Daniels BBQ sauce with minced garlic in a bowl. Start with a smaller amount of garlic and add to taste. Remember this will strengthen over time. Place sauce in a container with a sealed lid.
Make the slaw: Toss all vegetables together in a large resealable plastic bag. Mix the dressing ingredients together in a small container with a tight-fitting lid. Chill slaw ahead of time for up to a couple days.
Prepare chicken: In a large bowl, coat chicken in oil; pack in a resealable plastic bag and chill up to 2 days, or freeze.
Campside
Heat the grill using charcoal or gas. Let the salad dressing warm to room temperature. Set aside 1/2 cup sauce.
Grill chicken until browned all over, about 15 minutes, turning occasionally. Remember chicken takes time to cook! Once your initial browning is complete brush the sauce on and cook for a few more minutes. Repeat this process every few minutes and then check the chicken with a cooking thermometer. Make sure it is 160 degrees or more.
Toss slaw and dressing in the zip lock bag together. Serve with chicken and extra BBQ sauce.
Campfire Beef and Summer Veggies
This recipe is a twist on pot roast. While delicious, it may take a while to cook, so plan ahead! If you don't have time to prepare the exact veggies listed, check your produce section for pre-cut items that will work in a pinch.
What You Will Need:
6 cloves of minced garlic
1 tablespoon chopped fresh basil
2 tablespoons chopped rosemary leaves
2 tablespoons olive oil
About 1 tsp. Kosher salt
About 1/2 tsp. Pepper
1 boneless beef chuck roast (about 2 lbs.)
1 pint cherry tomatoes, stems removed
2 ears corn, cleaned and cut into thirds
1 onion, cut into 6 wedges
1/2 pound green beans
6 zucchini, cut into 1-inch chunks
3/4 pound yellow potatoes (1-inch cubes)
2 tablespoons butter
About 3 cups chicken broth (divide in half)
At Home:
Prepare beef: In a ziplock bag, combine garlic, basil, rosemary, oil, 1 tsp. salt, and 1/2 tsp. pepper. Put the beef in the ziplock, seal, and shake so the beef is covered in spice. You can refrigerate for up to 2 days or stick it in the freezer for later.
Prepare vegetables: Take 3 ziplock bags. Fill the first with the potatoes. Set on the counter (do not chill). Fill the second with the zucchini and green beans. Fill the third with remaining vegetables. Chill these two bags.
Campside:
Set up a fire for top and bottom Dutch oven cooking. Using a 4- to 6-qt. cast iron camp Dutch oven, add butter and melt. Add beef; cook till browned, about 10 minutes. Turn meat over, add 2 cups chicken broth, cover, and arrange coals on top of the pot. Add fuel now and every 30 minutes and cook for about an hour.
Turn meat over, add 1 cup broth, vegetables with corn, and the potatoes; cook, covered, for 1 hour. Turn meat and corn, add beans and zucchini, and more broth if the pot is getting dry. Cook, covered, until meat is very tender, 15 to 30 minutes. When the stew is finished, season to taste.
Campfire Slaw
Campfire slaw goes with everything. It's a perfect match for the catch of the day. You can also place it on top of burgers for a special touch!
What You Will Need:
1-2 packages of pre-chopped coleslaw or broccoli slaw
1 small jicama (about 1 1/4 lbs.), peeled and julienned
1 large red bell pepper, cored and very thinly sliced
1/2 red onion, halved lengthwise and very thinly sliced lengthwise, rinsed, and patted dry
6 Tb olive oil
6 Tb unseasoned rice vinegar
3 Tb fresh lime juice
1 Tb minced cilantro leaves, plus more for garnish
1 tsp salt
1 tsp freshly ground black pepper
1 tsp sugar
1/2 tsp chili powder
1/2 tsp red chile flakes
At Home:
Mix cut vegetables with the precut slaw. Toss into a large ziplock plastic bag. Place in the fridge for up to 2 days before you plan to eat
Shake oil, vinegar, lime juice, minced cilantro, salt, pepper, sugar, chili powder, and chile flakes together in another ziplock bag. Make sure to seal carefully and place in fridge.
Campside:
Add dressing to vegetables and shake everything together. (This is a fun project for kids).
Let it rest for 10 minutes and garnish the top with cilantro or other fresh herbs. Wonderful served with fresh chicken or fish!
Campsite Grilled Pizza
Add any ingredients you want to this basic grilled pizza recipe. This is a quick and easy meal after a long day hiking or biking!
What You Will Need:
Naan bread or any type of focaccia
Olive oil
Oregano
Fresh chopped garlic
Pizza sauce
Fresh mozzarella
Fresh basil
Fresh Roma tomatoes
Shredded Parmesan cheese
At Home:
Prepare the ingredients at home, making sure everything is chopped and ready to assemble. Use ziplock bags for each ingredient.
Campside:
Saute garlic in hot olive oil. Slowly add the fresh oregano and stir it continuously.
On top of nan bread spread pizza sauce and garlic mixture.
Top with remaining ingredients and double wrap in foil.
Place on grill with low heat and grill until the cheese has melted and the bread is crispy.
Get ready for some campfire gourmet dinners under the stars.
Fiesta Scallops
This dish is full of flavor and color and will serve as a hearty main dish for several campers.
What You Will Need:
5 thick slices of bacon
1 lb. of fresh sea scallops
3 chopped scallions
2/3 cup chopped red bell pepper
3 ears of sweet corn kernels
3 chopped cloves of garlic
1/2 cup of Redwood Creek Chardonnay
Juice of one lime
2 chopped medium ripe tomatoes
½ cup of fresh, chopped basil
Salt and pepper to taste
Method
Using medium heat, crisp the bacon, then take it out and set it aside.
Sear the scallops in the same skillet, for 2 minutes on each side, and then set aside.
Add the scallion, red pepper and corn; sauté for 4 minutes. Add the garlic and stir for an additional minute.
De-glaze the pan by adding some Chardonnay.
Let the wine reduce, then add lime juice, tomatoes, basil, plus salt and pepper to taste
Simmer for 2 minutes.
Add the scallops back in and simmer for 5 minutes. (If you like your scallops rare, you can add just before serving.)
Serve in bowls, and top with the seared bacon and fresh basil sprinkles.
Coal-Roasted, Chuck-box Pozole-Stuffed Onions
Leah Lyon tweaked this dish to create a hominy-meat mixture, stuffed in sweet onions. The pozole and onions blend wonderfully. Make a few extra; they are that good!
What You Will Need:
4 sweet onions
1 lb. cubed pork sirloin
Salt to taste
Ground cumin
1 cup of cornbread stuffing mix
3 poblano chiles
1 can of drained hominy
1 chopped sweet red pepper
1/2 cup of grated Cotija cheese
Avocado, for garnish
Cojita cheese is also known as Mexican Parmesan and is saltier than Parmesan. Substitute with regular Parmesan, if you cannot find Cojita. You can also substitute the pork with any other meat.
Method
Remove the peel, and slice the top and bottom of the onion to remove the core, so that they can sit without rolling over.
Set the onions down and cut an X through them.
Scoop out the middle part, until you are left with a hollow, ¼-inch thick onion.
Dice what you cut out of the onion.
In a bowl, mix part of the diced onion with all the other ingredients, then fill each hollowed-out onion bowl with this mixture, then wrap in foil.
Keep the onions upright in their foil covers as you place them on the hot coals, for at least 30 minutes.
Place one or two hot coals on the top of the onions.
Garnish with avocado.
Snacks
Whether you want something to tide you over until dinner, or a grab-and-go snack for the trail, here are a few suggestions!
Popcorn
Movie night in your RV just isn't complete without a bag of popcorn, but instead of making it in the microwave, take advantage of your campfire to pop up a batch. All you need are some popcorn kernels, oil, foil, and string to make some individual packets. Put a few spoonfuls of popcorn and a few spoonfuls of oil on a piece of foil, bring the edges together to make a loose bag, tie it to a stick, and hold it over the fire. Shake continuously until it's all popped.
Nachos
You'd be hard-pressed to find a person who doesn't love nachos. They're the ultimate sharing food, perfect at lunchtime, dinner time, snack time — and, dare we say it, breakfast time? A campfire is an ideal heat source for melting cheese, plus it imparts a unique flavor that you just can't get at home or at a restaurant.
What you will need for these is a cast iron pan, which can go right on top of the hot (but not furiously flaming) logs. If you do have a grate, you can just use a sheet pan or even a double layer of foil.
Arrange a layer of tortilla chips in your pan, then top with your favorite nacho toppings: beans, salsa, olives, shredded meat, onions, and of course cheddar cheese.
Then, arrange another layer of chips on top, cover the pan with foil, and let it sit in the coals (or on your grate) for at least 10-15 minutes.
Let it cool down for a few minutes before digging in. Don't forget a few sides of sour cream and guacamole for topping it all off.
Trail Mix
Many people planning meals are carb conscious… and many trail mixes use a variety of high-sugar ingredients which spike the carbs. This recipe is a low-carb, yet delicious, alternative. If you were a kid that always had trail mix in their backpack, here is your new go-to recipe!
What You Will Need:
1 cup roasted peanuts
1 cup raw or roasted almonds
1 cup pumpkin or squash seeds
2 ounces unsweetened coconut
½ cup loosely packed raisins
How To Prepare:
Mix all the ingredients together. If you divide into 1/4 cup servings you will have enough for 16.
Each serving will have more fiber and fewer carbs than your normal trail mix. Place in ziplock bags or vacuum pack servings for your next camping or hiking excursion.
Change It Up:
The recipe above can be adjusted to your tastes with the following low-carb choices:
Sunflower seeds
Hazelnuts
Walnuts
Soy nuts
Other nuts and seeds if you check the label for cabs BEFORE using.
Orange Drink
Ah, the orange drink traditionally served to you with your camp food. No one really knew what made Tang, nor how it helped the astronauts get to the moon. As an adult, you might enjoy a more refined take on this classic childhood drink!
What You Will Need:
1 bottle dry white wine like Pinot Grigio, Pinot Blanc, Viognier, Gruner Veltiner, Gewurtztraminer or Riesling.
4 ounces of Grappa
4 oranges, quartered
1 lemon, quartered
One 3-inch piece of vanilla bean, split lengthwise
Mix all the ingredients in a container, place the airtight lid on and let it sit in the fridge for 4 weeks. During this time the citrus fruit will infuse into the wine. At the 4-week mark, strain the wine through a sieve and remove the fruit and vanilla. The wine can then go back into the fridge in an airtight container for up to a week.
This recipe will make 24 ounces of your own orange wine!
Desserts
One of the most fun parts of camp cooking is the tasty desserts you can whip up! From traditional camping treats to fancy after-dinner sweets, there's something here for everyone.
S'mores
You may already have these packed, but we can't not mention s'mores on a list of great campfire foods. They're really the perfect end to any cookout; sweet, gooey, and lots of fun.
Graham crackers and chocolate bars are the traditional go-alongs if you're making s'mores, but if you really want to up the ante, consider setting up a s'mores bar. This could include different types of crackers and cookies, specialty chocolates, flavored marshmallows, and add-ons like peanut butter, bananas, caramels, and if you're feeling really adventurous, bacon.
Gourmet S'Mores
Foodies might enjoy an entirely gourmet approach to the common s'more! This recipe is not complicated, but it does take time. Remember, you do not have to do it all at once. The semifreddo can be made up to a week in advance and left in the freezer, and the chocolate sauce will hold up to 5 days in the fridge. While the recipe does have multiple steps, make it ahead and assemble it when you are camping.
What You Will Need:
Semifreddo (a partially frozen Italian dessert!):
2 cups marshmallow cream
2 cups heavy cream
8 large egg yolks
1/4 cup sugar
1/4 cups water
Homemade Graham Crackers
2 sticks unsalted butter, at room temperature
1/2 cup packed light brown sugar
1/4 cup honey
2 cups whole wheat flour
1 teaspoon salt and cinnamon
1/2 cups all-purpose flour, plus more for dusting
Homemade Milk-Chocolate Sauce
1/2 cup packed light brown sugar
1/2 cup light corn syrup
1/3 cup heavy cream
1 tablespoon unsweetened cocoa powder
1 cup milk chocolate chips
1/2 teaspoon pure vanilla extract
1 teaspoon coarse sea salt, such as Maldon
How To Prepare:
Using parchment paper, line a large baking sheet and then spray it with nonstick vegetable oil.
Preheat your broiler oven.
Spread the marshmallow cream on the parchment about 1/2 inch thick. Make it as even as possible.
Broil for 1 minute. It will turn golden brown. DO NOT BURN. Then allow to cool.
Once it's cooled, fold the cream a few times to mix the browned top in.
Beat the heavy cream with an electric mixer until firm peaks form. Place in the fridge when finished.
Whisk egg yolk for 3 minutes. The egg yolks should turn pale if you're beating them on medium-high speed in an electric mixer.
Add sugar and water into a small saucepan and bring to a boil over the stove. Using a candy thermometer boil the syrup until it reaches 235 degrees. This will usually take about 5 minutes. When it comes up to temperature remove the saucepan from the heat.
Slowly pour the candy mix into the egg yolks and continue beating for around 8 minutes or until the volume will triples.
Stop the mixer and fold in the chilled whipping cream. Make sure it is well mixed.
Scrap off 1-inch chunks of the marshmallow using a fork or other instrument. Fold piece by piece into the whipped cream.
Add the semifreddo concoction into a glass dish being sure to scrape the sides. Cover with plastic wrap and freeze until frozen, around 4 hours.
Start on the graham crackers by preheating your oven to 325 degrees. Line an 11x17in baking sheet with parchment paper.
Mix the butter, brown sugar, honey, and cinnamon for 2 minutes at a medium speed.
Add the whole wheat flour and 1/2 cup of the all-purpose flour along with the salt. Mix until well combined.
Set the dough on the parchment-lined baking sheet and pat it into a round. Dust with flour and roll out to about 1/4 inch thick.
Bake for 30 minutes and turn the baking sheet as needed for even browning. When complete, cool and then cut or break into 4-inch pieces.
Start on the chocolate sauce! Use a small saucepan. Add brown sugar, corn syrup, cream, and cocoa. Mix as needed and simmer until the sugar is dissolved completely, about 1 minute. Remove from the heat and mix in the chocolate chips and the vanilla. Mix quickly and the sauce will become smooth. Place in a glass jar and let it cool for 30 minutes or more. Just before serving, stir in the salt!
Put It All Together:
Using chilled plates or bowls add a scoop of semifreddo and top with the warm milk chocolate sauce. Add a graham cracker on the side before serving.
Note: The semifreddo can be made up to a week in advance. Remove it from the freezer 10 minutes before you plan to serve it. This will allow it to soften and make scooping easier. Graham crackers will hold for 3 days in an airtight container and the chocolate sauce can sit in the fridge for up to 5 days. Just heat it a touch before serving! YUM.
Banana Boats
A super simple dessert or sweet snack, banana boats are deceptively delicious. Keeping the peel on, gently split your bananas lengthwise; you want them to still hold their shape, so don't cut through the ends. Then, fill the split with chocolate chips, peanut butter chips, coconut, Nutella, honey, or whatever you'd like. Warm them on a foil-covered grate until the fillings are sufficiently melted and the banana is hot, then devour with a spoon.
Roasted Apples
A campfire hack of baked apples, these are perfect for fall camping. To make, core apples and place each one on a double layer of foil. Fill each core with a pat of butter, a spoonful of sugar, and a few shakes of cinnamon. Wrap tightly, then place each apple on your coals. Roll them over after five minutes, then remove them from the fire after ten. Let cool a bit, carefully open the foil, and enjoy.
Campfire Pies
Another super simple recipe that can (and should) be made over a campfire is the classic campfire pie. You will need a pie iron for this one, but other than that, the ingredients can be as simple or as complex as you make them.
Some people make their campfire pies using only white bread and canned pie filling, while others get a bit fancier using refrigerated dough. Either way, you're sure to enjoy this warm and gooey dessert while sitting around a fire with your family.
Banana Pudding
For a super simple and super delicious dessert that can be made ahead of time, we recommend banana pudding. Banana pudding is great because you can use instant vanilla pudding mix to make things incredibly easy.
Just mix up your pudding earlier in the day, and when dinner time rolls around, you can layer it with the cookies and bananas in no time at all.
Campfire Cones
Looking for something similar to s'mores but a bit less messy? Campfire cones are a fun, less messy, and absolutely delicious option that kids (and adults) adore.
To make this dessert as fun as possible, provide plenty of fillings and let everyone build their own cone. Some favorite fillings include chocolate chips, marshmallows, peanut butter chips, fruit, sprinkles, and small chocolate candies.
Dirt and Worms
Want something fun that you can put together before you ever even leave the house? Chocolate pudding cups made to look like dirt and worms are always a big hit with younger campers.
As with the banana pudding, you can use instant pudding mix to make your job super simple. From there, all you have to do is crush some chocolate cookies to create a layer of "dirt" and add some gummy worms to each serving.
Cookie Dough Push Pops
Do you love eating chocolate chip cookie dough? So do we, but at the same time, we all know it's something you should avoid doing. Fortunately, this silly and delicious dessert swoops in to save the day.
Cookie dough push pops should be made using a DIY edible cookie dough. Once your dough is made, simply fill your push-up pop tubes with the mixture and chill until you're ready to indulge.
Monkey Bread
If you've never made monkey bread, your next camping trip is the time to give it a try. This particular dessert is best made in a Dutch oven over hot coals. This one does take a bit of patience, but it's worth it! We love it after dinner, but find that it makes a fantastic breakfast food as well.
Dutch Oven Camping Cake
Once you get the hang of cooking with a Dutch oven, this recipe is easy and delicious. It also tastes great with homemade ice cream!
What You Will Need:
2 angel food cake mix
1 cup butter, chilled and cut into small pieces
2 1/4 cups sugar
50 ounces frozen mixed berries (unsweetened)
Home
Mix berries with sugar and place in ziplock bag.
Chop butter into small pieces.
Campside:
This works best on a charcoal grill or a fire pit. Follow these online directions for baking in a Dutch oven.
Cover bottom of 12-inch Dutch oven in berries. Mix angel food mixes with berries. Place butter slices all over the top of the mix.
Cook cake about 20 minutes (does not cover the grill or fire pit). Move ash or coals around as suggested.
The cake will bubble and become golden brown. Because of the juices, this will need to cook for 25-40 minutes and then set for 20 minutes before eating.
Serve with whipped cream or ice cream.
Now You're Cooking With Fire!
It doesn't take much practice at all to become a true gourmand of campfire foods. In fact, many frequent RVers claim that they eat better when they're camping than they do at home! Hot dogs may be great over an open fire, but branching out to cooking other foods on your campfire can turn any camping trip into a foodie paradise. Just don't forget your creativity, your sense of adventure, and of course, an extra roll of aluminum foil.