Top RVs Nearby
RV Trip Planner America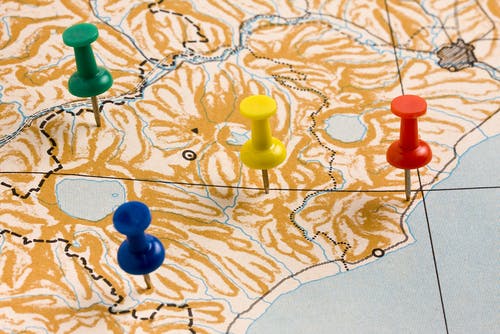 When planning an RV road trip across America it's best to look for some solid advice about how to go about it, especially if you're a newbie, or it's been a long time since your last trip. If you fall into that category, then we're here to help. We're putting together our best RV trip planner for your adventure across the USA.
In this article, we're going to see a brief overview of the RV trip planning process, list some essential items to bring with you, and discuss how to prepare for an emergency, and where you can find a high-quality RV for the trip.
Cross Country RV Trip Planner
Planning an RV trip for your family can be stressful, but we want to help make it as easy as possible. Here is an overview of the steps.
First, figure out where you're going and make an outline of your route. For example, if you happen to live in New York and you want to travel to Florida, you're likely to take I-95 most of the way down.
Figure out your budget. This is one of the most important steps. From how much you plan on spending renting an RV to which excursions you plan on doing when you get to your destination, figuring out a set amount you're going to spend is imperative for a smooth trip.
Plan a timeline. When do you plan on leaving? How long do you think you'll be in each area before you get to your destination? How long will you be at your destination? Answering these questions will not only help you have a better time, but it'll help with your budget and route planning as well.
Family RV Trip Planner: What to Bring
Even though it's easy to imagine how much fun you'll be having on your road trip, sometimes figuring out what you should bring with you isn't always as easy. How many clothes should I pack? What's the weather going to be like where we're going? What kind of food is good to bring? What if my kids get bored? All these questions and more are valid to ask yourself when deciding what goes and what doesn't. Get started by taking a few of these must haves.
Food
One of the coolest parts about RVing is that you don't need to spend money on going out to eat for every single meal. Many RVs come equipped with not only a mini fridge, but also a microwave and a stove.
To make it super easy for yourself, however, in this trip planner we recommend bringing mostly foods that can just be stored in the pantry in the RV. Items such as bread, cereal, peanut butter, instant oatmeal, bananas, popcorn, and pretzels make great options. They're all foods that can be stored away without needing to be kept hot or cool. That may come in handy should you run into any technical problems.
It's wise to keep any sort of messy type foods in Tupperware and other plastic containers. Remember, sometimes roads are treacherous and there's no telling what can fall and spill in your rig. You'll thank yourself later for taking extra precautions.
Don't forget to bring any spare containers for any local foods you pick up in the area! RVing is a great way to try foods from all around the country.
Weather
Remember to research what the weather is going to be like not only where you're going, but also all the places you'll be traveling through. Is it going to be hot? Windy? Rainy? This is a step that you shouldn't forget. Make sure to pack appropriate attire for the conditions of the environment you'll be in.
Truth be told, even if you do tons of research, the road is so unpredictable that it's best to pack a little of everything. Long pants, shorts, jackets, T-shirts, bathing suits. Pack it all. Don't forget pajamas, towels, and a couple changes of clothes throughout the day as well.
Besides which clothes to bring, preparing for the weather also includes bringing an umbrella or two, sunscreen, hats, and anything else that can protect you.
Activities
As thrilling as nature can be, let's face it, sometimes we get bored. Especially the little ones. Remember to bring things that can entertain you during the actual time road time. Things to include could be movies, iPods, or handheld games. If you're using this time to unplug for a bit, why not bring some cards, board games, or a few books?
Emergency Tool Kit
You're smart, so of course, you're going to be safe while on your journey, but what if an emergency occurs that you can't control?
You can never go wrong bringing an emergency tool kit with you for the road. Items to include inside are a first aid kit in case anyone gets hurt, waterproof matches, a whistle, a few flashlights (one per person), a couple candles, and maybe even emergency drinking water. It all may seem a little extreme, but again, it's much better to be safe than sorry.
GPS
If you plan on spending long periods of time on the road, or if you're going to be traveling anywhere uncharted, or maybe you're just going somewhere you've never been, a GPS is a lifesaver. Never go on a road trip without one! GPS devices can also act as an RV trip route planner. Most have a function that lets you preview every step of the way before you go. In fact, there are usually options for setting up the best RV trip routes manually.
Finding a High-Quality Rig
Okay, so we have a quick overview of the steps we should take when planning an RV trip, we know which kinds of foods we should pack, we know to bring clothes for any situation, and we even remembered to make sure to plan for an emergency, or if we get bored. But, if you don't have an RV, where can you find the best possible RV to rent at the lowest prices?
Enter RVshare, we've got the largest inventory of online RV rentals and we'd be happy to set you up with the perfect unit for your family. The good news is that our rates start as low as $10 per night, you're provided 24/7 roadside assistance in case an emergency does come up, and it's all backed by our $10,000 peace of mind guarantee.
Best RV Trip Planner
Using the free RV trip planning tips on this website, you're sure to have a safe, smooth, and super fun experience on your upcoming road trip. Get to planning today by searching through our hundreds of RV rental options. Safe travels!