Travel Inspiration
April 2nd, 2018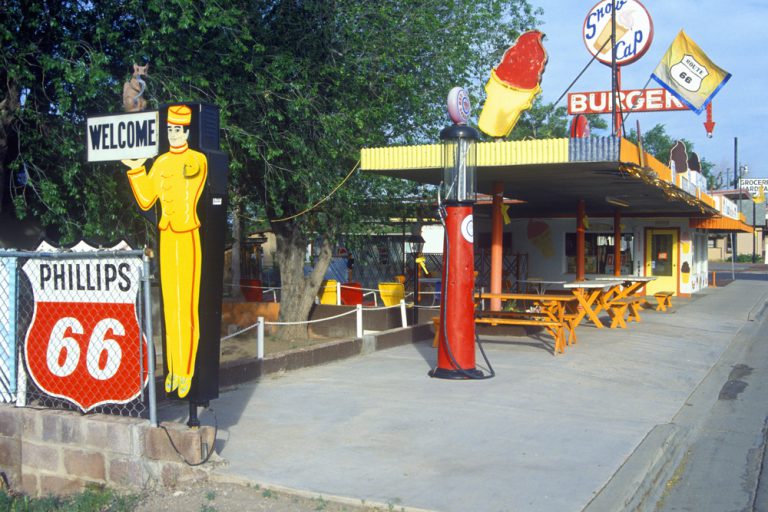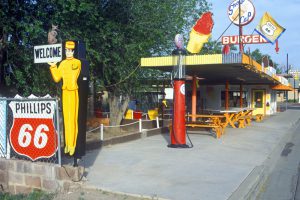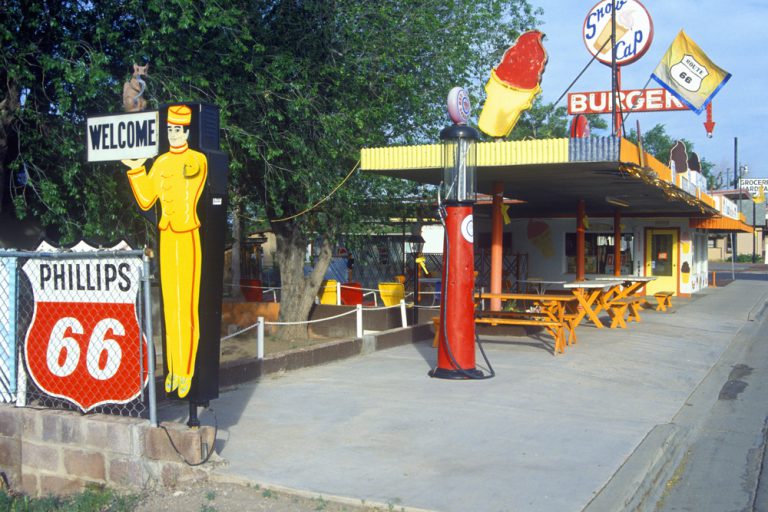 Most RVers know travel isn't really about the destination. It's all about the moments you enjoy along the way. I mean, why else would you invest in a travel method that makes the journey so much easier?
So it makes sense that might be tempted to add some funky roadside attractions to your itinerary — and we think that's a great idea.
Stopping at road trip attractions along the way is an easy, cheap option for making your vacation even more memorable. Who needs to spend money on expensive souvenirs when you can take cheesy photos with the largest pistachio nut in the world?
(Psst: if you're looking to save money on your camping trip, don't forget to sign up for Passport America, the only camping discount club that gets you 50% off your campsite accommodation fees at almost 1900 campgrounds across America — including locations in Canada and Mexico!)
No matter where in the country you're headed, there's bound to be something whacky to see on the roadside — though not all of them will be listed in your Rand McNally Road Atlas or displayed on the screen of your RV GPS.
Never fear: that's why we put together this post with some of America's best roadside attractions not to be missed on your next RV vacation. Weird, wonderful, and wanderlust-inspiring, here are some of our favorite stops.
Famous Roadside Attractions
Looking for the most popular roadside attractions to add to your travel bucket list? Don't miss out on these.
Paul Bunyan Land, Brainerd, Minnesota
Ever wanted to interact with a 26-foot-tall, talking lumberjack?
If you're driving through the Brainerd, Minnesota area, now's your chance. Along with the big man himself, you can also enjoy an array of rides and attractions for the whole family at Paul Bunyan Land. But seriously… he talks. What more could you possibly ask for?
Exact address:
17553 State Highway 18
Brainerd, Minnesota 56401
South of the Border, Hamer, South Carolina
Dubbing itself "America's favorite highway oasis," anyone who's driven through the Bible belt will be familiar with this unabashedly cheesy — er, queso…-y? — roadside attraction, which lies literally just south of the Carolina border. The stop features restaurants, rides, and a lovable mascot named Pedro. (He's especially fond of appearing on billboards.)
Exact address:
3346 US Highway 301
Hamer, South Carolina 29547
Strangest Roadside Attractions
When it comes to tourist attractions in America, we say — the stranger, the better!
If you're looking for something especially whacky, we've got you covered.
The World's Largest Catsup Bottle, Collinsville, Illinois
Not only does the world's largest bottle of catsup exist, standing proudly along the roadside in Collinsville, Illinois… it's even got its own fan club. Of course, this 170-foot bottle isn't actually filled with tomato sauce. It's the town's water tower, built all the way back in 1949!
Plan your trip for July and you might just catch the annual Catsup Bottle Festival, which features ah ot-dog eating contest, ketchup tasting, and the crowning of Little Princess Tomato and Sir Catsup.
You wanted weird, right? You've got it.
Exact address:
800 South Morrison Avenue
Collinsville, Illinois 62234
World's Largest Pistachio Nut
It may only have been built in 2009, but this nutty roadside attraction has already made quite a name for itself. The World's Largest Pistachio Nut measures in at a full 30 feet tall, and was originally dedicated to the owner of McGinn's Pistachio Tree Farm, now known as PistachioLand. Aside from the photo opp, you'll also get the chance to sample smaller pistachios, as well as delicious candies, wines, and other goods.
Exact address:
7320 US Highway 54-70
Alamogordo, New Mexico 88310
Creepy Roadside Attractions
Not all roadside oddities are jolly. There are quite a few odd, unusual roadside attractions to see on the way to your favorite travel destinations.
Cadillac Ranch, Amarillo, Texas
Despite the cheerful, constantly-changing colors of this north Texas art installation, there's something undeniably creepy about Cadillac Ranch… if only because Cadillacs don't normally stand on end like that. They almost look as if they're diving into the earth's surface, don't they?
Exact address:
13651 I-40 Frontage Road
Amarillo, Texas 79124
Unique Tourist Attractions
Here are just a few more of the best roadside attractions that are well worth the detour.
Lenny, the Chocolate Moose, Scarborough, Maine
Got a sweet tooth? Refuse to end your trip to Maine without sighting at least one moose?
You're in luck. Along the Maine coast, just south of Portland, renowned chocolatier and candy-crafter Len Libby has the answer to both of your problems. His name… is Lenny.
Lenny is, at least according to the Len Libby website, 'The World's Only Life-Size Chocolate Moose." We'll go ahead and take their word for it. Make sure to stop on your way to Acadia!
Exact address:
419 US Highway 1
Scarborough, Maine 04074
Dinosaur Park, Rapid City, South Dakota
There's way more to see in South Dakota's famous Black Hills than Mount Rushmore — especially if you have any junior paleontologists along for the ride. Dinosaur Park is one of the original Rapid City tourist attractions, offering sweeping 100-mile views of the landscape.
Admission is free and unguided, and the dinos are lit up until 10 p.m. It's the perfect stop on your way into — or out of — the Badlands!
Exact address:
940 Skyline Drive
Rapid City, South Dakota 57701
These are just a few of the many wacky, weird roadside attractions you can see on your next big RV road trip. In fact, several authors have compiled information and photos of all the options — check out these books if you're looking to make an even more complete list of must-see roadside stops!
And even if you aren't planning to, don't be afraid to pull off and stop to see whatever the local oddities are on your next RV vacation. After all, life really is all about the journey, especially when you're camping!
This post may contain affiliate links.