7 Questions to Ask Yourself Before Leaving Home on an RV Trip
How Tos & Tips
May 10th, 2018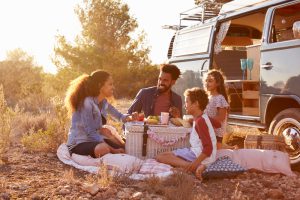 If this beautiful, sunshiney spring weather has you psyched up to get on the road, you're definitely not alone. Summer's almost here, and RVers all across the country are hankering for their next adventure!
But before you hit that driver's seat, it's important to ask yourself a few key questions. Otherwise, you may find yourself up you-know-what creek without a paddle… or at least without a few travel essentials. Like, say, your trusty road maps or RV GPS system.
(Psst: one of the travel items at the tippy-top of our packing list doesn't exactly fit in a suitcase. It's a Passport America membership, which saves you 50% off your campsite accommodation fees at almost 1900 campgrounds across the country — the cushy kinds with premium, full hook-up spots and lots of bonus amenities! At less than $50 for a whole year, you'll definitely get your money's worth, and have a whole lot of frugal fun in the meantime. It's one of the best vacation deals we know of, so click here to sign up or renew your existing membership today.)
Even the best trip can become calamitous if you don't make the correct travel preparations. And conversely, even a modest getaway will be much more relaxing if you think it through ahead of time.
But what all do you need to check off your list? What could you possibly be forgetting?
Fear not, brave vacation planners. We're here to help you get your journey started without a single hiccup.
Getting Ready for Vacation
Before the rubber hits the road, here's what you need to ask yourself.
1. Do you know where you're going?
It may seem obvious, but in the rush to get into vacation mode, you may just find you're not exactly sure where you're going. And hey, depending on your travel style, that can be a good thing — part of the fun of RVing is the ability to be spontaneous and take things as they come.
But if you'd like to have at least a general idea of your itinerary, you should probably get out those maps and navigation apps ahead of time. We've also got a few suggestions for you, too:
2 … And how to get there?
Not everyone's a natural Magellan. And that's OK — there are plenty of resources available to help you find your way, from old-school road atlases and compasses to the newfangled technological guidance you'll find in your handy RV GPS. (Say, if you're in the market for one of these devices, check out our RV GPS comparison guide to help you find the best one for your buck.)
3. Is everything set to go at home?
Ever gotten twenty minutes down the highway… only to realize you're not sure if you locked the front door or turned off the back stove burner?
Being forced to turn tail right when the fun's getting started is no one's idea of a great first vacation day. So make sure you do a thorough home walkthrough before you roll out of the driveway.
Road Trip Planner
"Plan" doesn't have to be a four-letter word. Here are a few more questions to ask yourself to make it simpler.
4. What will you do once you arrive at your destination?
As important as it is to leave free time for serendipitous fun and exploration, you don't want to discover you missed out on something after your vacation is over.
Look into all your destination has to offer before you get there. For instance, if you're touring several of our national parks or embarking on the Grand Circle, consider purchasing the National Parks Guidebook or investing in a National Parks Passport, which is a fun way to track and remember all the amazing places you've been to.
5. Which pit stops will you make along the way?
Especially when you're RVing, it's not just about where you're going — it's about the journey! So be sure to pepper in fun stops along the way like roadside attractions or famous restaurants.
Packing Travel Essentials
You're almost ready to hit the road — but make sure you've got everything with you first!
6. Did you bring everything you need for the journey?
When you're traveling by RV, you're basically bringing your whole house along for the ride… and that means you have a lot of items to remember. Is your kitchen equipped with plates, cutlery, and cookwear? How about actual food? What about towels and toiletries for the bathroom?
All of that's in addition, of course, to the regular items you always bring on vacation: clothes, medicines, electronics, entertainment items and more. Be sure to double check your travel essentials list before you start your journey so you don't end up purchasing something you already have sitting at home — an annoying waste of your travel budget!
7. Are you taking advantage of all the digital help you can get?
In today's age, your travel checklist isn't just full of physical items. You'll want to ensure you have your top tech travel essentials along with you, too.
For instance, using GasBuddy can help you knock off a few cents per gallon every time you hit the fueling station… which, in an RV, can be a significant savings. And downloading a quality weather radar can help you steer clear of big storms, which can be dangerous and destructive. There are also RV-specific navigational guides and a whole host of other useful applications — check out this post for more details.
Travel Checklist
By asking yourself these simple questions and taking care of your travel checklist ahead of time, before you hit the road, you'll ensure you have a fun, relaxing vacation to look forward to — and not a single worry in sight once home disappears in the rear view mirror. In our experience, that's what makes for the happiest campers… that along with great road trip buddies and maybe a s'more or two, of course.
This post may contain affiliate links.