RV Parts & Accessories
Last updated on July 12th, 2023. Originally published on December 1st, 2019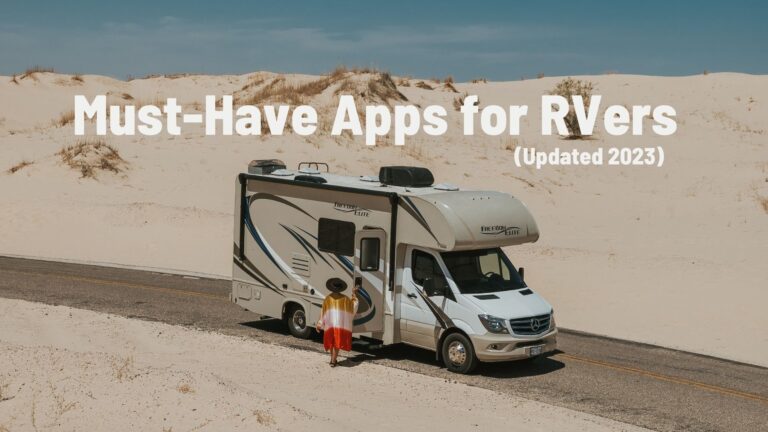 In this day and age, one is rarely caught without a smartphone in hand. We use our phones to pay bills, watch our favorite shows, snap photos, and even check in with friends. Why then, wouldn't we use RV apps on our smartphones to improve our RV adventures?
That's right! There is an app for that. In fact, there are a number of awesome apps that can improve your camping experiences. Whether you need a motorhome navigation app or an RV trip planner app, there's something that'll fit right in with your RVing style and make life a little easier.
Finding the Best RV Apps in 2023
Of course, the first step to adding helpful RV and travel apps to your phone is finding the best ones. There are a few different ways to go about this.
You could, of course, run some searches and sift through reviews of all the available apps. This is time consuming though, and could be frustrating if you don't have the extra time to spare.
Another option is to check with RVing friends. Other campers might know of apps you wouldn't find otherwise, and can provide honest feedback on the spot. This is a great way to go about it, but does limit you to whichever apps your friends know about.
If you're looking to try, say, an RV GPS app (or any other travel app) besides what your camping buddies use, you're in the right place. In this article we will explore the best RV, camping, and travel apps out there, so you can put your smartphone to good use during your next big adventure.
What is the Best RV GPS App?
Let's first discuss the best RV GPS app options. After all, an RV navigation app is sure to be used on nearly every trip, and you have to be able to count on your app to help you reach your destination safely. Therefore, finding the best of the best is a must.
Best Free RV Navigation App
Looking for a free app to help find your way around? Google Maps (Android and Apple) is by far the best free option out there. This app allows you to add stops, avoid tolls, and much more. That said, Google Maps was not made with big rigs in mind. Therefore, you may want to crosscheck any route it gives with a truck atlas or RV-specific route planner.
Best RV Navigation App for a Fee:
If you're willing to pay for an RV-specific GPS, we recommend CoPilot RV (Android and Apple). This app is pre-loaded with thousands of POIs (points of interest), to help you find nearby places such as ATMs, restaurants, hospitals, vets, hotels, or gas stations with or without a data connection. Within the CoPilot RV app, you can search on Google, Yelp, and Wikipedia to look for RV parks, gas stations, restaurants, etc. (this feature requires a data connection). GPS CoPilot Live stores all the map information directly on the device so you may need additional storage.
RV Trip Planning Apps
Sometimes planning is just as much fun as the actual traveling. This is especially true when you have the right tools to plan your epic adventures.
Here are some of our favorite planning apps. Download some of these to make planning a breeze:
Multi-Featured Apps
Looking for an app that'll serve more than one purpose? We love the following options, and each one has a variety of features that will help you plan the perfect trip:
Checklist App
Want to create a checklist on your phone in order to ensure you don't forget anything? RV Checklist is the perfect option. This app allows you to customize checklists of what to pack and do before each trip, and provides suggestions to help you out.
Apps for Finding Camping
Of course, you'll need to find places to stay as you wander the country. Some of the apps listed above help with this, but there are a few others you should know about:
Best Apps for Finding Dump Stations
More Apps for Travel
Want to expand upon the travel apps listed above? We love the following travel apps as well:
Camping and RV Apps for Staying Connected
Connection is important. If you're looking to connect with other RVers or stay connected to the outside world while on the road, these are the apps you'll need to do so:
Tool Apps for RV Camping
We all know how important it is to have tools on hand when camping. Why not expand upon your camping tool collection by using your phone as a tool as well?
Final Thoughts
Whew! That's a lot of super cool, highly useful RV apps. Now that you know the best roadtrip apps to download, you can go RVing with confidence. Why not start shopping for your perfect rental RV today? Once you have a rig picked out, you can start planning your trip by checking out our top national parks, state parks, and RV campgrounds.
Looking for more tips and tricks for your next RV excursion or purchase? Check out these article on the blog:
Now, we want to hear from you. What are your favorite apps for RV travel? Leave your choices in the comment box below.