The Best RV GPS – A Definitive Guide
RV Parts & Accessories
November 20th, 2019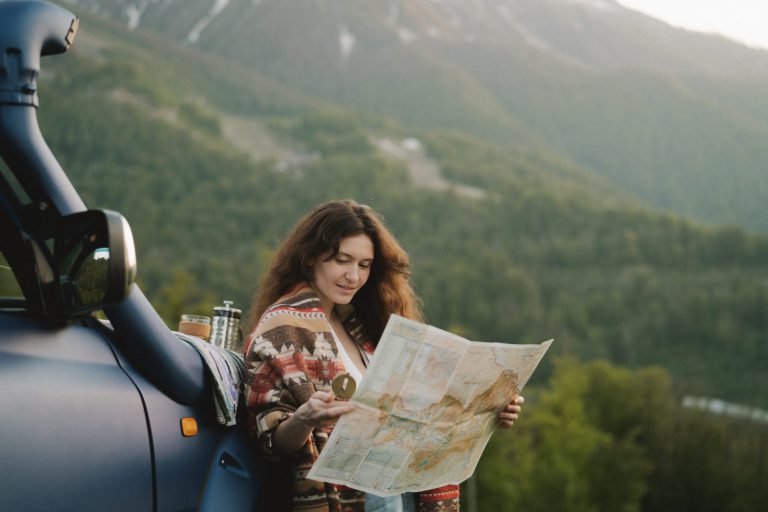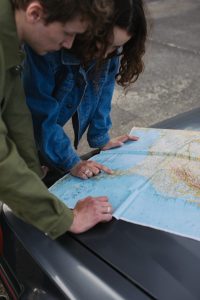 Whether you're a long-time GPS user who swears by her Garmin or the type who wouldn't normally be caught dead asking for directions, taking the plunge into RVing can make you realize just how much of a benefit a navigation system can really be. An RV GPS is specially designed to deal with the challenges of the road that only someone driving an RV faces.
That's because when you're wandering the world in such a large vehicle, you've got some extra considerations to think about besides where exactly you point the darn thing. For instance, if find yourself guided down a narrow, rocky road in a car, it's no big deal to turn around… but that's not the case in a Class A diesel pusher.
Same goes for the lovely scenic route overhung with low-hanging tree branches. It's a beautiful view… and also a great way to destroy your RV's roofing finish. (Better solution: camp nearby and unhook the toad to go check it out later!)
RV GPS systems, like the Garmin RV 780 NA LMT-S, are designed with these kinds of RV-specific considerations in mind, which means they're a great way to make sure your journey is as convenient, efficient, and uh-oh-free as possible. And since traveling always comes with its fair share of surprises, it's nice to at least have a reliable route to comfort your road nerves!
But what's the best GPS system out there for RVers? Should you go with a stand-alone, mounted product or will an RV GPS app for your smartphone suffice?
Never fear: those questions are why we wrote up this RV GPS comparison, your definitive guide to finding the very best RV navigation software solution.
Let's get started!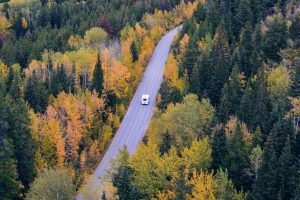 What is the Best RV GPS to Buy?
Like many other parts of camping (and planning for camping), choosing an RV GPS is pretty personal. Each unit has different features and systems that might make it perfect for one RVer, but the second choice for another.
You've got your RV fueled up, your coffee cup filled up, and your adventure spirit raised up, and you're ready to take off on another fun RV adventure. If you've got an ordinary GPS to guide you though, you may find yourself running into a few problems. Why? Because it's not a Garmin RV GPS!
Let's look into some of the most popular stand-alone GPS systems designed specifically for RVers, shall we?
If you spend a lot of time road-tripping in your RV, you'll probably find a Garmin RV GPS to be a smart tool to have. Before you switch it on, and head out on the open road though, here are seven things you'll want to be aware of:
1. Garmin is a longtime industry leader in navigation products.
This is not a new company by any means. Garmin was first established in 1989, as a manufacturer of navigation devices, initially supplying the US military with GPS systems during the first Gulf War. They started producing GPS devices aimed at consumers in 2000, and quickly grew to one of the worldwide giants in GPS, and tech-based navigation. When you buy a Garmin RV GPS (or any Garmin product), you know you're buying an advanced piece of technology of the highest quality. It's a name you can trust.
2. The Garmin RV 760LMT GPS is the one you want.
Garmin makes dozens of products for all sorts of niche markets: cyclists, runners, golfers, sailors, you name it. For RVers, Garmin's targeted product is the Garmin RV 760LMT GPS. (There's also a DEZL 760LMT, but that is a GPS designed primarily for truckers.) It's important to note that this Garmin motorhome GPS is designed for travelers in the continental US and Canada.
3. The RV-specific features are fantastic.
Garmin really knows how to cater to a specific audience, and the Garmin RV 760LMT Portable GPS Navigator does not disappoint. Before you get started, you can enter your RV's stats, like height, weight, and length, so that you won't get sent under a low overpass, or across a restricted roadway. Using the 760LMT's free BaseCamp software, you can plan specific routes, mark places you'd like to stop along the way, and share your route online or electronically, with family and friends. Plus, there's a directory of America's RV Parks & Services, so it's easy to find an RV-friendly and scenic place to camp out for the night.
4. Actually, all the features are fantastic.
RV specifics aside, the Garmin RV 760LMT GPS boasts a ton of features. Where do we start? Well, it's got a big and bright 7-inch screen. It will speak directions, and it has voice-activated navigation, so it's sort of like having another passenger along for the ride (albeit one who does not need to eat or use the facilities). It can point out places to eat and fuel up (RV friendly, of course), as well as give you the current weather conditions, wherever you are, if you sync it with the free Smartphone Link app. Finally, when it's time to update the maps on your Garmin RV GPS, you won't have to pay for the new information. Truly, this is one well-appointed device.
5. The Garmin RV 760LMT GPS reviews are awesome.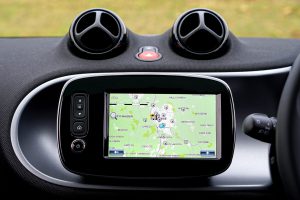 Look up the reviews for the Garmin camper GPS on any major online retailer, big box store, or tech review site, and you'll see the same thing: users just like yourself, as well as industry specialists, all think that the 760LMT is a quality product. They praise its ease of use, its seamless interactivity, and its all-around usefulness when you're out on the open road. You probably know that consumers typically are not shy about sharing negative feedback, especially when it comes to pricey electronics, so to see so many positive reviews is a good sign that this is an excellent device.
6. You may want a few accessories to go with it.
As with just about any other piece of technology, there are a number of accessories that you can pick up to enhance the functionality of your Garmin RV GPS. For example, a shock mount will keep it sturdily attached to your RV's dashboard, right where you want it. There's also a wireless backup camera that is compatible with the 760LMT; Garmin actually sells a kit that includes this camera, or you can buy it as an add-on. The camera is especially handy to have, as it's hard to see behind an RV when you're in reverse, and you don't always have the luxury of asking a passenger to step out and guide you. Finally, you might consider buying a carrying case for your navigation tool, so you can take it with you when you step out of your RV.
7. A Garmin RV GPS is expensive, but it's worth it.
There's no way around it; if you're going to buy a Garmin RV 1090LMT, you're going to spend a lot of money. The basic unit will set you back $400; the kit that includes the wireless backup camera retails for $500. Yes, this is a lot of money. However, you get quite a lot for what you're spending, and you'll be able to drive comfortably, knowing that your GPS has made your safety, your passengers' safety, and the safety of your RV its main priorities, deep within its high-tech circuitry. Think of it as an investment in the quality of your road trip.
If you're thinking about buying a GPS specifically for your RV, the Garmin RV 1090LMT GPS is a fabulous choice. It has loads of features, both for RV drivers and general motorists, and it's made by a company you can trust. Yes, it's one of the higher-priced RV GPS-s out there, but the reviews don't lie– people who own this product love it. All of us at RVShare think you probably will, too
Garmin RV 785 with Built-in Dash Cam
With four-and-a-half of a possible five stars, it's easy to see that the Garmin RV 785 is a crowd pleaser. And given its custom routing feature, which takes the size and weight of your RV into account when routing your trip, as well a warnings for steep grades, sharp curves, and weight restrictions, it's not hard to see why.
This version even comes with a built-in dash cam, so you can record your travels for posterity — and for safety. Dash cams have helped police make the right assessment in traffic accidents more than once; you can never be too careful!
Garmin RV 890 NA LMT-S
Another great option from Garmin, this GPS system includes a directory of RV parks and services and offers voice activation for safe, hands-free operation while you're driving. Not only that but this new version has your safety in mind, packed with an emergency kit and shortwave radio in case you find yourself in need of help while out in the wild.  You can also access free live traffic and weather updates to keep you up to speed on the road, which the system can update using its built-in Wifi connectivity or through linking to your smartphone through the specially-created app. All told, it's a great GPS option for any RVer!
Rand McNally RDY0528018477 OverDryve 7 RV GPS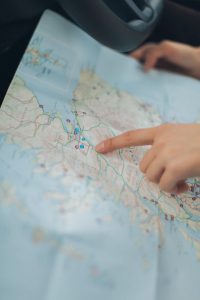 You already know we're big fans of Rand McNally's yearly paper road atlas, which is a great backup option when you don't want to rely on technology to get where you're going.
But did you know the company also offers an RV GPS system? The Overdryve 8 includes a built-in dash cam and is Bluetooth compatible, so you can connect it to your smartphone or other devices. You can even have it route text messages and other notifications through to the GPS screen, so you'll always be up to date on what's going on. And given it's made by the world authority on U.S. road maps, we think it's safe to say it'll get you where you're going!
RV GPS Apps
Now that we've covered a few of the pre-built commercial options, let's step back and focus on some RV GPS alternatives you probably already have access to — and which wouldn't cost you a dime more than you're already paying.
Here are some of the best RV GPS apps that can help you get where you're going from the comfort of your smart phone.
Google Maps (on your phone)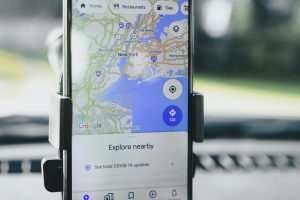 This convenient, free app is probably what you whip open when you need to head to a new destination in your everyday vehicle.
But using Google Maps for RV travel can be treacherous for the reasons we outlined above. As of late 2019, there's no easy way to integrate RV-specific filters into the version of Google Maps that comes stocked on most smartphones.
CoPilot
If you're really averse to purchasing an actual RV GPS that mounts on your dashboard and would prefer to use an existing mobile device, look into CoPilot, an RV-specific navigation app that can be downloaded onto either iOS or Android.
It's fairly expensive — and extravagant as far as apps go — at $59.99, but it's definitely one of the cheapest RV GPS alternatives you'll come across. However, you'll be stuck with your device's small screen (and not being able to use its other features while you're navigating) — not to mention figuring out how to look at your phone while driving without being totally unsafe. Yikes.
FleetSharp
If you're looking for a comprehensive app that works as a GPS as well as a total system tracking device, look no further than FleetSharp. This system can tell you where your RV is at all times, even if it's hundreds of miles away from the smartphone or computer browser from which you're tracking it — and it also includes a lot of other vital information about your rig, such as oil level, tire pressure level, and more.
FleetSharp works for both towable and drivable RVs and is a great solution for those who have a single vacation vehicle or a whole rental fleet. Click here for more information.
What to Look for When Buying an RV GPS
At the end of the day, there are almost as many RV GPS systems available as there are RVers. (Well, not really — but it's a pretty flooded market.)
Choosing the right RV GPS for you is all about knowing what you want your GPS system to accomplish. Are you mostly just looking for a quick map to help you get to your destination as effectively as possible, or do you want fancy extras like a dash cam and the ability to connect to your smartphone and get your text messages? Importantly, how much does price matter?
That's why, aside from specific features, our best suggestion for what to look for when buying an RV GPS is simple: great reviews! Seeing what others have said about their experience with a product is a great way to discover whether or not that product will work for you in the way you expect.
How to Use an RV GPS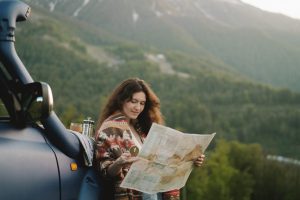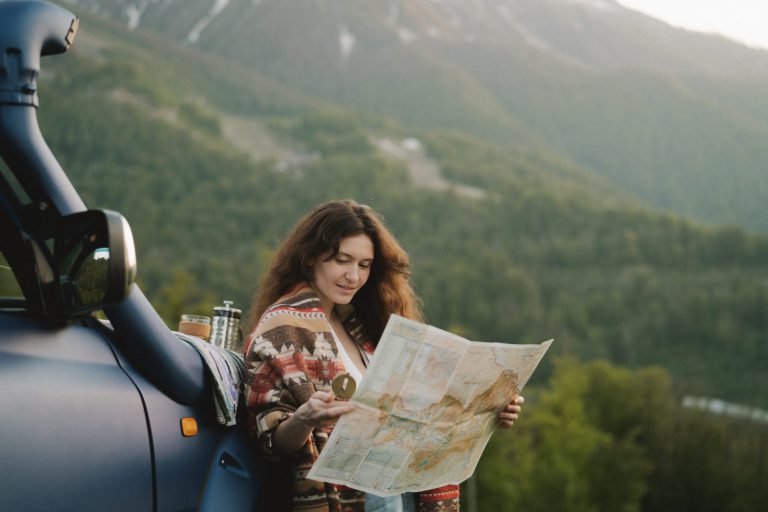 While each RV GPS system will come with its own dedicated instructions, generally, using an RV GPS is simple. You'll install the unit into your dashboard per the instructions — and with today's technology, the installation may not be permanent, but rather an easily-detachable type that'll let you take your GPS with you no matter how many RVs you rent or own.
Once your GPS is installed, you'll be able to use it just as you would Google maps, or any other navigational tool you use on a regular basis, to route your trips and alert you to road obstacles, traffic, and potential nearby sites and attractions, all depending on what features the unit has loaded of course.
For the fullest picture of how to properly use your RV GPS and take advantage of all its available features, be sure to read your instruction booklet!
Other Factors to Consider When Buying an RV GPS
Once you've got an RV GPS, the journey's only halfway done. Actually, if you really think about it, it hasn't even begun yet!
Although routing is important, finding a destination (or three) in the first place is just as critical to your camping trip — and arguably a whole lot more fun.
There are so many wonderful places to discover in you motorhome or travel trailer, whether it's a national park, state park, or one of the best campgrounds in your region. And no matter what part of the country you call home, there's an amazing RVshare rental just waiting to whisk you away on your vacation — whether you're looking for a towable rig, a drivable rig, or even delivery and setup.
Enjoy the journey! Isn't it so much nicer now that you know where you're going?
This post contains affiliate links. RVshare may receive compensation if you make a purchase after clicking on a product link.
Looking for more tips and tricks for your next RV excursion or purchase? Check out this article: