Travel Inspiration
May 18th, 2021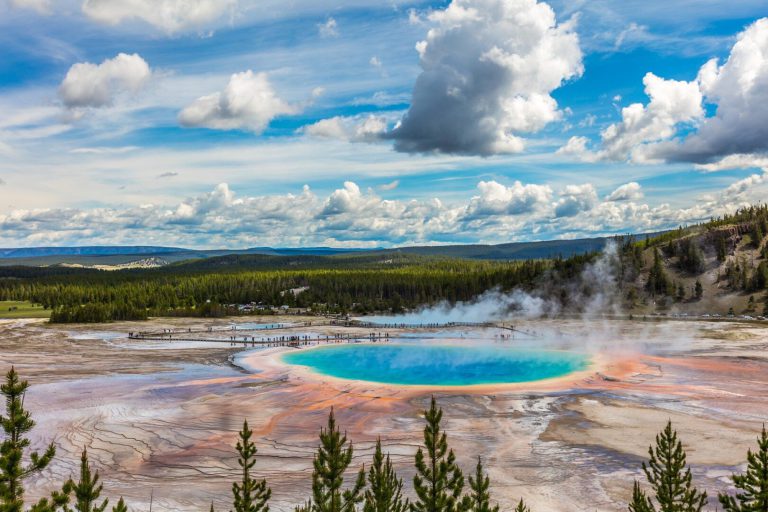 Looking for summer destinations to visit this year? In our opinion, the most obvious and best option is to head out on an RV adventure. RVing is an amazingly freeing type of travel that allows you to explore off the beaten path in comfort. It also brings families and friends together as they travel down the road and spend time in their campsites laughing, talking, and reconnecting. 
Of course, you will need to decide where you want to take your RV on vacation. Fortunately, there are hundreds of amazing options all across the country. Unfortunately, deciding which one to visit can feel a little overwhelming. That's where this article can help. 
Below we've listed the top summer RV destinations options that RVers like you absolutely adore. If you're wondering, "Where are the best places to RV in the summer?" then the list below will answer your question and give you some travel inspiration. 
#1: Yellowstone National Park
One of the most popular and well known national parks in the United States, it should come as no surprise that Yellowstone is also one of the most popular summer destinations for RVers.
This incredible park is home to some seriously spectacular sights, including the famous Old Faithful geyser, the amazing Mammoth Hot Springs, and the stunning Grand Prismatic Spring. The Grand Canyon of the Yellowstone is another must-see, as is the beautiful Yellowstone Lake. 
Not sure where to stay during your visit? RVs are welcome at all of Yellowstone's onsite campgrounds, but many have size restrictions, so be aware of that. The only Yellowstone campground with hookups is Fishing Bridge RV Park, so if electricity and water are important to you, be sure to book your site early. 
Note: Because there are so many bears in this park, you will want to make sure all food is put away during your stay. 
#2: Grand Canyon National Park, AZ
Next on our list of summer destinations is the gorgeous Grand Canyon National Park. This is an absolutely stunning park that features some of the best views in the west. Be sure to hike or take a donkey ride down into the canyon while you're there, and make a point of catching a sunrise one morning. Additionally, we highly recommend checking out the iconic Horseshoe Bend where the Colorado River wraps around an incredible rock formation. 
There are a few options when it comes to RV camping in the Grand Canyon. A few NPS-run campgrounds have spots for RVs, but none have hookups. If you're looking for electricity and water, try the Trailer Village on the South Rim. 
Another option is to stay outside of the park and make day trips to see the sights. We love Grand Canyon Railway RV Park in Williams, AZ for this purpose, and find that riding the train into the national park is a novel and unique experience. 
#3: Zion National Park, UT
The third destination on our list is yet another national park. This time we're talking about Zion National Park in Utah. Home to gorgeous steep red cliffs, beautiful forest trails, incredible waterfalls, and a magical hanging garden, this park is definitely well worth visiting. It's especially wonderful if you're a hiking enthusiast, as the park boasts some of the best hikes we've ever come across. 
There are two campgrounds in Zion National Park that can accommodate RVs. These are the South Campground (which requires reservations) and the Watchman Campground (which takes reservations but doesn't require them). Neither option offers hookups. However, the nearby Zion River Resort has full hookups and a number of other amenities, making it the perfect option for those looking to camp in comfort. 
Note: Zion is currently requiring advance reservations for shuttle rides, which are required to see the majority of the park. 
#4: Glacier National Park, MT
Glacier National Park is incredibly cold during the winter months, leading many travelers to avoid it entirely. That said, during the summer, this park comes alive and it is an absolutely gorgeous place to be. 
As the name suggests, you will have the opportunity to see glaciers. However, that is far from the only natural wonder you'll lay eyes on during your time here. Be sure to take a drive down Going-to-the-Sun road (reservation currently required) to see some awesome views, and seek out Hidden Lake to gaze upon the beautiful blue waters. 
RVs are welcome at 5 of the park's campgrounds. These include Apgar, Avalanche Creek, Fish Creek, Many Glacier, and Two Medicine. Length restrictions do apply at all campgrounds and hookups are not available.
Those looking to camp in a longer rig or with hookups might consider setting up at West Glacier RV Park. 
#5: Mount Rushmore, SD
Most of us have seen photos of Mount Rushmore, but have you ever seen it in person? If not, maybe this should be your summer destination. 
Mount Rushmore National Memorial is an awe-inspiring sight to see. The onsite museum includes tons of information about how the incredible piece of art was created, as well as how it is maintained. 
Of course, you'll want to do more than just see Mount Rushmore during your getaway. Fortunately, there are tons of things to see and do in this part of South Dakota. We highly recommend Badlands National Park as well as Custer State Park.
Not sure where to stay? Rapid City has several great options and makes for an excellent home base when exploring the area. 
#6: Moab, UT
Next up: Moab, Utah. This place truly is magical, especially for those outdoorsy types who need room to wander and be free. The incredible desert landscape and surrounding rock formations are breathtaking, and the little town is absolutely adorable and offers great food, live performances, and even an outdoor skating night. 
We love that Arches National Park is right down the street, and Canyonlands National Park isn't too far away either. We highly recommend renting a Jeep and going on a guided off-roading tour. We also love visiting Dead Horse Point State Park and hiking to the Corona Arch. Lastly, those who enjoy rock climbing are sure to enjoy the many climbing opportunities surrounding the town. 
When it comes to finding a place to stay in Moab, we actually enjoy boondocking. There are tons of places to do so just outside of the town, and thanks to the free water and dump station in town, it's pretty easy to do. That said, if you prefer a campground, the Moab Valley RV Resort and Campground is a good choice. 
#7: Las Vegas, NV
Las Vegas is another popular destination with the RV crowd, and believe it or not, the City of Lights is actually pretty RV-friendly. This is thanks to the many RV parks that are available on the outskirts of town, as well as the natural attractions nearby. 
During your time in Vegas, we highly recommend checking out the Strip a few times, doing a bit of gambling (within reason and budget, of course!), seeing a professional Broadway-style show, paying Container Park a visit, and driving out of town to see Hoover Dam. We also really enjoyed the Neon Museum, where we learned all about the history of signage in Vegas. 
When choosing where to stay in Vegas, we recommend using this guide for choosing the best campgrounds for you. Keep in mind you probably won't find a traditional camping environment. 
#8: South Higgins Lake State Park, MI
It may not be the most well-known of the summer destinations out there, but South Higgins Lake State Park is popular amongst RVers. Why is this? Well, our guess is that it's because of the awesome location on the lakeshore, as well as the beautiful and well-maintained onsite camping. 
Fishing, swimming, and hiking are all popular activities here. The Michigan summer weather is perfect for spending time outdoors.
Campsites at this state park feature hookups, and some even offer 50-amp service and/or full hookups. 
#9: Cardinal Shooting Center and Campground, OH
Last but not least on our list of summer destinations, RVers love Cardinal Shooting Center and Campground in Ohio. 
Again, this place has some excellent summer weather. People love the shooting center, which is the largest in Ohio and features state-of-the-art equipment. They also appreciate the luxurious camping experience offered here. 
Full hookup sites are available and all campers have access to swimming, fishing, and other outdoor activities found onsite. 
There you have it, folks! These are the best RV summer trips out there. What are you waiting for? Choose one that sounds awesome to you, rent an RV, and get ready for the trip of a lifetime!