How Tos & Tips
December 22nd, 2020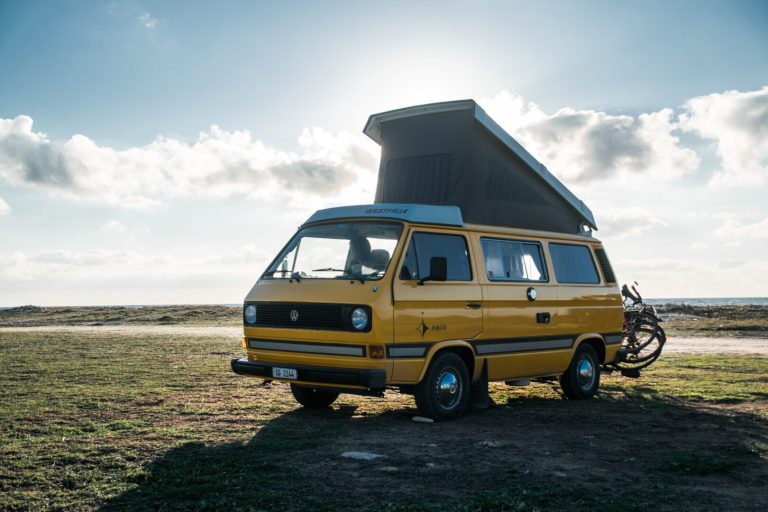 Hitting the road in an RV is awesome for a number of reasons. It allows you to explore without spending a fortune, you can see things off the beaten path while still staying comfortable in your home-on-wheels, and you're able to take spontaneous RV trip adventures.  
Of course, even a spontaneous RV trip requires some amount of planning. You have to decide where you're going (or at least what direction you'd like to go), find places to stay (even if you do so the day of), and seek out things to see and do.
Fortunately, none of this has to be difficult or time-consuming.
Below, we've included our top tips for taking the best spontaneous RV trip ever. Using these tips will ensure you have a place to stay and things to do without requiring too much effort on your part. Let's dive in!
Find the Right Rig
If you own your own RV, skip this section. For those of you who don't own motorhomes or trailers, the first step is to find the right rental rig for your adventure. RVs come in several different types and a number of sizes. Picking the right one for you can make all the difference in the world.
When shopping for the ideal RV for your last-minute trip, there are some things you'll want to keep in mind. Make sure to consider the following as you look around and before you book anything.
Some rigs may not be available
When narrowing down your options, be sure to leave a bit of wiggle room. If you're heading out at the last minute, many RVs may already be booked, leaving you with fewer options. This isn't a problem, it just means you have to be flexible when taking a spontaneous RV trip.
Look for Instant Book
Some RV owners offer an Instant Book option that is a bit faster than the more traditional rental approach. That said, even if you Instant Book, your rental will require some time to process, and some owners require a cushion of a few days, so leave a little bit of time for all of these things to happen if at all possible.
And if it's not possible? Message the owner to see what kind of arrangement you can work out. Most owners are happy to help when they're able.
Class Cs and Bs are the easiest to drive
If you've never driven an RV before and you're eager to hit the road quickly, we recommend looking for a class C or class B motorhome. For someone who has driven a traditional vehicle for years, these are much more natural to drive than the more bus-like class A RVs and leaps and bounds easier than towing most travel trailers.
Delivery is available
Another option for you spontaneous travelers in a hurry is to have the RV delivered or rent a stationary RV. These options don't require you to move the RV at all, and will be set up and ready to go when you arrive, saving you time and stress.
The downside? You won't be able to move the rig from one location to the next.
Pick Out Your Destination
While you absolutely can just hop on the highway and see where it leads, it's usually best to have at least a vague idea of where you're headed. This will give you a chance to pick out a few must-see sights and get some ideas of places to stay.
Choosing a destination for a spontaneous RV trip is not all that different from choosing a destination for any other getaway. That said, you will want to make the following considerations as you research your options.
Consider out-of-season destinations
Camping in a super crowded campground is not nearly as fun as having the place to yourself, and visiting busy attractions can be stressful.
Avoid the problems that come along with big crowds by choosing out-of-season destinations. Head to a southern beach in the spring, or go to a theme park in the fall. You'd be surprised how much more fun these places are when you have more space to yourself.
On top of that, finding a place to camp and securing last-minute reservations in out-of-season destinations will be much easier.
Try wide open spaces
Another option is to head someplace that always has plenty of space to offer. The majority of our country's national parks are so large that they never feel crowded, and many have miles upon miles of government-owned land just outside their gates, meaning finding a boondocking campsite is rarely a problem and making them ideal destinations for those looking to take a spontaneous RV trip.
Remember that some places require reservations
Some people pick destinations based on certain attractions. If this is how you choose a destination, remember that some attractions will require that you have a reservation to get in. Make sure there is availability before you drive hundreds of miles away only to be turned away at the gate.
Scout Out a Campsite
You'll also need to find places to camp along your route and at your final destination. This doesn't necessarily mean you need to book anything in advance, but knowing what kinds of options you have sure can save you from a lot of headaches down the road.
We recommend using the following tips when looking for last-minute campsite options.
Be flexible
We talked about being flexible when shopping for RV rentals above. This same tip applies when looking for a campsite. Flexibility can go a long way when trying to find a place to camp at the last minute, and will likely make the process a much less frustrating one.
As an example, you'll want to be prepared to stay in the next town over if the town you wish to visit is full.
Consider boondocking
We mentioned boondocking earlier in this piece, which is an excellent camping option if campgrounds all seem to be full, especially if you're headed to the western side of the country.
There are plenty of amazing government-owned lands that allow boondocking completely free of charge. While you will need to be prepared to camp without hookups in order to make this work, you will almost certainly be able to find a spot without an issue.
Look for first-come, first-served campgrounds
Another great way to get into campgrounds at the last minute is to seek out first-come, first-served campgrounds. These places don't take reservations, meaning the spontaneous travelers are on a level playing field with the planners.
Try to arrive just before check-in time on a Sunday for the best chance of snagging a spot at the most popular campgrounds.
Try Harvest Hosts and Boondockers Welcome
If you've called all the traditional campgrounds in the area to no avail, you might try turning to Harvest Hosts or Boondockers Welcome. These clubs give members access to a variety of campsites located on private land and offered up by happy hosts.
Because these are lesser-known camping options, you might just get lucky and find a place through one of these membership services. It will, of course, require you to purchase a membership, but considering how little these passes cost, you won't be paying any more than you would have paid for a campground stay.
Plan Your Route and Itinerary
A strict itinerary is never necessary for a successful vacation. That said, having a general idea of what attractions and entertainment are available and which things you'd like to see and do can be helpful. Additionally, knowing what route you plan to take is never a bad idea, especially when driving a big rig such as an RV.
We've already mentioned keeping in mind the limited capacities of campgrounds and the occasional need for reservations. However, we have a few more tips to share that may come in handy as you research things to do and plan your route.
Know how to find inexpensive attractions
If you're taking a spontaneous road trip, chances are you don't have a large budget to work with. In these cases, it's good to know how to find inexpensive and free things to do.
Our recommendations include the following:
Check the local library and coffee shop bulletin boards for free community events.
Look for activities in nature such as hiking, visiting beaches, and kayaking.
If you travel often, purchase a reciprocal museum or zoo membership that can be used all over the country.
Try pre-made itineraries
Don't have time to create an entire itinerary on your own? We have a huge number of premade itineraries and lists of things to do in specific locations. Use one of these to save yourself time and effort:
Use RV Trip Wizard
RV Trip Wizard is the best program we've found for building an RV trip route and itinerary. It shows low bridges and steep grades so you can pick an RV safe route, it gives suggestions on places to stay and things to see, and it allows you to quickly and easily put your own custom plan together while providing you with info such as total trip cost.
This program does cost money, but is well worth the cost if you travel by RV often.
Pack Your Bags
As much as we would all like to hop in the RV and hit the road right away, there are some things you won't want to be without while away from home. For this reason, some packing is required before you head out on your spontaneous RV adventure.
Of course, this doesn't have to mean you spend hours upon hours packing every little thing you could possibly need. In fact, we recommend keeping it as simple as possible by using the tips below.
Pack light
Obviously, packing less will require less time on your part. If you aren't sure what to cut out, keep in mind that you can wash clothes at laundromats and in campground laundry rooms, and little things can be purchased as needed.
This means that packing six outfits for a three-day trip is completely unnecessary, and worrying about whether or not you should pack the matches and nail clippers is a waste of time. Keep it simple, save time and stress, and fill any holes later on.
Consider paying for extras rather than packing
Of course, even when packing light, an RV trip does require more stuff than a traditional trip. You need things like linens for the beds, towels, and dishes. If your rental RV doesn't include these things already, we highly recommend paying the small fee to have them included. This will remove some of the work you need to do to prepare for your spontaneous trip.
Check out our packing list
Even if your RV will come packed with kitchen essentials, towels, and bedding, you might still feel lost when it comes to packing for an RV trip. This can make preparing for a last minute getaway overwhelming instead of fun.
If this is how you feel, we recommend turning to our RV packing list. This list will help ensure you have everything you need without overpacking, removing the overwhelm and making the preparations a little more exciting and a little less stressful.
Hit the Road
Once all of the steps above have been taken, you'll be ready to start your last-minute RV road trip. No matter where you go or what you do, you're sure to have a good time, and at the end of each day you'll have a cozy and comfortable RV home to return to. What could be better than that?
May contain affiliate links.