RV Owners
Last updated on January 14th, 2023. Originally published on January 6th, 2019
We can hear some of you balking at this post already. It is called camping, after all — can't we get away from the internet for two seconds? But whether we like it or not, the world of 2022 is a digital one. From superfluous pastimes like checking Facebook to completing a day's work or banking, almost everything we do requires an internet connection… short of actually sitting around the campfire and enjoying some s'mores with our loved ones. (And even then, the internet is a great source for campfire stories.)
RV camping is all about living a mobile life and enjoying the great outdoors. But it's also about having modern conveniences like a comfortable bed and a fully-stocked kitchen. For many travelers, having RV Wi-Fi is nonnegotiable — it's something needed to stay in touch with family members or to complete remote work while out on the road.
Thankfully, figuring out how to get Wi-Fi in an RV isn't as challenging as it was in the not-so-distant past. Whether you're thinking of using a mobile hotspot or setting up an RV Wi-Fi antenna, we're here to help you find the perfect solution for your rig.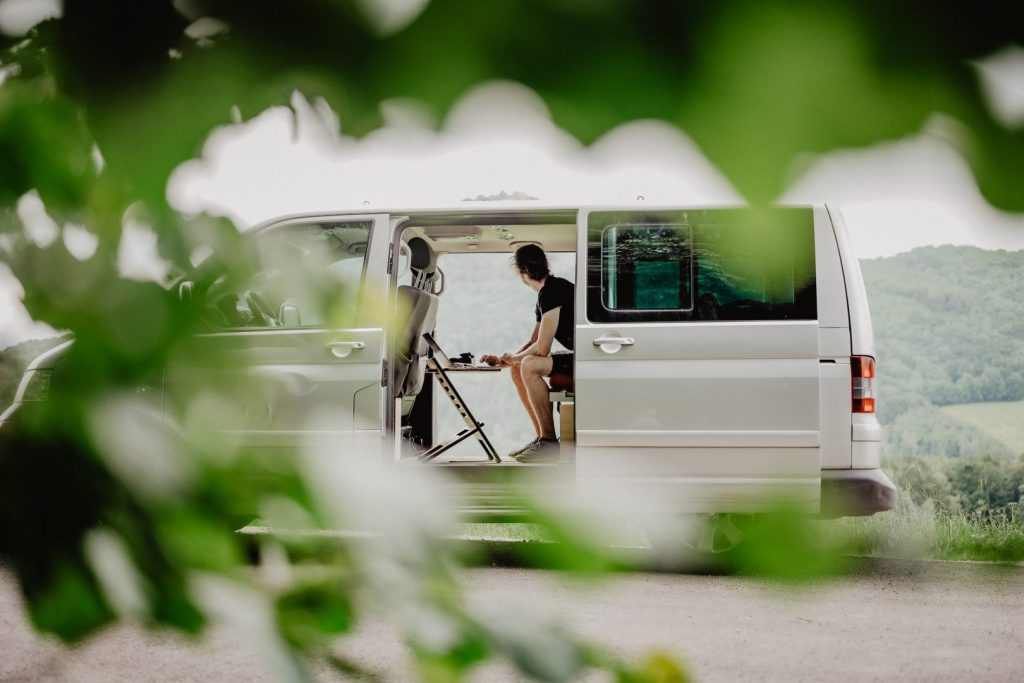 How to Install Wifi in Your RV
There are several different internet options available for your RV, from satellite setups to mobile internet routers. All have certain benefits and drawbacks, and which one works better for you will depend on what exactly you're getting online for in the first place.
Portable WiFi
Let's start with the wireless internet connection you probably already have available to you: your smartphone's data plan.
Whether you're an Android or iPhone user, smartphones are considered "smart" in part because they can access the entirety of the internet almost anywhere, although your specific coverage will depend, to some degree, on your carrier. A smartphone can be a great way to access the internet if you're only planning to use the web for light applications, such as checking Facebook or email from time to time.
Some cell phones also allow you to do what's called "tethering," which is where your cell phone works as a mobile hotspot (which we'll discuss more below), allowing you to use a laptop computer or other device based on your cell phone's data service. That's nice, because it means you potentially get internet access with a bigger screen and full-sized keyboard — but it's important to keep in mind that whenever you're using your smartphone's data, you're liable to run close to or over your monthly data limit, which can mean big fees and slow speeds. That's especially true if you want to stream movies or TV shows on Netflix, for example, or if you're using the internet to work for several hours.
If you're using a mobile data plan, you may want to invest in an RV Wi-Fi booster. These devices improve your service coverage by boosting and expanding your signal from nearby cell towers.
Mobile Hotspot
The next most common type of RV wireless internet is a standalone hotspot, which most of the cell phone carriers in the United States sell. These are small devices that allow you to access a wireless data plan with a given number of computers and tablets. In some cases, you'll pay for a given amount of data up front, whereas other plans have a month-to-month contract just like your cell phone.
Obviously, if you're only going to be using your mobile WiFi hotspot from time to time during weekend excursions, it doesn't make sense to sign a contract that'll make you pay every single month. So be sure to look for a personal hotspot that comes with a pay-as-you-go program, so you don't end up wasting money on a service you don't use.
You might also score a deal if you get a hotspot through your existing wireless carrier. For example, if your phone bill comes from Verizon, look for a Verizon hotspot. Keep in mind that different hot spots come with different features and compatibilities, and also that they are still limited by the carrier's coverage.
Here are a few hot spots from different mobile providers.
RV Wi-Fi Installation
For a more permanent solution, installing satellite internet for RV use is a great way to make sure you have access to the internet pretty much anywhere. That said, it can be among the most expensive type of connection for RVers — mobile satellite internet can cost thousands of dollars to install and maintain.
Keep in mind that satellite internet and satellite TV are two very different beasts. If you see a satellite TV company advertising bundled services with internet, proceed with caution. Many times, the internet provided by these services isn't actually satellite internet, which will be of no use to you when you're boondocking in the middle of nowhere.
For RV satellite internet, you'll need to contact a service provider like HughesNet or Mobile Satellite Technologies for installation. To learn more about satellite options, check out our companion article here.
Internet for Campers
These days, many parks and campgrounds provide RV internet service for guests. Depending on where you're staying, you may be able to connect via Wi-Fi or through an ethernet connection. For the weekend RVer, this is a great option that's affordable and easy to use.
If you plan on relying on public Wi-Fi services, buying a Wi-Fi extender antenna is one way to ensure a good connection. These devices allow you to pull the signal from a far away router and connect more reliably.
The downside, of course, is you can never be sure of reliability or speed. Security is another concern — when you're connecting to a public network, you can't be sure whether your information will be compromised.
Is a Smartphone or Hotspot Better for RVing?
Whether you're in a camper, a fifth-wheel, or a motorhome, Wi-Fi is almost as necessary as your connection to water and sewer! But let's be real — not everyone needs the fastest, more reliable internet at every minute of every day. After all, the whole point of being in an RV is to enjoy nature, right?
For the casual RVer, we recommend using your phone as a mobile hotspot. This is enough to ensure you have enough signal to check your email or post your vacation photos while still having a secure connection.
If you're a full-time RVer or someone who needs to stay in touch with the office, purchasing a mobile hotspot will almost certainly do the trick. It's slightly more expensive but still private and easy to use.
Finally, if your travels involve adventuring to remote areas — or if you can comfortably afford it in your budget — satellite internet is your best bet.
Looking for more? Check out this article – Discover The Best RV Internet Service Option For Your RV
This post contains affiliate links. RVshare may receive compensation if you make a purchase after clicking on a product link.