Travel Inspiration
Last updated on August 17th, 2023. Originally published on May 17th, 2019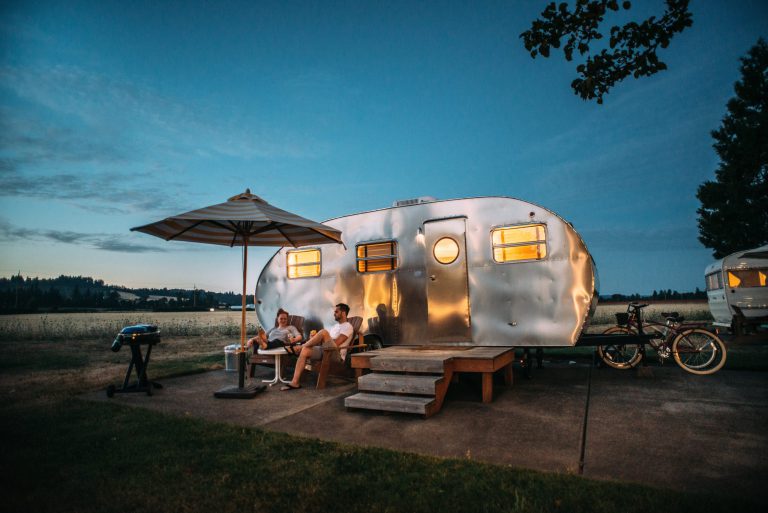 RVing for Newbies
For those who are new to RVing and thinking of trying it out, the RV rental world can be a vast and confusing place. This can leave many newbie RVers feeling completely lost and overwhelmed as they attempt to plan their first RV adventure.
Obviously, this isn't how anyone wants to feel when planning a fun getaway, and we don't want you to feel that way either! For this reason, we are going to use this article as a guide for those who are completely new to RVing. Here you'll find all of the most important RV rental basics all in one place so you can start out your RV trip with confidence, and end it with memories that will last a lifetime.
The Benefits of Renting an RV
There are many things that can stand in the way of enjoying a fun, carefree vacation full of amazing adventures. Some of the most common reasons why Americans famously don't take vacations include:
Airplane tickets cost too much
Hotel rooms are too expensive
Traveling in a cramped car is uncomfortable
Tent camping is difficult during cold or rainy weather
Flying to destinations limits the places you can see and visit
An RV will quickly eliminate so many of the obstacles that have stopped you from feeling free to see and do all that you desire during a vacation to any and every destination you want to visit in the country.
Here are a few of the many benefits that an RV rental provides:
You get all of the benefits of a house, while on the road. Depending on the kind of model you rent, an RV may come standard with homelike amenities like a bathroom, a kitchen, a master bedroom, tons of storage space, and a dining area. 
On top of just feeling homey on the inside, many models come with things like outdoor awnings and kitchenettes. You can lounge around while grilling and feel just like you're hanging out on the patio.
You can stay at some of the best attractions in the country — something a hotel can't provide. Why stay near the national park when you can stay in it? Camp right under the stars, while having the comfort of your refrigerator, microwave, and everything else ten feet away from you.
RVing is a great way to travel with a big family or group of friends. Flights, hotels, and vacation rentals can be costly. RVing can be more comfortable, more affordable, and more enjoyable than other modes of travel.
If you're road-tripping, an RV is a total must for many reasons, but mainly for the convenience factor. Since your living and sleeping quarters will travel wherever you do, this means you have the ability to make impromptu stops without worrying about making it to your vacation rental on time.
Renting an RV offers the opportunity to experience camping in a unique way. Step back in time with a vintage Airstream rental or try out van life with a class B conversion rental.
If you're thinking about buying an RV, renting one first gives you the opportunity to test out the different styles you like and see whether living or traveling in a camper is right for you – all before you make the commitment!
Choosing an RV Rental
The next section of this guide will cover how to find and rent the right RV for you and your travel party. Whether you're a solo RVer looking to escape off the grid, a family with kids heading to a local campground, or a group of friends planning an epic cross-country road trip, there is an RV rental out there for you, and we can help you find it.
Types of RVs
Understanding the different RV classes and what each one offers will help you get a feel for which type of RV rental will work best for you. This helps narrow down the pool of possibilities, making the rental process a little less overwhelming.
Here's a brief overview of the different RV classes:
Pop-Up or A-Frame Travel Trailer — Very lightweight pull-behind RVs that pop up to create more space
Easy to tow and set up
Ideal for singles and couples
Suitable for boondocking and dry camping
Travel Trailer — Hard-sided pull-behind trailers
Available in a wide range of floor plans, shapes, and sizes from tiny teardrop campers to large models with multiple slide outs 
An affordable option with homelike amenities
Ideal for families of all sizes
Fifth Wheel Trailer — Hard-sided trailers that hitch in the bed of a truck and tend to be on the large side
Easier and more stable to tow than other pull-behind trailers
Open-concept living space
Equipped with luxurious amenities
Toy Haulers — Available as motorhome, travel trailer, or fifth wheel models, and equipped with a rear garage to haul "toys" like kayaks or dirt bikes
Garage doubles as extra living space
Rugged and durable, making them suitable for off-grid adventures
Some models include open-air patios to contain pets or enjoy time outside
Class C Motorhome — A mid-size motorhome that usually includes an over-the-cab bunk or storage space
Best of both worlds: slightly lower costs and smaller sizes with many of the same luxuries and amenities that their Class A cousins provide
Ability to tow a small vehicle for sightseeing or errands
Offer multiple sleeping options
Great option for families traveling with children
Class B Motorhome — The smallest-sized motorhome, also referred to as a campervan
Ensures your basic needs are met no matter where the road winds
Ability to go pretty much anywhere, making them usable as an everyday vehicle
Best gas mileage of all RV types
Perfect for the rugged outdoors lovers who don't really care so much about interior living space and are planning on spending the majority of their time adventuring
Class A Motorhome — The biggest of the motorhomes, these look like buses and are often called coaches
A true home on wheels with optimal living, dining, storage, and sleeping space
Ideal for retirees or large families
Spacious and suitable for long-term stays
To learn more about the various types of RVs, make sure to check out our article on the subject.
Choosing the Right RV Rental
Now that you know a bit about the different types of RVs, you need to decide which one is best for you and what you wish to get out of your RV rental.
Try asking yourself the questions below and use your answers to narrow your options:
What kind of camper am I? Do you like to rough it, or do you prefer to camp in style? Are you traveling to see sights or enjoy nature? Read this article to help you figure it out.
How many people will I be traveling with? A couple can be happy in a tiny camper. Meanwhile, a large family will need something bigger.
What is my budget? Obviously, you will need to find a rig in your budget.
How often will I be moving? If you'll be moving often, a motorhome is much more convenient than a trailer.
Am I comfortable driving an RV? If the answer is no, an RV rental that can be delivered is a must.
Read this piece to learn more about what you should be looking for to ensure the rental RV you pick is the perfect one for you.
Where to Go
Before you finalize your RV rental, you'll of course need to decide where you want to go. 
If you want to spend most of your trip exploring the outdoors, national parks and state parks are the way to go. If you're looking for solitude, you can find tons of remote camping options at state forests (sometimes even for free!). Just make sure the rig you rent is well-equipped to handle the terrain if you plan to do any off-grid camping. 
Meanwhile, RVers who want to check out attractions along their route or at their destination might prefer campgrounds closer to the sights they are seeing.
You could do a tour of several of the national parks… or one long in-depth visit at one of the biggest, like Yellowstone or Glacier. You could traverse the west coast's famous Highway 1 from end to end. You could put together an incredible tour of the American south, or visit some of the most important U.S. historical sites.
There are endless travel options when it comes to RVing and if it's your first trip, you might feel pressured to jam-pack a ton of activities and stops into your itinerary. Try to choose your must-sees and dos and save the rest for future trips. Oftentimes, new RVers try to do too much and wind up becoming exhausted, unhappy campers. 
And remember — if you need to change your itinerary at any point during your trip, your accommodations are on wheels. In most cases, a last-minute change of plans is no big deal and is yet another perk to RVing. 
If you know what kind of camping situation you'd like, but need help choosing a destination, we've written dozens of blog articles on top-rated destinations, campgrounds, and attractions all over the country.
Click here to find travel inspiration
Need help finding campgrounds? Check out our campground guide to browse top campgrounds in every state.
Planning Your Route Ahead of Time
It's good practice to plan your route ahead of the trip itself. You'll want to identify campgrounds and parking lots along your route that allow overnight RV parking so that you don't run into a situation where you find yourself stranded without a place to stay for the night.
Be aware of additional restrictions that may apply. Some campgrounds and RV parks do not allow for certain classes of motorhomes, and many will require a reservation to be booked in advance (particularly during peak season). Additionally, most higher-end campgrounds and RV parks adopt the "10-year rule" and prohibit campers 10 years or older. For national park stays, there is an average maximum length limit of 27 feet, though some parks will allow for RVs up to 40 feet in length. 
Planning your trip route is also crucial for ensuring that you don't travel in excess of your daily mileage limit if your rental comes with one. Driving more than the agreed-upon limitation may cause long-term deterioration to the engine. As such, owners often set a fee for excess daily mileage. Straying too far from your planned route can put you in a situation where you're spending way more on gas and mileage than you originally intended. If your budget is limited, these fees can be a significant burden, so they are best avoided unless absolutely necessary.
RV Rental License and Age Requirements
Many new renters have questions regarding exactly what you need to qualify, book, and drive a rental RV. Oftentimes, people don't realize that there are actually rules regarding who can legally obtain a rental RV until they've already started planning their vacations. The good news is that qualifying to rent a recreational vehicle is actually pretty straightforward. 
What is necessary to book a rental RV?
You must possess a valid driver's license and a major credit card to qualify to book a rental RV. It's important to note that temporary licenses are typically not permitted. Sometimes a credit reference, employment references, or verification of a foreign passport may be required prior to a rental agreement.
Do you need a CDL to drive an RV?
Many people shy away from renting RVs because they assume that a special license is required to operate a vehicle of this size. Fortunately, you don't need a special license or certification to drive a rental RV. This means that you're qualified to operate a rental RV if you know how to operate a regular automobile and possess a valid and current motor vehicle license.
How old do you have to be to rent an RV?
The minimum age requirement to rent an RV is 25. While some states do legally allow drivers to rent RVs when they're as young as 21, individual rental agencies can create their own age policies. Plus, oftentimes companies that rent to drivers between 21 years of age and 24 years of age will tack on extra fees like a daily surcharge. 
Where to Rent an RV
Considering this is an RV 101 article, it's likely that you aren't even sure where to look for a trailer or motorhome rental. Fortunately, you've come to the right place.
There are two main routes you can take in terms of who you rent from:
Nationwide Rental Companies — Nationwide rental companies are chains with locations in various places across the country. Some of the better-known rental companies include Cruise America and El Monte RV. These are an okay choice for some, but do have a good number of drawbacks.
For starters, they don't have locations in every city, meaning you may not have easy access to a chain rental company. Additionally, the RVs rented by these companies tend to be very basic, offering none of the homey amenities or variety in floor plans that many are looking for.
Private RV Rentals — The other option is to go with a private RV rental. In some cases, you can find rentals through local RV dealerships. That said, it's much easier to find a suitable private RV rental right here on RVShare!
Renting an RV with RVshare
RVShare is a peer-to-peer rental site that hosts the largest community of RV owners and renters out there. We have thousands of privately owned RVs available for rent in nearly every city in the country. RVshare's selection of unique RVs come in a huge variety of shapes, sizes, and floor plans, and with all kinds of extra amenities to choose from, making it easy to find the perfect rig for you and your travel party.
And best of all? You'll be renting from a real person who knows their unique rig in and out. You can even ask questions and communicate with the owner right through the RVshare platform before and after you book. 
How does renting through RVshare work?
Although we have thousands of RV rentals to choose from, we make searching for your perfect rental a breeze.
Simply head to rvshare.com and locate the search box and follow these steps:
Enter your location, or where you want to rent the RV from. This could be anywhere you choose, whether that's your hometown, or closer to your camping destination. 
Enter the dates you want to pick up and drop off your RV. If you can be a little flexible with your dates, you may be able to save a little extra money
Select your desired RV type. 
Choose "destination delivery" if you would like your RV rental delivered.
Filter your results. You can then narrow your search down by rental price, vehicle length, price range, whether or not pets are allowed, and amenities such as shower, toilet, refrigerator, TV, and more. 
When you see one you like, just click "request to book" and that's it!
If you're a little confused with anything, you can always reach out to the owners themselves and ask any question you want. On top of that, when booking with us, you get a 24-hour travel concierge included to help you with any other details you can think of.
Some RV owners also offer Instant Book which allows you to book your RV instantly without having to send a request first. This makes booking your RV rental super quick and easy, as you don't have to wait for the owner's response to confirm.
Read our article on Instant Book to learn more:
Instant Book: Answers To Your Questions and Why You Should Add This Feature To your Rental RV
RVshare Worry-Free Rental Guarantee
At RVshare, your safety and enjoyment are top priorities which is why every rental comes with a worry-free guarantee. While we trust our owners to resolve their customer issues independently, we're here in the event that something should go wrong.
The Worry-Free Rental Guarantee provides:
Payment protection against fraudulent listings
A dedicated Customer Experience team to answer your questions before, during, or after your reservation
Rental assistance if the RV is significantly misrepresented or you are denied access
Our Booking Service team to rebook you another RV should your RVbe canceled by an owner last minute
Security deposit protection if a charge is wrongfully withheld after your reservation
How much does it cost to rent an RV? 
Rental rates vary widely depending on several factors such as the season, the size of the RV, how old the RV is, and the length of your trip. Similar to booking a hotel – the earlier you book, the better chance you have of locking in a low rate.
You'll have to pay a deposit to reserve the RV, and in most cases, a refundable damage deposit as well. Regardless of which rental service you use, always check the terms of the rental since there are often extra fees. These may include prep and cleaning fees, service fees, mileage fees, or generator fees. Other cost factors include tax and insurance.
Prices will also vary depending on whether you rent from a traditional RV rental agency or a peer-to-peer network of by-owner rentals like the one facilitated by RVshare. Because private owners don't have to foot the overhead costs of running a business, they can usually afford to offer their rentals for a fraction of the price you'd find at the big box franchises from across the country.
RVshare includes everything in the total reservation price when you book so you don't have to worry about any extra, hidden fees that could bump up your travel budget unexpectedly. There's nothing like a case of sticker shock to ruin what was otherwise a perfectly wonderful travel experience!. And with per-night prices starting as low as $50 through the peer-to-peer market — and free and cheap camping available in more places than you might expect — you have full control over your bottom line when it comes to your budget.
RV Rental Price Average
With so many factors coming into play, there's really no one easy answer to the question, "How much does it cost to rent a Winnebago for a week?" Different owners (and rental agencies) will have different prices, which may also vary by your geographic market. We've seen weekly RV rentals go for as little as $100 per day (adding up to $700), or significantly more… as well as owners who offer weekly rentals using their daily rates and offering what's essentially a buy-six-get-one-free deal.
All that said, here are some general estimates for how much you can expect to pay for a week-long RV rental based on the different RV classes:
How much to rent a large RV for a week:
Renting a large Class A will cost you anywhere from $1,500 to $4,000, depending on its age.
A large Class C, like a Super C, can range between $1,000 to $2,500.
A large travel trailer will cost you an average of $900 to $1,500 for the week.
A large fifth wheel will range from $1000 to $2,000, depending on its age and features.
How much to rent a small RV for a week:
Tiny travel trailers are the most affordable of the bunch, coming in at around $500 for the week.
Class B vans tend to be between $500 to $1,000 for an average make and model.
Vintage rebuilds or custom-built Class B's can be anywhere from $1,000 to $1,500. Sprinter vans and Airstreams are the most expensive, costing around $2,000 per week.
RV Rentals with Unlimited Miles
Some RV rentals charge per mile traveled, and others have a set number of free miles, with charges for overages. You may be wondering, how can you avoid an extra expense if you travel more miles than you thought you would? It's simple — by finding an RV rental with free mileage rates!
If you choose an RVshare rental with a free mileage rate, you can travel the USA with peace of mind, knowing that you have free unlimited miles, and won't be charged extra, no matter how far you travel.
Whether you make an unexpected pit stop, decide to take a more scenic route, or make a detour to see another attraction that's a bit out of the way, you won't have to worry about going over your planned mileage. Rent anything from a little pop-up camper to a massive A-Class bus. From the small to the large, the rate you're paying covers you for your entire trip. If you rent an RV with unlimited miles, you won't have to miss out on a thing!
If you find something you're interested in while browsing through the listings, you can read the description to find out more about the mileage rates, as well as other terms and conditions.
RV Rental Delivery
If you've booked your RV for delivery, chances are it's because you're traveling from out of state or looking to avoid towing or driving the RV altogether. For a newbie, this is totally understandable and even recommended if you're not quite comfortable with the idea of taking an RV on the road yet. The owner of the RV will simply meet you at your desired destination with the RV rental and set it up for you.
Whether you're attending an event like a music festival or simply meeting up with friends for a weekend camping trip, having your rental delivered takes the worry of driving completely out of the equation.
The delivery price range is defined using two rate types: a delivery base rate and a fee for delivery over a certain mileage.
The delivery base rate represents a fixed price that a renter will be charged for traveling up to a set mileage
The fee for delivery over a certain mileage represents a per-mile charge up to a set mileage outside of the owner's delivery base rate range
Stationary RV Rentals
If you don't wish to tow or drive an RV, you also have the option to book a stationary RV rental with RVshare. This can make for a great getaway if the owner's property is a destination in itself. The RV owner will provide a description of the property where the RV is located and help you understand what kind of hookups are offered (dry or not) as part of the rental. 
Things to Look For
There are a couple of other things you'll want to look for when shopping around for an RV rental.
One of these things is roadside assistance. Lucky for you, RVShare makes this easy by offering one of the best 24/7 RV roadside assistance programs out there. This will ensure your RV adventure will not be ruined in case any issues arise, so you can travel with peace of mind.
The other thing you absolutely must have before hitting the road? Insurance, of course. One of the most important travel trailer and motorhome basics is ensuring you have good insurance before traveling. Once again, RVShare makes this easy. The RVShare RV rental insurance policy is top-of-the-line, meaning you can rest easy knowing you are protected while using the motorhome or trailer of your dreams.
The Essential Package of insurance and protection will be automatically included in the quote when booking an RV that is covered by RVshare Protection Plan. Renters will then have the flexibility to choose a different package at the time of booking.
 Click here to read our Ultimate RV Insurance Guide for more info.
Always Inspect your RV Rental
Before you set off on your RV adventure, conducting a reasonable inspection is good practice. Make sure to note any cosmetic, mechanical, or structural issues so that you have a record to clear up any confusion later on. If you notice any glaring issues that could affect the quality of your trip, consider the ramifications carefully. You may even be able to use these flaws to negotiate a discounted rate with the owner.
What to Pack
Another important aspect of RVing for newbies is what to pack. Clearly, you can't set out on your journey with an empty rig.
First, consider where you're going and the type of weather you'll be camping in. If you're camping during the summer, you'll obviously want to think about items like bug spray and sunscreen. If you'll be doing some winter camping, a ski coat and extra blankets might go on your list. 
It's also never a bad idea to plan for unexpected weather, even for summer camping as temperatures can drastically change from day to night. We recommend always having a rain jacket, ponchos, an umbrella, and long shirts/pants — just in case! You never know when a thunderstorm or cold front might roll in. Pack accordingly for any adventures you plan to partake in. This could mean bringing hiking boots, snow gear, or beach towels. Your list should include everything you need to stay comfortable and safe on your RV adventure. 
What does my RV rental come with?
It's always a good idea to find out what's included with your RV rental before making your packing list. Sometimes things like linens and dishes are included. Other times, you can pay a small amount for the RV to come stocked with these things. This will help make packing easier and is especially nice if you'll be flying to pick up the rig. If the rig has a kitchen, it's also helpful to know what equipment you'll be working with so you can properly plan meals.
Consider finding out if these items come on board your RV rental:
Coffee maker/ french press
Microwave
Oven
Eating and cooking utensils
Measuring cups
Cutting boards
Grill
Generator
Cleaning supplies
Emergency supplies like a first aid kit, tool kit, and fire extinguisher
Fire starting supplies
Trash bags
Toilet paper and paper towels
Bath/ Kitchen towels
Flashlight
If not, you may need to think about bringing some of these items with you.
Packing List Examples
When considering what to pack for your first RV trip, we recommend making not just one all-encompassing list, but rather separating it up into several categories, which will help ensure you remember to take everything you need. Here are some sample packing lists to help you get started:
Clothing
Underwear
Socks
Shirts
Pants
Shoes
Outerwear
NOTE: For camping, it's a good idea to ensure your clothing is lightweight, moisture-wicking, and can be layered. That way, you can adjust your outfits to the temperature around you, no matter what activity you're partaking in or what the weather is like. Of course, if you're planning a winter camping trip or to travel somewhere snowy, it's important to bring along even more outerwear and gear built specifically for more serious weather.
Accessories and Personal Items
Clothing accessories, like hats and scarves
Personal electronic items, like cell phones, laptops, cameras, and chargers (although it's nice to take the chance to disconnect if you can!)
Medications and other necessary personal items
Toiletries
Shampoo and conditioner
Body wash
Face wash
Moisturizer
Sunscreen and chapstick with SPF
Hair products, brushes, etc
Tweezers and other grooming supplies
Adventure Gear
This list will vary depending on what your version of "adventure" looks like, but don't get caught without the gear you need to make your dream vacation a reality! Whether that means your trusty mountain bike or a kayak, be sure to bring it — or make arrangements for rentals once you arrive at your destination. Certain RV owners may even offer adventure gear rentals, like bicycles and kayaks, at an additional charge. Just don't forget to make sure your RV rental has enough room on board for any large toys you plan to bring along!
For an RV trip, wherein you're basically bringing a whole house along for the ride, don't forget about the following categories. Again, you'll note the "cookware" and "linens and towels" categories may have been taken care of by the RV rental owner, who often provides these items when you're renting on the peer-to-peer market.
Emergency Safety Items
From traffic triangles to thermal blankets, there are certain emergency items no camper should be without. Here's our post on emergency preparedness items you need to have onboard before you embark on your RV trip.
Cookware
Pots, pans, mixing bowls, cooking utensils, and everything else you need to whip up your favorite recipes
Dishes for serving and eating
Flatware and serve ware
Paper products like paper towels and plates for easy clean-up
Linens and Towels
Bath towels
Hand towels
Face towels
Bedsheets
Blankets
Pillows
Household Goods, Including Food
Dry foods, like cereal and rice
Fresh foods, like produce, milk, and deli meats
Road snacks, like nuts and jerky
Other miscellaneous household items, like paper towels and hand soap
COFFEE (or tea if that's your jam!)
Entertainment for Slow Days
Don't forget to pack some appropriate "time fillers" for when you want to take a lazy day off. It's not uncommon for RVers to plan for a packed schedule of road-tripping and excursions, but you may find that you want to skip a few activities every now and then and just relax. Be sure to pack whatever you and your passengers need to pass the time – whether it's books, board games, or tablets.
How Do You Pack Light for an RV Trip?
Just as important as considering what to pack for a week-long trip… is considering what not to.
It's all too easy to *over* pack for your week-long vacation, and doing so can quickly lead to a claustrophobic, cluttered camping space that's anything but relaxing. Thus, learning how to pack for an RV trip is also the process of learning how to avoid going overboard.
Pack Only What you Need
We recommend going through all of your clothing and ensuring you have about one outfit per day, along with a few pairs of pajamas and any special extras you might need (some fancy duds for date night; your favorite hiking outfit for that awesome trail you found near the campground). Extra pairs of socks and underwear can come in handy and don't take up too much space, but you want to avoid just throwing all your favorite clothing into one big pile… especially if you're traveling with multiple people. (It can seem like your rig has a lot of storage room, but trust us, it goes fast!) Some RV rentals even come with washer/dryer combos and you can always stop at a laundromat if you need to.
When it comes to accessories and shoes, it's also easy to overdo it. Chances are you're really only going to wear one, or maybe two, pairs of shoes. Packing more than you need may seem comforting like it ensures you'll have everything you want whenever you want it, but in the limited footprint of an RV, having too much stuff can become a burden quickly. Plus, it means more schlepping of things onto and off of the rig!
Be Mindful When Packing Food 
Finally, one of the easiest things to go seriously overboard with when it comes to packing for your first RV trip: food!
We recommend that campers put off buying their groceries until they've arrived at their destinations, as all that food is heavy and can put a lot of extra weight into your rig. For those hauling travel trailers, that extra weight can become a serious burden on their hitch… or even a downright safety issue if it puts you over your towing weight limit. Plus, your food stores will be a lot fresher and better thought-out if you purchase them once you're already set up at your campsite and ready to start your vacation. (That said, you probably want to make sure you have a few quick snack items, at the very least; there's nothing like attempting to set up your campsite hangry!) Plan to go to the grocery store a time or two during your trip rather than trying to cram a whole bunch of fresh ingredients into your tiny little kitchen.
Meal planning works just as well on the road as at home too, and it's easy to make a one-pot meal, like stew or chili, that can be reused for several lunches and dinners.
Even so, if you've got kids along for the ride (or just a very hungry spouse), you may still be wondering how you're going to get all of the necessary items into the confines of your RV kitchen. If that's the case, check out this post about meal planning and fresh food storage on your RV, plus these tips for unique ways to cook while on the road.
Wait to Fill up on Water
Finally, we also strongly encourage campers to avoid traveling with their rigs full of water, whether fresh or waste. Water adds a shocking amount of weight — eight pounds a gallon! — and with some RVs boasting holding tanks with a combined total of over 100 gallons, water is a fast way to take your weight over the limit. Instead, fill up once you arrive at the campground… or, if you're boondocking, right before you get to the point where it's time to get off-grid.
Driving an RV
If you won't be having your travel trailer or motorhome rental delivered, you will have to drive it and park it at the campsite yourself. Those who are traveling to multiple places will have to do this more than once.
As you might imagine, driving an RV is quite different from driving a regular vehicle, and certain RV models can even be very different from one another in terms of how they drive. Although the RV owner will almost certainly give you a quick rundown of how to operate their vehicle, it's a good idea to gather some information on how to drive the RV you'll be renting.
Some of our favorite RV driving tips include the following:
Leave plenty of distance. Big rigs don't stop as quickly as smaller vehicles. Leave yourself plenty of extra room to put those brakes to work.
Look ahead. Because braking can take longer, make sure to always be watching as far ahead as possible so you can anticipate stops.
Take turns wide and slow. Turning in a large vehicle or when towing is tricky. Make sure to slow way down and take turns wide in order to avoid hitting trees, poles, and curbs.
Avoid low bridges and steep grades. Low clearances and steep mountainsides are recipes for disaster in an RV. Avoid these troublesome obstacles by using a trucker's atlas to plan your route.
Know how to hitch up properly. Doing a poor job hitching up could be a huge problem down the road. Make sure your vehicle is rated to tow the trailer in question, and then hitch it up correctly before you pull out. (Of course, this assumes you'll be going in a travel trailer or fifth wheel instead of a motorhome.)
Know how to back up and park safely. This is incredibly tricky at first, and since you need this skill to pull into almost any campsite, learning ahead of time is ideal. Consider asking the owner if you can take the RV for a quick test drive with them before you head out.
Watch the weather. Driving an RV in high winds, snow, or even rain can be extremely dangerous. Therefore, we strongly recommend keeping a close eye on the weather at all times and avoiding days that could be problematic in terms of weather. 
How to Budget for an RV Trip
Of course, you will want to make sure you budget your trip well. Keep in mind that in addition to rental fees, eating out at restaurants, campground fees, and attraction admissions, you will also have to pay for fuel to get from point A to point B, as well as groceries and any other necessary household items for the RV.
Fortunately, it is possible to cut costs quite a bit, making your camping adventure pretty budget-friendly.
Try the tips below to save on your next trip:
Use reciprocal memberships to save on attractions. The "America the Beautiful" national parks annual pass is one of our favorites. We also love the ASTC and AZA reciprocal programs, as well as the Cedar Point and Six Flags reciprocal memberships.
Use camping clubs and memberships to save on camping fees. Those who will be doing a lot of camping in one region might like the Thousand Trails Zone Pass. Meanwhile, those who take shorter trips might prefer Passport America. Learn about all your options in this article.
Save on fuel. Do this by using the discount offered through gas discount programs such as GasBuddy.
Camp during the off-season. Many campgrounds and attractions will give discounts to those visiting during the off-season. You might even be able to find a discount on your RV rental.
Use Groupon. Groupon offers lots of awesome discounts on attractions and restaurants. Take advantage of the website!
Long-Term RV Rentals
When it comes to adventuring, some is good, but more is better — which is why many people are interested in knowing how to go about securing a long-term RV rental. For instance, maybe you're looking to take on a one-of-a-kind, cross-country adventure, and you'd need an RV for at least a few weeks to make it work. Or maybe you're moving to a new city and want to ease into your life there as easily and comfortably as possible. Either way, an RV can make it a whole lot easier: you'll have all your basic needs met wherever you are!
People often search for terms like "recreational vehicle leasing" or "travel trailer lease" when looking for a long-term RV rental agreement. But it's important to understand that you can't actually lease an RV like you would a car. You can, however, rent one for an extended period of time, and doing so can be a great solution to a variety of travel needs or even challenges with living spaces.
The main difference between renting and leasing is the set period of time for which a rental or lease agreement might last. The leases you get on vehicles from a car dealership might extend a year or more, whereas the rental agreement you draft up with a private RV renter will generally be by the week or month.
Long-Term RV Rental Benefits
Renting an RV for multiple weeks or months at a time gives you so much more flexibility to truly experience the destination you're traveling to — or to get yourself settled if you're renting the rig for a long-term housing solution.
Plus, long-term rentals come with incentivized pricing, meaning you're paying less per night for your rig. That means you can use the extra money on the fun stuff!
How much does it cost to rent an RV long-term?
If you're looking for a long-term camper rental, you may be wondering, how much does it cost to rent an RV for 3 months? What about 6? With per-night prices hovering at around $200 or more on average, it may sound overwhelming to keep yourself in four walls — and on four wheels — for more than a couple of nights.
But there's actually a spot of good news here! For many people renting their RVs, longer-term rentals are actually better: they ensure the rig will be rented for more time, meaning less work has to be done in marketing and less time will be spent with the rig sitting empty and not making any money at all. Thus, lots of people who offer their RVs for rent long-term will actually offer incentivized prices, giving renters a reduced or discounted rate when they book by the week or even by the month.
That's not to say, of course, that it's going to be cheap; securing long-term housing is an expensive venture in any context, and renting an RV for several weeks or a month will generally be comparable to paying rent. You may be looking at rates between about $1,500-$4,500 or more per month, depending on what kind of rig you rent and who you rent from… but we'll dive more into how to find the best deals on your long-term RV rental in just a moment.
Best Types of RVs for Long-Term Renting
There are a wide variety of types of RVs on the market, and certain ones lend themselves better to long-term RVing than others. Much of it depends on what kind of circumstances you're facing and why you want to take out a long-term RV rental in the first place.
If you're traveling cross-country for an extended time with a large family, chances are you'll want all the extra legroom for people and gear you can get. In that case, a large Class A or fifth-wheel travel trailer will give you the amenities and generous amount of space you need to travel in comfort.
Of course, large RVs also come with large gas tanks, so if you're being budget-conscious, filling up one of these massive beasts could easily eat away at your travel budget. If you're looking for a more rugged experience (or traveling solo or only as a couple), a smaller RV like a sleeper van or small travel trailer could be a better option, particularly if you're interested in backwoods camping or boondocking off the grid. (It's much easier to navigate these small RVs down narrow dirt roads without worrying about getting stuck!)
Finally, for those looking for long-term housing, either for themselves or for an event, travel trailers tend to offer the best ratio of living space to price.
How to Find a Long-Term RV Rental
Now that we've talked about the pros and cons of long-term RV rental, and what it actually entails, let's get down to the nitty gritty… how do you actually find one?
While traditional RV rental agencies and dealerships don't usually offer long-term RV rentals (though they can sometimes be secured), the peer-to-peer RV rental marketplace at RVshare does! Our fleet of reliable and cozy vehicles is managed by private owners, who can set their own rules about how long their RVs are rented for — including long-term rental periods.
Not every owner will offer their rig for weeks or months at a time, but many will. And even if you don't see the availability on the rental listing you're interested in, you can always reach out to the owner directly and ask if they'd be willing to entertain the idea. Best of all, our rigs come in all shapes, sizes, and footprints, rather than limiting you to only Class A or Class C motor coaches like many other RV rental companies do.
Rent-to-Own RVs
Buying an RV is a big investment — you not only have to think about the cost of the camper itself, but additionally, you will have to budget for things like storage arrangements, maintenance fees, and insurance. Obviously, if your budget is tight and you don't see yourself using your camper often, renting one is the way to go. But if you're set on buying your own rig and are worried about upfront costs, rent-to-own campers are a great option. 
Benefits of Renting to Own
A quick search of "rent to own campers near me" will pull up thousands of hits on Google. There are plenty of RV owners and dealers who are willing to work with people who want to eventually own their campers.
Renting to own is the best of both worlds:
Rent-to-own RVs are often financed by the dealership or owner directly. That means you don't have to deal with financing through a bank. It's a good way to get an older RV, which banks won't usually finance.
You won't need to put down as much of a down payment. In some cases, you may not need one at all.
Renting to own is a good option if your credit is less than desirable. Traditional banks treat RV ownership as a luxury, so their credit requirements are usually pretty tight. However, keep an eye out for rent-to-own campers, no credit check scams. While there are legitimate deals, some of these scams have interest rates through the roof.
You may be able to negotiate the terms with the owner or dealer. Many times, rent-to-own RVs are listed as such because the seller is motivated, or the dealership needs to move inventory. Use that to your advantage.
While RVshare does not offer a rent-to-own option, we wanted to make sure you know every possibility that is available to you. Rent-to-own RVs give people the opportunity to own an RV when they may not have otherwise been able to. 
Conclusion
We hope this rental guide helps you find the perfect rig for your first RV adventure and avoid the mishaps usually experienced by newbies. By educating yourself and planning ahead of time, you can hit the road with confidence and experience the best of what RVing has to offer. 
No matter where your trip is taking you, renting through RVshare is a great way to get where you're going with ease. Our network of well-maintained rigs are owned and offered for rent by everyday people just like you, which means you stand to save a bundle on the big box store prices.
Along with cash savings, renting on the peer-to-peer market gives you the opportunity to choose from a wider array of RV body styles and types, as well as to use the opportunity to potentially even make a friend in the bargain.
Check out the RVshare rental listings in your area today to get your trip of a lifetime started!
For more helpful RV rental information, check out this article:
Frequently Asked Questions From Renters About Renting with RVshare