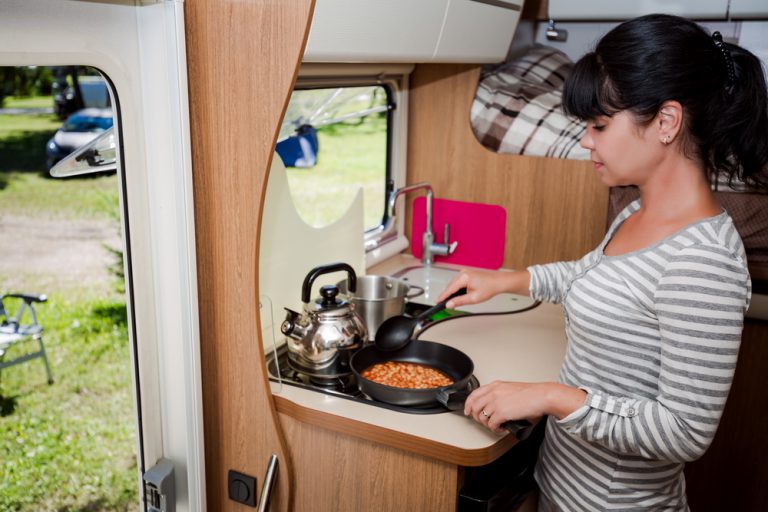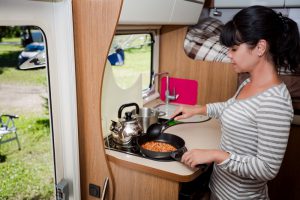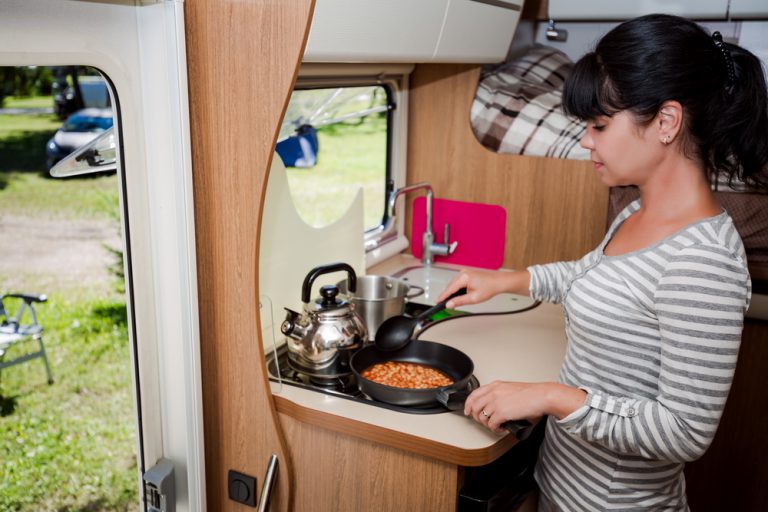 Life on the road isn't always smooth sailing. Even when you're on vacation, there are still meals to be made, items to be put away, and spills to be sopped up.
With the right RV camping accessories and necessities, though, getting through these simple everyday tasks is no big deal. A great vacuum makes any mess a cinch, and the right kitchen gadgets can turn figuring out dinner from a chore into an easy, delicious treat.
But as you may have noticed, your RV isn't actually swimming in space to spare. Even the largest motorhomes can be fairly limited on storage, which means every item you bring along counts. You want to make sure the stuff you bring is high-quality and useful!
So we put together this list of some simple, everyday accessories that will make your next RV trip even easier and more fun… without taking up every square inch of cabinet space you've got.
Ready to get geared up for your next adventure? Let's dive in!
Essentials for RV Living
There's some stuff you just can't live without, whether you're at home or somewhere far from it.
1. Multi-Functional Hand Vacuum
Let's face it: life can get a little messy sometimes, whether you're at home or on the road. And in the already-reduced space of an RV, even a little spill can feel like a big problem. That's why a powerful, multi-functional hand vacuum should top your list of camper necessities: it can take care of all those little oops! moments in a flash, so you can get back to enjoying your vacation. Plus, it's not big enough to command a whole storage closet on its own.
There are tons of models on the market, but we recommend the WELIKERA Cordless Dust Buster, which combines a high-quality product with excellent customer service. It even has a built-in LED light to help with dark, tight spaces or night cleaning.
RV Must Haves
Want your next camping trip to feel more organized and easy? Check out these must-have items.
2. RV Refrigerator Organizers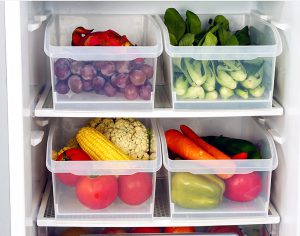 Figuring out how to fit a week's worth of food into your tiny RV refrigerator and kitchen space can be a challenge (although it's totally possible — we've written about it right here!).
But these simple storage additions can go a long way toward making your healthy meal-planning more possible, and keeping everything in your fridge fresh, accessible, and ready to be turned into an unforgettable meal. Honla's organizer trays come in a set of two for less than $15, and they're safe for the freezer as well as the fridge. And when your trip's over, you can even pop them in the dishwasher for quick cleanup!
RV Appliances
Want to make your RV's kitchen a better place to cook — so much so that you actually look forward to making dinner as much as eating it? Here are a few simple gadgets that can help.
3. Toaster Oven
Whether you're traveling in a big, Class A motorhome or a teeny-tiny campervan, a toaster oven is one of the most useful RV kitchen appliances out there. From crunchy morning bagels to crusty pizzas, a quality toaster oven can help you whip up a huge array of tasty treats in a flash — and it doesn't take up very much counter space at all!
This stainless steel model by Black & Decker features a handy removable crumb tray to make cleanup super simple, and has multiple modes to tackle whichever carby indulgence your heart desires.
4. Instant Pot
We've said it before, and we'll say it again: an Instant Pot is an undeniable RV accessories must-have. Whether you're aiming for perfectly-fluffy rice or the delicious, juicy stew you plan to spoon over it, this all-in-one cooker can do it all (and more!) in a jiffy, all with the added bonus of a teeny-tiny footprint. We've even got a whole post dedicated to the wonders of the Instant Pot and its many uses!
Travel Trailer Accessories
When it comes to figuring out how to stock a camper trailer, things can get even more dicey. There's a whole lot that's wonderful about small RVs, but it's safe to say that storage space is at a premium!
Fortunately, RVers all over the country have come up with some clever storage solutions to help you turn your teeny-tiny trailer into a spacious traveling abode. Investing in just a few items can help make it even easier — check 'em out below.
5. Hanging Shoe Organizer
Even if you don't have very many shoes, a hanging shoe organizer might be one of the best investments you can make as an RV owner. Why, you ask? Because of its unmatched storage potential. This goes way beyond pumps and sneakers!
Clever RVers have custom-cut and retrofitted these cheap organizers to create storage space around the rig for everything from television remotes to laptop chargers — and, yes, occasionally even a pair of shoes. For example, check out this post on Wheelingit, where user libertatemamo explains how they installed these handy organizers on the door-side console. Other prime spots include parts of your existing RV furniture, like the foot of the bed or around the couch.
Looking for even more handy-dandy RV and travel trailer accessories? Check out the following posts here at the RVshare blog.
We're always looking for new ways to make RVing more convenient, comfortable, and fun — so if you've got any favorite, must-have RV accessories, we'd love to hear them! Feel free to comment below with your own tricks and tricks, and let us know which items you've found that make your camping trips smooth and simple. You'll be helping other RVshare readers, of course… but let's be real. We staffers want to know for our own upcoming trips, too! 🙂
This post may contain affiliate links.