Travel Inspiration
Last updated on January 16th, 2023. Originally published on March 14th, 2019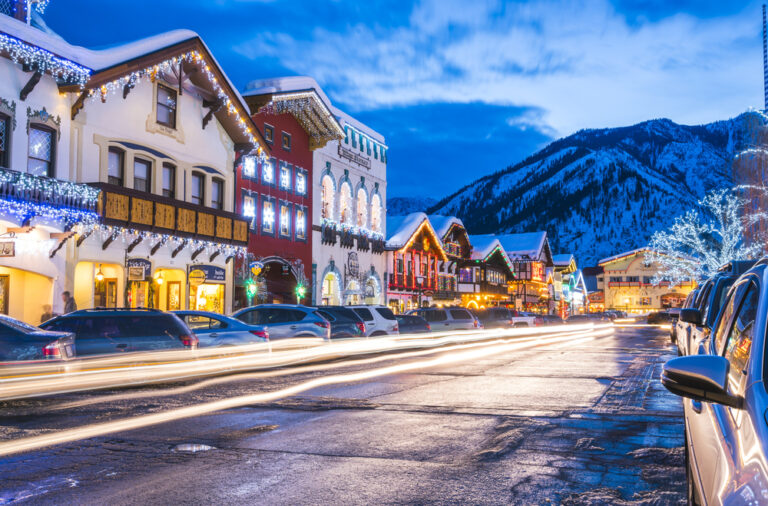 You've visited New York and San Francisco, had your fill of Chicago-style pizza and dogs.
And now, you're looking for something a little bit different. A little less "exciting" (read: crowded) and more… well, relaxed. Quaint. Maybe even beautiful.
To be sure, America has some of the biggest and most bustling cities in the world, sure to meet every urbanite's needs. But between those major port cities, there's a huge network of often-overlooked destinations, many of which are some of the prettiest towns in America.
These are the types of places where people still wave hello as they pass, where you won't be ignored when you say "How are you?" at the checkout counter. And in many cases, they're also spots within easy driving proximity of a nigh-neverending menu of outdoor activities to enjoy, whether you're a hiker, biker, horseback rider, whitewater rafter — or something else entirely.
On the other hand, sometimes, you want to balance the big-city feel with that out-there-in-the-woods sense of adventure. So in this post, we've gathered twenty of our very favorite destinations on both ends of the spectrum. (The one thing they do all share in common, however: there's not an unsightly city in the lot of 'em.)
Read on to discover more about some of the most beautiful towns in America — and what you need to know to get there in a dreamy RV rental.
The 10 Most Picturesque Towns in America
You've heard it before, but we'll say it again — lots of great things come in small packages.
And that's especially true when it comes to RV vacations! If you're looking for quaint and charming, look no further: here are some of the most beautiful small towns in America.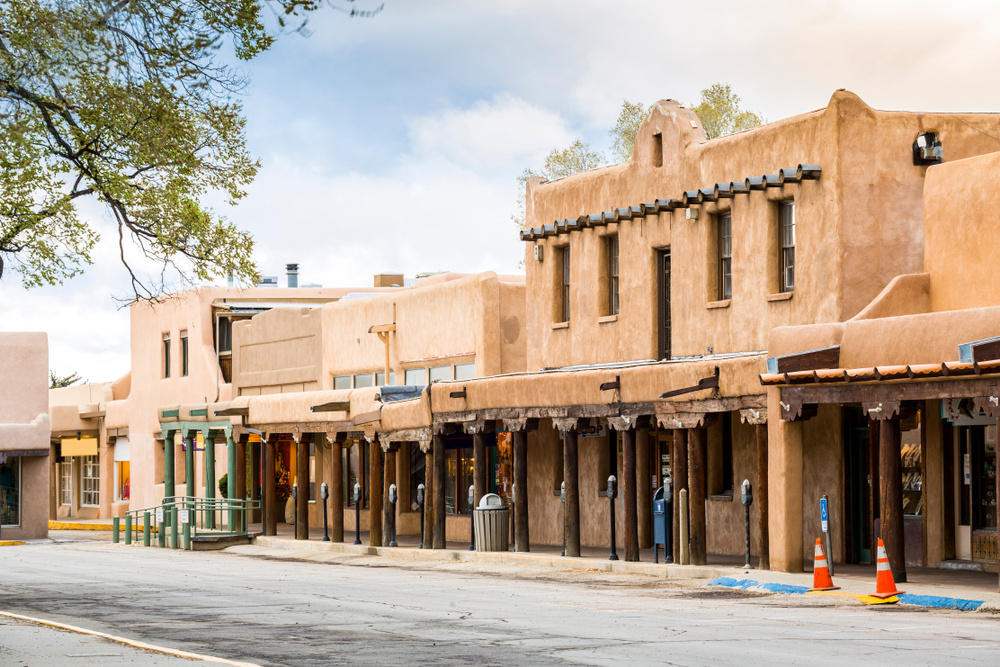 1. Taos, New Mexico
They don't call it the land of enchantment for nothing — and you're sure to figure out exactly why as soon as you descend on this famed ski town. It's just as pretty in the summer, and full to the brim with outdoor activity options. You can bike, horseback ride, or paddle… but there's something to be said about keeping it simple with a beautiful arroyo hike finished with a well-deserved soak in a natural hot spring.
Click here to see RVshare rentals near Taos, New Mexico.
2. Saint Augustine, Florida
Quick: what was the first city in America?
If you guessed Plymouth Rock or Jamestown, you wouldn't be alone… but you would be incorrect, technically. Because this adorable little town, nestled on the northeastern coast of Florida just about an hour south of Jacksonville, actually holds the title of oldest continually-run European settlement. (The reason you've never heard of it? Those settlers spoke Spanish rather than English.)
It's Florida's Atlantic coast, so the beach is an obvious must. But this town has learned a lot about how to welcome tourists, offering everything from historical trolley rides to spooky ghost tours in horse-drawn carriages. There's also a plethora of world-class dining and drinking options, whether you're looking to indulge in southern comfort food or keep it light with super-fresh, delicious seafood. And depending on exactly who you ask, it might just be the prettiest small town in America. (All cards on the table: this author lived there for a better part of a decade, so she might be a little bit biased!)
Click here to see RVshare rentals near Saint Augustine, Florida.
3. Hanover, New Hampshire
Although Hanover's first claim to fame may be its status as the home of Dartmouth College, there are plenty of non-academic reasons to visit. This quintessential New England gem is easily one of the most charming towns in America, whether its quaint streets are lined with snow (as they are so often) or enjoying the wildflower flush of summer. And since it's a college town, there's always plenty of artistic and cultural pursuits going on!
By the way, you may be familiar with the works of one of the school's most famous alumni, Theodor Geisel. He's better known by his pen name: Dr. Seuss! Along with having several buildings and halls named after him on campus, Dartmouth is also home to some of his early works and manuscripts, so be sure to swing by and take a look — especially if you have young fans along for the ride.
Click here to see RVshare rentals near Hanover, New Hampshire.
4. Flagstaff, Arizona
Along with being one of the prettiest small towns in America, Flagstaff may also be one of the most famous little towns in the USA. That's because it's the gateway to one of the most-visited, most-breathtaking national parks in the whole breathtaking array: the Grand Canyon. (Hey, not every U.S. national park is referenced in National Lampoon's Vacation. That's how you know this one is for-sure unmissable!)
Of course, many RVers choose to stay on-site within the park boundaries, especially since its south rim campground is open year round. But if you want to balance your canyon time with culture and cuisine, it might be worth hanging your hat in Flagstaff… or at the very least, planning to do more than just drive t through it on the way.
Click here to see RVshare rentals near Flagstaff, Arizona.
5. Thermopolis, Wyoming
Directly adjacent to Hot Spring State Park, Thermopolis is aptly named — and downright beautiful to boot. Obviously, you'll want to visit the bath house for a soak, but that's not all there is to do in this ravishing rural berg. Get up close and personal with real-deal fossils at the Wyoming Dinosaur Center, or take a stroll across the Bighorn River on the state park's famous swinging bridge. In fact, just sitting back and watching the river run by can be its own reward, and a great chance at slowing down the rush-rush-rush of your everyday lifestyle.
Click here to see RVshare rentals near Thermopolis, Wyoming.
The Best Small Towns You Haven't Discovered Yet
We're not done yet! Here are even more of the best small towns in America to live in — even if you only live there temporarily in your RV. 🙂
6. Sitka, Alaska
Don't get us wrong: this one's a commitment. Even as one of the southernmost parts of America's final frontier, you've still got to do some serious traveling to get to Sitka. (Unless, of course, you already live there… in which case, lucky you!)
But the town does reward those who make the effort. Its many museums and educational centers give you the opportunity to experience local history as well as bears, beasts, and bald eagles, and we can't rightly think of a better view than the waterfront of the Alaskan gulf.
Click here to see RVshare rentals near Sitka, Alaska.
7. Harpers Ferry, West Virginia
We don't know if John Denver was specifically thinking of Harpers Ferry when he crooned that West Virginia is "almost heaven." But we do know there are some pretty heavenly attractions in this surprisingly sophisticated mountain town.
For instance, you can pay a visit — and your respects — to John Brown's Fort, a key site in an 1859 abolitionist raid, or learn even more about the area's history at the Civil War Museum. And make no mistake about it, this place is pretty even if its history isn't always. Built at the fork of the Potomac and Shenandoah rivers, there's rushing water everywhere, babbling away in the backdrop.
Click here to see RVshare rentals near Harpers Ferry, West Virginia.
8. Woodstock, Vermont
If you're looking for the New England experience, this is about as authentic as it gets. While you'd likely get your fill of quaint town charm just ambling around downtown, there are a few historic sites and attractions you probably won't want to miss.
Take, for example, the Normal Williams Public Library, a pink sandstone building that's been dishing out reads since the 1880s. You can also experience a functioning dairy farm — just pay a visit to Billings Farm & Museum, which offers exhibits recreating the life of your average 19th century farmer.
There are also trails aplenty to explore in the nearby Marsh-Billings-Rockefeller National Historical Park, which also contains a Queen-Anne-style mansion from the 1800s. In short, if you're looking for a combination of cute and cultural, Woodstock's got it all.
Click here to see RVshare rentals near Woodstock, Vermont.
9. Mount Dora, Florida
Everyone knows about Disney World, of course. But if you want a more authentic taste of old Florida, set your sights and your GPS on this central town, located in the lake-speckled landscape just northwest of Orlando. You've got proximity to all the things that bring visitors to the Sunshine State in the first place: the park is only a short drive away, should you choose to embrace the madness, and the beach will just take an hour or so. But you can also get to some of the more hidden attractions of Florida usually reserved for locals, like its beautiful forested trails and system of cold springs. (Bonus points: visit in early spring, when the manatees congregate in those springs for warmth. You can actually snorkel with them!)
10. Leavenworth, Washington
Looking for the chance to visit a Bavarian alpine town… without the whole trip-to-Bavaria part?
Well, if you can make it as far as central Washington, you're in luck. This unique mountain town is built to resemble just such an international destination, but it's right here in the U.S. of A — and it's simultaneously one of the cutest and most beautiful towns in America. Grüß Gott!
Click here to see RVshare rentals near Leavenworth, Washington.
The Top 10 Beautiful Cities for RVers to Explore
Although we're all about small-town living, not all of the prettiest places in the US are teeny! In fact, there are quite a few bigger cities that are still worth checking out in your RV. Here are our top 10 beautiful cities in the USA that combine urban adventures with the scenic, outdoorsy opportunities you're after.
1. Asheville, North Carolina
If you've read even a single "where to travel" list this decade, no doubt you've been inundated with suggestions to head to this, everyone's favorite western North Carolina charmer. With a purportedly higher number of breweries per capita than any other U.S. city (with an exception, maybe, of Missoula, Montana), Asheville definitely knows how to party… but also how to round it out with serene and adventurous endeavors. Head to one of the many waterfalls only an hour or so out of town, or careen along some of the most famous whitewater sections in the country. Then gather in Pritchard Park on Friday night for the drum circle, which has been going strong for almost two decades now.
Click here to see RVshare rentals near Asheville, North Carolina.
2. Colorado Springs, Colorado
With a population creeping up on half a million, Colorado Springs is a big town by any measure. But it's also got an unparalleled menu of outdoor options right in its backyard: Pikes Peak, Garden of the Gods, and the Broadmoor Seven Falls are just the beginning.
It's also a college town, so there's plenty of cultural hooplah to be had, whether you're seeking book readings or live musical entertainment. And from chic cocktail hour eats to biergarten fare, there are tons of amazing restaurants to check out. (Good thing, too. Scaling mountains works up an appetite!)
Click here to see RVshare rentals near Colorado Springs, Colorado.
3. Los Angeles, California
If you're scratching your head, we get it. These days, Los Angeles is more famous for smog and scandal than it is for beautiful vistas.
But there's a reason southern California got so darn crowded. With moderate temperatures year-round and both beaches and mountains within easy driving distance, it's hard to imagine a more beautiful spot to enjoy a vacation — especially granted the privacy of your very own RV. (Just don't ask us to move there, please.)
Click here to see RVshare rentals near Los Angeles, California.
4. Salt Lake City, Utah
It's no secret that Utah is one of the most stunning states in the nation, especially for those with an aim toward outdoor adventure. It's got not one or two but five national parks within its borders, and that's not counting the other wildernesses: state parks, national monuments, and just plain-old BLM land that's surreal and rippling and ripe for exploration.
Salt Lake City is a great spot to call home base while you explore it all, centrally located amidst the state's many outdoor attractions. Plus, of course, there's the namesake lake itself to discover, as well as the many towering buildings associated with the Mormon Church, which calls the city its headquarters.
Click here to see RVshare rentals near Salt Lake City, Utah.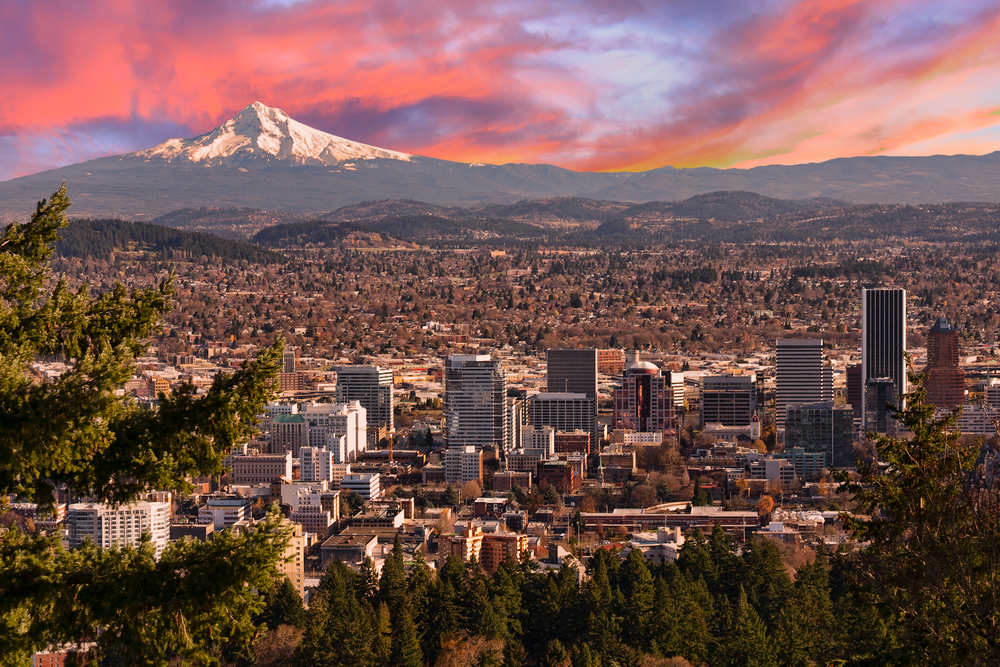 5. Portland, Oregon
Ah, Portland. It's just as weird as you expect if you've seen an episode of Portlandia — but way friendlier, and surrounded by an incredible range of outdoor opportunities, to boot. You can go hiking the Columbia River Gorge or sailing along the river's waters, or try your hand (and heart) at tackling Mt. Hood. There's plenty of delicious craft beer to bring you down after the effort, not to mention some stellar natural hot springs for soaking those sore muscles!
Click here to see RVshare rentals near Portland, Oregon.
6. Austin, Texas
Home of the flagship Whole Foods, yet also one of the most famous bar-hopping destinations in the world — Austin is definitely a study in contradictions. But it's homework you'll probably enjoy, given the town's proximity to amazing hiking, biking, and rowing opportunities… not to mention some of that delicious Texas barbecue. Hey, you need something to fuel all those outdoor activities, right?
Click here to see RVshare rentals near Austin, Texas.
7. Seattle, Washington
Not every city has the kind of culinary history that Seattle does — it's basically the birthplace of artisanal coffee in America, and that's just the start of what you can get at its famed Pike Place market. (Our suggestion: seafood, of course; preferably salmon, which you really can't get this fresh anywhere else in the country.)
Not only does it have all the eats and entertainment you can stomach, but it's also got Olympia National Park literally in its backyard — not to mention the beauty of the Victoria area just across the border. It's also the place to start if you're planning to take the epic RV road trip up to Alaska. You've got more than 24 hours to go even if you start right at the border, so it might be a better idea to drive in and rent in town than starting from home!
Click here to see RVshare rentals near Seattle, Washington.
8. Miami, Florida
Miami's another one on this list that may not seem to scream "RV trip."
But hear us out. As plastic as some of its citizens are, there's hardly a more beautiful waterfront than South Beach — and just an hour or so further south, you'll find yourself in Biscayne National Park, whose 172,971 acres are largely comprised of water. In other words, you'll want to trade your hiking boots for snorkel fins, pronto!
All of this to say nothing of the fact that enjoying Miami nightlife is a box that should be checked off every traveler's bucket list, even if your memories are a little hazy thereafter. Plus, you need to experience an authentic Cuban sandwich before you die. (Trust me, I know: I'm from here.)
Click here to see RVshare rentals near Miami, Florida
9. Las Vegas, Nevada
If you think Vegas is all bright lights and slot machines…
… well, you're right. At least in part. Honestly, when we visit Vegas, we like to stay as far away from the Strip as possible.
But the surrounding landscape is unendingly lovely, with miles of hiking trails beckoning from Valley of Fire State Park and Red Rock Canyon. There's also the nearby Colorado River to paddle a raft down, if you're so inclined, not to mention a whole new perspective on the Grand Canyon. And Lake Mead is the perfect place to cool off after a hot desert day — don't forget to check out the Hoover Dam while you're at it!
Click here to see RVshare rentals near Las Vegas, Nevada
10. Rapid City, South Dakota
A population of just over 70,000 isn't a "big city" in too many places. But in South Dakota, it is — and that's exactly why we think this spot shot have a slot on your list of must-see destinations.
Nestled in the southwestern corner of this vast Great Plains state, Rapid City itself has a lot to offer, for sure. But the real draw is the surrounding landscape, the famous Black Hills that raise up out of the plains like magic after you've been driving along flat grasslands as long as you can remember. Plus, you're within an easy half-day drive of multiple must-sees: Badlands National Park, Wind Cave National Park, Custer State Park, and, of course, the Mount Rushmore National Memorial. Oh, and a drive down Needles Highway is an absolute can't-miss, too!
And while you're in the area, why not add Dinosaur Park to that laundry list of to-dos? Entry is free, and its one of the weirdest roadside attractions in the country. (In short, you've absolutely got to have at least one brontosaurus selfie on your Instagram feed.)
Click here to see RVshare rentals near Rapid City, South Dakota.
How to Find Even More Beautiful Places in America
None of these destinations in the cards for you this year?
Good news: many of the most beautiful places in America to vacation don't factor onto any travel list. In fact, because we're lucky enough to live in such a wild and geologically diverse nation, chances are you have something amazing to see right in your own backyard!
Plus, when you travel by RV, almost any stopping point goes from ho-hum to haven. You've got your very own bed and breakfast along for the ride, and it's totally private. Beats the heck out of staying in a string of anonymous hotel rooms, right? Sometimes you don't need to go any further than the closest state park to find a truly relaxing change of pace and scenery. In fact, we've had totally enjoyable "staycations" and camp-out experiences right in our own backyards. (Our actual backyards. Like, at our houses.)
If you don't already have an RV of your own, renting on the peer-to-peer market is an amazing way to taste the lifestyle. You'll find rental RVs owned by real, live people rather than by a corporation — which means they're not only well-maintained, but also filled with all the comforts of home. As if that weren't incentive enough, there's also this to consider: RVshare rentals are usually listed at a fraction of the price of the big commercial dealerships. Which makes sense, of course; private owners don't have to foot the expense of running a business, and are just looking to put some extra cash into their pockets to fund their own adventures.
Whether you fly in to a far-off destination and rent on-site or find a rig in your town and drive it there to enjoy the journey, there are RVshare rental vehicles of every shape, size, and floor plan imaginable. You can even rent towable rigs, including Airstreams and Casitas! What's more, each RVshare rental is backed by a comprehensive, A-rated insurance policy, and our secure system means you never have to worry about the safety of your sensitive information. We're all about getting you on the road with as little hassle as possible — all you have to worry about is figuring out which rig is right for you. And with our user rating system, even that part is pretty simple! You'll be able to combine the feedback from other customers with the photos and descriptions the owners use to craft the listing, so you'll never have to wonder what exactly you're getting yourself into before you hit the "book" button.
Looking for even more inspiration for your next trip? Still not sure which destination is right for your next vacation?
Check out the following RVshare blog posts to get you started, and keep an eye here as things go forward. We're always publishing new content about the latest and greatest in all things RV camping, including the best travel bucket list spots as well as the tips and tricks to get you there safely and effectively.
Happy and safe trails to you, campers — no matter where the road leads you.
This post may contain affiliate links.