RV Owners
Last updated on April 21st, 2023. Originally published on April 28th, 2020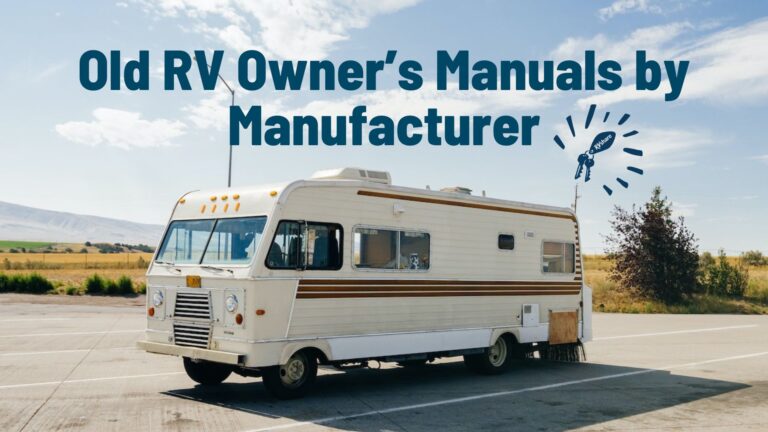 You get a new RV — or a new-to-you one. Maybe you toss the owner's manual on purpose, not wanting to cart around all that extra weight. Maybe you find you simply don't have it on board.
Either way, the good news is, it's totally possible to find old RV owners' manuals online… if you know where to look! In this post, we'll give you the insider secrets to finding old motorhome and travel trailer manuals online in case you need to look up something in relation to your RV.
Old RV Owner's Manuals
It may be overwhelming to try and figure out how to get your hands on the RV owners manual you need if you don't know where to find it. Fortunately, you can find many RV owners manuals available online as PDFs to download, which can save paper while also getting you the information you need with regards to repairs, maintenance, how certain things on board your RV work and more.
When your RV owners manual does not have all the help you need, you can learn all there is to know about maintaining and repairing your RV yourself with NRVTA's online program. Click here and use code RVSHARE for 5% all of their courses.
The RV Owners home study course comes in two options.
Online & USB
The USB version is $297 and includes booklets, a tweaker screwdriver, and a USB Drive with all of the HD videos. It also includes a copy of the online version. This is perfect for RVers who may not have access to good wifi or likes to have a physical copy.

The Online version is $197 and includes all of the same videos laid out in chapters using our online portal. It's good for RV owners who have good wifi, don't want to wait on UPS, or like to keep everything digital.
Old RV Owner's Manuals by Manufacturer
Looking for the RV and travel trailer manuals you need for free? Here's where to find free RV owner's manuals online by manufacturer.
Forest River RV Owner's Manuals
Forest River is the parent company of a variety of subsidiary companies, such as Dynamax and Palomino. They have a database of interactive online manuals available here.
Coachmen RV Owner's Manuals
A popular manufacturer of both travel trailers and motorhomes, Coachmen's online database of owner's manuals can be found here.
Keystone RV Owner's Manuals
Keystone RV specializes in travel trailers, building fifth wheels, toy haulers, destination trailers and more. Their bank of online owner's manuals is here.
Fleetwood RV Owner's Manuals
From Class A to Class C and ranging back all the way to 1971, Fleetwood RV's database of owner's manuals can be browsed online here.
KZ RV Owner's Manuals
Although you might not immediately recognize the KZ RV name, it's the parent company of well-known designs like Sportsmen, Durango and more. Check out their online owner's manuals ranging back to 2013 here.
Heartland RV Owner's Manuals
Heartland RV offers three online owner's manuals: a general version, one for its Landmark line of products, and one for its Destination travel trailers.
Gulf Stream Coach RV Owner's Manuals
Gulf Stream Coach is one of the biggest names in the business, and they've done well cataloging their owner's manuals online. Download current manuals , previous manuals, and access their work-in-progress archive of component manuals by clicking here.
Jayco RV Owner's Manuals
With Class A and Class C motorhomes as well as travel trailers, fifth wheels, toy haulers and more, Jayco RVs are some of the most commonly seen on the road. Here are their online owner's manuals.
Tiffin Motorhomes RV Owner's Manuals
Tiffin models you may have heard of include Allegro, Zephyr, Wayfarer and more. Browse their online database of owners manuals here.
Winnebago RV Owner's Manuals
Winnebago is a name so classic, it's basically synonymous with motorhomes as a whole. Click here to browse their operating manuals all the way back to 1981.
Airstream RV Owner's Manuals
Airstreams are a cult classic, and for good reason: their unique, silver streamlined profile offers a one-of-a-kind camping experience. They're also a trailer that holds its resale value (and usability) well, so it's not uncommon to buy a vintage one used for a good price. Fortunately, owner's manuals are available online dating back to 1964; access them here.
Newmar RV Owner's Manuals
A premier brand, Newmar doesn't offer a database of its manuals online, but the company will send you a copy if you call their customer service line at 1-800-731-8300.
Still Need Help Finding an Owner's Manual?
Although the resources above link to many of the most complete databases of online owner's manuals available, it's still possible you'll need to find a manual that's simply not listed on the manufacturer website. Fortunately, there's recourse if this is your situation.
A web search for your specific make and model of RV could prove fruitful, as an owner may have uploaded a PDF on their own. You could also try online RV discussion boards and forums, or owner's clubs specific to a given make, such as Airstream. Members of these clubs are often very proud of their setups and may be happy to upload a PDF for you even if there's not one yet.
Online shopping and trading destinations, like eBay and Craigslist, may also be fruitful if you're looking for a specific manual, particularly if you want an actual paper copy. You may have to pay for a manual sourced this way, but you could get it quickly and relatively easily, and have access to the full text in book form.
Finally, as with Newmar, if you need a copy and you simply can't find it anywhere else, consider contacting the manufacturer directly. Chances are they'll be happy to provide you with a copy of the manual you need, whether in paper or PDF form.
By the way, if you're on the market for a used RV — as you may be if you're concerned with finding old RV manuals — we have to take the opportunity to plug our service, which may be the perfect way for you to do your research while still having some fun. The very best way to learn which RV is the best fit for you and your family is to spend time camping in a variety of different makes and models, and renting on the peer-to-peer market gives you the opportunity to do just that. Our owner-rented rigs come in a wide array of shapes, sizes, makes and models, giving you and your family the opportunity to do your "homework" with the RVs that are really on the table for you (as opposed to brand-new, direct-from-the-manufacturer Class A and Class C motorhomes).
Our rigs are available in every state in the continental U.S. and are available at prices much lower than you're used to seeing at the big box stores, so click here to see the RVshare rental listings in your area today!
Happy camping!
This post may contain affiliate links.
Looking for even more RVing tips and tricks — both during the purchase process and for your first camping excursion?
Here are just a few RVshare blog posts to help you out.