RV Owners
Last updated on January 11th, 2023. Originally published on October 24th, 2018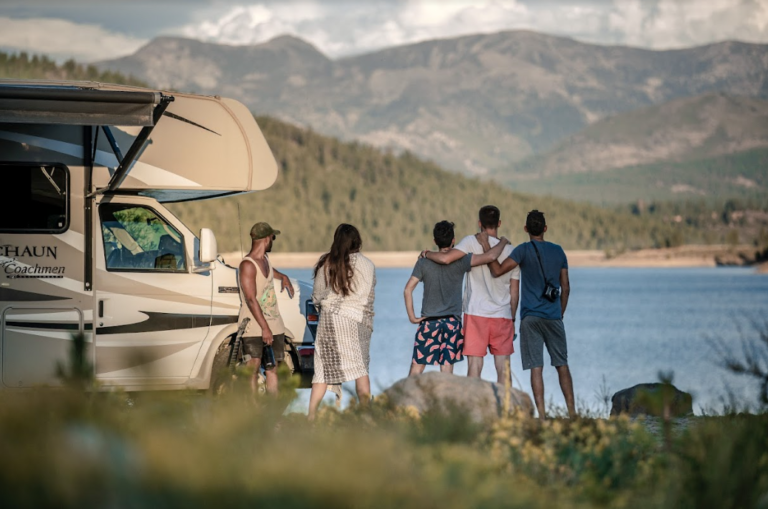 Whether it's your first time or your fifth, being in the market to buy an RV of your own can be just as overwhelming as it is exciting. After all, even modest motorhomes and travel trailers cost tens of thousands of dollars, which is no small purchase.Along with figuring out your budget, finding a reliable dealer, and learning more about the different types of rigs that might suit your needs, there's another big question mark to deal with: RV manufacturers.
Which one's best? What brand names belong to what makers? And once you find a product you like, how do you go about buying it?
When it comes to discerning the "best" RV makes and models, you may find the camping community has some lively ongoing debates. The brand name one RVer swears by another despises. Yet another will only purchase rigs from a specific make.
While we're not going to offer an evaluation of the different RV manufacturers on the market — it would be too difficult to make a reliable statement, as so many customers have such different experiences! We can help you make sense of the mix of names that can quickly start glazing your eyes over during your search.
Read on to learn more about the best-known RV manufacturers in America.
RV Manufacturers, Models & Names
Before we dive headlong into the wide world of RV manufacturers and makers, it might be a good time to review some more basic terms — that is, the different types of RVs. Class As, Class Cs, fifth-wheel travel trailers… if you're brand-new to the camping world, it can all seem a little bit like alphabet soup. (Psst: there's even more lingo you'll want to get in on, too, but we promise it's not that difficult! Check out this quick guide to RVing terms you might not be familiar with so you'll know exactly what to say around the campfire.)
While we don't have time to go into the nitty-gritty in this post, we've written in-depth about the different types of RVs before. So, check out this guide if all those classes don't mean squat to you (yet!). The post also covers how to figure out which type of rig might work best for you and your family, depending on your individual camping styles and needs.
Getting an idea of which type of RV you're after is a good first step toward researching the specific model you want, since manufacturers tend to specialize in certain vehicle body styles over others. For example, there are a few travel-trailer-specific manufacturers, like Casita, as well as some who only deal with Class A or Class C motorhomes.
Still, other manufacturers are opportunists, dipping their toes into each of the most popular RV body styles to cast the widest possible net. Either way, achieving a solid understanding of the features and amenities you're looking for will go a long way towards pointing you to the right RV brand and maker!
RV Manufacturers & Brands
One more note before we move on to the manufacturers in all their glory. It's a pretty common error to confuse brands and manufacturers, but they're not actually the same thing. (And the distinction can be important!)
While some manufacturers, like Jayco, offer lines of products featuring the manufacturer's name (i.e, "Jayco Hummingbird," other manufacturers, like Forest River, produce wide ranges of RV types and brands which don't have the actual manufacturer name anywhere on the vehicle body. For instance, Forest River is actually the parent company of Coachmen trailers. They also produce other well-known travel trailer brands like Flagstaff and Cherokee.
Finally, as attractive as it can be to obsess over name brands and manufacturers, most RVs on the market these days are of pretty darn high quality. And aligning yourself to a single, fairly arbitrary brand name, might not actually serve you in your pursuit of your dream vehicle.
The very best way to learn which RV types, brands, manufacturers, and models are your favorite is to see as many of them as you can in person. And even to take test trips in them if possible. One great way to do a lot of RV walkthroughs at one time is to attend an RV show or expo. You can check out our archive of RV events by state at this link.
Another great tactic, of course, is to take multiple camping trips in different types of rigs. Which is easy to do, when you're renting on the peer-to-peer market! Unlike the RVs you'll find at a traditional dealership, which tends to only be brand-new Class A and Class C motorhomes, individual owners list a wide range of vehicle types for rent. This means you can experience many different kinds of RV camping and learn which work best for you. Talk about good homework to have, right?
American RV Manufacturers
Many of the best RV brands are made right here in America. After all, our country is well-known for its obsession with road trips. From travel trailer brands and manufacturers who work only with fifth wheels, toy haulers, and pop-up campers to custom RV manufacturers who do a little bit of everything, here are some of the most recognizable names in American RVing.
Airstream – Major RV Manufacturers
Beloved of many and well-known as one of the very first camper manufacturers on the market, Airstream has been around for almost a hundred years. The company was officially founded in 1929 by Wally Byam, who had, by that time, already been experimenting with ways to turn his model T into a home on wheels for a decade.
But it's not just longevity that makes Airstream one of the best-loved and most-sought-out camper brands around. Over the century or so they've been in business, Airstream has constantly been working to make their products better. Today they offer some of the highest-quality travel trailers in the business.
For one thing, Airstream trailers are constructed of aluminum, as opposed to the fiberglass casings of so many other trailers. Their sturdy construction makes them less prone to water damage, leading to a much longer lifespan. it's not that uncommon to see 30-year-old vintage Airstream trailers on the road in campable condition!
Because of their unique construction, Airstream trailers are filled with hand-installed appliances and electronics, which have to be custom fitted (rather than dropped in, as is the case with many prefabricated mobile homes). This ensures that each amenity in your Airstream is of the highest possible quality. Perfectly suited to your camper's individual design and floorplan.
In fact, Airstreams are so special that they have their very own fan group. The Wally Byam Caravan Club, which hosts national events and an annual international rally, as well as producing a magazine. To learn even more about Airstream history (and why they're worth all the fuss they're causing), check out this RVshare blog post.
Casita Enterprises, Inc.
Another fan favorite with a rightly-rabid following, Casita Enterprises has been manufacturing small, lightweight travel trailers since 1983. The company builds 16- and 17-foot trailers with a unique, high-quality two-shell fiberglass construction. These are easy-to-tow campers that withstand the test of time.
Although they're small, Casitas come stacked with some pretty cushy amenities. Especially if you upgrade to the company's Deluxe models. Available as an option across every line of Casita trailers, Deluxes come with full bathrooms and standard air conditioning.
Casita is headquartered in Texas, where they keep a showroom. Though you can order your trailer directly from the company. Because these trailers can be hard to find at standard dealerships, the company offers a really cool service where they'll match you up with a Casita owner local to your area so you can check it out in person. All you have to do is fill out this contact form or call them directly at 1-800-442-9986.
Coachmen RV
Coachmen RV is actually a division of the motorhome manufacturer Forest River Inc., which we'll talk about in more detail below. But this brand is so well-known — and so frequently seen on RV dealership floors — we wanted to give it its own section.
Coachmen does have its own line of motorhomes, including large Class A coaches as well as Class Cs and Bs. This manufacturer is best-known for its specialization in travel trailers, including toy haulers, fifth wheels, pop-up campers, and more. From ultra-lightweight trailers to large, amenity-filled fifth-wheel floorplans, Coachmen likely has a rig that fits both your camping style and your budget. Many of their products are available at entry-level pricing.
Although you can peruse all of Coachmen's offerings at their website, the company highly encourages you to make your purchase from a local dealer. These RVs are well-represented on many sales floors nationwide. Click here to find a Coachmen dealer in your area.
Dutchmen RV
Many recognizable travel trailer brands fall under the Dutchmen umbrella, including Coleman, Atlas, Aerolite, and Endurance trailers. You can custom-build your RV with a hand-selected floorplan by purchasing from Dutchmen directly, or use the company's RV finder to locate a dealer offering its products near you.
Forest River RV
Another Elkhart manufacturer, Forest River RV offers a wide range of recreational vehicles. These include Class A and Class C motorhomes as well as fifth wheels and regular travel trailers. The RV manufacturer is actually a division of an even larger motor company, which produces pontoons, park models, buses, cargo trailers, and commercial trucks.
Well-known brands under the Forest River umbrella include Flagstaff, Cherokee, and Cardinal trailers. As well as Berkshire and Georgetown motorcoaches. You can see the full line of recreational vehicles produced by the Forest River at this webpage.
Forest River vehicles are available at a wide range of American RV dealers. You can find a dealership offering its products near you by using this helpful tool. The company also provides a range of other helpful tools and information. Tools like this payment estimator and this set of towing guidelines for new trailer owners.
Gulf Stream Coach
Family-owned and operated since 1983, Gulf Stream Coach is a one-stop shopping destination for anybody in the RV market. They offer a wide range of RV body styles in a number of very well-known brands. Some of which have been in production for over 15 years. Trailmasters, Kingsports, Streamlites, Sedonas, and Conquests are all manufactured by Gulf Stream. Their full line of products includes over 22 brands and 140 different models.
Given how many different vehicles Gulf Stream manufactures, you have your work cut out for you if you're on the market for one of their products. You can peruse each and every one of its many floor plans at this webpage. You can use this tool to locate one of its more than 700 nationwide dealers.
Jayco, Inc.
Jayco's been in business since 1968, meaning they've just recently celebrated their 50th birthday. Over the course of that time, they've had lots of opportunities to perfect the art and science of creating comfortable, efficient, and affordable recreational vehicles. Including a variety of travel trailers as well as Class A and Class C motorhomes.
Jayco utilizes a variety of technologies and building techniques to set their products apart from the competition. This includes a focus on family-friendly floorplans. As well as a commitment to reducing their carbon footprint and increasing vehicle fuel efficiency. With their ultra-lightweight Jay Feather and Hummingbird lines, Jayco makes RVing accessible even to those who don't have (or necessarily want to acquire) a large tow vehicle. All without sacrificing the construction quality you expect when purchasing a premium recreational vehicle. To find a Jayco dealer in your area, click here.
Keystone RV Company
Founded in 1996, Keystone RV is well-known for its lines of affordable, high-quality towable vehicles. These include fifth wheels, toy haulers, and destination trailers. The company is constantly innovating new technologies to make their products even more comfortable and effective. Like in-floor residential heat ducts, five-point slide room construction techniques, and a seven-layer protective coating on their trailer caps.
When you purchase directly from the manufacturer, you'll have the chance to create a totally custom trailer. Hand-choosing the amenities and features you want from over 150-floor plans. But Keystone trailers are also commonly seen on dealership floors nationwide. Enter your information on the website to find a Keystone dealer near you.
Winnebago – Major RV Manufacturers
You've doubtless heard of this American-based manufacturer, who's such a cornerstone of the market that sometimes their brand name is synonymous with RVs themselves. Based in Forest City, Iowa, Winnebago has been in business since 1958 (i.e., over half a century. No wonder they're so well-known!).
The company offers a full range of products. From large, luxurious Class A diesel pushers to lightweight travel trailers and everything in between. One customer favorite is the company's Minnie Winnie line, which offers top-of-the-line amenities in smaller Class C floorplans. This means you can get a lot of coach for surprisingly low prices.
Because they're such an industry standard, Winnebago motorhomes and travel trailers are available from a wide range of RV dealers nationwide, and even internationally. Click here to use Winnebago's official dealer locator and find a location near you.
Motorhome Manufacturers
Some RV makers focus only on self-powered motorcoaches and motorhomes. In fact, some specifically create luxury RVs like Class A diesel pushers only.
If you're in the market for a high-end, push-to-start, all-inclusive vehicle, here are a few of the most common motorhome manufacturers you're likely to encounter during your search.
American Coach
American Coach crafts premium motorhomes. Such as the American Dream, American Eagle, and Eagle Heritage Edition lines of Class A diesel pushers. These vehicles are large and luxurious, filled to the brim with full-sized amenities and high-quality appliances. They make your camping trip feel like anything but roughing it.
Along with their Class As, American Coach has also now joined the ranks of Class B Rv manufacturers, dealing with Mercedes-Benz-built Sprinter vans in particular. The American Patriot and American Patriot Cruiser both offer all the luxury of the company's larger vehicles in a much more maneuverable footprint. Perfect for those looking for a wild, all-American adventure.
You can build your own motorhome at the American Coach website, or use their handy tool to find a dealer near you.
Fleetwood RV
Yet another Indiana-based RV manufacturer, Fleetwood offers high-quality Class A and Class C vehicles at relatively affordable price points. This makes them a favorite among family campers looking to hit the road in style. From 40-foot Class A diesel pushers to well-built class C coaches, Fleetwood has something on offer for every camping style, size requirement, and budget.
Click through the company's addictive build-your-own program, or use this tool to find a dealer near you. (The company's wares are represented by hundreds of vendors nationwide.)
You can also learn more about Fleetwood's 65-year history and dedication to build quality and customer satisfaction by exploring its "Proof of Passion" section.
Monaco Coach
Owned by the larger REV Group Inc, a specialty vehicle manufacturer, Monaco Coach has been crafting top-end motorcoaches for half a century. This maker deals exclusively with luxurious Class A diesel pushers. This year, you can choose between the Monaco Signature and Monaco Marquis lines.
With this manufacturer, it's all about attention to detail. Their rigs come stocked with efficient and comfortable amenities. Like Whirlpool appliances, in-motion satellite systems, and full-tile showers. But also, the little touches that turn a motorcoach into a motorhome. For example, embroidered driver and passenger seats and under-chassis lighting. Of course, all that luxury does come at a price. The cost before any customization or upgrades of a brand-new Marquis is over $399,000.
But if you've got money in your pocket (or just an afternoon to kill), feel free to drool yourself into a stupor with Monaco's build-your-own tool. They also offer custom order requests starting at an additional $1,500. If you're really ready to put your money where your mouth is, go ahead and click here to find a dealer.
Newmar Corporation
Towards the top of most lists of best motorhome brands, Newmar is one of the best-known high-end RV manufacturers in the country. Offering a wide selection of Class A coaches with both diesel and gas engines. They offer versatile builds and a plentitude of floorplans. You can buy one of these luxurious rigs brand new at a relatively affordable $120,000. Given you don't go in for any of the optional upgrades, of course.
That's for the entry-level, gas-powered Bay Star Sport. But don't worry, you can easily spend a small fortune on a Newmar RV if you want to. The company's ultra-premium King Aire diesel pusher starts at over $900,000. Upgrades and options could easily push the build over a million.
Of course, you do get what you pay for. Newmar's coaches are renowned for their unparalleled build quality and longevity. This is thanks to a work ethic based in the company's faith-centered mission. To click through all the delicious options for your own Newmar coach, use the custom build tool.
Thor Motor Coach
Founded in 2010, this Elkhart-based motorhome manufacturer is known for its luxury diesel pushers. Including large Class As but also smaller Class C/Super C and Class B/B+ coaches.
Class A model names you might recognize include the Hurricane, Challenger, and Miramar lines. The company's diesel engines include the Palazzo, the Aria, the Venetian, and the Tuscany. Popular Class Cs like the Chateau and the Four Winds are also Thor coaches, combining high build quality with relative affordability and a maneuverable footprint.
Thor Motor Coach offers a neat tool to help you figure out which of its many products will work best for your needs. This is a good way to start before moving on to its custom build program. You'll also find Thor products at a wide range of American RV dealerships. Click here to find one in your area.
Tiffin Motorhomes
Building both Class A and Class C motorcoaches, Tiffin is well-known for its high quality and craftsmanship across a wide range of models. Class A lines include both gas-run engines and diesel pushers. All of which come packed with top-end amenities and spacious living areas.
Based in Red Bay, Alabama, you can contact Tiffin directly both for troubleshooting help and for assistance finding a vehicle or dealer near you. Tiffin coaches are also found at a wide variety of American RV dealerships. You can explore the options in your area here.
RV Dealers – Explore RV Manufacturers
Finding an RV dealer you're comfortable with is just as important as screening RV manufacturers for quality and customer satisfaction — and arguably moreso. After all, if something goes wrong, you're a lot more likely to reach out to the dealer directly than to the manufacturer. Unless you're taking advantage of a warranty.
That's why, when searching for an RV dealer, it's important to take a look at the user reviews generated by other customers who've interacted with their service teams. Is the dealer easy to get on the phone if you encounter an issue? Are their prices fair, and are they willing to match other prices you might find elsewhere? It's worth doing your homework. Forging a relationship with a so-so dealership will only bring you pain in the long run. Especially if you're financing your purchase.
To get started on your own research, run a Google search for "RV dealers near me" or "RV dealers [your zip code]." RV shows are another great resource for meeting and greeting representatives from a wide range of dealerships in your area. You can get a feel not only for the vehicles they have available but which people you're most comfortable with.
RV Camping – Experience RV Manufacturers
Whether you're not quite ready to bite the bullet and buy your own rig, or even just as part of the research process for figuring out which kind of RV is right for you, renting an RV for your next vacation is a great way to get the motorhome or travel trailer experience at a fraction of the cost. Especially when you rent through the peer-to-peer market.
Along with the wide range of listings available nationwide at RVshare, you can also take advantage of local and franchised RV rental dealerships. Especially if you notice they offer a specific make and model of RV you're considering purchasing. Run a search for "RV rentals near me" to see what's available in your area, and don't be afraid to call the dealership directly to learn more about their offerings.
No matter if you're brand-new to the world of RVing and just trying to get a feel for the market or if you're a long-time camper ready to discover your next favorite vehicle, learning about manufacturers and brand names is just the starting place. The real research happens out there on the road — so get to it!