RV Owners
Last updated on February 13th, 2023. Originally published on May 12th, 2015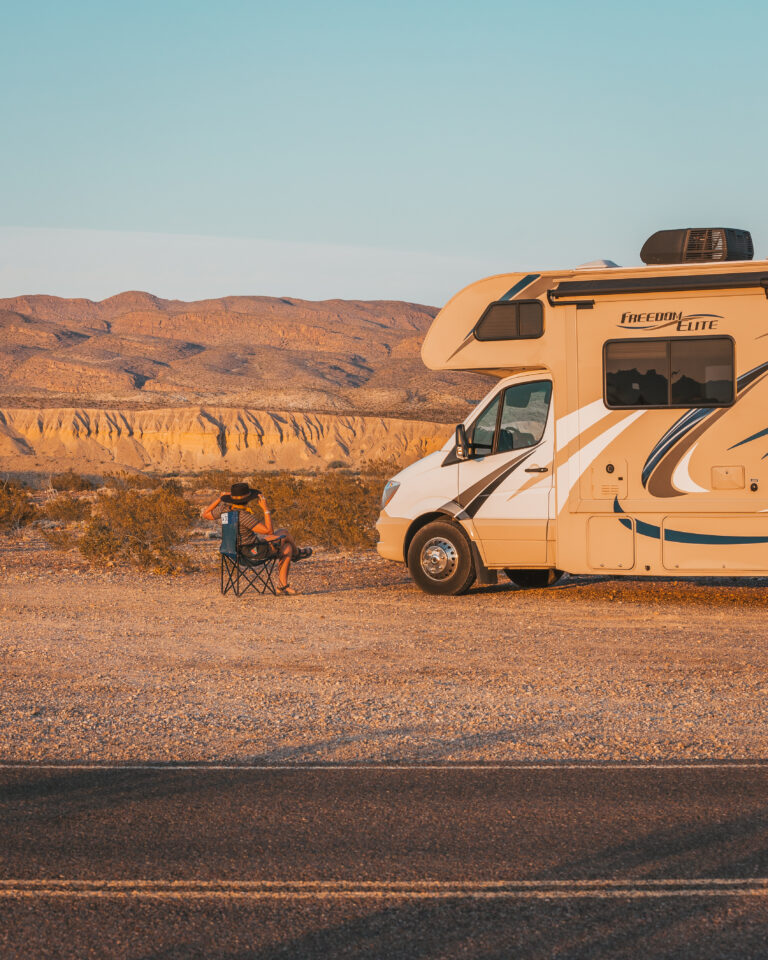 We all love RVing. What we don't love, are those little annoyances that turn what should be a good time into a hassle. Whether you're relocating or settling in for a summer at your favorite RV park, there are things you can do to make your life easier, cleaner, and overall happier. Many of these tricks were learned the hard way, through trial and error. What if, instead of learning from your mistakes, you could pick up these simple RV hacks?
We've created this list of 50 RV tips and tricks to help you out. Print them or commit them to memory, then share them with other RVers to make their life easier as well!
RV Hacks
1. Drink Koozies for Glasses: If you've ever broken drinking glasses while traveling, this one is for you. Slide koozies over them, and place them back in the cabinet to keep them nice and safe.
2. Wine Bottle Sleeves: Protect your wine bottles while en route with mesh sleeves. If they knock together, they won't break.
3. Collapsible Laundry Basket for Trash: To save space, use a collapsible laundry basket as a wastebasket when camping. They can be collapsed between uses and stored out of the way.
4. Clothespins: Most people realize the benefit of keeping duct tape in their rig, but what about clothespins? They can be used for laundry, chip clips, and even securing trash bags.
5. Clothesline: Keep some clotheslines handy as well. You can use it to assist with laundry, hang wet towels and swimsuits, and tie cabinets closed when in transit.
6. Bungee Straps for Cabinets: Another option to keep cabinets closed, while traveling, is to secure them with bungee straps. The 3-inch loops with a ball end are useful for cabinet doors, and the ones with hooks on the ends are great for drawer handles.
7. Dry Erase Boards: Dry erase boards have many uses. Magnetic ones can be hung on the refrigerator. Along with emergency information, you can post a checklist of things to do before heading out, a grocery list, or the Wi-Fi password.
8. Use a Cordless Drill to Deploy Rear Stabilizers: If you have a travel trailer or fifth wheel without electric stabilizer jacks, than you are familiar with the chore of hand cranking them up and down. An easy solution is to use a rechargeable cordless drill. Simply attach a socket extension that fits your stabilizer jacks. Plug the socket into the jacks and let the drill do all the work.
 9. Prevent Burned Food with a Baking Stone: Place the stone in the center of the oven (make sure it doesn't block all the ventilation holes). The stone will absorb the heat and distribute it evenly throughout the oven. No more burned cookies!
10. Pantyhose for Hand Washing: Use pantyhose to tie a bar of soap to the water spigot. This makes hand washing easy.
RV Organization Hacks
11. Badge Clips for Hanging Items: Badge clips can be used to hang lights from your awning, among many other things.
12. Towel Rod for Storage: Use hooks to hang items from a towel rod such as cosmetics, kitchen utensils, or even decor.
13. Shoe Organizer Bed Storage: Create easy bed storage with a cut-up shoe organizer.
14. Shoe Organizer Shower Storage: They can also be used for shower storage!
15. Electrical Adapter Mounts: Keep electrical adapters organized by mounting them.
16. Peg Board: Use peg boards to hang kitchen items like pots, pans, and wine bottles.
17. Square Storage Containers: Save space by using square containers instead of round ones to store food items in your cabinet or refrigerator/ freezer.
18. Tupperware for Tissues: Place tissue boxes in plastic, to keep them from getting wet or smashed.
19. Velcro for Curtains: Hold back your curtains where you want them with Velcro.
20. Plastic Container for Trash Bin: Create a wastebasket out of a dry food container.
Kids' Comfort Hacks
21. Press n' Seal for To-go Cups: Keep things clean by using Press n' Seal to turn a regular cup into a travel cup.
22. Shower Caddies for Kids Items: Use shower caddies with suction cups, to hold and organize activities for the kids, while on road trips.
23. PVC for Makeshift Hammock: Use PVC pipe and cloth to make a front seat hammock for the kids to hang out in.
RV Makeover Hacks
24. Syringe for fixing woodwork: Fix warped veneer with a syringe and some glue to fill in small gaps.
25. Vinyl Flooring: Replace current floors with vinyl plank flooring. Pre-glued, and waterproof, they are easy to install.
26. Wrap your RV Cushions: If you don't like to sew, use the wrapping method to re-upholster your RV cushions! If you can wrap a present, you can reupholster your furniture — just wrap with fabric and secure the back with clothespins.
27. Strip Lights: These IKEA LED lights will run on a camper's 12-Volt system.
28. Floor Mats or Yoga Mat: Place foam floor mats or a yoga mat under your bunk mattress. They provide insulation and comfort.
29. Spray Paint for RV Parts: Makeover your RV by sprucing the plastic parts, faded by the sun, with a bit of spray paint.
Keeping Clean Hacks
30. Waste Tank Cleaner: Use a ½-cup of Calgon Water Softener and a cup of Borax detergent to make your own cleaner for the waste tank.
31. Flea Collars for Wasps: Propane attracts wasps. Place cut up flea collars in compartments to avoid wasp infestations.
32. Soap for deterring Mice: Eliminate mice with a bar of Irish Spring soap. They hate the smell. Bounce fabric sheets are reputed to do this as well.
33. Pine-Sol for Flies: Keep flies away by wiping down awnings, tables, and counters with a 50/50 solution of Pine-Sol and water.
34. Shelf and Drawer Liners: Use non-slip liners to line drawers and shelves. This keeps items in place when traveling.
35. Reuse Plastic Containers: Don't dirty up a bowl! Scramble your eggs in an empty water bottle.
36. Install a Clear Sewer Pipe Elbow: By installing a clear elbow at the end of your sewer hose, you can prevent a lot of potential problems. Seeing what's going on in your hose allows you to check for undissolved toilet paper (in which case you might want to switch brands), to know ahead of time if a clog is about to happen, and to have visual confirmation that the tank is done emptying.
Comfort Control RV Hacks
37. Hang with command: Use command hooks or strips to hang anything from hats to keys to pictures.
38. Wrap your windows: Use bubble wrap to cover the RV windows and insulate your space during cold weather.
39. A vent cushion is a great way to reduce heat loss.
40. Light Up Your Steps With Glow in The Dark Tape: A few pieces strategically placed can make a huge difference. You can buy a 30-foot roll of weather-resistant, glow-in-the-dark tape from Amazon for only $10!
41. Make awning track hangers from para-cord.
42. Use a Wifi Booster: Although many campgrounds provide wireless Internet, the signal is not always strong. Improve the Wi-Fi reception in your RV with a booster.
43. Use Condiment Packets: Stock up on free condiments from fast-food restaurants. They're free, and they take up less space than regular ones.
44. Pool Noodles for Protection: Protect your head from hitting the metal awning strut, by slitting foam swimming noodles and slipping them over the struts.
45. Curtain Rod for Wet Clothing: You can hang your clothes while they're damp, if you place a suspension rod in the shower.
46. Light Up Dark Closets and Cupboards with Motion Sensor Lights: These high powered battery operated LED lights are easy to install and even easier to use. The motion sensing function allows you to simply open the closet or panty and immediately be greeted by a bright light.
47. Use an Oxygenics Shower Head to Increase Water Pressure: Replace your shower head with a low flow, high pressure Oxygenics Shower Head. This ingenious product mixes air into the water as it sprays out, providing you with a great shower while saving water at the same time.
48. Get Comfy With a Mattress Topper: A two, three, or even four-inch mattress topper can go a long way in increasing the comfort of your existing mattress.
49. Bring a Portable Fan: Most RVs already have AC and a ceiling fan, but you'll be glad to have something portable on extra hot days. Place the fan anywhere in your RV to create better air circulation.
50. Use Silica Packets: Place these in tough spots that don't get enough ventilation to keep your RV free of moisture and reduce the risk for mold or mildew.
In Conclusion
Ensure your glassware doesn't break. Get the most out of your storage. Keep your home-on-wheels free from pests. Simple tricks like these take all of the guesswork out of enjoying your motorhome. Try them yourself, and do your friends and family members a favor, by sharing with them!
Looking for more ideas? Check out these articles:
This post contains affiliate links. RVshare may receive compensation if you make a purchase after clicking on a product link.