Renting an RV
Last updated on September 9th, 2023. Originally published on August 9th, 2019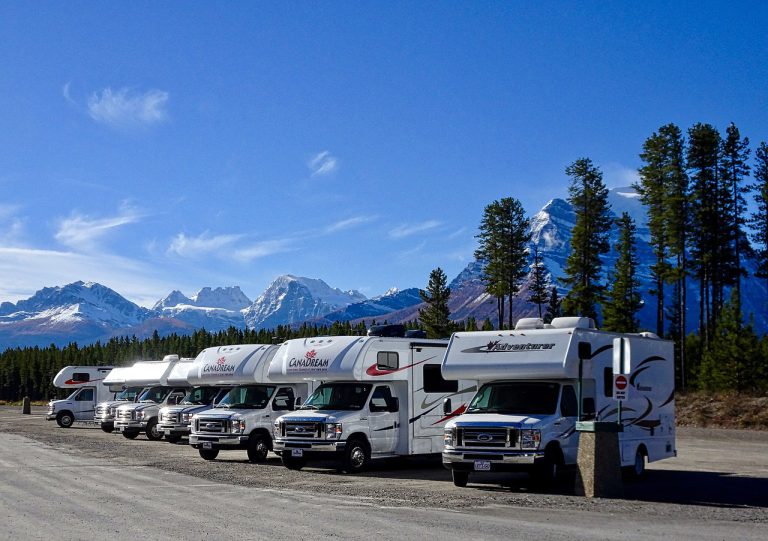 Make no mistake about it: your first time renting an RV on the peer-to-peer market is an exciting time! From choosing your destination to finding your dream rig, you've got a whole lot of fun adventures to tackle before you even get on the road.
But it can also be a little bit intimidating for first-timers, even if you've rented a rig from a major commercial dealership before. How do you go about contacting an owner if you need to get in touch with them about a question or concern? How is your ID verified, and how can you update your payment information?
In this post, we'll answer some of the most frequently asked questions inquiring renters want to know about. That way, you'll be able to hit the road with total peace of mind, knowing both RVshare and your individual owner have your back for the entire duration of your rental period!
RV Rental FAQs
Here are some of the most common RVshare FAQ questions we hear — and, more importantly, our answers.
1. How do I contact the owner and book my rig?
There are multiple ways to get in touch with our trusted RV owners throughout the RV rental process. If you have questions about a listing you're considering, you can use the "Contact Owner" button at the bottom to make your inquiries directly, using the provided text box to ask free-form questions.
You can also utilize the "Request Quote" button to learn more about the specific costs of your proposed travel period.
Finally, the "Request to Book" option sends a rental proposal to the owner, which is a great option if you don't have any lingering questions and are ready to hit the road!
2. How is my ID verified?
You need to have your ID verified in order to gain full access to RVshare's services. Fortunately, getting your ID verified is a pretty simple process!
Our secure platform will prompt you with step-by-step, on-screen instructions, asking you to take and upload photos of either your passport or driver's license. Usually, your ID will be reviewed and processed within minutes, but it can sometimes take up to a few hours. Either way, you'll receive an email notification when everything's set, and you'll be able to move forward with your reservation.
3. What is the RVshare service fee, and why do I have to pay it?
The RVshare service fee is a small charge assessed by our platform to help us keep the lights on around here and guarantee your security and safety throughout the rental period. It's calculated as a percentage of your rental reservation, excluding taxes and refundable fees. The service fee will be charged to your card once the payment for the booking processes, and only applies to the cost of the booking. In the event of an owner-initiated cancellation, a full refund of the service fee will be issued — though it won't be refunded in the event of a partial refund as a result of a cancellation or reservation adjustment made on the renter's end.
4. When will payment be exacted?
The answer to this question depends on both your travel timeline and your RVshare owner's policies. If you're booking your rig more than 30 days before your travel time, you may be able to split the payment in two — paying half up front and half closer to your travel dates. But you may also be asked to remit the entire payment up front.
If your travel dates are within 30 days' time, you'll be charged the full fee upon booking. Furthermore, if your rig is covered by RVshare Insurance, the insurance payment, which is billed separately, will also take place 30 days before your rental period begins.
Your card will also be authorized for a security deposit, which appears as a hold and will be released upon the safe return of the rental vehicle. This authorization will take place two days before your rental period begins, regardless of when the rest of the charges are authorized.
5. Can I cancel my RVshare rental?
Owners have control over their cancellation policies, and different listings will have different cancellation terms. For example, the standard rental cancellation policy gives you the option for a full refund *if* you cancel more than 30 days before the rental period, a 50% refund for cancellations requested within 30-14 days of your travel dates, and no refund for cancellations made within two weeks of your rental period.
However, an RVshare owner could also opt for stricter or more lenient policies, which could give you more or less time to make your cancellation and receive a full or partial refund. For example, our most forgiving policy allows full refunds to be made up to 7 days before the start of a rental period, whereas our most strict cancellation policy doesn't allow or any refunds whatsoever. Click here to learn more about our various cancellation policy options.
A $99 cancellation processing fee will be applied to all partial and full refunds.
6. What if an owner requests I submit payment outside of the RVshare platform?
RVshare's platform exists for the safety and security of your sensitive information — and that of the RVshare owners, as well. If an owner asks you to submit any part of your payment outside of our secure platform, this is a breach of our terms of service and will bypass our security measures.
We strongly advise you not to honor the owner's request for under-the-table payment, and also ask that you reach out to our customer service team via phone, chat, or email to report this behavior.
7. How can I update my payment information?
Whether your card's out-of-date or you just want to use a different payment method for personal reasons, it's easy to update your payment information through our secure platform.
Simply login to your RVshare account, navigate to "Account" and then "Payment Method." Follow the prompts from there to enter your new credit card information.
We don't currently have the capability to allow customers to keep more than one card on file, so whatever card you have on file at the time of booking will be the one that's charged.
8. What is the Worry-Free Rental Guarantee?
Why worry? Our Worry-Free Rental Guarantee takes the guesswork out of your rental experience by adding safety and security measures meant to protect both you and the RVshare owner whose rig you're renting.
The Worry-Free Rental Guarantee provides the following benefits:
Payment protection that protects rental payments against listing fraud
Our dedicated Customer Solutions Team that will answer your questions before or after your reservation
Rental assistance if the RV is significantly misrepresented or you are denied access
Rebooking assistance provided by our Booking Services Team to assist in finding you another RV should your booking be canceled by an owner last minute
Security deposit protection to assist you in disputing a charge wrongfully withheld after your reservation
To be eligible for the Worry-Free Rental Guarantee, you must meet the following requirements:
In order for your transaction to be eligible for the Worry-Free Rental Guarantee, all funds must be paid through RVshare's secure payment processing system.
If the RV is significantly not as described, unsafe/unsanitary, or you are denied access, you must contact Customer Support within the first twelve (12) hours of the event.
Your reservation has been canceled less than 30 days from your trip and you are unable to locate a similar RV available during the same period.
If you have experienced an event that is eligible for the Worry-Free Rental Guarantee, please contact customer support within 30 days of the incident (or within 12 hours of pickup if the RV rented was not as advertised or unavailable). The customer support team is available via phone, chat, or email Monday-Saturday.
9. How can I reach RVshare with more questions?
If you still have questions about your upcoming rental adventure, never fear! Our support team is here to help you at every step along the way.
RVshare Customer support is available 24/7 by:
Happy camping!