RV Owners
February 27th, 2020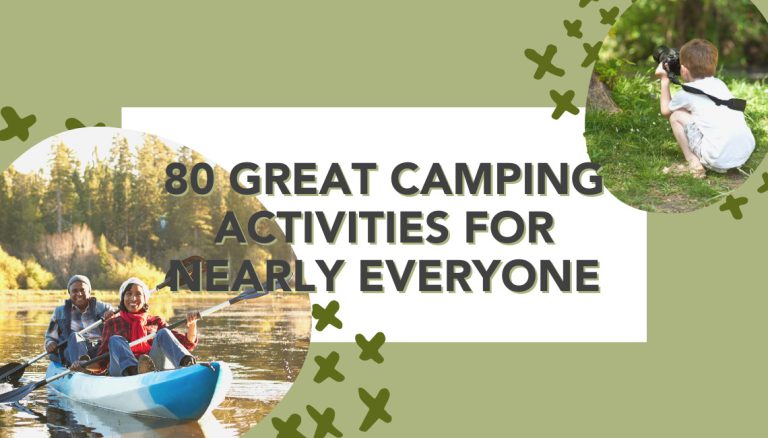 There's nothing quite like a good old-fashioned camping trip to help you get away from the hustle and bustle of everyday life and enjoy yourself in nature. Camping can be fun for people of all ages and interests, and it can either be relaxing, an incredibly exciting affair, or something in between.
That said, while it's wonderful to sleep under the stars, get acquainted with nature, and hang out with those you love, these things aren't going to automatically fill your days with fun. Many new campers unfortunately fail to realize this, only to head into the woods with zero fun camping activities planned and ending up bored for an entire weekend.
In order to avoid this boredom and ensure your entire camping party has an absolute blast, we recommend going in with some camping activity ideas in mind. Fortunately, because there are so many options of things to do while camping, this shouldn't be too difficult.
This is where our camping activities guide comes into play.
Camping Activities Guide
Whether you're looking for adult camping activities, things to do while camping with kids, or what to do while camping with the whole family, there's something in this guide for you. We've got fun camping ideas for water fun and sports fun, as well as sports ideas and nighttime camping activities for adults and kids alike.
Check out this incredible list of camping activities, take note of the camping ideas that interest you, gather the supplies you need, and get ready to have an amazing time on your next big camping adventure!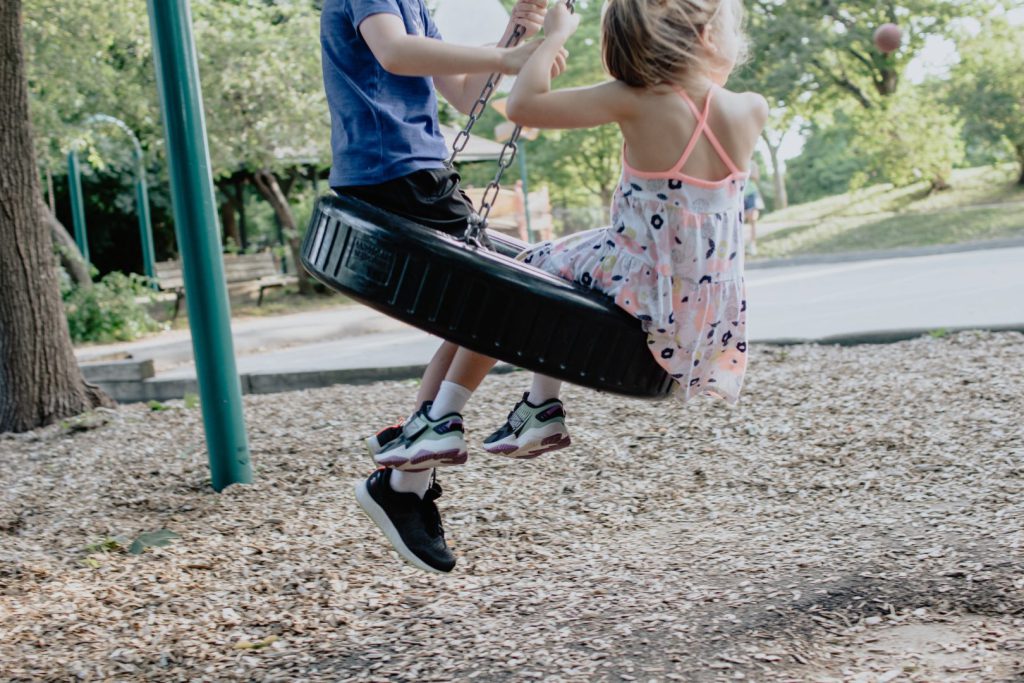 Fun Camping Activities
The first thing to consider when looking for fun things to do while camping is what your campground has to offer. Many campgrounds and RV resorts have all kinds of amenities available to guests.
These amenities can take all of the work out of planning activities for your family. They provide all the equipment needed to have a good time—making packing much easier—and sometimes they'll even provide someone to run organized activities, removing even more of the load from your shoulders.
Because they make everything so much easier, we highly recommend taking full advantage of the built-in fun camping activities before planning and packing your own things to do while camping.
Playground Equipment
Most kids love time spent on a playground. Fortunately, the vast majority of campgrounds have some sort of play structure for the little ones. If not, rocks, hills, and logs can easily take the place of one.
Arcade Games
In some cases, arcade games might be available in your campground recreation hall. Of course, you'll need to have quarters on hand and be willing to spend them, but these games can be a fun way to pass an afternoon.
Pool Tables and Ping Pong Tables
Another thing often found in recreation centers are pool tables and ping pong tables. If you get to the tables and find that there are no balls available, ask at the front desk. Some places require that you check them out.
Horseshoe Pits
Looking for outdoor campground fun? Check to see if your campground has horseshoe pits. These offer a fun challenge for everyone in your family. Again, you might have to check out any required equipment.
Driving Range and Mini Golf
Golf fans will love to learn that some campgrounds offer driving ranges and/or mini golf. Do your research beforehand and learn whether these things are available, so you know whether or not to pack your clubs.
Basketball Hoops
Want to shoot some hoops? Many RV parks offer basketball hoops, and some even have full-fledged courts. Break out your basketball and have some fun with friends!
Tennis Court
Tennis is another great campground activity. Check to see if your campground has a tennis court before you leave home. If so, be sure to pack your racket and a few tennis balls.
Pool and Hot Tub
For many, swimming is an integral part of any vacation. Fortunately, most RV parks and campgrounds offer some place to swim, and in many cases, this means a pool and/or hot tub. These are amenities you will definitely want to take advantage of, depending on the time of year.
Horseback Riding
Occasionally, you might come across a campground that offers horseback riding. If you're a horse fan, you might even seek this out specifically. There's nothing quite like riding a horse through the woods, meaning horseback riding might just be the most memorable of your camping activities.
Organized Campground Activities
Upscale RV parks tend to offer some organized activities as fun things to do camping. In some cases, these will only be available on weekends or during the busy season, and in other cases, you can enjoy these activities year-round. Expect crafts, games, hay rides, potlucks, and group campfires, among other things.
Water Camping Activities
Another thing many campgrounds have is a body of water of one kind or another. Whether you're right next to the ocean, beside a lake, or just have access to a pool, you will almost certainly want to spend some time in this water, especially if it's hot out.
Just relaxing or swimming around is fun, of course, but you can make your water play even more interesting using water camping games. Below are some suggestions of water camping activities to make your time as enjoyable as possible.
Sand Sculpture Building
If the swimming area in your campground is on a sandy beach, you should definitely take some time to build sand sculptures. Whether you choose to put together an enormous sand castle or a funny sandman, making things out of sand is tons of fun.
Water Volleyball
If you have access to a net, water volleyball is a ton of fun and allows you to get active and play as a team while enjoying the cool water.
Snorkeling
If you're lucky enough to be camping near the ocean, you might just have the opportunity to do some snorkeling and check out the sea life. Bring your own mask, snorkel, and flippers and have a blast spending some time with the fishes.
Fishing
Prefer to stay dry while checking out the fish? Fishing might be a better pastime for you. A great number of campgrounds offer some sort of fishing opportunity. Just be sure you have the appropriate license and follow the rules.
Boating, Canoeing, or Kayaking
A boat can make fishing more fruitful and more fun. Other watercraft, such as kayaks, canoes, and paddle boards, make exploring the waters easy and fun. If you have one of these things, bring it along. Otherwise, you might see about renting one.
Water Skiing or Tubing
Those with motorized watercraft have the opportunity to enjoy water skiing or tubing. Both are extremely fun, fast-paced activities that are perfect for adrenaline junkies. Just be aware that water skiing is hard work and could leave you feeling sore the next day.
Stone Skipping
Skipping stones is a laid-back way to pass time spent by the water. Not sure how to skip stones? Check out this video to learn.
Water Games
Lastly, we must mention water games such as "Chicken" and "Marco Polo". Both are quite silly and make time spent keeping cool in the water even more fun.
Camping Games
A lot of people enjoy fun camping games. In fact, games are among those classic fun camping activities you'll likely find yourself turning to time and time again.
The best camping games are the ones with simple rules that can be played outdoors with little or no equipment. Fortunately, there are quite a few awesome games that fit into this category just fine.
Here are some of our favorites for you to choose from next time you feel the dreaded boredom coming on.
Tug-of-War
One of the simplest camp activities ideas, tug-of-war requires nothing more than a rope and some willing participants. That said, adding a big mud puddle can make the game a lot messier and a lot more fun.
Charades
Charades is another great answer to the question of what to do while camping. Very little equipment is required, and the game can be played on a campsite, in an RV, or anywhere else you might happen to be.
Capture the Flag
If you have a big open space to play and plenty of players, "Capture the Flag" is the perfect camping game. Learn the rules for this classic outdoor game here.
Red Rover
"Red Rover" is another childhood classic that is perfect for those times when you have an open field and plenty of participants. Best of all, it's such a simple game that you can learn and teach the rules in no time.
Hide-and-Seek
One of the most fun things to do camping when you happen to be in the woods is playing a good game of hide-and-seek. Because the rules of this game do vary a bit based on who you ask, you will want to make sure to clarify the rules before beginning gameplay.
Tag
Tag is one of the best camping ideas because it's fun to play in open spaces or in the woods, and it can be played in either short spurts or as one afternoon-long game. If regular tag gets boring, consider mixing it up by playing some variations of the game.
Truth or Dare
"Truth or Dare" is like Charades in that it can be played outdoors or indoors, in daytime or at night. It's great fun and one of the most popular games to play while camping, but can get out of hand, so you might want to supervise child-led rounds of this game.

Sports-Oriented Camping Games
Speaking of outdoor games, you may also want to consider sports-oriented activities for your next camping trip. As mentioned above, many campgrounds offer mini golf, and some even have driving ranges or full-fledged golf courses available. We also mentioned the availability of basketball hoops and tennis courts, making a game of tennis or shooting hoops possible.
Wondering what other sports might be possible while camping? We recommend the following ones:
Baseball or Catch
Bring a glove and ball to play some catch, or pack a bat as well and you can play a full-on baseball game. All you need is enough open space and something to put down for bases.
Races and Obstacle Courses
Races are a childhood favorite for a reason. They're super simple and tend to challenge our respective competitive streaks. The most basic form of racing would be a running footrace. However, you can elaborate on this by A) making it a relay race, B) creating an obstacle course to race through, or C) adding in bikes or other modes of transportation.
Football, Kickball, and Soccer
Other great options for those big open fields are football (we prefer touch football), kickball, and soccer. You will probably have to bring your own equipment, but as long as you're okay with doing that, you can have a lot of fun playing these sports at campgrounds.
Frisbee
Tossing a frisbee back and forth can actually be really fun too. If you're looking for a bigger challenge, find out if your campground has a frisbee golf course for you to try.

Exploratory Camping Activities
If you are like many others and believe that camping should be all about exploring nature, you'll probably want to include some exploratory camping activities on your to-do list.
These activities give you a chance to reconnect with the plants and animals while learning something new about the world around you. They are a perfect way to spend time with family or friends, and most can keep kids and adults equally busy and happy.
Wildlife Spotting
One of the benefits of being outdoors is the fact that you might catch a glimpse of the local wildlife. Set out on a hike, or settle down amongst the trees and see if you can spot a turtle, beaver, or deer. Look for tracks and other signs that these creatures have been nearby. You might be surprised at what you find.
Bird Watching
A more specific type of wildlife spotting, bird watching is an exciting and educational way to pass the time. Take along a bird watching guide and see how many different birds you can identify.
Plant Identification
You might also grab a plant identification book to help you learn about the flora along your path. This activity is fabulous, as it will help you avoid things like poison ivy and poison oak, and will encourage you to actively seek out beautiful plants and wildflowers.
Nature Collecting
If you're the type of person who finds joy in collecting things, you might consider starting a rock, leaf, or flower collection. You can add to this collection each time you take a hike, leaving you with lovely souvenirs of your adventures.
Nature Photography
Prefer to let nature be? You can still take the beauty of the natural world home with you by giving nature photography a try. Use different angles to make your shots interesting, and don't be afraid to get up close and personal.
Nature Sketching
If photography isn't your thing, you might find that nature sketching is a fun activity that allows you to capture the beauty of the world around you. This is quite relaxing and requires you to really take in the finer details, giving you a new appreciation for nature.
Scavenger Hunt
Kids who are reluctant to take a hike might be convinced through the use of a nature scavenger hunt. Print off scavenger hunt pages beforehand and see how many items you can find along your way.
Firewood Collecting
While you're out on your hike, you might as well kill two birds with one stone (metaphorically speaking) and gather some firewood along the way. This will ensure you're ready for the evening festivities when you return to camp. Just make sure the campground is okay with this before you begin.
Geocaching
Geocaching is a super fun treasure hunting activity that people all over the country participate in. There are geocaching sites all over the US, and seeking them out is an absolute blast. Learn more here.
Litter Picking
Why not help the earth out a bit while you hike? Take a bag and pick up any litter you find along the way. Mother Nature will thank you.
Inside Camping Activities
Sometimes the weather doesn't cooperate, meaning some of your trip must be spent camping indoors. In some cases, this will mean heading into the RV. In other cases, it might mean hanging out in an RV park clubhouse or recreation center for a while. Still others might find themselves crammed into a tent.
Whatever the case may be for you, you will want some fun indoor camping activities. Below are our top tips for indoor things to do while camping.
Journaling
Looking to unwind a bit? Writing in a journal is a great way to do that and an ideal indoor camping activity. It's also the perfect way to preserve your camping memories.
Reading
Reading is always a great indoor activity. Have members of your group read individually and each be transported to a different place, or read aloud (or listen to an audiobook) to share the experience.
Board Games
Another wonderful way to spend your time indoors is by playing board games. There are games for all ages and interests, so there will almost certainly be some choices that suit your group. To save space, consider packing your games into baggies rather than their original boxes.
Card Games
Don't have room for a bunch of board games? Cards are the perfect alternative. There are dozens of indooor camp activities that can be played with a single deck of cards. Learn a few here.
Paper Games
Paper is another awesome tool that offers endless fun. Paper games such as "Hangman" and "Tic-Tac-Toe" are easy to play and require nothing more than a sheet of paper and a pen.
20 Questions
No paper or cards? "20 Questions" can be played without any tools at all! It's perfect for playing inside, and can be quite challenging. Learn the rules here.
Crafting
Being stuck inside is a great opportunity to hone your crafting skills. Whether you're learning to knit, making paper flowers, or simply coloring in a coloring book, you're sure to make something lovely and emerge from your camping hiding spot feeling refreshed.
Storytelling
If you like the idea of listening to a story but don't have a book on hand, storytelling can be a fun campaign activity. Take turns making up stories to tell, or play one of these silly games.
Watch Movies
Generally speaking, we don't encourage the use of electronics on camping trips. However, if the weather has you trapped indoors for hours on end, watching a movie with family or friends can be a good option. Just make sure to turn the device off once the sun comes out again.

Relaxing Camping Activities
Most adults are going to want to spend at least a portion of their camping getaway relaxing. After all, what kind of vacation doesn't include time to recharge?
That said, resting doesn't have to be boring. In fact, when you're camping, rest can actually be pretty interesting. The following camping ideas will allow you to relax and recuperate while also taking full advantage of the fact that you're on a camping trip.
Beach Naps or Relaxing in Water
If you have a beach available to you, consider taking a nap on the sand. No beach? Resting on an inflatable in the water is a great alternative—just make sure you don't fall asleep on it, as it can be dangerous.
Nature Walks and Pattern Spotting
An easygoing stroll through nature can do wonders for your mental state. You might try doing some pattern spotting along the way to help clear your mind of distractions and really immerse yourself in nature.
Meditate
Alternatively, you might choose to sit still and meditate. This is a wonderful option, and apps such as Headspace can help make your meditation effective, making this one of the most relaxing camp activities out there.
Hammock Time
Set up a hammock on your campsite and spend some time swinging in it, perhaps reflecting on life or reading a book. The swinging motion is very soothing, and the time in nature helps you recharge.
Cloud Watching
Watching the clouds drift by and looking for shapes in them can be extremely relaxing. Lay out a blanket on the ground and give it a try.
Intentional Listening
You might also try laying on that same blanket and doing some intentional listening. Listen to the birds, the wind, the tide, or a nearby stream. All of these sounds are soothing, helping you relax and reset.
Outdoor Yoga
Lastly, there is the option of doing some yoga as you spend time outdoors. This is most relaxing when done as the sun rises or sets, but can be done anytime of day. If you're a complete beginner, you might try this video to get yourself started.
Nighttime Camping Activities
Finally, there is the question of what to do when camping at night. Sure, you could just go to bed, but where's the fun in that? Instead, why not use the nighttime to do something a bit different and make some amazing memories?
These night camping activities can be done with little or no light, and they are all tons of fun.
Stargazing and Telescope Viewing
The night sky is a fascinating thing. Why not spend some time appreciating all the wonders it has to offer? Stargazing while using an app such as Sky Guide is a lot of fun, as is looking through a telescope. This is one of our favorite things to do while camping at night.
Night Walks
Walking through the woods is a lot different at night. Why not grab a flashlight and some friends, then head out on a well-marked trail to experience nature in the dark?
Ghost Storytelling
Telling ghost stories around the campfire is a classic camping activity. Alternatively, you might keep things tame for young kids and use one of those silly storytelling games we mentioned earlier.
Playing Music
Campfire songs are also a camping classic. Whether you choose to play an instrument such as a guitar or simply sing a capella, camp songs such as "Down by the Bay" and "Clementine" are sure to be enjoyed by all.
Making S'mores
Of course, you absolutely must make s'mores. Use the traditional recipe we all know and love, or try one of these twists on the old favorite.
Flashlight Tag
We mentioned tag earlier, but flashlight tag is even more fun and perfect when it comes to night camping games. Just be careful of ruts and tree roots.
Glowstick Games
Glow-in-the-dark egg hunt anyone? Maybe a round of glow bowling? These games can be put together quickly and easily using glow sticks. Learn how to create these and other glow stick activities here.
Midnight Swimming
First and foremost, we must say that swimming in the dark can be dangerous. However, when done safely, it can be a ton of fun. Make sure you take friends with you and ensure everyone in your party is a strong swimmer. Additionally, we recommend sticking to swimming pools rather than lakes, oceans, or rivers to reduce the risk of drowning.
Campfire Skits
Finally, we must mention campfire skits. These are often done at children's summer camps, but are just as fun with friends or family. Try these skits on for size.
Want more ideas? This list of fun things to take on camping trips is sure to provide plenty of inspiration. 
Need an RV so you can get out there and try some of these awesome campaign activities out yourself? Of the hundreds of rentals listed here on RVShare, you're sure to find something that suits your needs. Why not book today?