Boondocking in Kentucky
Top Campgrounds
Last updated on June 23rd, 2022. Originally published on April 5th, 2021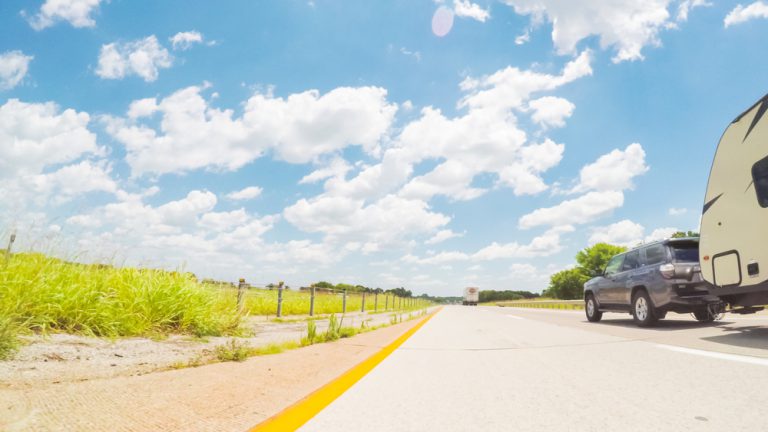 Still engaging the pioneering spirit of Daniel Boone, the state of Kentucky welcomes boondocking. Visitors come to Kentucky for its mountains, lakes, rivers, forests, and rolling grasslands. Rock climbers from around the world come to Kentucky to risk its towering peaks. Anglers, water skiers, boat enthusiasts, and those who enjoy a peaceful lakeside setting come to Kentucky to enjoy its lakes and reservoirs. Whitewater enthusiasts visit Kentucky for its plummeting streams, which challenge even the most experienced rafters. Kentucky's legendary forests include two nationally designated ones, Daniel Boone National Forest and George Washington and Jefferson National Forest, where dispersed camping is allowed along scenic rivers and where panoramic views of valleys surrounded by heights are standard. These attractions encourage RV travelers to visit Kentucky and experience dry camping, also called dispersed camping or boondocking. Nearly everywhere you visit in Kentucky has a location where boondocking is available. 
Boondocking Sites in Kentucky
Wilson Creek Recreation Area
The Wilson Creek Recreation Area, operated by the Army Corps of Engineers, sits in the near center of Kentucky. Located 60 miles east of Mammoth Caves National Park and 83 miles southeast of Louisville, KY, this recreation area offers a brief respite for urban dwellers with fishing, hiking, boating, waterskiing, and a host of other activities. Luckily, there are five primitive campsites nearby where RV campers can stay for free. Pit toilets, a water spigot, fire rings, and picnic tables are available at those sites. These sites cannot be reserved; they are available on a first-come-first-served basis.
Swain Ridge Road Dispersed Camping
At Swain Ridge Road Dispersed Camping there is a clear area about the size of a football field that is dedicated to dispersed camping. Located close to Parkers Lake, KY, and near the Kentucky/Tennessee border, this open field offers a place to stay, but there are no amenities. The site is located alongside the Beaver Creek Wilderness, which is part of the Daniel Boone National Forest. This campground is often unused despite its immediate access to the trails, streams, and lakes that attract so many to the forest. 
S-Tree Campground
S-Tree Campground, located 60 miles southeast of Lexington, KY, offers free camping on a first-come, first-served basis. There are 20 campsites available for overnight use with a small picnic area and a historic picnic shelter constructed by the Civilian Conservation Corps (CCC) in the 1930s. The campground has access to the Sweltowee Trace National Recreation Trail and the Renfro Loop Trails. This campground is heavily used, so arrive early to find an available space. 
Turkey Foot Campground
Located near the S-Tree Campground is the Turkey Foot Campground. Turkey Foot offers 15 boondocking campsites along the banks of War Fork Creek. The road into the campground is steep, and rigs are limited to 30 feet in length. Each site is equipped with a fire ring, picnic table, camping pad, and lantern post. Vault toilets are available, but there are no water fixtures, electricity, or dump stations at the campground. The fishing is excellent as the creek is stocked twice per year. 
Paragon Dispersed Camping Area
Boondockers will find 10 campsites at the Paragon Dispersed Camping Area near Clearfield, KY. Located in northeastern Kentucky, the area is easily reached by traveling east 60 miles from Lexington. Some of the campsites have fire rings and lantern posts. The Forest Service provides chemical toilets and trash pickup from mid-April through November. The campground sits beside Cave Run Lake, known for its intense scenic beauty, peaceful environment, and extensive water activities.
Little Lick Horse Campground
The Little Lick Horse Campground sits near Somerset, KY. It provides 15 free campsites with fire rings and picnic tables. Vault toilets are available for use by campers. The access road is 5 miles of twisting gravel, which serves to keep the campground secluded. Most days, the campground is empty despite the opportunities to hike, bike, or horseback ride on several trails through the Daniel Boone National Forest. 
Indian Creek in the Daniel Boone National Forest
Indian Creek in the Daniel Boone National Forest offers 30 or more free campsites. It is free to camp anywhere along Indian Creek, but you must have a permit to stay overnight. Those permits are $3 per day, but you can get three-day or annual passes as well. These campsites are extremely primitive, are generally beside the creek, and offer no amenities whatsoever. Indian Creek is easy to access from Lexington, KY, by driving 57 miles east.
Where to Boondock in Kentucky
There are areas where free camping in Kentucky is generous. Most of these campsites are dispersed camping facilities in the extensive Daniel Boone National Forest. The Forest Service-maintained sites are the most convenient and have some supervision. In most cases, campers are on their honor to use common sense when tending a fire and are expected to pick up their trash and leave attractive campsites for the next boondockers.
Free Camping in Kentucky
When planning your boondocking trip in Kentucky, consult RVshare for information about where to find free camping. Though some store parking lots and wide patches alongside a road may appear attractive for a place to pull over and spend a night, it is not always legal in Kentucky.
Traveling through Kentucky is a comfortable and exhilarating experience. While Kentucky welcomes RV visitors, it is wise to check out our blog for all you need to know about boondocking in Kentucky.
Kentucky is a beautiful place with a fantastic array of activities. By taking advantage of boondocking, visitors lower their travel costs and come closer to the impressive views and hikes that seem to appear around every bend while traveling through the state. When you boondock in a rented RVshare vehicle, your horizons become limitless, and your memories stick with you for a lifetime.