Travel Inspiration
June 15th, 2020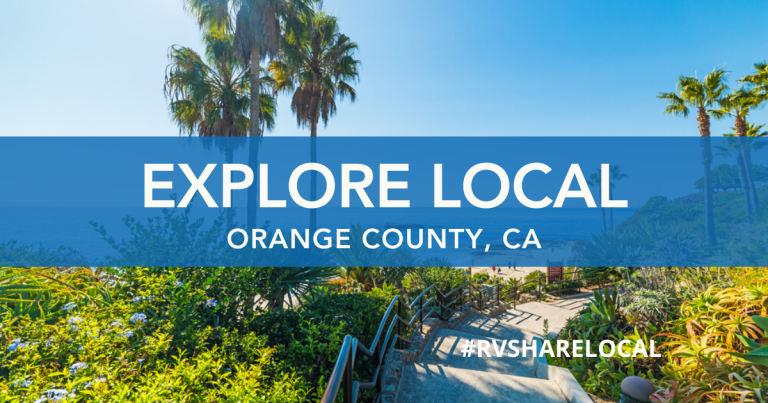 Orange County, California. It's like a version of LA without quite so much of the traffic — or tourists.
But there's still just as much to see, do, and explore, including both urban adventures like dining and shopping and a range of outdoor recreation opportunities in the one-of-a-kind desert expanse that is southern California.
Named for the wide expanses of orange tree orchards that once used to grace its hills and valleys, Orange County, California is chock full of exciting opportunities to explore. No matter whether you've called it home for a long time, are considering relocating — or even if you're just an LA resident looking to broaden your horizons a bit, you'll find some of our very favorite places to explore in Orange County.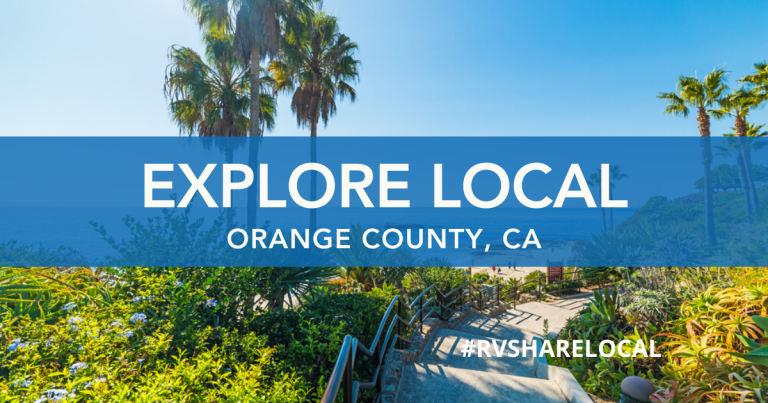 Why We Love to Travel
The beauty of travel is seeing new places, experiencing new things, meeting new people… That feeling of wanderlust is buried deep in our souls! Getting to experience cultures that are different from our own is an amazing way to grow as individuals and learn about others. Seeing how people all over the world live helps us keep an open mind and even gather inspiration to bring back into our daily lives.
Travel is also a great way to get away from the day-to-day. Breaking up our routines with a fun trip definitely recharges the batteries and helps prevent us from getting burnt out.
But here's the thing – you don't have to go far to fill your cup. Sometimes the best adventures are the ones close to home.
Benefits of Traveling Locally
While the culture an hour away from your home might not be drastically different from what you're used to, you can still gain a deepened sense of appreciation for where you've laid your roots. Plus, traveling locally has a lot of benefits:
More cost-effective. Local travel is certainly a budget-friendly way to explore! Many activities and local parks are free or have a low cost of entry. For day trips, you can also pack your own meals to save.
Eco-friendly way to travel. Travel is hard on the environment, but putzing around your area is more sustainable than air travel.
Quick trips. Getting out locally means you can do it more often! Long weekend trips are a lot easier to take when the destination is a short drive away.
Easy to plan. Preparing your itinerary for a local getaway will likely save you some time and stress.
More convenient. Especially if you have little ones, sticking close to home may be much more convenient than far-off destinations. If you forget something, have an emergency, or need to cut the trip short, being close by
Explore Local: Orange County, California
Wondering what there is to explore Orange County?
Even if you consider yourself well-versed in what southern California has to offer, chances are you'll encounter a few new things to see and do in this post. Read on to start your Orange County, California adventure!
State Parks in Orange County
If there's one thing we know about southern California, it's that it's got one of the most unique and diverse sets of outdoor recreational opportunities around. From sand and surf to mountains and windswept expanses, here are some of the best state and national parks to head to in the Orange County, CA area.
Anza-Borrego Desert State Park is a vast wilderness of over 600,000 acres that's just a short drive from most parts of Orange County. With 110 miles of hiking trails networked through the park, there's no shortage of things to do — and plenty of unique desert flora and fauna to get acquainted with.
Chino Hills State Park

is only a short drive from the hustle and bustle of the city, but its wildflowers and idyllic landscape will make you feel like you've stepped into another world — one much further from LA than this one!

Crystal Cove State Park

features three miles of beaches and tide pools, a 1400-acre marine conservation area and underwater park, 400 acres of bluffs, and 2400 acres of canyons — so no matter what type of adventure you're after, you're sure to find it here!

Doheny State Beach

is a prime opportunity for Orange County beachgoers, tucked as it is between Los Angeles and San Diego.

Mount San Jacinto State Park

is located in Riverside County about a hundred miles east of Orange. Its tallest peak — of the same name — stands 10,834 above sea level, making it a great destination for adventurers looking for a more serious hiking undertaking.

San Clemente State Beach

holds the distinction of being the most popular beach in the entire state, so it's sure to be crowded. That said, the views will quickly make you understand why it carries that superlative. (Be forewarned, though: lots of LA residents take the drive south for this one!)

Sequoia National Park

is approximately four hours north of Orange County, outside of the town of Three Rivers. Its namesake trees are the largest in the world — big enough that you can walk through them!

Kings Canyon National Park

is directly adjacent to Sequoia National Park, and notably is home to General Grant Tree, proclaimed by President Coolidge as "The Nation's Christmas Tree."

Joshua Tree National Park

spans more than 1,200 miles of southern California, and is home to its namesake trees — which, fun fact, are actually giant succulents! This unique desert getaway is a must-do for every Orange County resident and visitor.

Death Valley National Park is a land of extremes: the hottest and driest place in the country, and also home to both the lowest and highest elevations in the continental U.S.
Best Hiking Trails
Both inside and outside of the state parks and other preserved wildernesses in the area, there are plenty of amazing hiking trails in and around Orange County. Here are some of the best!
Horseshoe Loop
Looking for a relatively easy trail to wander on? Horseshoe Loop spans six miles, but with almost zero elevation gain, it's decidedly a breezy walk. Tucked inside Irvine Regional Park, it's an easy one to get to from almost anywhere in the county, and it's also a good one for people just starting out on their hiking ventures.
Black Star Canyon Trail
For adventurers looking for something with a little bit more challenge, Black Star Canyon Trail is a great option. Measuring just under seven miles total, this out-and-back trek will take you through the namesake canyon with a worthy end to motivate you: a gorgeous waterfall! History buffs will also be pleased to learn that Black Star Canyon holds a great deal of significance thanks to its status as an important archaeological site. It was once home to the Black Star Coal Mining Company in the 1800s, which is where it got its name.
Serrano Ridge West Canyon Trail
With about a thousand feet spread over just under seven miles of hiking, this loop makes for a great moderate adventure — it'll give you a bit of a workout, yes, but it won't leave you crying. Serrano Ridge West Canyon Trail is located in the Laguna Coast Wilderness Park, and it's a great and scenic option for Orange County residents.
Rattlesnake Loop Trail
Running seven and a half miles through Crystal Cove State Park, the Rattlesnake Loop Trail is moderately trafficked and known for its beautiful wildflowers. With about 1,200 feet of elevation gain over its length, this is a firmly moderate trail and a great choice if you have a whole afternoon to while away.
Black Gully Trail
Another easy-breezy option for those who want an adventure that they don't have to work at too hard, Black Gully Trail is used by hikers and runners as well as mountain bikers — though fortunately, the park organizers have created a one-way path for visitors on wheels. Measuring under five miles in total length and seeing less than 500 feet of elevation gain, this gently rolling trail will take care of you.
Best Restaurants in Orange County, California
With all that hiking — and all the other Orange County exploring you're getting ready to do — chances are you've worked up an appetite. Here are some of the best restaurants to add to your to-dine-at list.
Clay Oven Indian Restaurant
Looking for an out-and-out dining experience? Clay Oven is one of the best Indian restaurants in the Orange County area, offering dishes that are both creative and hit-the-spot good. Nestled into the college town of Irvine, this place is a must-hit for a big date night meal, especially if you can stand it a little bit spicy!
Taqueria el Zamorano
Cheap and good don't always coexist — but when they do, it's a beautiful thing. Taqueria el Zamorano is the perfect spot if you're looking for one of the best Mexican restaurants you can eat at on a dime. Their generous combination plates will likely feed you for not just one, but two meals, and not a one of them is more than $10.
Francoli Gourmet
Given how many towns it encompasses, finding the best Italian restaurant in Orange County would be something of a task. That said, Francoli Gourmet would give any of its competitors a run for their money. Offering authentic classics from the country's northland, like lasagna alla Piemontese and spaghetti bolognese, you're sure to leave satisfied. (Just be sure you save some room for dessert, too; there's tiramisu!)
Wursthaus
If you're looking for a unique dining experience, and you prefer your food accompanied by a wide range of delicious beers, Santa Ana's Wursthaus is a great pick. Nick Smith, a graduate student at UC Irvine, says, "They're reasonably priced — and probably the only place to get a duck or alligator sausage."
Vegan Nirvana
Looking for the best vegetarian or vegan eats in town? In a wild departure from our last recommendation on this list, let us point you in the direction of Vegan Nirvana, located in Huntington Beach. Their "world peace cuisine" includes plant-based versions of classic, feel-good favorites like chicken tenders, BLTs and chicken fried rice, this place will be a hit even among the non-vegans in your group.
Fun Things to Do in Orange County
Food? Check. Outdoor adventure? Check.
Now what? Good thing there are so many wonderful things to do in Orange County, whether you're with the kids, with your sweetheart, or flying solo!
For Kids and Families
Bringing the whole family along for the adventure? Here are some of the top things to do in Orange County with kids.
Knott's Berry Farm
Think this is some humdrum, you-pick berry situation? Think again! Knott's Berry Farm is a one-of-a-kind theme and water park in Buena Park, California, and it's the perfect place to venture with the kids — or even just with your sweetheart. With thrilling roller coasters and rides, an on-site Old West Ghost Town, special events, marketplaces and more, there really is something for everyone here.
Discovery Science Center
Education and entertainment don't always go together — but at Santa Ana's Discovery Science Center, they do. With tons of great interactive exhibits to get the kids amped about learning, this is a great way to spend a rainy afternoon.
Pirates Dinner Adventure
How about dinner and a (family-friendly) show? Pirates Dinner Adventure in Buena Park, California serves up delights for both the taste buds and your story sweet tooth.
On the Cheap
Southern California isn't exactly known for being cheap — but you don't have to spend an arm and a leg to see it, either. Here are some of the best cheap things to do in Orange County.
Old Towne Orange
This one-square mile district situated around the original town square of Orange, California is free to enter… but chances are you're going to find something to buy, try or taste while you're there. Still, it's not expensive!
Fullerton Arboretum
Located on the northeastern corner of California State University, Fullerton Arboretum is a sprawling, 26-acre botanical garden that's absolutely worth your time — especially if you're looking for things for couples to do in Orange County. Although it's free to enter, a $5 donation is suggested to help keep the gardens up and running.
At Night
So we've covered a ton of fun things to do in Orange County during the day. What about after night falls?
Here are some after-dark options.
Frida Cinema
Having trouble coming up with things to do in Orange County this weekend? There's nothing like a good ol' trip to the cinema — and The Frida Cinema in Santa Ana is no ordinary movie house. This nonprofit offers independent, foreign and classic films in a quaint setting, and yes, their namesake is Frida Kahlo. How much cooler does it get?
Gondola Adventures
Think you have to go all the way to Italy for a private gondola cruise? Think again. Taking off nightly in Newport Beach, Gondola Adventures offers you a chance to experience this unique romance right here in the U.S.
Day Trips in Orange County
Don't get us wrong — there's enough to do in Orange County to keep you occupied. But if you're in the mood for a California drive and a bit of a change of scenery, here are our recommendations.
Disneyland
Come on — it's right there! If you've never been to Anaheim's Disneyland, you're definitely missing out… and if you've got the kids with you, it's basically a requirement.
Santa Monica
One of the most stunning stretches of coast not only in southern California, but in the country, Santa Monica is well worth making a day trip for… though you may go ahead and plan to extend it to a romantic weekend getaway!
Spas in Orange County
You deserve some indulgence. Here are some great spas in Orange County to help get you feeling right.
Burke Williams Day Spa
Massage, facials, nail care — Burke Williams Day Spa has it all. In fact, this unique spa even offers chiropractic services! There are a number of locations across southern California, including in the town of Orange.
Spa Georgie's Newport Beach
There's just something about a spa day right off the beach — even if you're too busy getting worked on to see and smell the ocean. Spa Georgie's in Newport Beach is the perfect place to get relaxing and rejuvenating body work done, and they also offer inclusive packages to make sure you're taken care of from tip to toe.
Best Gyms & Yoga Studios
It's southern California, so everyone's got beach bodies on the brain. Here are some places to strengthen and sweat.
BARE Fitness
Offering a high-intensity, yet low-impact, workout that is sure to change the way you feel in your body, BARE Fitness is a unique boutique fitness option that turns the traditional gym experience on its head. Enjoy personalized attention from a motivated trainer who will move you through this unique method, which combines cardio, flexibility, strength, agility and more.
Orange County Strength Club
You don't have to go all the way up to Venice to see some serious muscle building. Orange County Strength Club is a no-nonsense establishment offering you all the equipment you need to achieve a straightforward (but challenging) goal: getting stronger.
Our Place Yoga
Think yoga is only for super-flexible vegetarians who perform impressive feats on far-off beaches and mountains? Think again. Our Place Yoga is all about proving that yoga is for everyone, and they offer a diverse range of classes to help you discover the perfect one for what you and your body need, right now, as is.
Be the Change Yoga
When it comes right down to it, yoga is all about change — both personally and in the broader world. Be the Change Yoga sees yoga as a form of therapy and a lifestyle medicine, and they're committed to creating change both in the individuals who take their classes and in their community at large.
Free Things to Do in Orange County
Yes, you read that right: there are enjoyable things to do in Orange County, California that are absolutely, 100% free! Here are some of our top suggestions.
Browse the Laguna Beach Galleries
Laguna Beach is known for its scenery — and we don't just mean the sand and surf. This seaside art community is home to a dense population of galleries, and although purchasing a single piece might require you to take out a second mortgage, browsing is absolutely free — and a thoroughly enjoyable way to spend an afternoon.
Visit with Animals at Centennial Farm
Want to get up, close and personal with some new four-legged friends? Centennial Farm allows the public to freely visit with its animals — with the exception of the time that the California State Fair is taking place, at which point you can visit with the animals with your fair ticket admission. Either way, enjoy getting familiar with pigs, goats, cows, and other friendly livestock.
Go to the Beach!
Hey, it is southern California, after all. If all else fails… hit the sand!
We hope this guide will help you make your Orange County, California tour as thorough and enjoyable as possible. Just don't forget your sunscreen!