Travel Inspiration
October 5th, 2022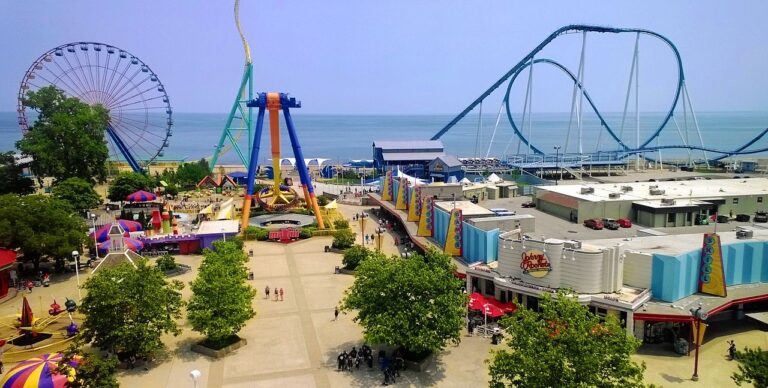 Ohio is the roller coaster capital of the world. Therefore, it should come as no surprise that there are tons of awesome amusement parks in Ohio. In fact, there are so many great parks to choose from, it can be hard to choose which ones to visit on any given trip.
If you're planning a trip to the Buckeye State, you should absolutely be planning to visit at least one of these fantastic Ohio amusement parks. Not sure where to begin planning such a trip? You've come to the right place!
Read on to learn everything you need to know about the best amusement parks in Ohio.
Ohio Amusement Parks
Before we get too far, we'd like to take a minute to show you which are our favorite amusement parks in Ohio. The parks below are absolutely fantastic, and as long as you choose from this list, you're bound to have an amazing vacation:
Cedar Point & Cedar Point Shores
Kings Island & Soak City
Memphis Kiddie Park
Clay's Park Resort
Coney Island Park
Zoombezi Bay
Great Wolf Lodge Cincinnati
Baylor Beach Park
Great Wolf Lodge Sandusky
Kalahari Sandusky
Unfortunately, simply knowing the name of the park(s) you plan to visit won't be enough to ensure you have a great vacation. You will definitely want to read on to learn more details about these Ohio amusement parks so you know all of the most important information before you hit the road. 
Cedar Point & Cedar Point Shores
First on our list is one of the largest amusement parks in Ohio: Cedar Point in Sandusky. This is an amazing amusement park for all ages, something that should come as no surprise considering it's run by Cedar Fair. Whether you're a big thrill seeker in search of gigantic roller coasters or a small child who prefers gentle kiddie rides, you'll find something to love at Cedar Point.
Some of the most popular attractions at Cedar Point are, of course, the roller coasters. There are a total of 17 world-class roller coasters in this park, and each and every one is worth riding. Some of our favorites include Top Thrill Dragster and Millennium Force.
As far as gentler rides go, young kids will appreciate the Charlie Brown's Wind Up swing ride, as well as the Flying Ace Balloon Race. Families might enjoy riding the Dodgem bumper cars and the Giant Wheel Ferris wheel.
Another great thing about Cedar Point is the fact that it has a water park on property. This is perfect for those super hot summer days when it's just too hot for traditional amusement park rides. This part of the Cedar Point property is called Cedar Point Shores and includes water slides, a water playground, a lazy river, and more.
RV Camping Near Cedar Point & Cedar Point Shores
Obviously, you will need a place to stay before and after you visit Cedar Point. Why not take your RV so you can have all the comforts of home with you? This will allow you to be totally comfortable no matter where you end up. The best part? Cedar Point has its own RV park!
Cedar Point Resorts: Lighthouse Point — Lighthouse Point is the place to be if you want to be close to the theme park. This campground is incredibly clean and well kept, and has tons of awesome amenities to make your vacation a great one. Of course, the ability to get to the rides super quickly each morning is the best part!
Planning Your Trip to Cedar Point & Cedar Point Shores
Admission to Cedar Point starts at just $49.99, and buying online might save you a little. Additionally, military members can get a decent discount. Season passes are available and are a great deal if you'll be in the area for a while. Keep in mind that you will need a separate ticket in order to enter Cedar Point Shores.
There is a fee for parking at this park. Rental strollers and wheelchairs are available. Outside food is not allowed, but there are plenty of dining locations in the park.
Kings Island & Soak City
Next on our list is a second Cedar Fair-owned park: Kings Island in Mason. Like its cousin Cedar Point, this is a huge amusement park. In fact, Kings Island is the largest amusement park in the region! This means that finding something for everyone to do during your visit will be a cinch. It also means that you might want to visit for more than just a day in order to see it all.
Our favorite rides in Kings Island include the Diamondback and Orion roller coasters. That said, many adrenaline junkies will tell you they prefer the Flight of Fear and Banshee coasters. No matter which one(s) you choose, you're sure to be left screaming with delight…or is that fear?
We really appreciate the Peanuts-themed rides for the little riders out there. The Character Carousel is one of our favorites, but we also love the Kite Eating Tree and Snoopy vs. Red Baron. Families will adore the "Race for Your Life Charlie Brown" log flume, as well as the super cute Flying Ace Aerial Chase family coaster.
Of course, you will also want to visit the onsite water park while you're at Kings Island! Soak City is a decent-sized park with plenty to do. Thrill seekers will love the slide selection, kids enjoy playing in the water play areas, and everyone can enjoy bobbing around in the wave pool together.
RV Camping Near Kings Island & Soak City
As mentioned above, you will want more than one day to explore Kings Island. This means you're going to want to make sure you're 100% comfortable wherever you end up staying. For this reason, we highly recommend making your Kings Island getaway an RV adventure.
Camp Cedar — Like Cedar Point, Kings Island actually has an onsite campground. This is super handy, as it means you'll never have to travel far to get in on the fun. The campground features a variety of great amenities including a pool, a coffee bar, an onsite restaurant, and a beautiful lobby with a fireplace. It doesn't get much more comfortable than that!
Rent an RV near Kings Island & Soak City!
Planning Your Trip to Kings Island & Soak City
Tickets to Kings Island start at $44.99. Discounts are sometimes available if you buy online, and senior and child tickets do cost a bit less. Additionally, there are military discounts and season passes available.
Want to visit Soak City? You will need a separate ticket for that park. Don't worry though, it will totally fill a whole day!
Kings Island does charge for parking. The park has strollers and wheelchair rentals for those who need them, and food is available for purchase. Unfortunately, outside food is not allowed to be brought in.
Memphis Kiddie Park
Traveling with little kids? If so, a visit to the adorable Memphis Kiddie Park in Brooklyn, Ohio might be in order. This is a small amusement park that has been around since 1952. It caters to the "under 10" crowd, and younger visitors absolutely love it!
The rides here are all kid-friendly. You'll find a carousel, little boats, a tiny Ferris wheel, and even an itty bitty roller coaster. Kids adore the electric cars that they can "drive," and the flying airplane ride couldn't be any cuter. Of course, the whole family has to take a ride on the train while you're there!
In addition to 11 kiddie rides, there is also a fantastic mini golf course in this park. The course theming is adorable and colorful, and kids are sure to love trying their hand at putt-putt during your family outing.
RV Camping Near Memphis Kiddie Park
You will of course need a place to stay while visiting the area. What better way to round out your family vacation than by making some camping memories to go along with your amusement park memories?
Cuyahoga County Fairgrounds — Wondering where to park an RV while visiting Memphis Kiddie Park? We recommend the Cuyahoga County Fairgrounds. It's a simple park, but full hookups are available, as are bathhouses. The rate can't be beat and the location is wonderful!
Rent an RV near Memphis Kiddie Park!
Planning Your Trip to Memphis Kiddie Park
There is no fee to enter Memphis Kiddie Park. Instead, you pay for tickets which can be used to hop on rides. Each ride is only one ticket and single tickets are $2.75. That said, you can save money by buying tickets in strips or bundles.
The cost of mini golf is also totally reasonable. Each player pays only $6 to play 18 holes, and those aged 5 and younger are only $1.25 with a paying adult.
Parking at this park is free. Outside food is not allowed, but there is a concession stand that sells snacks and drinks.
Clay's Park Resort
Want to camp and have some water park fun in the same great place? If so, Clay's Park Resort in North Lawrence is for you! This is a Jellystone Park, and like any of the rest of these awesome camping resorts, it has tons of activities for the whole family to enjoy together.
Some of the best attractions at this camp resort are the awesome water slides that send you flying into the water. We also love the super fun (and challenging) Wibit Inflatables, which float on the water and offer climbing walls, slides, and other obstacles.
Adventurous visitors might enjoy the dueling ziplines or the ring swings. The ziplines are perfect for racing your friends and definitely offer an adrenaline rush! Meanwhile, the ring swings will be a true test of your skills and endurance.
Young kids will have a blast playing on the water playground, which has water cannons, a giant bump bucket, small slides, and more. They are also sure to enjoy the giant jumping pillow and kiddie area of the lake.
Want even more to do? You'll be happy to learn this park also has rental kayaks, a swimming pool, a basketball court, sand volleyball, mini golf, fishing, tennis and pickleball, gem mining, and plenty of awesome scheduled activities!
RV Camping Near Clay's Park Resort
As mentioned, Clay's Park Resort is a campground. Therefore, it won't take much time at all to get your RV parked and start having fun. In fact, we can't imagine why anyone would choose any other way to stay when vacationing at this park!
Clay's Park Jellystone Resort — The campsites in this resort include full hookups. They are large enough even for the biggest rigs and include access to clean bathhouses and laundry facilities. Additionally, most of the activities mentioned above are included in your camping fee!
Rent an RV near Clay's Park Resort!
Planning Your Trip to Clay's Park Resort
If you're staying at Clay's Park Resort, you will not have to pay anything extra for the vast majority of the activities there. That said, those who only plan to visit for the day will need to buy day passes. These are $30 per person Monday through Friday, and $35 per person on Saturdays, Sundays, and holidays.
You can of course eat in your RV as you normally might. However, there is also food available for purchase in this camping resort. 
Coney Island Park
Looking for something fun to do in Cincinnati? If you're visiting during the summer, we highly recommend Coney Island Park. This water park has been around since 1886, so it must be doing something right. It has some unique attractions that we're sure you're going to adore and is the perfect way to have some fun in the sun.
The floating obstacle course is definitely one of the best things to check out in Coney Island Park. This inflatable course is bouncy, slippery, challenging, and a whole lot of fun. Of course, we also love the large water slides the park has to offer, which are a must-do as far as we're concerned.
To cool off, you will want to take a dip in the world's largest recirculating pool. Also, be sure to experience the world's largest erupting hydro storm while playing at the Typhoon Tower water playground. Don't forget to take a dive into the dive pool while you're splashing around!
Hoping to find even more fun in this park? Lucky for you, there is yet more to find. There are paddle boats that are tons of fun for families to ride together, and the mini golf course is top-notch. Kids love the bouncing pillow, and the arts-and-crafts and foam parties couldn't be more fun.
RV Camping Near Coney Island Park
As always, we highly recommend taking your RV on your Ohio getaway. This ensures you have everything you need. It also makes it easy to hop around the state should you wish to experience more than one area.
Tucker's Landing RV Park — Our favorite place to stay when visiting Coney Island Park is Tucker's Landing RV Park. This campground offers paved pads, full hookups, and plenty of greenery. The staff is incredibly friendly and helpful and there are many attractions in the area.
Rent an RV near Coney Island Park!
Planning Your Trip to Coney Island Park
The cost for tickets is not currently available, but they have always been affordable in the past and we imagine they will stay that way. Gift cards are also available and are perfect for those who want to give the gift of summer fun for the holidays!
Parking is included in the price of an adult admission ticket. Lockers, strollers, and wheelchairs are available to rent. No outside food is allowed in the park, so you will want to budget to buy a snack or a meal in the park.
Zoombezi Bay
A large 22-acre water park located in Columbus, Zoombezi Bay is an incredible place to go to get your waterpark fix. It is connected to the world-class Columbus Zoo and has everything you'd expect from a water park and more. Whether you're a slide person or a person who prefers to simpy float in the water, you'll find something you love at Zoombezi Bay.
Some of the best places to cool off in this park include the wave pool and the lazy river. These are guest favorites and are great places to float, bob, swim, and just enjoy the water.
For those who prefer a thrill, there are also plenty of slides in the park. Our favorites include the Sea Tubes and the Python Plunge. Another great one? The Soundsurfer interactive water slide. This slide allows you to choose the music you wish to slide to and then gives you a little light show to go along with your choice of music.
Of course, you're going to want something for the kids to do. This is where Tiny Tides and Baboon Lagoon come into play. Tiny Tides is for toddlers and preschoolers and includes a shallow pool and marine animal theming. Meanwhile, Baboon Lagoon is for older kids and has lots of interactive water features as well as slides.
RV Camping Near Zoombezi Bay
You will of course want to bring the RV along for this trip. We recommend this because it will allow you to feel relaxed and at home in your own space even when you're miles away from home, and also because there is a lot to see in Ohio and you might find yourself wanting to hop to another area. Doing so in an RV is super easy!
Alton RV Park — Trying to decide where to park your RV? We think Alton RV Park is pretty great. This Columbus-area park has full-hookup sites, a great staff, and plenty of greenery. At $30 a night, the cost is unbeatable and you'll have easy access to all Columbus has to offer!
Planning Your Trip to Zoombezi Bay
Ticket prices for next season have yet to be released. That said, combo tickets for the zoo and water park are often offered and can be a great deal if you plan to visit both attractions (you absolutely should see the Columbus Zoo).
Parking at Zoombezi Bay is $10 per car. Rental lockers are available. Outside food is not allowed in the waterpark, but is allowed in the zoo. Food is sold in the waterpark.
Great Wolf Lodge Cincinnati
Want to have some waterpark adventure when the weather is less than awesome? That's what Great Wolf Lodge Cincinnati is for! This super awesome waterpark is 100% indoors, meaning you can splash, slide, and play no matter what the weather decides to do.
Fort Mackenzie is the place for kids. This amazing water playground has interactive water features, an enormous dump bucket, slides, and a whole lot more. Have smaller kids in tow? Cub Paw Pool is the place for them!
If you were hoping to get some thrills in, you will want to hit the slides. There are a few different slides in this park, and all are worth trying out. The Triple Twist features three colorful twisting slides. Meanwhile, the Coyote Cannon is a huge bowl slide. Want to ride with a friend? Head to Alberta Falls for a double tube adventure.
Families will appreciate the River Canyon Run, Crooked Creek, and Chinook Cove. Meanwhile, parents will love relaxing in the two different hot tubs.
RV Camping Near Great Wolf Lodge Cincinnati
Yes, you could stay in the Great Wolf Lodge resort hotel. That said, we actually prefer staying in our own RV and driving over to the lodge for a day visit. This allows us to stay in comfort and it usually even saves us a few bucks.
Winton Woods Campground — You could stay in the Tucker's Landing RV Park we mentioned earlier alongside Coney Island Park. However, if you're looking for something else, Winton Woods Campground is also wonderful. This park has electric hookups, potable water, and a dump station. The setting is peaceful and the staff is welcoming.
Rent an RV near Great Wolf Lodge Cincinnati!
Planning Your Trip to Great Wolf Lodge Cincinnati
Day passes to Great Wolf Lodge are available most days. The cost varies based on the day you wish to visit, but prices start at $50 for a full day and $40 for a half day (starting at 4pm).
No outside food or drink is allowed in Great Wolf Lodge, but there are dining options onsite. We recommend planning to have a meal while you're there. You may also want to budget for the arcade, MagiQuest, bowling, and/or glow golf, as the kids are sure to ask!
Baylor Beach Park
If you love the outdoors, you're going to love Baylor Beach Park in southwest Navarre. This is a beautiful outdoor space that includes a super awesome water park area that families can't get enough of. Not only will you get to experience all the thrills that come along with a day at the water park, you'll also get to enjoy nature and all that it has to offer at the same time!
Attractions at this water park include a few different options. First, there is the Tube of Terror, a large water slide that sends you on a surprisingly fast ride. The kiddie slides are perfect for the younger set, and the diving boards are fun for anyone who likes to swim. If you're feeling up to a challenge, be sure to try your hand (or is it foot?) at the log roll to see how long you can balance before falling into the water.
Other attractions in the park include a playground, basketball, sand volleyball, cornhole, paddle boats and Aquabikes, and a fantastic mini golf course!
RV Camping Near Baylor Beach Park
What better way to expand upon your time in the great outdoors than by RV camping during your getaway? Lucky for you, Baylor Beach Park has RV campsites on their property, meaning you won't have to go far to find your camping adventure once your day at the park is done.
Baylor Beach RV Camping — The RV sites at Baylor Beach Park are level and include water and electric. Some sewer sites are available as well. Restrooms with showers are available and are kept nice and clean. Rates are based on when you stay and how long you stay, and discounts are almost always available.
Rent an RV near Baylor Beach Park!
Planning Your Trip to Baylor Beach Park
Campers can use the water park for free for the duration of their visit. For others, a visit to Baylor Beach Water Park is $17 on weekends and holidays, and $15 on weekdays. Seniors pay only $10 on weekends and holidays, and $8 on weekdays. Ages 2 and under enter for free.
Paddle boats, Funyaks, Aquabikes, and Fun Tube rentals are all $7. Mini golf is $4 per person ages 3 and up. 
Great Wolf Lodge Sandusky
Another Great Wolf Lodge location, this one is found in Sandusky and is the perfect addition to any trip to the area. Like the Great Wolf Lodge listed above, this park is also totally indoors, meaning you can play and slide in the rain, cold weather, or even the snow.
There are a number of great attractions in this Great Wolf Lodge. The Otter Run slide is a large slide that offers big thrills. Another great slide? Alberta Falls, a super fun tube slide that allows you to ride with a friend.
If you have kids, be sure to visit Fort Mackenzie where the kids can climb and slide to their hearts' content, all while having plenty of water fun as well. The kids will likely also appreciate the small but fast Whooping Hollow slides, and the tiniest swimmers will have fun in Soak'n Oak Springs.
Make sure to visit Big Foot Pass, Racoon Lagoon, Chinook Cove, and Caribou Creek for even more water fun. Then finish the day off by unwinding in the Hot Springs hot tub.
RV Camping Near Great Wolf Lodge Sandusky
Great Wolf Lodge Sandusky does have resort rooms available. That said, we recommend skipping those and staying in the privacy and comfort of your own RV instead. Of course, you will need a place to park your RV. If the Cedar Point campground doesn't suit your fancy, you might check out the RV park listed below.
Sandusky/Bayshore KOA Holiday — We love KOA campgrounds, and this one is no exception. Not only do they have large, comfortable sites, they also offer a ton of amenities that families adore. The jumping pillow is a favorite with the kids, and dog owners appreciate the dog park. Of course, everyone loves the pool and the planned activities!
Rent an RV near Great Wolf Lodge Sandusky!
Planning Your Trip to Great Wolf Lodge Sandusky
Tickets to visit Great Wolf Lodge should be bought in advance. The price varies based on the day you hope to visit and the starting cost is $40 for a full day and $32 for a half day (beginning at 4pm). These day passes include access to the water park, life jackets, towels, and fun planned activities.
You will not be allowed to bring outside food into the park at Great Wolf Lodge. Instead, we recommend planning on buying a meal at one of the onsite eateries. Keep in mind that there are also some dry land activities available that you might want to budget time and money for.
Kalahari Sandusky
Last on our list is Kalahari in Sandusky. This is the biggest indoor water park in the region and should not be missed. If you're planning on visiting Cedar Point and Great Wolf lodge Sandusky, it's a great addition to that trip—but honestly, we'd even go out of our way to check this one out alone.
Now let's talk about attractions. For the littlest visitors, there is the Kid's Safari section of the park. This area is set in a shallow pool and boasts tons of great activities that toddlers and preschoolers will adore. These kids will also love the Coral Cove where they can play with their older siblings. Slightly older kids might prefer the Crocodile Cove for playing water sports, and the Leopard's Lair water fort that is chock-full of interactive water fun.
Hoping for some slides? Tanzanian Twister is an awesome bowl slide that we can't get enough of. Zimbabwe Zipper and Zig Zag Sipper are both super fun as well, as is the Storm Chaser. Cheetah Race is the place to go if you're feeling competitive and want to race your friends, and the Rippling Rhino, Swahili Swirl, and Victoria Falls are all perfect for when you want to ride with those same friends.
When it's time to relax, head to the wave pool or lazy river to float and bob, or hop in a hot tub to relax those muscles. Of course, a drink from the swim-up bar never hurts!
RV Camping Near Kalahari Sandusky
Planning to take your RV to this park? Great choice! You won't regret having your own kitchen, bathroom, and bed while you vacation, and you're sure to love how easy it is to move when the time comes.
Crystal Rock Campground — We've mentioned a couple of great Sandusky RV parks already. If neither of those worked for you, you might consider Crystal Rock Campground. This is a lovely campground with full hookups, a kind and welcoming owner, and large, level sites.
Rent an RV near Kalahari Sandusky!
Planning Your Trip to Kalahari Sandusky
A limited number of day tickets are available for this park, so you will want to book in advance. Admission prices vary based on when you're visiting, but you can expect to pay between $50 and $100 per person. Military rates are available.

Outside food is not allowed in Kalahari. There are plenty of food options onsite however, so come prepared for a yummy meal once your day at the park has ended.

Clearly, there is no shortage of amusement parks in Ohio. If you were hoping to find even more Ohio amusement parks, we're betting you can find them by searching for "amusement parks near me" after checking into your Ohio campground.

Looking for something different to add to your trip? There are plenty of other things to do in Ohio that don't involve amusement parks. Check out the articles linked below to learn about some of our favorite sights and attractions in the state:

[similar_ai_related]