Travel Inspiration
Last updated on August 30th, 2023. Originally published on May 26th, 2020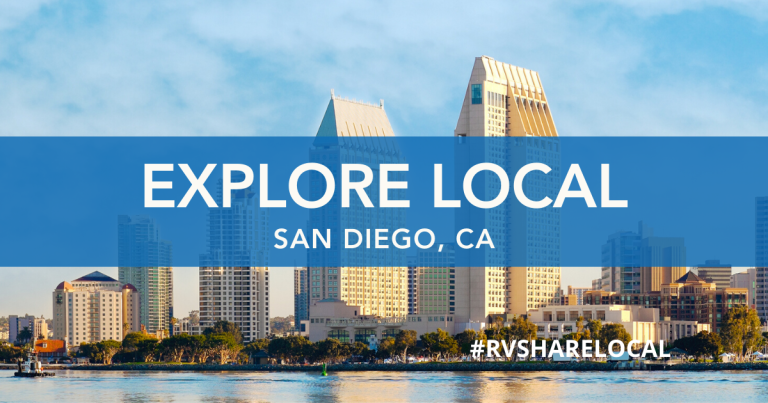 Seeing new places, experiencing new things, meeting new people stirs something inside us all… That feeling of wanderlust is buried deep in our souls! But here's the thing – you don't have to go far to fill your cup. Sometimes the best adventures are the ones close to home. And if you're in San Diego, California, there is a lifetime of exploring you can do!
From meandering around Balboa Park to fancy dining in downtown, there's a reason San Diego has been known as "America's finest city". And if you're looking for some more local gems to explore, you've come to the right place! In this post, we're going to walk you through some of the very best things to see, do, eat and drink in San Diego, California, whether you're a long-time local or new to the area.
Why We Love to Travel
So why do we love to travel in the first place? Well, we've already said that a huge appeal is the new-ness a place has to offer. Getting to experience cultures that are different from our own or eating cuisine that is not what we're used to are amazing ways to grow as individuals and learn about others. Seeing how other people live helps us keep an open mind and even gather inspiration to bring back into our daily lives.
Travel is also a great way to get away from the day-to-day. Breaking up our routines with a fun trip definitely recharges the batteries and helps prevent us from getting burnt out.
But again – you don't have to go far from home to get this perspective!
Benefits of Traveling Locally
While the culture an hour away from your home might not be drastically different from what you're used to, you can still gain a deepened sense of appreciation for where you've laid your roots. Plus, traveling locally has a lot of benefits:
More cost-effective. Local travel is certainly a budget-friendly way to explore! Many activities and parks are free or have a low cost of entry. For day trips, you can also pack your own meals to save.
Eco-friendly way to travel. Travel is hard on the environment, but putzing around your area is more sustainable than air travel.
Quick trips. Getting out locally means you can do it more often! Long weekend trips are a lot easier to take when the destination is a short drive away.
Easy to plan. Preparing your itinerary for a local getaway will likely save you some time and stress.
More convenient. Especially if you have little ones, sticking close to home may be much more convenient than far-off destinations. If you forget something, have an emergency, or need to cut the trip short, being close by definitely has its benefits.
Explore Local: San Diego, California
With so many places to explore in San Diego, it can be hard to know where to start. While you'll certainly want to hit one (or more) of the city's many beaches, there's so much more on offer — and it can be overwhelming even if you've called SD home for a long time.
So often, we forget to take advantage of what's available in our own cities, only infrequently (if ever) playing tourist in our own towns. But if you're in the San Diego area, you could be missing out on some amazing opportunities for dining, shopping, and simply experiencing. Read on to learn about the can't-miss local favorites we have on our own San Diego to-do lists!
*Note: Some of the suggestions may not be doable due to coronavirus closures, but keep this list handy for when things start opening back up more! Be sure to check individual pages for specific operation details.
State Parks in San Diego
Although southern California might first bring beaches to mind, it actually offers a huge diversity of outdoor recreational opportunities! Here are some of the coolest regional, state, and national parks in the greater San Diego area.
Anza-Borrego Desert State Park stretches across almost 1,000 square miles of the southeastern California desert less than two hours outside of downtown San Diego. It's a great option for hiking, camping, and viewing the unique flora and fauna that make this landscape so special.
Cuyamaca Rancho State Park is just 40 miles east of San Diego and offers a diverse wilderness for exploration, including oak and pine forests, high-elevation creeks, cascades, and pools. Hiking and horseback riding are popular, as is simply sitting back and enjoying the scenery.
Joshua Tree National Park is named for the unique "trees" that dot its interior — though a little-known fact is that these trees aren't trees at all, but rather, large succulents!
Torrey Pines State Beach is situated south of Del Mar and north of La Jolla and is known for its rugged, iconic landscape formed by the coastal erosion from the State Reserve of the same name.
Torrey Pines State Reserve is comprised of 2,000 acres of coastal state park land, and although it's entirely encapsulated in the city of San Diego, is one of the wildest areas on the entire California coastline.
Silver Strand State Beach is, as its name suggests, a silver strand: a 7-mile-long sandy isthmus tucked along Highway 75 close to the city. This feature combines with the Point Loma peninsula to create the San Diego Bay, and the park features both ocean-front and bay-front beaches.
Sunset Cliffs Natural Park sprawls along 68 acres of the Pacific Ocean coastline, including an 18-acre linear section and a 50-acre hillside section which has been designated as a conservation area for multiple species.
Best Hiking Trails
You've got your eye on several of the major parks and wilderness areas, but which are the best hiking trails in San Diego? Here are some not to be missed.
Los Penasquitos Canyon Trail
One of the most accessible San Diego hiking trails, the Los Penasquitos Canyon Trail features canyonside views, a waterfall, and almost no elevation gain across its 7.5-mile out-and-back span. It's located on the Preserve of the same name, and takes only about half an hour to reach from the heart of downtown San Diego.
Cowles Mountain
If you're after a heart-rate-rising adventure that leads to some stunning views, Cowles Mountain's got you covered. You'll gain almost a thousand feet in elevation over the 1.5-mile journey to the summit, which is the highest point in San Diego. Keep in mind, however, that this is one of the most popular hikes in the area, so chances are you'll run into some foot traffic unless you go really early!
Potato Chip Rock
Want to snap the kind of Instagram photo that will leave your followers both breathless and envious? Hike up to the aptly named Potato Chip Rock via the Mount Woodson Trail, and you'll get just that. However, with more than 2,000 feet of elevation gain and a total mileage count of more than 7, keep in mind that this adventure is not for the faint of heart… and we don't just mean your fear of heights!
Oak Canyon Trail
If you want a trail that offers a big payoff for only a moderate amount of work, Oak Canyon might be just perfect for you. This out-and-back trek measures less than three miles round trip and sees less than 300 feet of elevation gain, though there are a few spots that might leave you breathless… not to mention the multiple waterfalls you'll see along the way.
Best Restaurants in San Diego
Once you've hiked enough to work up an appetite, you're in for a treat; San Diego is home to some of the finest dining options in the entire country, from Indian to Italian to plain-old, all-American steak. Here are some spots not to miss.
The Marine Room
While there's certainly no shortage of seafood restaurants in San Diego, this upscale dining room on La Jolla is one of the original players — and has maintained its reputation for more than 75 years for a reason. The Marine Room offers a wide array of dressed-up favorites, including menu items bearing a heavy Asian influence (such as salmon sashimi).
Galaxy Taco
Sometimes, nothing will satisfy the same way a taco will — and whether you're looking for a classic or something with a twist, Galaxy Taco is a great option. It's known for its regular collaborations with guest chefs, and the executive chef ensures that all items are crafted with love, labor, and the freshest ingredients.
Sushi Ota
It may look modest from the outside, given its strip-mall location — but Sushi Ota is known for its authentic, premium sushi dishes that will transport you directly to Japan. Request to be sat in Chef Ota's section for the chance at an out-of-this-world omakase tasting.
Born and Raised
If you're looking for Italian restaurants in San Diego, it makes sense that the first place you'd turn is the town's Little Italy neighborhood. And if you're lucky, you might stumble into Born and Raised, a trendy new restaurant offering a classic dining experience in an upscale and of-the-moment atmosphere. This joint is known for its dry-aged beef, so if you're on the search for steak restaurants in San Diego, you know where to turn.
Punjabi Tandoor
There are a wide variety of Indian restaurants in San Diego, but not all of them can lay claim to authenticity. Fortunately, Punjabi Tandoor can — and its menu focuses on the dishes from India's northernmost province, which is where many American favorites, like chicken makhani, naan, vindaloos, and butter chicken all originated. This is also a very affordable, generously-sized meal, so it's great for those traveling on a budget!
Local Insider Tips From Kayla Phelps:
Rum Jungle is an açaí bowl paradise. It's located in Pacific Beach, right near the beach, so it's straight-up perfection. Eating an açaí bowl while walking in the sand is my idea of a perfect day – and they have a bunch of different açaí bowls to choose from! Try a Bob Marley bowl, which is açaí and pitaya mixed, or a Raw Rasta bowl, topped with hempseed granola.
Whenever I have guests from out of town, they always want to get dinner somewhere with ocean views. Island Prime & C Level is perfect for this situation because not only is it on the water, but also has amazing views of downtown and the bay. Island Prime is the more upscale side of the restaurant and then the slightly more casual C Level is outside on the patio. Whichever you're in the mood for, this spot won't disappoint.
Fun Things to Do in San Diego
Although it's definitely a prime spot for both hiking and eating, there are plenty of other diversions to keep you busy in SD. Here are some of the top things to do in San Diego, no matter your situation.
For Couples
Looking to rekindle an old romance, or blow on the spark of a new one? Here are some fun things for couples to do together in San Diego.
San Diego Harbor Cruise
There's nothing like seeing the cityscape from the waterline, and a San Diego Harbor Cruise allows you to do so while sipping your favorite adult beverage at the same time. Enjoy a tour in the early morning or for sunset; either way, you're sure to have ample time for canoodling.
The Bernardo Winery
You may very well find yourself taking a day trip to do some wine tasting (more on that later) — but if you want to get a tasting flight without leaving town, The Bernardo Winery is a great place to check out. Located just a half-hour from the heart of the city, this winery offers tastings, retail, and even has an onsite restaurant and coffee house.
Hot Air Balloon Rides
Could there be anything more picturesque or romantic than a hot air balloon ride? There are plenty of touring companies in the area that will be happy to show you the southern California countryside from this unique perspective, such as Sky's the Limit Ballooning Adventures.
Local Insider Tips From Kayla Phelps:
This place has seriously thought of everything. It's outdoors, but even if it's raining, they have a retractable dome roof and heating so as not to spoil your night! They have cabanas and recliners to relax in while you watch your movie! It's a go-to spot for living the San Diego life, and it takes the guesswork out of date night.
For Kids
Want to take the whole family on an adventure? There are plenty of awesome things to do with kids in San Diego, such as (but not limited to):
San Diego Zoo
Tucked into the sprawl of Balboa Park, the San Diego Zoo is home to more than 3,500 animals representing over 650 species and subspecies. In short, it's a great place to get up close and personal with some exotic new friends — and sure to put a smile on the faces of everyone in the family.
SeaWorld San Diego
Think you've got to go all the way to Orlando to experience SeaWorld? Think again. The San Diego branch of this theme park offers visitors a wealth of education and entertainment, and will also soon be home to California's tallest and fastest floorless dive roller coaster.
Old Town California
Marking the site of the first Spanish settlement on the U.S. west coast, this 12-acre park includes many preserved buildings and museums as well as ample opportunities to dine and shop. It's a great place to wander around in the daytime with the kids… and a great place for the parental units to blow off some steam at night.
Speaking of which…
At Night
Whether you're a major-league partier or the quieter type, there are plenty of things to see and do in San Diego after the moon has risen.
Gaslamp Quarter
San Diego's famed Gaslamp Quarter is likely already on your list if you're a bar-goer of any capacity. But even if you're usually not, it's worth taking a night to meander around this historic neighborhood, which is also home to coffee shops, ice cream vendors, independent restaurants, and green spaces.
San Diego Symphony
Looking for something to do that's a bit more refined? The San Diego Symphony is a historic building that was first constructed back in 1929 and conferred to the Symphony in the mid-80s. The hall hosts a wide variety of musical entertainment, including, of course, shows by the Symphony itself.
Stargazing in the Desert
If you really want to feel grounded, sometimes, the best way to do so is to look up. Although San Diego itself is pretty well-lit and at a low elevation, there are tons of places in the immediate area to head for prime stargazing — such as Borrego Springs, which is actually California's only International Dark Sky community. (It's less than two hours away!)
The Weekend
We already know you're planning to hit the beach, but if you're looking for things to do this weekend in San Diego, here are some suggestions.
Hillcrest Farmers Market
Held Sundays year-round on Normal Street from 9 a.m. to 2 p.m., the Hillcrest Farmers Market is a great way to wake up on a weekend morning. Meander along alleyways of vendors serving up both fresh produce and prepared foods, as well as arts, crafts, and other goodies.
Balboa Park
You may have already made your way there for the zoo, but there's so much more to see in Balboa Park — easily enough to occupy a weekend. Traipse through one of its many green spaces and gardens, like Palm Canyon, or explore one of the many museums. (Air and Space, anybody?) Don't forget to stop by for some tea at the Pavilion at the Japanese Friendship Garden!
Spas in San Diego
Need some R&R? There are plenty of places in San Diego to get it. Here are some of the very best day spas in San Diego.
The Catamaran Spa
With a well-earned reputation as one of the top spas in San Diego, The Catamaran offers the city's only beachfront spa, complete with a full menu of treatments. Along with massages and facials, you can also take part in nail services, hair care, and makeup application — no matter what you need, you can get it done!
Karma Relaxation Spa
If you're looking for a spa experience that's just as luxurious, but at less-than-luxury prices, Karma Relaxation Spa offers two comfortable and inviting locations. Enjoy and benefit from deep tissue massage, reflexology, prenatal massage and more; the spa also offers botox injections and fillers.
Best Gyms & Yoga Studios
All that sun and sand is sure to leave you inspired to keep in shape. Here are some of the best yoga studios and gyms in San Diego.
The Gym
The Gym is all about keeping it classic — and it's drawn a variety of personal trainers and working gym members from all across southern California. They've been in the business for over 30 years, so you're sure to be met with professional and knowledgeable service.
Last Real Gym
If you think most gyms have gotten a little bit too, well, over-the-top, you'll like the down-home, get-'er-done atmosphere at the Last Real Gym. Whether you're after free weights, machines, cardio, or classes, you'll find what you need here.
Spirit Yoga Studios
Spirit Yoga Studios prides itself on its roster of highly qualified instructors, who are motivated to help you achieve your yoga goals and create a community in a charming and friendly environment.
Pura Vida Yoga
With a name that translates to "pure life," you know that you're in for a refreshing treat at Pura Vida Yoga. Offering its clients a respite from the hustle and bustle of everyday city life, this is the perfect place to turn if you're in need of some body and heart work.
Day Trips in San Diego
While you could certainly spend a lifetime in San Diego itself, there's also plenty to see and do in the surrounding countryside. Here are some day trips from San Diego to consider!
Disneyland
If you don't go to Disneyland while you're in Southern California — or really anywhere on the West Coast, to be honest — have you even been there? At less than two hours from San Diego proper, you don't even have to book a room in Anaheim.
Temecula Valley
If you're ready to get serious about wine tasting, it's worth a trip to nearby Temecula Valley, which is home to some of the finest, most premium wines in the entire state. Create a DIY adventure or take advantage of one of the many tour companies, but just remember: don't drink and drive!
Mexico
If you've got your passport handy and you're feeling adventurous, you can easily dip south of the border; Mexico is only a few miles away. That said, depending on where you go in the country, safety concerns may be a factor; always do your research ahead of time and ensure you feel confident in your decision.
As a final reminder, some of these activities may need to wait until businesses fully reopen from coronavirus closures. However, there is still much to see and experience in San Diego that you can enjoy today! What are your favorite spots in San Diego? Send them our way to [email protected] or by tagging us on Instagram @rvshare and using the hashtag #rvsharelocal.
Now, what are you waiting for? Put down your phone, close your laptop, and get out there and enjoy the sun and sand that's waiting for you!