Travel Inspiration
September 2nd, 2015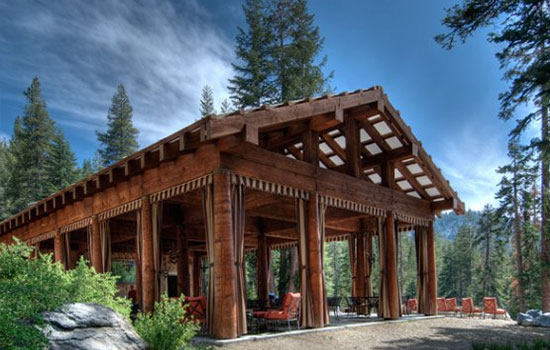 What do you do when the kids want to go on a camping trip but you're less than thrilled about pitching a tent and sleeping on the ground? You go glamping of course! Also known as glamorous camping, glamping lets you enjoy the great outdoors without giving up luxuries like a real bed.
Glamping can happen in all sorts of locations and in all kinds of structures. From a yurt, safari tent, cabin, teepee, vintage trailer, or even a tree house — glamping is everywhere. If you are a first time camper, chances are you will love glamping. No need to pack tons of gear and fight the bugs. Simply show up and start making memories.
Interested in learning more? Check out the following 11 awesome glamping locations up and down the California Coast.
1. Crystal Cove Cottages
These beautiful cottages are located smack in the middle of the Newport Beach coastline. Which essentially means that a vacation at Crystal Cove allows you to live on the beach. Spend your days playing in the water or enjoying the view from your private deck or balcony.
Crystal Cove offers 12 historic cottages that have been immaculately restored to reflect the history of the area while providing the utmost comfort. Each cottage features a kitchen, bathroom, and bedroom.

For reservations visit: Cyrstal Cove Beach Cottages
2. Sequoia High Sierra Camp
Reaching this glamping location takes a bit of work, but don't let that deter you. This hike-in camp requires you to park your vehicle and hike for about a mile to get to the site. Don't let the remote location fool you though — this site is anything but primitive.
A vacation here means living in a tent cabin and feasting on meals prepared by an executive chef. But that's not all. As guests of the majestic Sequoia-Kings Canyon National Park, you will be surrounded by a spectacular backdrop with fabulous views all around. And what better way to appreciate the true beauty of nature than in a remote area away from cars and roads.

For reservations visit: Sequoia High Sierra Camp
3. El Capítan Canyon
A trip to El Capitan means luxurious accommodations in cabins or safari tents outfitted with willow beds, down-style duvets, western-inspired blankets and casual furnishings. If that wasn't enough, your accommodations are just a hop, skip, and a jump away from El Capitan State Beach.
Spend the day at the beach, cook s'mores over a campfire, and then retire to your luxurious bed when the day is done. This destination also offers massage services, a market, swimming pool, a deli, and more. Everything is within walking distance! Plus, during summer weekends you can enjoy their live music summer concert series.

For reservations visit: El Capitan Canyon
4. Big Basin Redwoods State Park
This glamping site is 25 miles from Santa Cruz in the gorgeous Big Basin Redwoods Sate Park. Their rustic tent cabins provide beds for up to four people, but you will have to bring your own linens (or rent some onsite). Spend your days exploring the over 70 miles of trails in this gorgeous locale and retire at night to your cabin.

For reservations visit: Big Basin Tent Cabins
5. William Heise County Park
This beautiful park is located just a short distance outside of the quaint little town of Julian, which is a destination in itself. Known for its abundance of apples trees and world famous apple pies, a stay near Julian is sure to please the whole family.
This park has 14 cabins for you and your family to enjoy. Spend your days biking, hiking, and enjoying the playground.

For reservations visit: San Diego County
6. Redwood Tree House
Although it sounds quaint, this glamping destination is anything but rustic. This charming, fully equipped house is located in beautiful Sonoma County among the majestic redwoods. A stay here provides you with access to a hot tub in the grotto and a private riverfront garden. It is also important to note that the local wineries are only a short drive away.
Located close to a kid-friendly river that is perfect entertaining kids with opportunities for swimming, kayaking, or exploring its pebbly shores. Redwood Tree House is one of the most peaceful and luxurious getaways in the area. It's the place for those times when your kids want to go camping, but you just want to relax.

For reservations visit: Redwood Tree House
7. Roar and Snore Safari at San Diego Safari Park
A glamping vacation here is like nothing you have ever experienced! Fall asleep under the stars and wake up to the sound of lions roaring in the distance and giraffes wandering outside your tent.
That's right — your overnight accommodations will be in a tent cabin smack in the middle of the San Diego Safari Park. So pack up the sleeping bag and get ready for a special trip with campfires, animal programs, special walks, and more. Oh, and did we mention that breakfast and dinner are provided? This is truly an experience the whole family will enjoy.

For reservations visit: San Diego Zoo Safari Park
8. Treebones Resort Big Sur
Staying at Treebones Resort is the best way to experience all that glamping has to offer. With luxurious accommodations in round tent cabins and incredible scenery this place is nothing short of magical. To sweeten the deal, Treebones has a restaurant and sushi bar on site. To help you relax even more, massage services are available to rub your stresses away. Easily bored? They offer Eco Adventures that will thrill the entire family.

For reservations visit: Treebones Resort
9. Cynthia's China Ranch Lodging
Have you ever wanted to stay in a teepee? If so, glamping at Cynthia's is for you. Located only a short drive from Death Valley, this glamping site allows you to experience desert camping at its finest. Amenities include a dining area, a sitting area, and bathrooms. Cynthia's also offers food packages and grills in case you want to pack light.

For reservations visit: Discover Cynthia's
10. Safari West
Interested in a vacation that offers a little more activity and adventure? If so, you will want to spend your glamping vacation at Safari West. This destination sits on a private animal reserve and provides luxurious accommodations. For the ultimate adventure take a 2 ½ hour safari jeep ride that guarantees close encounters with all sorts of wildlife.

For reservations visit: Safari West
11. Montecito Sequoia Lodge
A visit to this destination will put you smack in the middle of the Sequoia National Forest in a cozy lodge or cabin on a small lake. This all-inclusive trip includes all meals and amenities. The main lodge is only open for rent during the fall, winter & spring, but the cabins are available year round and offer rustic accommodations with incredible views.

For reservations visit: Montecito Sequoia Lodge
What did you think of the glamping locations listed above? Did I forget to mention any of your favorites? Share your thoughts in the comment section below and, as always, happy camping!