Travel Inspiration
Last updated on April 18th, 2023. Originally published on August 10th, 2015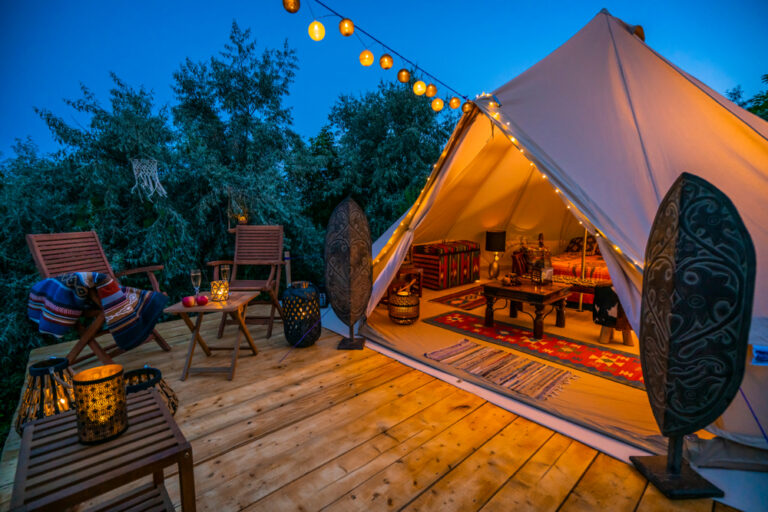 Have you ever heard of glamping? Glamping, or glamorous camping, is a new fun trend that's sweeping the camping world. It allows campers to enjoy nature with all the comforts of a luxury hotel — comforts like plush bedding, air conditioning, and well-stocked kitchens.
Glamping can be done in all kinds of lodging including large tents, cozy cabins, or tree houses. This type of camping with style will make even the most outdoors-averse person appreciate their time in nature.
Interested in learning more? Check out the nine best places to enjoy glamping in the Chicago area.
Have you ever wanted to spend the night in a real treehouse? If so, you are in luck. This memorable experience is roughly a five-hour drive from Chicago, in the heart of the Illinois Ozarks. It features a full bathroom, air conditioning, kitchenette, picnic table, outdoor grill, and more. This luxurious treehouse sleeps 4 to 6, and it will blow your mind.
If you'd rather sleep on the ground, check out Twin Oaks Log Cabin. This authentic log cabin has been around since the mid-1800s. It sleeps four to six people and has a tree deck, air conditioning, a fireplace, and a bathroom with a charming claw-foot bathtub.
A vacation here promises lots of fun. Your family will get a chance to go hiking, horseback riding, kayaking, and more. timberridgeoutpost.com
Would you like to go glamping on a real working farm? At Kinnikinnick Farm you can do just that. Located just 90 minutes northwest of Chicago, it offers a farm-stay program that will give your kids (and you) a taste of farm life. Immerse yourself in farm life by learning how to milk goats, feed pigs, pick eggs, and more.
The housing is a combination of a classic tent and log cabin. It has running water and an insulated chest that works like a refrigerator. There's no electricity, but with so much fun around the farm, you won't notice. As an added bonus, the owners host a delicious pizza night where you'll get a chance to make your own pizza. Featherdown.com
Located along the Mississippi River in Savanna, Illinois, this pet-friendly glamping destination mixes luxury and rustic for an amazing experience. Each cabin comfortably sleeps 4 to 6 glampers. The cabin is equipped with linens, a full kitchenette, air conditioning, DirecTV, and a full bathroom. It also features on-site parking so you can come and go as you please. As an added bonus pets stay for free! thebluffcabins.com
These pet-friendly cabins are one of the best-kept glamping secrets in the entire state of Illinois. They can sleep 4 to 9 people, dependent on the cabin that you rent. All cabins include air-conditioning, kitchens, fireplaces, DVDs, satellite TV, and a screened-in porch. The glampsite is located a short distance away from the Shawnee National Forest and Ponds Hollow Lake which means you'll have ample opportunity to go hiking, swimming, biking, fishing, golfing, and even zip lining. rimrocksdogwoodscabins.com
There's only one thing to do in Kickapoo — relax and immerse yourself in nature. Your room is a luxury walk-in tent complete with a coffee maker, refrigerator, and microwave. There's also a decked-out patio where you can gaze at the beautiful night sky. If you do get a desire to kick up the activity level, the staff at Kickapoos have you covered with canoe rentals for your enjoyment.
While there is running water and electricity at each tent, you don't have your own toilet. Don't worry though — they have on-site showers and bathrooms for your convenience.  kdscampground.com
This spectacular glampsite is located less than 90 minutes outside of Chicago. It provides the perfect excuse for those who want to get away from the hustle and bustle of the city. The glamping options at Fuller's include an authentic log cabin from 1835, or luxurious cottages outfitted with bathrooms with showers, beds, full kitchens, air conditioning, and cable TV.
Due to its age, the log cabin doesn't have a bathroom or a kitchen, but it still remains the most popular rental. So if you want to book a night or two, plan ahead! You can reserve up to a year in advance.
While there is a ton to do in the surrounding area, the resort has so many activities you might not want to leave. Enjoy the waterfront on Fuller's Beach where you can rent kayaks, canoes, and sailboats, lounge on the sandy beach, or bob in the warm water.  fullerresorts.com
No summer is complete without a trip to Lake Sara. Come with your RV, or set up a tent at one of their campsites and take advantage of the many amenities including fire rings, showers, picnic tables, and modern restrooms and showers.
For all those glampers out there you can rent a fully furnished cabin with a bathroom, central air, cable TV, and more. As an added bonus, this luxurious campground offers a marina and two golf courses. Rent a pontoon boat and enjoy the many water activities. Trust me, a vacation on Lake Sara guarantees endless fun. lakesaracampground.com
This campground offers many glam accommodations, but the covered wagon is the coolest. These wagons come equipped with DVD players, air conditioning, a kitchenette, a deck, and much more. The only caveat is that you will have to bring your own kitchen supplies and linens.
If a Conestoga wagon is too old-timey for you, check out their selections of yurts or cabins. They even offer rock star coach buses so that you can enjoy a truly fabulous glamping experience. smokeyhollowcampground.com
Stop by Palace Campground for a truly royal experience. They have everything you need to be comfortable including hot showers, super cozy beds, and free WiFi. They offer seven rustic cabins with either a queen-sized bed or two double beds.
You won't have to worry about over-packing because they offer on-site laundry facilities. They also have a heated swimming pool, playground with a slide, arcade, and much more. One night here and you will never want to leave. As an added bonus they offer hayrides and outdoor Saturday movie nights from Memorial Day to Labor Day. placecampground.com
What are your favorite glampsites? Share your thoughts in the comments below!