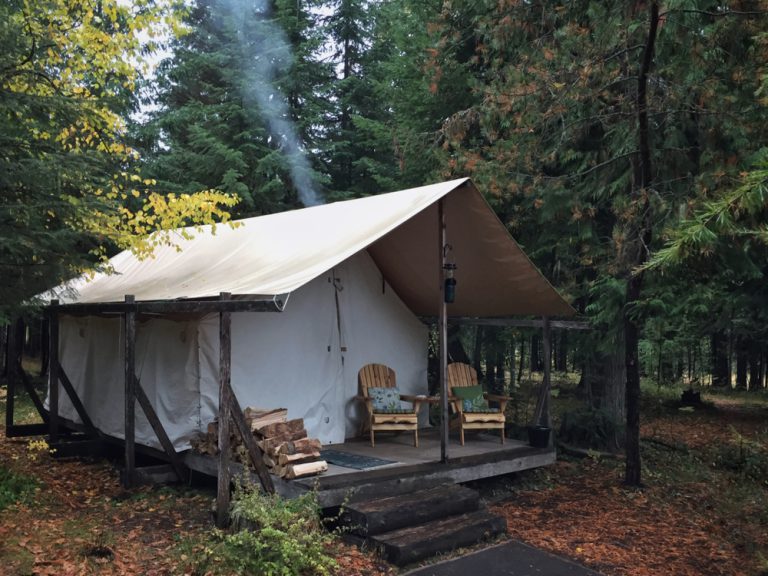 With Idaho being a mountainous region, you'll have plenty of glamping opportunities to select from across this great state. Idaho is the central part of the northern Rockies that stretch from the southeast northward to the Canadian border. The southwest part of Idaho has flat land that offers a lower elevation, with some areas being below 3,000 feet. Many vacationers are drawn to this state, especially the volcanic southern half, for the hot springs that naturally provide a place to melt away daily stress. Another draw to this area is the recreational water activities available, including rafting, tubing, canoeing, and stand-up paddleboarding. Vacationers also come to Idaho to view Shoshone Falls, which is much taller than Niagara.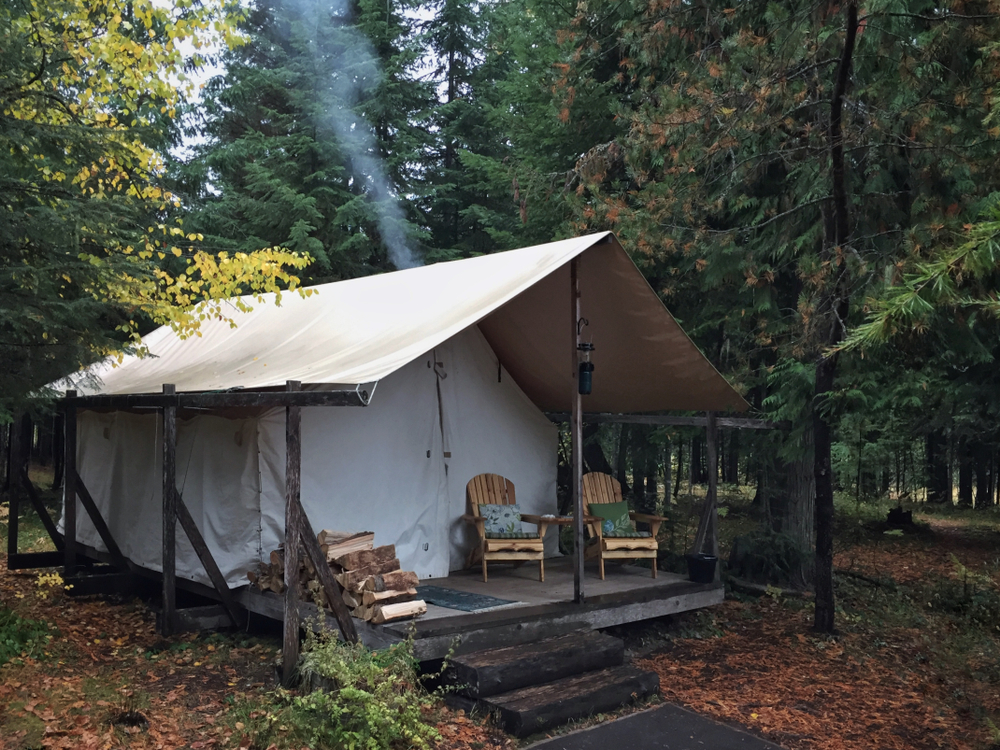 Glamping Sites in Idaho
Teton Valley Resort
Experience the great outdoors with the most luxurious glamping units at the Teton Valley Resort. The resort is situated right off Highway 31 in Victor, the largest city in Teton County. Many extras are included in the tent glamping units, such as electricity, Wi-Fi, an outdoor heated pool, and a hot tub. This region of Idaho is surrounded by three mountain ranges, making it ideal for hiking, biking, and wildlife exploration. 
Moose Creek Ranch
Break away from city life to the heart of the Tetons at the Moose Creek Ranch, where you can see beautiful views of a stunning mountain valley with Moose Creek flowing nearby. The Teton mountain peaks are sloping north to south just east of Wyoming and Idaho's shared border. The ranch provides endless summer activities, from whitewater rafting to hiking and more. The luxurious glamping options at this ranch in South Victor are secluded by woods, providing a true outdoor experience. 
Lava Campground
Enjoy the relaxed country atmosphere at the Lava Campground while still being close enough to the local attractions. The camp sits in Lava Hot Springs in Bannock County, Idaho, right off of Highway 30. This southeast part of Idaho offers over 1,000 miles of ATV and dirt bike trails, ziplining adventures, historical sites, and plenty of other activities to enjoy. The glamping canvas wall tent provides a comfortable king-size bed and two cots for a luxury camping experience. 
Miracle & Banbury Hot Springs Campground
Miracle & Banbury Hot Springs Campground sits off of Highway 30 in Buhl, and it offers overnight accommodations for RVs and tents. It even provides you with the opportunity to go glamping in domes. You'll have complete access to the continuous flow of natural hot water springs; plus, Banbury Hot Springs is just 1.5 miles east of Miracle on Snake River. At Banbury, you can benefit from the healing powers of geothermal mineral water. 
Wolf Lodge Campground
Located just east of charming Lake Coeur d'Alene, Wolf Lodge Campground offers cabin glamping options for the perfect outdoorsy feel without losing all of the amenities and comfort. It's fairly simple to find because all you have to do is follow I-90 in either direction from the city of Coeur d'Alene until you reach East Frontage Road and then follow signs to the camp. The city has various grocery stores, restaurants, and shopping opportunities. Silver Mountain is about a 31-minute drive; travel east onto I-90, and you'll soon be enjoying the largest indoor waterpark in Idaho along with many outdoor recreational activities. 
Aspen Grove Inn
Aspen Grove Inn sits in the Rocky Mountains of eastern Idaho across the road from the South Fork of the Snake River and 5.3 miles east of Ririe. It's centered in the midst of the most beautiful areas in southeast Idaho, where there are scenic hiking trails, world-class fishing, and the relaxing feel of Heise Hot Springs. Glamping at the Aspen Grove Inn places you amongst miles of biking and ATV trails; plus, there is a hot spring pool and waterslide nearby. 
Where to Glamp in Idaho
Glamping in Idaho offers some truly unique luxury camping experiences with its mountain vistas and large protected outdoor recreational areas. Bannock County, Hot Springs, and other areas in Idaho provide a wide selection of glamping opportunities, from tents with walls to domes and more. The state has plenty of natural beauty, making it a prime location for glamping and RV camping. 
Luxury Camping in Idaho
When you come to Idaho to go glamping, you may want to pack your swimming suit so that you can enjoy the pools and natural hot springs. Other belongings you may need for your trip include food, outfits, and hygiene essentials. With many Idaho glamping accommodations, you will not have to worry about packing something to sleep on or even bedding.
Many glamping spots in this region also provide RV-accessible camping, so you will not have any trouble locating a spot where you can take your RV. In fact, some of the most popular glamping places are also RV-friendly.
There are many benefits and joys to glamping in Idaho, such as waking up to the fresh smell of mountain air and knowing that the natural geothermal hot pools are nearby. Before you head out on your trip, check out our blog for all you need to know about glamping.
With an RV rental you can get your glamping fix anywhere! Enjoy all the comforts of home on board your RV – linens, cooking supplies, a cozy couch, and a warm bed – all while enjoying the beauty of nature around you. It's the perfect marriage of rustic camping and upscale comfort. Plan your perfect glamping getaway with an RV rental from RVshare.