Travel Inspiration
June 17th, 2020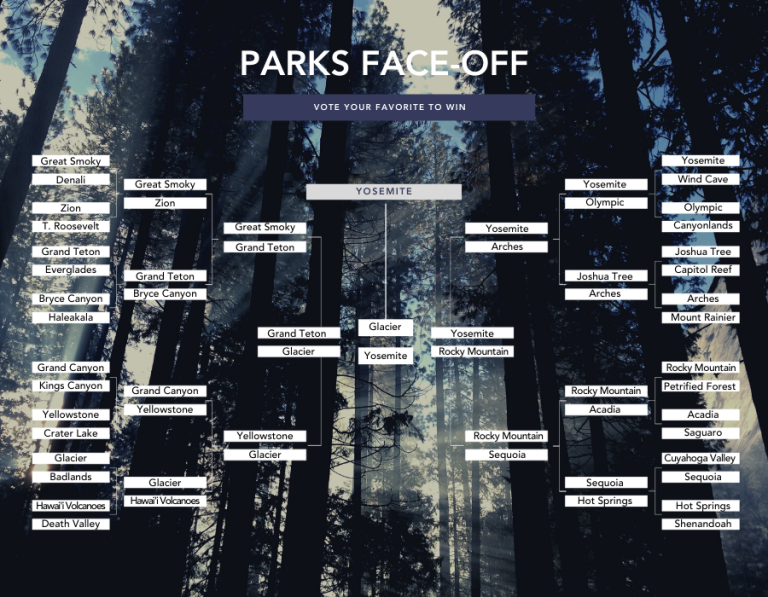 UPDATE: AS OF JUNE 17 WE HAVE A WINNER! YOSEMITE EARNS THE CROWN.
In a surprising twist, Glacier pulled out the win over Grand Teton with more than 60% of the vote.
It was neck and neck but Yosemite took home the victory over Rocky Mountain.
After weeks and weeks of voting, your voices have been heard. Yosemite is the official winner of our National Parks Face-off! To celebrate, we are giving away a trip to Yosemite National Park valued at $1500. Hurry and get your entries in by commenting on our Facebook or Instagram post since this flash giveaway ends Thursday morning!
——–
There are many things to look forward to once the world gets back to normal – hugging a friend, going out to eat, and knocking off some National Parks from the bucket list! While we don't know when parks will be fully operational, that won't stop us from daydreaming about where we want to head once they start opening back up.
The question remains – where should we go? Help us decide! Head to our Instagram @rvshare and check out our stories to vote for your favorite National Park. Each week, we'll work through a bracket of the 32 most visited National Parks until we get a winner for the park you are most excited to visit once quarantine is over!
Weekly Bracket Updates
Wednesday, June 10, 2020
We're rounding the corner to the final round!
Rocky Mountain is still in the running with the win against Sequoia.
It's pretty clear that Yosemite was the fan-favorite up against Arches winning with over 70% of the vote!
It was a close call but Grand Teton pulled the win over Great Smoky!
It was neck and neck but Glacier snuck ahead of Yellow Stone at the last second.
Which park will make it to our final round? Vote for your favorite on our Instagram @rvshare!
Wednesday, May 6, 2020
In round two of our National Park bracket, things started to heat up!
We're getting so close! Which parks will make it through next? Get your votes in for this week on our Instagram @rvshare!
Monday, April 27, 2020
Last week our 32 most visited National Parks came head-to-head for the first round of our bracket, and the results were full of surprises!
Which parks will make it to the final eight? Join us on our Instagram @rvshare to vote for your favorite park!
National Park Guides
Visit our guides on all 62 National Parks, where you will find everything you need to plan your end-of-quarantine-trip. Each guide includes hiking trails, nearby restaurants and shops, activities, and of course, the best places to camp.