Hawaii Volcanoes National Park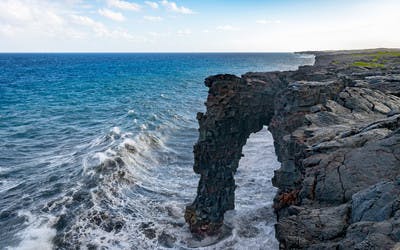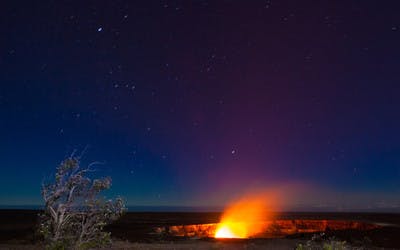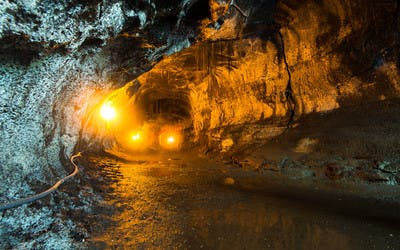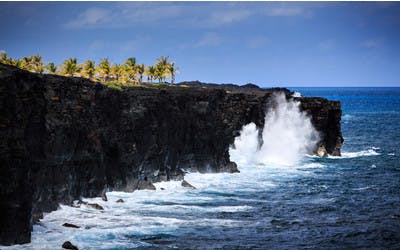 >

Hawaii Volcanoes National Park
Hawaii Volcanoes National Park
is home to the Kilauea Volcano, which erupted in May of 2018. The resulting lava flows swallowed over 700 homes in the area, before the park was reopened in September of 2018. As the park reopens and readjusts, there may be significant changes in the areas you are able to visit, or the routes you use to get there. Be sure to check the park recovery updates
here
to get the latest information while you're planning your trip. The volcanic activity and the beautiful landscape created by the volcanoes in Hawaii ensure a fascinating adventure.
It's no wonder, then, that so many visitors find themselves enchanted by this magical landscape; in fact, for many, it's the main draw to Hawaii in the first place. But as with all of America's national parks, and particularly all of the Island State, it's important to remember the long-standing legacy of First Peoples and Indigenous cultures that thrived here before western settlers ever made their way this far into the Pacific. Learn about the indigenous history of the park here.
Weather at Hawaii Volcanoes National Park can vary, but rain is frequent (it's why everything looks so lush and eternally green on the island.) Weather at the summit of Kilauea can be rainy and chilly year-round, and temperatures that high up may be 12-15 degrees cooler than at sea level. Make sure to bring waterproof clothing and several layers for your visit.
The park is near several towns, including Hilo and the town of Volcano. After you're through exploring Hawaii Volcanoes National Park, head into town for delicious Hawaiian food or to shop local art or wander along a black sand beach.
There is plenty to do inside the park as well, from guided hikes to after-dark talks and stargazing. You can find a complete calendar of events here. You can also explore the park on your own by car or on foot.
RV Resorts & Campsites in Hawaii Volcanoes National Park
There are some public and a few private campgrounds available on the Big Island. While RVing isn't common, there are some places that can accommodate them. Be sure to check whether your campsite requires a permit from the county before pulling up for the night.
Hawaii Volcanoes National Park Public Campgrounds
Hawaii Volcanoes National Park Private Campgrounds
RV Rentals Near Hawaii Volcanoes National Park
Nearby RV Rentals
Hit the Trails
Get a better look at the volcanic activity at the park, and the areas affected by it, by heading on a hike or two through Hawaii Volcanoes National Park. Be sure to prepare for rainy or cooler weather on your hike.
Kilauea Summit Trails
Devastation
Distance: 1-mile round trip
Terrain: Paved trail that is stroller and wheelchair accessible. This stark area was buried by falling cinder from the lava fountains of the 1959 Kilauea Iki eruption. You can see life slowly returning to this once devastated area.
Ha'akulamanu (Sulphur Banks)
Distance: 1.2 miles round trip
Terrain: This flat, boardwalk trail meanders through a dramatic volcanic thermal area with few trees. See steaming cracks and colorful mineral deposits.
Kipukapuaulu
Distance: 1.2 miles round trip
Terrain: A dirt trail with gentle slopes, the loop trail takes you through a "Kipuka," an area of older vegetation surrounded by a more recent lava flow.
Crater Rim
Distance: 1.2 miles round trip
Terrain: Hike through an active volcano and see stunning vistas, desert habitat, and lush rainforest.
Keanakāko'i Crater
Distance: 1.6 miles round trip
Terrain: A paved walk through koa and 'ōhi'a forest to the Keanakāko'i Crater overlook. Across the road, you can see views of Halema'uma'u Crater and Mauna Loa.
Chain of Craters Road Trails
Mauna Ulu/Pu'u Huluhulu
Distance: 2.5 miles round trip
Terrain: See the lava landscape from the 1969-1974 Mauna Ulu flow. Walk by lava tree molds, climb a cinder cone, see Mauna Ulu's steaming shield, and look for Mauna Loa, Mauna Kea, and the blue Pacific Ocean beyond.
Pu'u Loa
Distance: 1.4 miles round trip
Terrain: The kūpuna (elders) walked this trail to Pu'u Loa - the Hill of Long Life - where they carved etchings and indentations into the rocks that are still there today. The etchings document the life and culture of the native Hawaiians, and the people created divots in the rock to bury their newborns' umbilical cords in hopes of providing those babies a long and prosperous life.
What to Do at
Hawaii Volcanoes National Park
When you've finished exploring the volcanoes and the history of Hawaii Volcanoes National Park, you may be ready to try some other adventures nearby. Take an evening stargazing tour, relax on a black sand beach, or learn more about the natural marine life in the area. Here are a few of our recommendations for activities around the Big Island.
Type: Steak and Seafood
Location: Hawaii National Park
Type: Cafe
Location: Volcano
Type: Thai
Location: Volcano
Type: Cane juice & organic food
Location: Hilo
Type: Hawaiian
Location: Volcano
Orchidland Surfboards
If you're planning to catch a wave on the Big Island, head to this surf shop to get outfitted with everything you need. Find the largest selection of surfboards, bodyboards, beach apparel and all the accessories you need for a day on the water.
Location: Hilo
Hawai'i Volcanoes National Park
The gift store in the Kilauea Visitor Center sells books, art, stuffed animals, maps, and many more items to commemorate the park and to help visitors gain a better understanding of the park, its volcanoes, and its wildlife.
Location: Kilauea Visitor Center
Volcano Art Center Gallery
The art gallery displays both contemporary and traditional work inspired by Hawaii's beautiful scenery and cultural heritage. Browse handcrafted furniture, made with native woods, hand-blown glass, jewelry with precious and semi-precious stones and metals, and paintings, photographs, clay, and other media.
Location: Volcano Village
Kilauea General Store
The general store stocks groceries, snacks, and smoothies...but around the back is a delightful surprise - a quilt shop. The quilt store is packed with handmade Hawaiian quilts, quilting supplies, and a range of works by local artists and craftsmen.
Location: Volcano
Oshima Surf & Skate
Shop surfboards, skateboards, and all the gear that goes along with either sport. The store stocks clothing, hats, shorts, and more.
Location: Hilo
This museum inside Hawaii Volcanoes National Park focuses on volcanology. See several displays of different types of lava, see eruption "by-product" displays, and jump to see if you can make the seismograph move. You can also see the equipment used by scientists to study eruptions, and also learn about Hawaii's cultural relationship with volcanoes and their relationship with Pele, the Hawaiian goddess of volcanoes.
Learn about the history of Hilo and the natural history of this area of Hawaii at this museum, located in the Lyman family mission house built in 1838. See early tools and implements made from materials the Hawaiian people had on-hand and learn about the island climate zones - from the snow to the ocean. Then tour the Lyman Mission House and see how the missionaries lived in the 1800s, in a house without electricity and running water.
The town of Hilo was forever impacted in 1946 by a devastating tsunami. Learn how the town was before and after, and what changes were put in place after the disaster. Also, learn how to protect yourself and your loved ones if you ever encounter a tsunami.
Part of the University of Hawaii at Hilo, the astronomy center has two main themes - "Origins" and "Explorations."  The Origins area explores the birth of the cosmos and the beginning of life on earth and the Explorations area will show you how Hawaiians used the stars to help guide them as voyagers, along with teaching much more about Hawaiian culture.
See the 3,500-gallon saltwater aquarium, interactive exhibits, life-sized models of wildlife found in the northwestern Hawaiian Islands, and artwork inspired by the islands and Hawaiian culture. Since most people won't be able to visit the more remote islands, you can learn about them and the region here at the discovery center.
Rainbow Falls
There are several scenic viewpoints along Wailuku River. Boiling Pots is a succession of big pools connected either by underground flow or by cascades, whose waters roll and bubble as though they're boiling. Eighty foot Rainbow Falls is named for the rainbow that forms from its mist on many mornings. Legend says that the cave beneath the waterfall is home to Hino, mother of the demigod Maui.
'Akaka Falls State Park
A walk through lush tropical vegetation leads to scenic vista points overlooking Kahuna Falls and 'Akaka Falls, which plunge 442 feet into a gorge.
Liliuokalani Gardens
The largest authentic Japanese garden outside of Japan is located here in Hilo. Stroll through the peaceful gardens, named after Queen Liliuokalani, Hawaii's last reigning monarch. The 24-acre garden features traditional bridges arching over fishponds, rock gardens, pagodas, Japanese stone lanterns, and a Japanese teahouse. Gaze over the peaceful grounds to a view of the Hilo Bay and Mokuola. The park is very family-friendly and welcoming.
Mauna Kea Summit & Stars Tour
Head up the summit of Mauna Kea, stopping for dinner on the way, and get to the top in time for a once-in-a-lifetime view of the sunset from the world's tallest volcano. Then use one - or several - of the largest collection of telescopes on earth to see some of the most dramatic solar vistas you'll likely ever encounter.
Punalu'u Black Sand Beach
The big island is known for its black sand beaches, a result of the volcanic activity on the island. Visit one of the most famous black sand beaches in Hawaii, and look for honu - Hawaiian Green Sea Turtles - who love to bask on the sand.
How to Get to
Hawaii Volcanoes National Park
By plane
The best way to get to Hawaii Volcanoes National Park is to fly into Hilo and drive from there. Hilo is 30 miles from the park - head southwest on Highway 11.
If you're flying to the island, there are two airports you can fly into. Hilo International Airport is closest to the park, while Kona International Airport is about a 2 ½ hour drive southeast.
By RV
Another way to travel around the Big Island is by renting an RV or campervan. RVing allows you to travel on your own schedule. If you don't own an RV, RV rentals are available. Be sure to check RVshare to see if there's one available when you'd like to visit.
View RV Rentals
Entering Hawaii Volcanoes National Park
There is a fee to enter Hawaii Volcanoes National Park, though there are several free entrance days which you can find here. Also, if you have a fourth grader, be sure to apply for the Every Kid in a Park Pass, which allows them and everyone in the vehicle with them free entrance into all national parks for the year. You can find out more about the program here. You can also purchase a Hawaii Tri-Park Annual Pass for $50 that allows you entrance to all three national parks located on the islands of Hawaii for an entire year. Finally, you can purchase Annual Passes and Lifetime Senior Passes here.
Private Vehicle : $25
7-day pass for private, non-commercial vehicles (15 passenger capacity or less) and all occupants
Motorcycle : $20
7-day pass for passengers on a private, non-commercial motorcycle.
Per Person : $12
One individual with no car (bicyclist, hiker, pedestrian). Youth 15 and under are admitted for free.
A trip to Hawaii Volcanoes National Park is one you'll remember for a long time! The beautiful landscape and views of the ocean, along with the fascinating volcanic activity and the cultural and historic sites at the park are sure to provide a thrilling visit. We at RVshare love to help people build memories with their friends and family by exploring the outdoors. RVing is a great way to see new places and experience new things with your loved ones. Whether you visit Hawaii Volcanoes National Park in an RV rental from us or on your own, we want to hear about it! Be sure to share pictures with us by sending them to [email protected] and make sure you tag us on social media to share details and tips about your visit. You could be featured on our blog or social media channels.