Travel Inspiration
Last updated on January 10th, 2023. Originally published on July 8th, 2018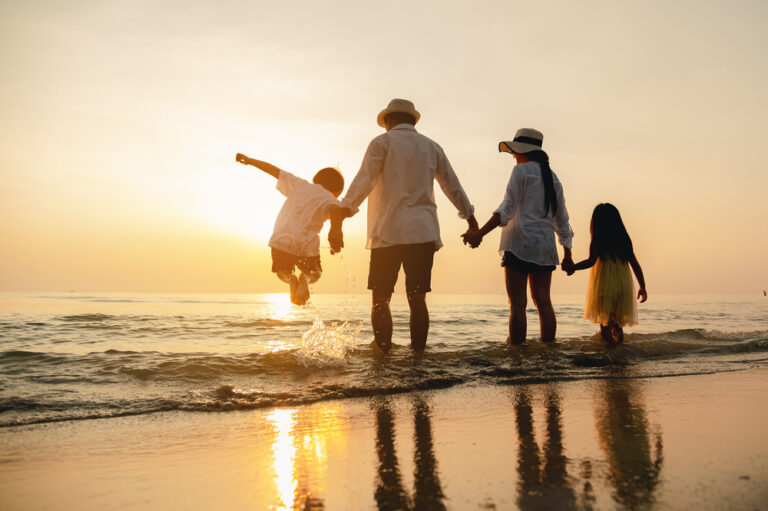 Planning a getaway without your budget getting away from you can be a challenge. From accommodations to fuel and airfare, even relatively cheap vacations cost money — and that's before you even start having fun (or feeding yourself) at your destination!
As is apparent from your Instagram feed, however, lots of people still find affordable ways to travel. In fact, you could call budget travel something of an art form… an art form we here at RVshare just happen to be pretty darn familiar with. 😉
Taking a vacation on a budget, particularly a strict budget, does require a little bit of planning. But you'll be surprised how much cold hard cash a few hours of research can save you! From learning when the best time to travel is for any given destination to finding ways to save on necessities like fuel and food, in this post, we're going to go over everything you need to know about how to plan a family vacation on a budget. We've even got a few specific affordable destinations in mind, just to help inspire your wanderlust and get you brainstorming a fantastically frugal foray.
So, ready to get started? Here's our best advice on how to make your next vacation as stress-free for your wallet as it is for you.
Affordable Vacations
One of the very first questions you'll need to contend with when you're planning a bank-account-friendly vacation is how you're going to get there. In our 21st-century world of planes, trains, automobiles — and yes, RVs, our very favorite — there are lots of options. And not all of them are equally cost-effective.
Obviously, some of this decision-making process will depend on your target destination. For example, if you're hoping to travel to Germany or Japan, you're probably not going to get there in a road vehicle… or at least not any we've ever seen before. (Okay, maybe this one, but it would be a long, long trip.)
In the case of far-off destinations, air travel isn't just more convenient — it's basically a necessity. International, trans-oceanic cruises are available, but the voyage often takes weeks or even months, and it costs tens of thousands of dollars.
If you're planning to go overseas, airfare is going to be your least expensive option… though long-haul flights can easily run you hundreds of dollars each way, even if you're flying coach. There are, however, some tips and tricks to finding affordable airfare, which we'll get back to a little bit later on in this post.
But for now, let's focus on domestic travel. After all, this is an RV rental website, so you're most likely considering a road trip! And fortunately, road tripping — and RV travel in particular — offer you the opportunity to tweak and adjust your itinerary to fit any travel budget.
Here's what we mean. When you take a flight, you don't have any control over the fare… not to mention the timing, delays, or annoying TSA line you'll have to go through in order to get on the plane in the first place. The same holds true for other forms of public transit like trains and Greyhound buses, though the security situation and crowd might not be quite as intense. When you travel in your own, private vehicle, you decide how far you're going and at what pace, which means you have total control over your fuel bill. That's one giant travel budget line item that can be shrunk down to a bare minimum if you choose.
When you pay for airfare (or a train ticket, etc), you're not just paying for gas — you're also paying for plane or vehicle maintenance, any services you receive in transit, and the pilot's time, and that's just the start. Road tripping is a lot simpler: You buy the fuel, put it in your vehicle, and convert it into traveled miles. Simple as that.
Of course, the less you spend on fuel, the less road you can cover. And depending on your vehicle, the same, say, $300 in gas might give you a lot of wiggle room or only a bit. For example, if you're traveling in a lightweight vehicle that gets 30 miles to the gallon, that $300 gives you about 3,000 miles to work with (based on a $3-per-gallon gas price). That's a lot of travel on the cheap! But while motorhomes are wonderful in many ways, but no one ever accused them of being super fuel-efficient. The same $300 would likely only get you about 600 miles of travel in a Class C rig.
But even if you lop your fuel costs by taking a staycation (or heading to that park you've been meaning to visit just down the road), you'll stumble on yet another reason we love camping: It can be a great opportunity to discover the amazing natural landscape right in your own backyard.
In the next section, we'll talk more about how RV camping can make travel more affordable and explore some specific ways to take advantage of its flexibility.
RV Camping: One of the Most Affordable Ways to Go
We've already admitted that they're gas guzzlers. So how can it be that RV camping is one of the most affordable ways to travel?
Well, for one thing, when you travel in a motorhome or trailer, you've got your accommodations along with you — which means you don't have to worry about shelling out for a hotel every night. (Not to mention the annoyance of having to unpack and repack your suitcase every time you're ready to head to a new location.)
Although camping in developed campgrounds — that is, the ones with shore power and water hookups — isn't free, it's usually a lot more affordable than your average hotel room. Even a super-ritzy campground usually doesn't cost much more than $75 per night, whereas a $100 hotel room might give even the scrappiest traveler a moment of pause.
Plus, there are plenty of ways to make your RV camping trip even cheaper. If you're the adventurous type, for example, you could try off-grid camping, or boondocking — that is, finding undeveloped, unowned land where you can set up camp without hookups. These sites often cost as little as $25 for two full weeks… and sometimes they're totally free! Plus, the sites are often in some of the most stunning and untouched landscapes left in America. Boondocking truly gives you a unique opportunity to experience nature in a way most travelers simply never will.
If you just can't bear the thought of going without air conditioning (or shelling out big bucks on filling your propane tank), you can save money on developed campsites, too. One of our favorite ways to do so is the discount camping club called Passport America, which gets you 50% off your campsite accommodation fees at almost 1900 participating campgrounds across the country, including locations in Canada and Mexico. The membership costs less than $50 per year… which, as we've established, is less than some of those campsites cost per night. That's more than just a great deal: it's a foregone conclusion for the dedicated budget traveler.
RV camping also gives you the option of cooking your own meals, which can mean HUGE savings over the course of an entire vacation. Obviously, trying out local delicacies is part of the fun of travel, but eating at a restaurant for every single meal — or worse, subsisting on gas station snacks like chips or sugar-caked beef jerky — will leave you both broke and bloated.
Even small travel trailers and sleeper vans usually come with basic kitchen facilities, which means you can offset your travel food bill by doing exactly what you do at home: grocery shopping and preparing a majority of your meals for yourself. That way, you'll have the cash left over to splurge on that exciting restaurant or the can't-miss ice cream shop you heard about in your travel guide.
Psst: If your RV kitchen doesn't offer much in the way of cooking apparatus, don't worry. Any campground worth its salt (get it?) will likely have a grill. And after all, there's no more classic camping activity than hosting a barbecue, right?
If you're planning on heading off-grid, you could invest in a portable grill or campfire grill grate. Indoor cooking more your style? An Instant Pot is what you need — trust us. We've written a whole post about all the amazing ways you can use it!
As for the cost of the vehicle itself, well, there's no getting around it; RVs aren't the cheapest toys in the world. But if you travel frequently, they can be a worthy investment, and even save you money on other types of accommodations in the long run. (Heck, you might even find yourself falling so deeply in love with the lifestyle, you end up hitting the road full time!)
If you don't already have a travel trailer or motorhome of your own and you're not in the market to buy one, you'll be surprised at how affordably you can find RV rentals these days, especially when you're browsing the peer-to-peer market here at RVshare. After all, the people who list their rigs for here on our site are regular travelers like you and me; they don't have to foot the expensive overhead cost of running a business. That means they can pass on those savings to you in the form of a much more affordable nightly rental rate!
Plus, we've got tons more RV travel and camping tips that'll help you save money all while taking your road trip experience to the next level. From affordable (but amazing) travel accessories to easy ways to shave a few dollars off your travel expenses, check out the following blog posts here at RVshare for even more money-saving travel hacks.
Take Advantage of the Cheapest Time to Travel
No matter where you go, when you go there does, in fact, matter.
It's a well-loved travel hacker's tactic to visit popular destinations during their off seasons — that is, the times of year when tourism is at a low. Since many business owners in these areas make their living off of hospitality and tourism-related products, they offer incentives to bring in more traffic when things naturally die down… which means last-minute travel deals and cheap offers for you!
These "off seasons" are also known as shoulder seasons, and are the best time to travel if you're after amazing deals on what might otherwise be a pricey vacation. However, keep in mind that the off season is the off season for a reason — the cheaper months are often also the ones in which it's less convenient to travel or the weather isn't quite as pristine as it might be later on.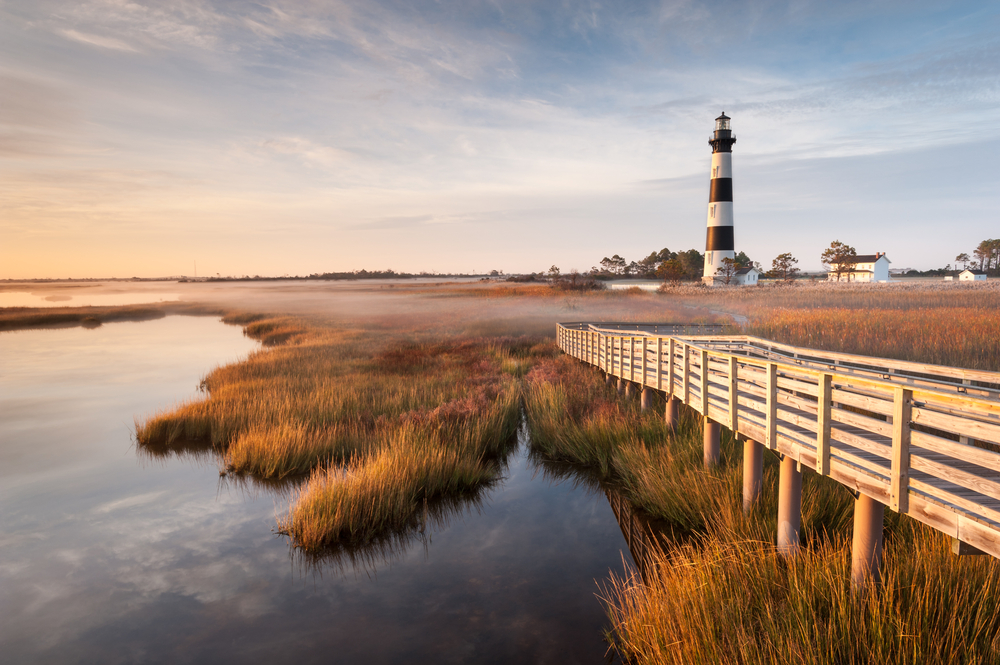 Places to Vacation on a Budget
Alright, enough generalities. Let's talk specifics. What are the top vacation spots when you're on a budget?
Although there are plenty of cheap places to travel, what you consider the best vacation spots will depend on your personal travel preferences and the purpose of the trip. For example, if you're looking for a romantic getaway, you'll be more interested in romantic, quiet spots suitable for couples on a budget… whereas if you've got the kids along, you'll be looking for ways to pack as much fun and entertainment into each dollar as you can.
Fortunately, we've got suggestions for both of those scenarios… and even more. Here are just a few of our favorite budget-friendly destinations.
Great Smoky Mountains National Park
The national parks are often grouped together as a great budget-friendly camping excursion, but there's a reason this east coast gem made our list whereas the western classics didn't.
Great Smoky Mountains National Park may not have peaks whose altitudes rival the Rockies… but it does have an important benefit for budget-aware travelers. It doesn't charge entry fees. Yup, you read that correctly! (Though you will still have to pay to camp in the park proper.)
Psst: if you are planning a grand tour of the national parks, including the ones out west with gate fees that can cost more than $30, it's probably going to be worth your while to invest in an America the Beautiful annual parks pass. For $80, you, your vehicle, and up to three other adults will get into every NPS-operated property in the country gratis.
Click here to see RVshare rentals near Great Smoky Mountains National Park.
Coastal Oregon
Don't get us wrong, you could easily spend hundreds of dollars meandering along this stunning, boulder-strewn coastline, especially if you're partial to adorable boutiques and fine dining. But in an RV, camping in affordable state park campgrounds will offset the price you would have spent on a cutesy inn… which you can totally still wander into and explore.
Plus, the best activities on the coast — hiking and whale-watching — are totally cost-free. Good thing, too; you'll want to save up as many pennies as you can to spend on the to-die-for seafood!
Click here to see RVshare rentals in western Oregon.
Once again, one of the best parts about RV camping is that it can make any destination that much more affordable, since you won't have to worry about hotel costs or pricey restaurant food. Heck, you can even take your rig to New York City or Chicago — you just might have to get creative about figuring out where to park it!
North Carolina's Outer Banks
For some of us, the perfect beach day is less about tanning and more about exploring an intriguing lighthouse. And those are the people who should flock to the barrier islands on the east coast of North Carolina, which offer a unique combination of scenic views, historical buildings… and yes, still enough sunshine to get a tan.
Click here to see RVshare rentals in eastern North Carolina.
Ohio's Hocking Hills
Ohioans love to remind us that they're at the heart of it all — and what a beautiful heart it is. Nestled in the southeastern quadrant of the state, whose Appalachian locale is nothing if not affordable, Hocking Hills State Park features waterfalls and caves that'll make you feel like you're somewhere far more exotic… without the exotic price tag.
Looking for some more Ohio fun? A few miles north of Hocking Hills, you'll find the Amish country of Big Prairie — and an action-packed Jellystone Park location from which to explore it all. With organized events and amenities for adults and kids alike, when you stay at Jellystone, you're in for a great vacation even if you never leave the campground!
Click here to see RVshare rentals in southern Ohio.
How to Plan the Best Affordable Family Vacations
No matter which of these destinations catch your eye, or even if you've got your heart set on something else entirely, one thing's for sure: in most cases, you'll do better by your budget if you make your reservations ahead of time. By mapping out where you'll be and which parks you'll stay in, you'll know exactly how much you'll be spending for accommodations on each night of your trip. If you want to get really serious, you could even throw in some meal planning!
Making reservations ahead of time is also imperative if you're planning to utilize that Passport America membership we mentioned above. After all, even though their network of campgrounds is crazy extensive, not every single campground in America participates. You don't want to show up thinking you're about to score a sweet discount only to realize you'll be expected to pay full price!
Finding campgrounds in your target destination is a cinch. All you have to do is run a Google search for "rv parks near me" or "rv parks + [destination zip code]." Then, you'll be able to see a variety of options in the area, which means you can compare and contrast their pricing structures and discount club participation.
One more thing about planning ahead: We already talked about the special magic of setting a fuel budget and choosing a destination whose distance is based on that figure. But whether you plan to spend $300 or $3,000 on fuel, there's one way super-easy way to make those pennies stretch even further. All you need is a cell phone.
Yup, a cell phone — because we're talking about GasBuddy, the app that shows you up-to-the-minute fuel pricing information at all the stations in your area. We all know that sinking feeling you get when you fill up only to see a much cheaper gas price advertised just a few minutes further down the highway. Driving a few extra miles could save you up to a quarter or more per gallon, and GasBuddy will help you know, rather than guess, where the best prices are. It's totally free, so you have absolutely nothing to lose by trying it!
Last Minute Travel Deals: What You Need to Know
We've spent almost this entire post talking about the importance of planning ahead and putting your ducks in a row to ensure you get the best budget travel deals.
But as in all parts of life, every rule has an exception, and travel is no different. There are ways to take last-minute discount vacations, and even to score super-cheap airfare — in some cases, so cheap, it might be less expensive than driving. The caveat here is that you'll likely need to have flexible travel dates and be open to destinations that might not have been on your radar, both of which can make these options less attractive for traveling families. After all, if you're working and the kids are in school, you won't always be able to pick up everything and go to take advantage of a special fare sale.
But keeping up with these kinds of travel deals can help unlock cheap vacation ideas that might not have been on your radar before, so we'll provide a few quick hints to help you get started. The most important one: follow fare sale blogs and newsletters, like Scott's Cheap Flights and Airfare Watchdog.
Here's how it works. When a flight isn't getting enough bookings, or sometimes simply due to a back-end airline error, tickets can plummet in price. We're talking a savings of hundreds, and sometimes thousands, of dollars. For instance, we've seen international flights available for as little as $250!
But unless you're constantly scanning flight prices yourself, chances are, you aren't going to notice these price drops. That's where the above-mentioned blogs and apps come in handy: those companies make it their business to keep on top of the latest airfare pricing. And when there's a steep discount, they bring it directly to your inbox or RSS feed.
Fare sales are an amazing way to get to destinations that might have otherwise not been within your reach. But as we mentioned above, they do require flexibility. Those discounted tickets are usually within a fairly narrow time window, and only for specific destinations. If you and your party have pre-existing responsibilities, it might be impossible to take advantage of the deal.
But if you travel light and keep a fairly open calendar, it's well worth keeping tabs on the latest deals. Just remember that, although it's a costly portion of your travel budget, airfare isn't the only expense you'll face during your travels. You still need to eat and house yourself!
You can also find discount travel deals available on websites like Groupon or through dedicated travel agencies, but bear in mind that most of these packages are group tours which don't offer the privacy of RVing (or even tent camping). Furthermore, the prices listed are usually based on double occupancy, so if you're a solo traveler, prepare to shell out more than the advertised total.
We hope this post has shown you that travel of all sorts, whether you fly, drive, or ride, can be affordable and accessible if you approach it with a spirit of adventure and ingenuity. And in the case of RV camping, as we've seen, you have even more control over how much — or how little — you and your family end up spending.
Seeing the world we live in is one of the richest experiences we can engage in as human beings, and a non-bursting bank account is no excuse for putting it off, especially if you have children. As we've explored, you don't need a windfall to take an amazing camping trip. All you need is a plan and your favorite pack of people — so I guess it's true what they say. The best things in life are free.
This post may contain affiliate links.