How Tos & Tips
Last updated on January 9th, 2023. Originally published on June 12th, 2018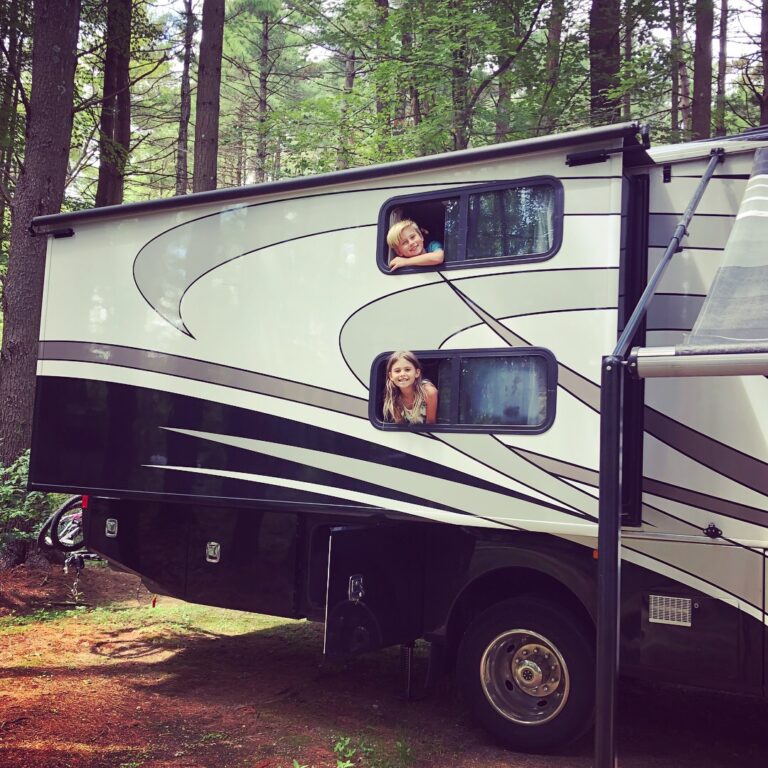 With Memorial Day receding in the rearview mirror and the solstice fast approaching, there's no denying that summer is officially here. And aside from dusting off your hippest pair of shades and doubling down on your sunscreen supply, that can only mean one thing: It's time for a road trip! Everyone wants to save money! What better way to enjoy your road trip than with cheap rv rentals.
Cruising down the highway to cool new destinations is one of the most classic American traditions in the book, and for good reason. From our stunning range of natural preserves and parks to world-class cities of every shape, size, and lifestyle, there truly is something for everyone here in the USA. (Plus, let's not forget: that National Parks Passport isn't going to stamp itself!)
And while many families will pack up the car for their epic drive this year, there's a whole lot to be said for upgrading your journey to the comfort and convenience of an RV rental.
RV Rental
RVing allows you to bring your own private abode along with you for the journey, so you never have to worry about what bed you'll rest your head in or where you'll get your next meal. Plus, in a motorhome or travel trailer, you can bring a whole lot more gear and goodies with you, like multiple pairs of shoes (can't forget those hiking boots!) and larger pieces of adventure gear like kayaks or bicycles — and yes, this does include the actual kitchen sink.
Of course, if you've started to look into finding RV rentals, you may have noticed that they're not always all that cheap. In fact, depending on the size and model of rig you go for and where you rent it from, you may be looking at as much as $200 per night — and that's before factoring in campground accommodation fees, fuel, or any of your other travel expenses. Yikes!
But there are actually some really simple ways to make your RV rental journey more affordable. In fact, if you play your cards right, you can find RV rentals downright cheap… without sacrificing reliability, quality, or customer service. (Yes, one major way is to utilize the peer-to-peer market available here at RVshare, but that's not the only trick we have up our sleeves, we swear!)
So, ready to learn more about how to make those steep RV rental prices look a little more level-headed? Read on to find out how to find cheap motorhome rentals no matter where you're traveling across the USA.
Cheap RV Rentals
If you're looking to enjoy the trip of a lifetime without breaking the bank, here's what you need to know.
1. You guessed it: Use RVshare.
Like we said, we do have other tips to help you save money on your RV rental… but we couldn't write this post without reiterating how much money you can save by renting from a private owner as opposed to a large commercial dealership.
Just think about it: most people listing their rigs on RVshare are just looking to make a little extra pocket change when their vehicle would otherwise be sitting empty, and they don't have to foot the expensive overhead cost of running a business (since RVshare takes care of all the logistics and customer service aspects for them). They can easily pass those savings on to you in the form of rental prices at a fraction of what you'd find at the big franchises. It's really easy to find amazing RV rental deals near you — click here to browse what's available in your area today!
2. Or look for awesome "relocating" deals.
So, if your itinerary and travel route is flexible, there is one crazy RV rental hack that not very many people know about.
It's called a relocation deal, and in some cases, it can mean your rental costs as little as $1 per day!
Here's how it works: large commercial franchises sometimes offer one-way RV rentals, where the renters pick up the vehicle at one location but drop it off at another. Certain routes are more popular than others, so the motorhomes tend to cluster up at a certain location… and need to be brought back to the other for future renters.
The RV rental dealership could pay an employee to drive the rig back, including footing the cost of gas, etc… or they can offer a super-cheap rental to a traveler like you, provided you're willing to drive along the set route or direction.
This is a great way for flexible travelers to enjoy RVing for a crazy low price. One of the best places to check for available deals is at iMoova, and you can also take a glance at Jucy.
Cheap RV Parks
Here are even more ways to save money on your trip.
3. Find cheap ways to camp.
Paying for expensive campground accommodations on top of hefty per-day rental prices is a total bummer. But fortunately, there are a number of ways around that problem!
The first is to look for cheap RV campgrounds, like the ones in state parks and other public areas. Although they may not be flush with amenities, they're often available for as little as a few dollars a night.
Pretty set on staying at RV parks with full hookups and lots of stuff to do? No problem! Just invest in a Passport America membership before you set off on your journey. You'll spend about $50 up front, yes… but that fee gets you access to half-off luxury campsites at almost 1900 campgrounds across the nation for a whole year. Definitely a worthy investment!
Camping Activities To Enjoy Your Cheap RV Rentals!
Cheap camping is all about how you approach your journey, and what you make of your destination!
4. Make your own meals.
Making your own meals is an easy way to save a ton of cash and eat healthier on the road, and you don't need a whole lot of fancy RV kitchen supplies to do it. Here are a couple posts on the blog about RV cooking, including some tasty camping recipes to try:
5. Get outside and enjoy nature!
Although RVing itself might come with some associated costs, once you arrive, there's an amazing amount of free fun available right outside your door. All you have to do is open that door and go find it! From hiking in the woods to swimming in lakes and rivers, it doesn't have to cost a lot to enjoy nature — and that's what camping is all about, even in the comfort of a motorhome.