RV Owners
Last updated on December 29th, 2022. Originally published on April 23rd, 2018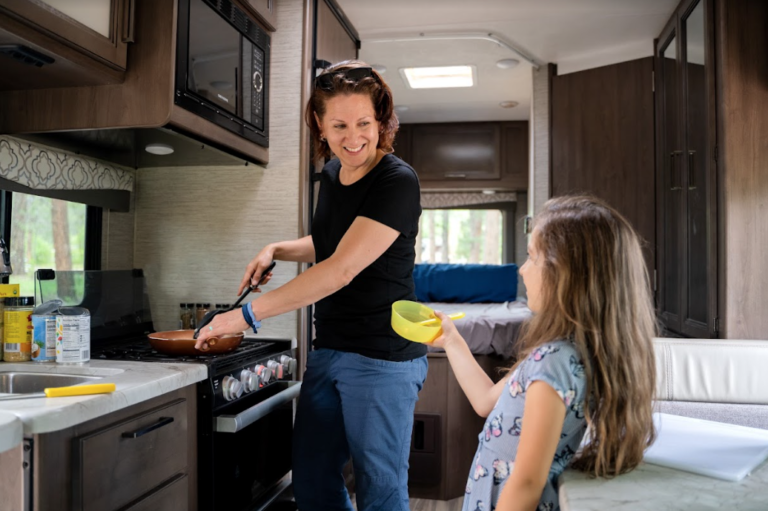 They say the kitchen is the heart of a home, and your motorhome is no different. If you've been on the road for a while or you drive an older rig, your RV kitchen might be ready for some upgrades — a change of heart, so to speak.
But as you've undoubtedly discovered, kitchen updates can be mighty expensive, especially if you hire professional help. What with all the other expenses that come into play on the average camping trip, you may think a kitchen renovation is entirely out of your budget.
(Psst: Looking for a quick and easy way to save some serious green on the road? Check out Passport America, the only discount camping club that gets you 50% off your campsite accommodation fees at almost 1900 campgrounds across the country. The membership costs less than $50 per year, and with today's prices on premium sites at resort-style campgrounds, that cost pays for itself in a single camping weekend!)
When you think of a kitchen makeover, you might imagine tearing out existing furnishings or installing big, expensive appliances like an RV oven. But you might be surprised at how much you can get done with smaller interventions. Even a fresh coat of paint can work wonders.
There are plenty of RV kitchen upgrades that'll make your space feel brand new without breaking your camping piggy bank. And many of them are so simple, you'll be excited to do it yourself.
Here are some of the easiest, most affordable ways to make your RV's kitchen feel brand new.
Kitchen Makeovers
These kitchen makeover ideas will make you feel like you bought a new RV… without the loan payments to go along with it.
1. Refinish your RV's Kitchen Cabinets
Getting brand-new cabinets doesn't have to involve ripping out your old ones and building new ones from scratch. Some sandpaper and a few coats of paint in a refreshing new color will make those plain-Jane RV kitchen cabinets feel super chic and up to date, and it couldn't be a simpler project.
Take a weekend and enlist the help of your partner and your kids; after all, no sharp objects are necessary. Just be sure to cover the areas you don't want splattered with paint very well. We suggest securing the area with a tarp and duct tape rather than simply lying down newspaper.
2. Add a Tile Backsplash (Hint: Easier than it Sounds!)
No doubt about it, a tile backsplash can modern-ify even the most out-of-date kitchen space… but it can be an intimidating project for a novice.
But did you know there are actually super-easy, peel-and-stick tile backsplash products? You simply adhere them onto your clean wall just like a sticker, and tada: you have a beautiful, ready-made, cleanable tile backsplash. It seriously could not be easier!
Small Kitchen Renovations
Sometimes, big changes come in small packages. These little touches will make a large impact on your living space.
3. Upgrade your Sink Fixtures
Has your RV's kitchen sink seen better days? Fix up that boring bowl with a brand new faucet. Not only is it an affordable upgrade that's easy to install, but it can also bring a lot of added utility, like pull-out hoses for easy cleaning or different spray settings.
4. Have Fun with New Drawer Pulls
Even without refinishing your drawers and cabinets, you can still make them look new just by installing some fun new drawer pulls. Try these simple, round, ceramic knobs for a retro look, or show off your hardcore camping side with these pulls featuring skulls and crossbones. There are all kinds of unique designs out there to play with!
RV Kitchen Appliances
Sometimes, it's not the kitchen itself so much as what's stocked in it — and how. Here are a few accessories and gadgets that'll make your space feel fresh, even without any major upgrades.
5. Get Organized
It might seem minor, but good RV organization can actually totally change the way you move around your rig. When you have limited storage space, it can quickly become cluttered with things instead of people — and that's no way to vacation!
We've written tons about fun and inventive ways to get your rig in ship shape, like this post on clever storage solutions you probably haven't tried already. But when it comes to your RV kitchen, one of our very best suggestions? Invest in some quality airtight storage containers. Not only will they help you cram more dry goods into your cabinets (to help keep those empty bellies fed for many camping days), but they'll even help you save money! Shopping in the bulk goods aisle is usually way cheaper than buying boxes of cereal and grains.
6. Invest in Some Accessories
Though they may take up a bit of your storage space, there are a few RV kitchen accessories that are totally worth their footprint — like our favorite gadget, the Instant Pot, or a quality toaster oven. That's because these kitchen goodies can perform a ton of different culinary applications, meaning you get a lot of utility out of one object… which is the exact defining characteristic of a well-chosen RV gadget!
We love the Instant Pot so much, we've actually written a whole post about how to use it and why you need one in your rig. Click here to check it out.
Kitchen Upgrades on a Budget
We hope this post has helped prove to you that renovating your RV kitchen doesn't have to be a huge, impossible task — in fact, it can be an easy, fun family project that easily fits into your camping budget.
Looking for even more RV renovation ideas, or just want to ogle the upgrades of others? Check out the following posts filled with motorhomes and travel trailers that have undergone total rejuvenations!
This post may contain affiliate links.