Towing
September 9th, 2019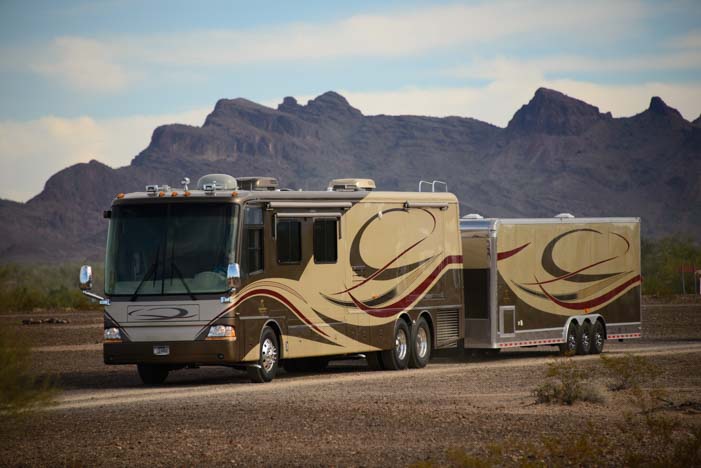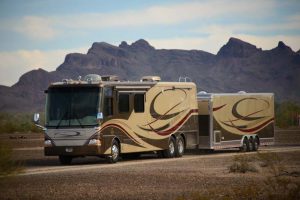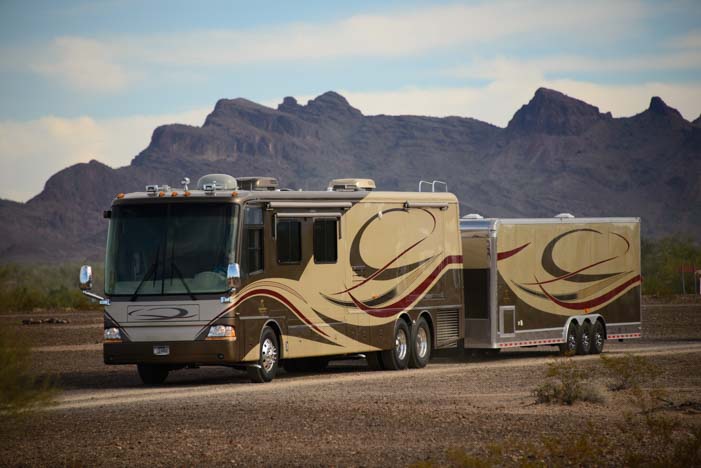 If you're planning on towing an RV car trailer (or anything else), you're going to need to find the right RV trailer hitch. Finding the proper vehicle, hitch, and trailer combination is crucial for safety reasons, but it does take a bit of research. Unfortunately, many people are unsure where to even begin.
That's what we're going to use this article to discuss today.
Ensuring that Your RV Can Tow Your Trailer
Before doing anything else, you will need to make sure your RV is equipped to tow the trailer and cargo you're wishing to pull. To do this, find the towing capacity of your RV. This number should meet or exceed the total weight of your trailer with cargo inside. If this is not the case, you will need to find a way to lighten the load.
Choosing the Right Ball Mount for RV Car Trailer Towing
Most RVs come equipped with a hitch receiver. This means the first thing you'll have to consider is the ball mount.
Your ball mount should fit snugly into your hitch receiver. If it is too large, you may need to purchase a reducer sleeve in order to get nice snug fit. Additionally, you'll need to consider the weight rating of your ball mount. Once again, the weight rating should meet or exceed the total weight of your trailer, including the cargo you'll be carrying.
Lastly, determine the drop or rise needed to ensure your ball sits at the right height to meet your coupler. To figure out how much rise or drop you need, you'll need to measure the height of your coupler and the height of your hitch receiver. Subtract the receiver tube height from the coupler height. If the resulting number is positive, your ball mount will need to have a rise. If it's negative, the mount will need to have a drop.
Generally speaking, you will want your hitch ball to sit slightly higher than the coupler to account for the weight of the trailer. Be sure to keep this in mind when choosing your ball mount.
Finding the Right Ball for a Trailer Hitch for an RV
While some ball mounts come with a ball already attached, we recommend looking for a mount and ball separately. This will ensure you have a ball that will work well for your situation.
To find the right ball for your setup, you will need to know the weight of your trailer fully loaded, the size of the ball hole in your ball mount, and the size of your trailer coupler. As you might have guessed, the weight capacity of the ball you choose should meet or exceed the weight of your loaded trailer.
Meanwhile, the coupler size must match the ball size exactly, and the ball hole size should be a perfect fit for the ball the screw into. If the ball hole on your mount is a bit big for the ball you select, you may be able to purchase a reducer to create a tight fit.
Weight Distribution for RV Trailer Hitches
If you are towing a large amount of weight, and especially if you are getting close to your RV's towing capacity, you may find that it's best—or even necessary—to use a weight distribution hitch.
There are a number of great weight distribution hitches on the market, and most can be moved up or down to adjust the drop and rise. On top of that, while these hitches may come equipped with a ball, this piece is almost always interchangeable, meaning you can adjust everything on these hitches to suit your needs.
Finding the Best RV Trailer
Of course, stocking up on the best RV trailer hitches in the world isn't going to help you if you don't have a trailer to tow.
If you're in the market for an RV car trailer or even just a trailer to tote stuff around in, we highly recommend doing some serious shopping before purchasing your trailer. You'll want to check for things like cargo capacity, total trailer weight, and durability of the trailer. Some people also prefer double-axle trailers over single-axle options.
Check out several trailers and hitches before you settle on one, and make sure you get a setup you will love for years to come.