How Tos & Tips
Last updated on August 24th, 2023. Originally published on September 20th, 2020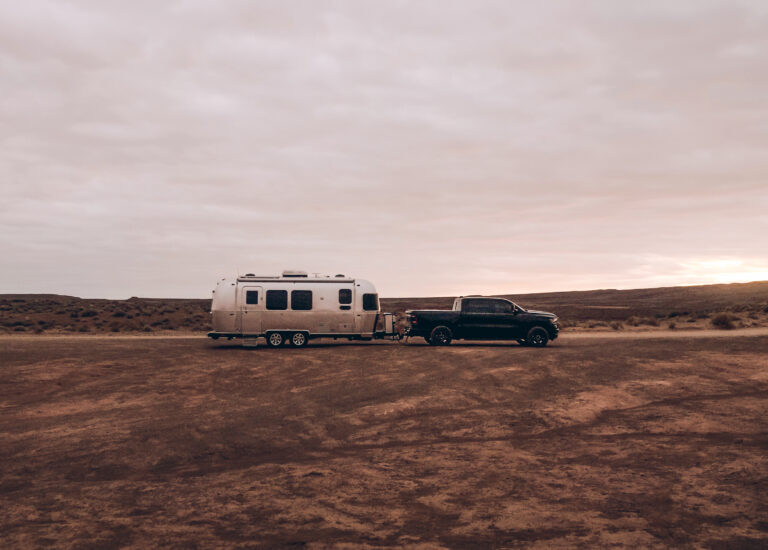 When purchasing a towable RV, there are a number of things you need to consider. Floorplan, amenities, and quality of the RV all come into play, of course. However, one of the most important things to consider is the weight of the RV and the towing capacity of your vehicle.
Today we're going to dive deep into this subject, discussing why it's so important to pay attention to towing capacity along with how to increase towing capacity and improve towing performance. After reading, you should have all the information you need to decide whether your truck can tow your desired RV and what kinds of adjustments you might need to make in order to make that happen.
Tow Vehicle Capabilities
Pull-behind campers are physically hitched to the back of your tow vehicle via a receiver hitch, fifth wheel hitch, gooseneck hitch, or one of many other hitch designs. Whether your vehicle is capable of towing the trailer will therefore not only depend on its horsepower and towing capacity but will also depend on the shape and configuration of your tow vehicle.
For example, pickup trucks are generally the only type of vehicle that can be hitched to a fifth wheel trailer (without substantial modification).
For very small trailers (such as pop-up trailers), you will probably be able to get by with your existing car, assuming that it has the horsepower to do so. Smaller configurations of travel trailers will likely need a more powerful vehicle, such as an SUV or a truck, although some can work with certain cars. Larger travel trailers will most likely need a pickup truck.
Why You Might Consider Towing Upgrades
Before we jump right into the ins and outs of increasing towing capacity, let's look for a minute at the "why" behind these types of upgrades. Why is RV weight so important? What reason do people have to increase towing capacity on their truck or SUV?
Towing is hard on a vehicle. It has to work harder in order to get moving and must have the ability to stop the load once it does get chugging along. Obviously, towing with an ill-equipped vehicle is unsafe. It's also bad for the vehicle and could result in a number of very expensive problems that we're certain you don't want to deal with.
Because it's so important to ensure your vehicle can handle a given weight before you hit the road, every vehicle manufacturer provides a tow capacity rating for every vehicle they put out. Before buying a travel trailer or fifth wheel, you'll want to learn what the towing capacity is for your truck or SUV and stick with an RV that weighs less than that when fully loaded. The gross vehicle weight rating (GVWR) of the RV is a good estimate of what it might weigh fully loaded.
If you can't find an RV to suit your needs that weighs in under your truck's tow capacity when fully loaded, you may be wondering if there are ways to increase the towing capacity of your current vehicle, "Can I tow more than towing capacity?"
The answer? You will likely be able to get your vehicle to safely tow a bit more than it's rated to. However, increasing tow capacity is complicated and expensive, making it a project that many people prefer to avoid.
If you're up for the challenge, read on to learn how to increase the towing capacity of a vehicle.
How to Increase Towing Capacity
So how do you increase the towing capacity of a truck or SUV so you can pull a slightly heavier RV? You make a whole slew of upgrades, of course!
The upgrades below will help to increase towing capacity, so you can tow more without damaging your trailer while still keeping your passengers and fellow drivers safe.
Get the Right Hitch
First and foremost, you will need to invest in the right type of hitch. Obviously, you will need to choose a hitch that is rated to handle the weight of your trailer. In order to help your vehicle tow a larger bumper-pull trailer, you'll also want to seek out a weight distribution hitch.
The weight distribution system does exactly what you might think: It distributes the weight of the trailer throughout more of your tow vehicle's frame instead of just the hitch receiver area. This helps your truck's suspension and makes it possible for it to pull a larger amount of weight.
Use a Programmer
Most vehicles are set to give the user the best fuel efficiency possible without compromising too much in other areas. The problem is, this can take away from horsepower and torque, leaving you with a less powerful towing machine.
A vehicle programmer can remedy this by adjusting the settings in a truck's computer, giving you the power you need to tow bigger loads.
Replace Axles
Even with more horsepower and torque, if your vehicle's axles aren't able to handle the weight of your trailer, you won't be going anywhere. For this reason, we also recommend replacing your current axles with heavy-duty versions, making sure you change out the differential to the correct heavy-duty parts too.
Another way to do this is to use RV parts in place of traditional truck parts. These are made to carry heavy loads and can usually fit onto a truck body. That said, this is a job best left to professionals, for the sake of safety.
Upgrade the Braking System
With the programmer and heavy-duty axles, you should at least be able to get going. However, stopping can also be a problem when towing a large load. In fact, more often than not, this is the bigger issue.
For this reason, you will definitely want to upgrade your truck's brake pads and rotors, ensuring you get the beefiest options on the market. Additionally, you will want to install a trailer braking system on your RV and ensure it is calibrated correctly so your trailer is actually helping you stop, rather than pushing you forward as you brake.
Improve Towing Performance
The upgrades above should be enough to successfully tow your bigger load. However, you won't necessarily get great performance out of your tow vehicle. Therefore, it's good to know not just how to increase the towing capacity of a truck, but also how to improve the towing performance so you have a smooth, problem-free ride wherever you may wander.
Here are our top tips:
Install a Bigger Radiator
Towing makes a vehicle work hard, and working hard can make it really hot under the hood. Seeing as a radiator's job is to keep things nice and cool, it makes perfect sense that upgrading to a bigger radiator will keep things even cooler.
If your truck or SUV has two radiators, consider replacing both with larger versions and be sure to replace the engine oil and transmission fluid regularly to ensure heat is diffused as evenly as possible.
Upgrade Suspension
We mentioned suspension before when discussing hitches. While that weight distribution hitch we talked about will help even things out and make the job a bit easier on your vehicle's suspension, it may not be enough.
This is why many people choose to upgrade their vehicle's suspension by replacing stock parts with more robust heavy-duty parts. Not only does this help distribute weight better, but it will also give you a smoother ride and better steering control.
A popular option is to replace the current suspension with an air suspension system, which uses air bladders to absorb shock from the road and give you one of the best possible rides.
Enhance Your Intake and Exhaust
The last upgrade that many consider is an enhanced intake and exhaust system. This is the system that helps your engine "breathe", and replacing the stock parts with high-end parts might help the engine give better performance. In addition to new parts, we also recommend better air filters that are replaced regularly.
Other Options
If you feel these instructions on how to increase tow capacity are a bit much, you aren't alone. This is definitely a big project and is best suited to a person who enjoys working on cars and doing upgrades on their own vehicles, or someone who plans to tow often and wants the best possible towing performance.
In most cases, however, doing these upgrades is probably not the best option. It's safer, easier, and better for the vehicle in question if you choose one of the options below instead.
Upgrade Your Truck
If you absolutely must have a big trailer with lots of space and all the bells and whistles, and decreasing the weight of that trailer is out of the question, consider upgrading to a more powerful truck. While this is expensive, it's definitely the safer bet over trying to increase the towing capacity of your current vehicle, especially if the trailer you wish to own is much heavier than your truck is rated to tow.
While shopping for your new truck, be sure to keep an eye on the tow rating. Keep in mind that a diesel vehicle will always be a stronger option, and a ¾-ton or 1-ton truck is preferred over a half-ton when towing a heavy load.
Choose a Smaller Trailer
Can't afford a bigger truck? Pick a smaller trailer. There are plenty of great, lightweight trailers on the market, and by choosing something like a hybrid or a pop-up camper, you can have plenty of space in a relatively lightweight package. Not only that, you'll probably save a nice chunk of change by picking a smaller RV, meaning you'll have more money in the budget for campsites and fun activities on your RV adventures.
Go With a Motorhome
The last option is to go with a motorhome rather than a pull-behind trailer. This will remove the need for a big truck entirely, as motorhomes are made to be driven on their own and will definitely be able to handle their own weight without issue. And if you wish to have a vehicle to drive around once you arrive at the campground, a smaller car can be easily towed behind.
Rent Before You Buy
If you're considering swapping out your existing RV but aren't quite sure which rig is best for you and your tow vehicle, renting can be a great way to try out your options before making a decision. Especially if you're worried about your vehicle's tow capacity and the limit it puts on trailer size, renting gives you the ability to explore and test out a variety of unique models and floorplans — and you may come to find that you're perfectly content not camping in the biggest rig on the road.
With RVshare, some towable trailer owners will also be willing to rent out their tow vehicle with the trailer – reach out to the owner directly to see if a deal can be negotiated! This is a great option if you're not in a position to own and maintain an RV or upgrade your vehicle.
Click here to start exploring towable RV rentals
Wrap up
As you can see, there are many ways to get around a tow capacity issue and get out onto the open road. Whether you choose to upgrade your current vehicle in order to stretch the towing capacity, purchase a new vehicle entirely, or even choose a different RV, we're certain you'll find a solution that works for you and your budget so you can think less about towing capacities and more about hiking, fishing, campfires, and other camping fun!